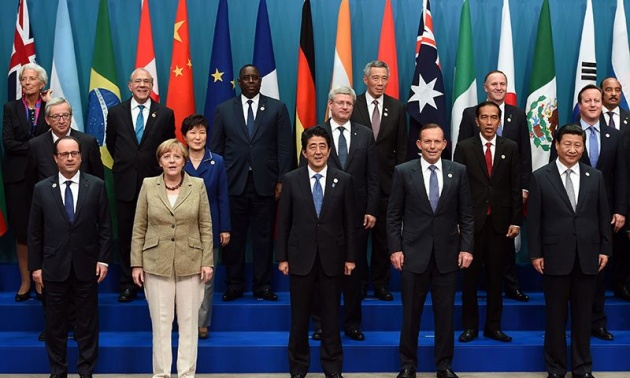 World leaders pose for a group photo. -Reuters/File
WASHINGTON: Finance officials from the world's major economies are searching for the right mix of policies to bolster a still-weak global recovery nearly six years after the Great Recession while confronting a range of new threats from a soaring US dollar to a big drop in oil prices.
The financial officials from the Group of 20 nations were also expressing concerns about potential market instability once the Federal Reserve starts increasing a key interest rate which has been at a record low near zero since late 2008.
The discussions were being held among finance ministers and central bank presidents of the G20, composed of traditional economic powers such as the United States, Japan and Germany and emerging countries such as China, India and Brazil.
Treasury Secretary Jacob Lew and Federal Reserve Chair Janet Yellen were representing the United States at the meetings, which began with a dinner Thursday night and were to conclude with a news conference Friday afternoon. Deputy Prime Minister Ali Babacan of Turkey will sum up the group's discussions. Turkey holds the rotating chairmanship of the G20 this year.
The G20 talks were coming in advance of the spring meetings of the 188-nation International Monetary Fund and its sister lending organisation, the World Bank.
In addition to concerns about boosting global growth, the finance meetings were also addressing issues including a plea for more help in fighting the Ebola outbreak in the West African nations of Liberia, Guinea and Sierra Leone. The presidents of those three nations were scheduled to meet Friday with World Bank President Jim Yong Kim and UN Secretary-General Ban Ki-moon.
The finance meetings were taking place at a time when much of the global economy remains stuck in a prolonged period of sluggish growth following the 2008 financial crisis and a recession that was the worst in seven decades.
IMF Managing Director Christine Lagarde told reporters Thursday: "The good news is that the global recovery continues. The not-so-good news is that growth remains moderate and uneven."
She said the goal of this week's talks was to produce a revamped action plan that will "prevent this new mediocre from becoming the new reality."