Wazzup summer folks?
I call us summer folks because apparently we are in the middle of summer! Well, if you live outside the Philippines, that's a different story. What's the season in your country by the way? :)
But when you talk about the Philippines, it is absolutely summertime!
"Wah". When I think of summertime, I think of the flowers, grasses, beach sand, sky or nature in general radiating their vibrant colors all around. By just looking at them, it is as if my heart flutters with joy and excitement. The light feeling brought about by these things, WOW :)
In line with this, I and my family savored the chance of enjoying mother nature's highlighted beauty. Last April 17, 2016 (Sunday), we decided to take a break from all of our usual activities and just refreshen ourselves up. "TADAN!". We went to a beach. :)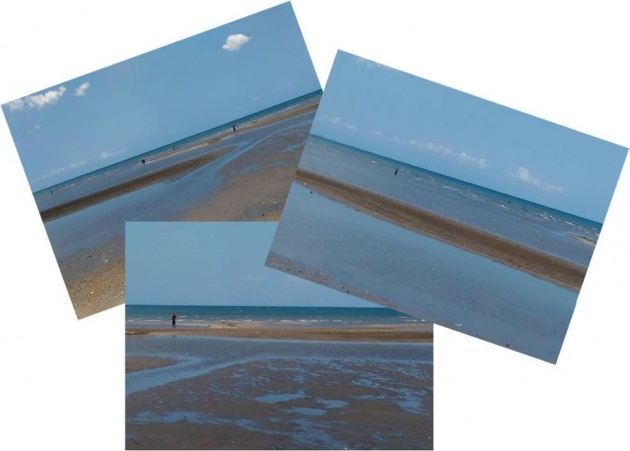 The name is Gay. Gay Beach. But it isn't pronounced as the word itself but rather, it is pronounced as "Guy". Just a little trivia by the way if you don't ask.
But oops!
Let's not go to the topic immediately. Let's go first into how we arrived here. Have a little rewind first!
In the morning at around 10:30 AM, everyone was busy preparing for the travel. Mother cooked and prepared the food while father prepared the things to be carried along. I and my sister prepared the clothes that we could wear post-swimming with SPF lotion to protect us from the heat of the sun too while swimming. The two of us were especially more excited than mom and dad because we don't usually go outside but finally, we get to enjoy the waters like what we had wished for since summer began. I even recorded a video of her goofing around brought about by her excitement. We were waiting for our pick-up vehicle during this time.
*Looks like sister couldn't wait for it anymore. LOL
Video source: Jan Ortiz (ME @ youtube.com )
Me: *Chuckles*
Sister: What are the other strokes?
Me: *Chuckles*
Forgive her. She's in the middle of beach nostalgia. LOL. :D
Also, Kuya Noel joined the fun. Kuya Noel is a good friend of father.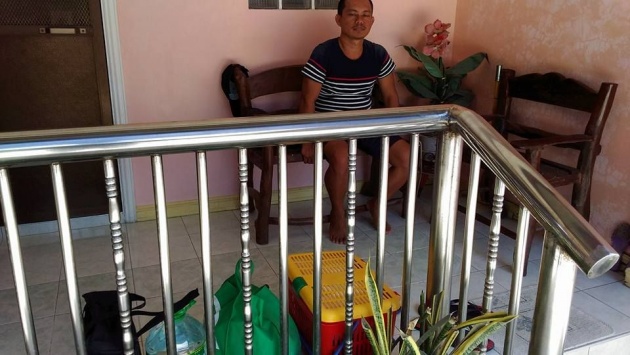 *This is Kuya Noel waiting for us to depart together. :)
I asked mom if we could also bring Yoogie. I wanted him to enjoy the view of the beach as well after getting isolated for a long time, but she didn't approve it. I just wanted to bring him too! :(
*Yoogie, just guard our house then. I still feel sad that I wasn't able to give you a good life by bringing you there. It would have been more fun if you were there with me while we could have luxuriated on the sands together. :(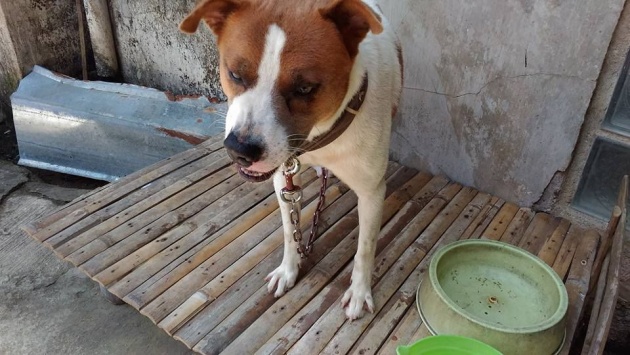 *Yoogie, our additional family member
Shortly after, our pick-up vehicle came. Thanks to Uncle Gary, the brother of my father, for offering the vehicle and the ride.
The travel took us five to ten minutes. Yep, it was so near that anyone in our hometown can go there everyday if he wants to. We arrived at Gay beach at more or less than 11:00 AM.
At 11:14 AM, food was finally set up at our chosen cottage.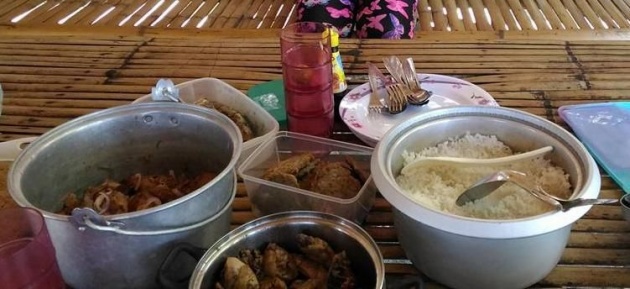 *On the table are Lechon Paksiw (on the left ), Chicken Adobo (at the bottom), Tortang Dulong (at the center), Grilled Fish (on the top left), and rice (on the right). Lechon Paksiw and Chicken Adobo are one of the most common Filipino food.
This was the cottage where we stayed in: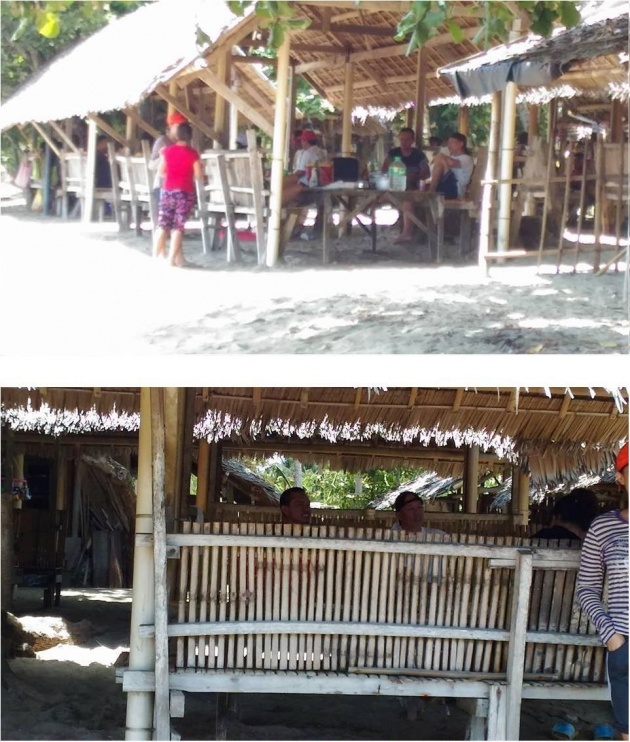 *Up is our cottage from a distance while down is the same cottage at a closer view.
And since it's already lunch time, we finally indulged ourselves into this mini luncheon festivity.
So yummy! :D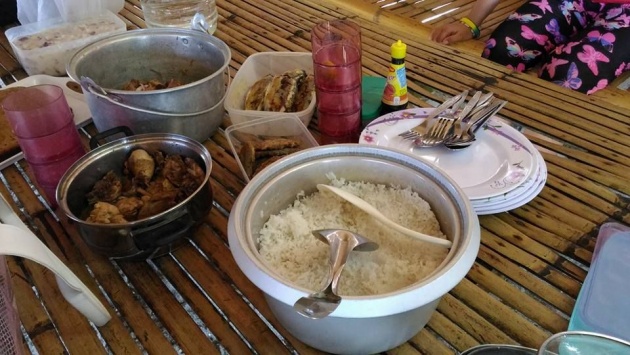 *Since I wan't able to take a picture of us eating and also for privacy purposes at the same time ( for I think it is not so good to take pictures of people while they're eating ), I'll just show you another picture of our food and then tell you what I ate there. I love chicken so that's what I ate the most. It is on the center left which is very near to the pile of glasses to the left still. I even finished it with the help of sister. We are chicken freaks! The rest of the food, I only ate bit by bit.
"Num Num Num Num......." :)
After we ate, I had remained sitting for a while when I noticed a different kind of store just a few walks away from our cottage. This store is very noticeable because it is stationed near the entrance and at the center of the resort. It's not really new to me but I just said the word "noticed" because I was planning to visit there again ( The last time I visited Gay beach was around five years ago ) . Unfortunately, I wasn't able to bring my wallet so I asked mother for a few pennies instead before going there. Of course, sister was coming too. What kind of store could this be? :)
It's the Karaoke store!
Were you thinking of a very fancy store? Nope, just i wanted to sing at that time. :3
It's not that fancy compared to those what we can find in malls. There were no CDs but only a coin operated karaoke machine was. I just want to sing and I miss the experience of singing in a place like Gay beach. Sure we have a karaoke set at home but singing in a resort was totally not the same.
*My voice.
Video source: Jan Ortiz ( ME @ youtube.com )
*I inserted a five peso coin that granted me two songs. I sang, "Kung Akin ang Mundo" / If the World was Mine by Erik Santos, a Filipino singer.
I enjoyed it but after that, it was now time to swim! Yippy!! :DD
Walking towards the beach were me, my sister, and Jane who happens to be another family friend.
There were no pictures or videos of us swimming because no one could take photos or record a video of us doing it. All of us plunged into the sea at that time. Mom, dad, and kuya Noel decided to stay in the cottage and they were busy talking about things so I just didn't mind asking them to do us a favor. On top of that, the only camera/video camera being used was from my own phone and I was afraid that I might drop it into the water. Who knows? It might happen. Besides, my phone has no water proof features. I really treasure it a lot! So sorry! x.x
BUT I can show you lots of pictures of the activities that we did just before swimming. Here they are! Get ready! ;)
*Sister (in stripes) and Jane, another family friend (in red), who are all set for it.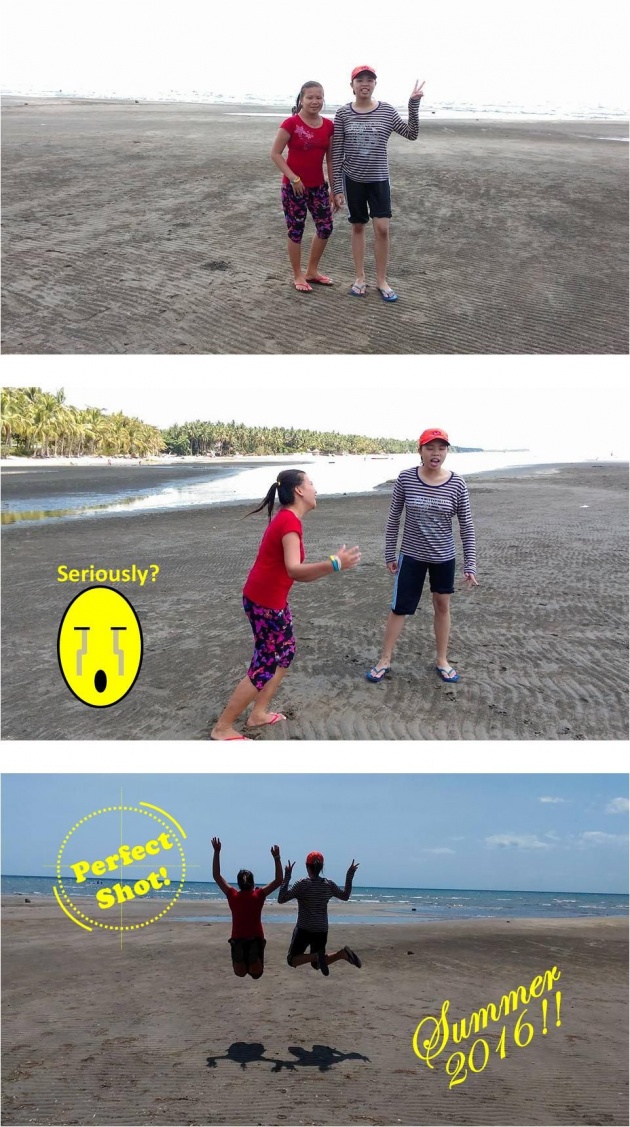 *"Wha"..... What a fun time!!!!!!!!! :)
*My sister and I (in blue) doing jump shots too!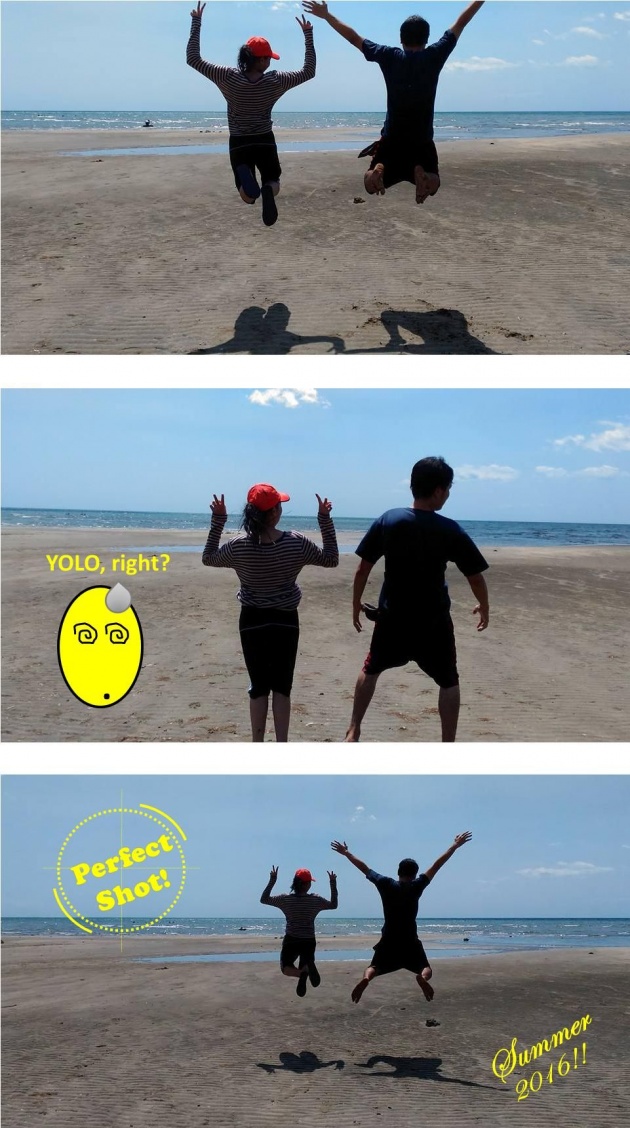 *I wasn't really that good when it comes to jump shots until sister taught me how to. The second picture shows it. :3 We took many shots of it until we found the "PERFECT SHOT!". Not bad at all, Vanity. :3
*Sister posing by the seashore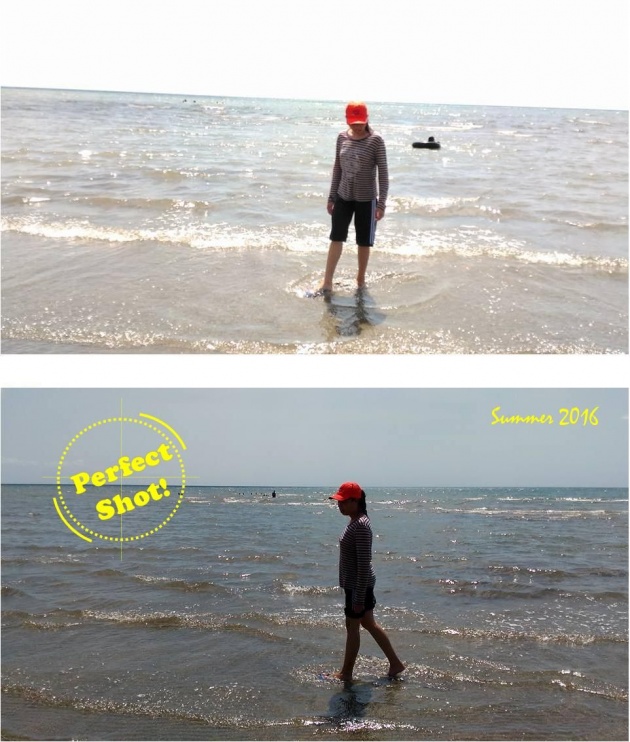 *Now, just a little back story about these photos. I actually told sister to do one of the so-called blogger poses. I instructed her to walk by the seashore while pretending to be finding some sea shells. At first (in the first photo), it wasn't that good because it looked hilariously "terrible" (LOL) and it wasn't what I imagined. We tried to take a few more shots hoping to get the right one and after three to four shots, I'm proud of you sister! :')
BY THE WAY, if you haven't noticed, it seems dim but sister likes it. She said just let it be for it has a "silhouette-ic" type of feel.
*I and sister running on this splashy road!

*I also had a video version of this, but it didn't go well added to the fact that sister and Jane couldn't wait anymore for the sea. I really wanted to record again but no one's going to do it, so I just dropped doing so. But I still like the result of the snapshots version though.
To cut the story short, we went back home at around 3:00 PM. We took another bath by shower to rinse the sand and salt off our bodies. Fatigue has been shaken off for a while. We know that we would be going back to our daily lives the day after but at least, we knew that we managed all the stress that day. It was really a fun experience. Thanks to Gay beach, our bodies has now been recharged. Fighting! :)