MOBILE LEGENDS: BANG! BANG!
Mobile Legends: Bang! Bang! or more popularly known as Mobile Legends is a very popular mobile game in the Philippines. In fact, it is not only famous in our country but also in other countries like India and Indonesia.
The game is also often referred to as MOBA, techinically being a multiplayer online battle arena mobile game. In this c-blog, I will talk about the "legendary" game and all its game modes.
Chat with me to know more about Mobile Legends!
Querlo Chat:
Here's a screenshot and overview of my c-blog above.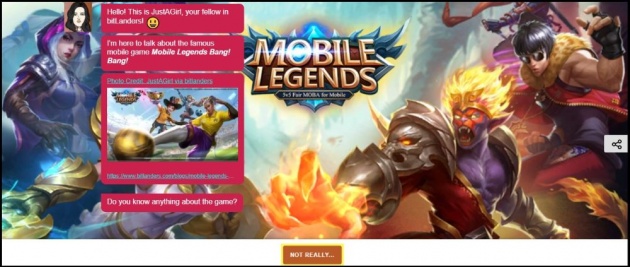 I have been a fan of Mobile Legends since late 2017. I must say, the game is quite addictive! I even stopped for a while because it did not do me any good.
I always thought playing mobile games like this one is unhealthy. This is true, without proper control. Right now, I am back again at playing. Although now, I am trying to manage my playing habit.
Here's one of the video replays of my playing my favorite mage hero, Pharsa. I even posted it here in bitLanders. Enjoy watching!
Another one I posted featured tank hero, Akai, in a brawl match. Take a look!
How about you? Do you play Mobile Legends? Let me know in the comment section below!
Thank You For Reading!

Please share this blog to your friends via social media. You may also participate in the bitLanders c-blogging. You can refer to this blog for video tutorials on creating a querlo chat.


- ♥JustAGirl ♥-