2018 was one of the best year of my life because In this year I accomplished my milestone of watching FIFA World Cup in Russia. It was announced by Russian government that football fans could enter Russian Federation without any visa but only they have to purchase match ticket and get their FAN ID as a visa. When I hear this amazing news I was so excited and without wasting any time I applied for match tickets and got my legal permit, FAN ID.
I booked Uzbekistan Airline for my journey because its price was quite affordable and I started my journey on 20th of June from Lahore to Saint Petersburg via Tashkent. Flight was on time and I landed at Pulkovo Airport Saint Petersburg around 11am. When I came out from airport there were so many volunteers welcoming FIFA fans.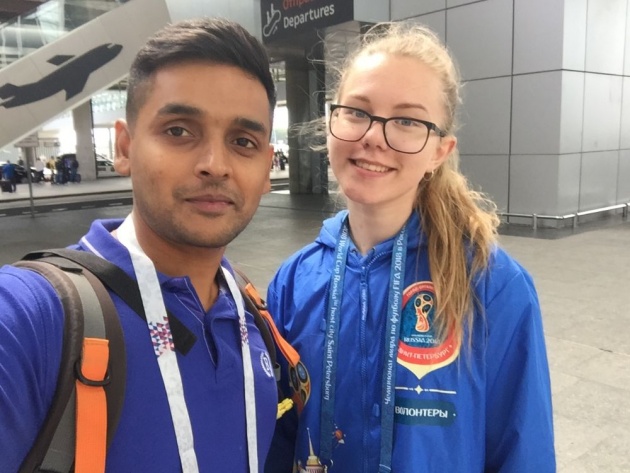 I asked few questions from volunteers about my hostel and bus routes. She said to me that you can take free bus services while wearing FAN ID around your neck. I was so amazed and used free bus and train service throughout my trip.
Saint Petersburg is most beautiful city of Russia and It is also called Venice of the North because of so many lakes in the city - the mind-blowing boats in the lakes. The White Nights concept came from this city beacuse in summer there are only 2-3 hours of dark night and whole other time remains white.This is the main reason behind Saint Petersburg's popularity, I enjoyed White Nights in the city center and markets exploring other attraction of this glamorous city.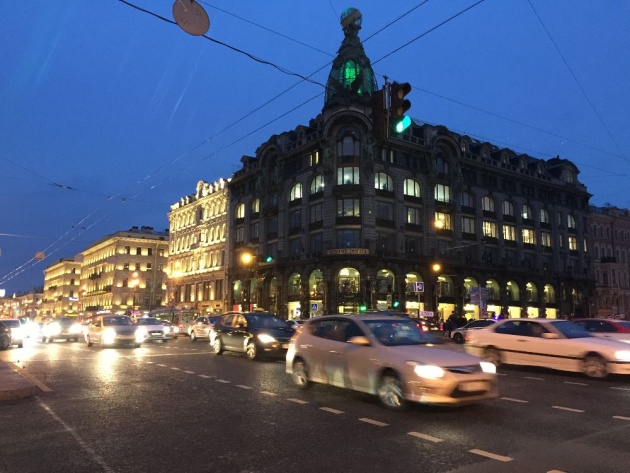 It is 11PM above in the picture. It was so excited to see such unique thing in my life. Walking around Saint Petersburg Russia, its impossible not to admire at the absolute wealth and variety of architecture created in only three hundred year. Almost all buildings in the historical centre can be describe as world class architecture, the normal buildings are also with the same architecture, which range in function from schools to railway stations, from government offices to market stores.
One more famous attraction of St, Petersburg is Palace Bridge. Although it is only a 20th century creation, Palace Bridge is undoubtedly one of the most famous sights of Saint Petersburg and is literally unavoidable for most visitors to the city.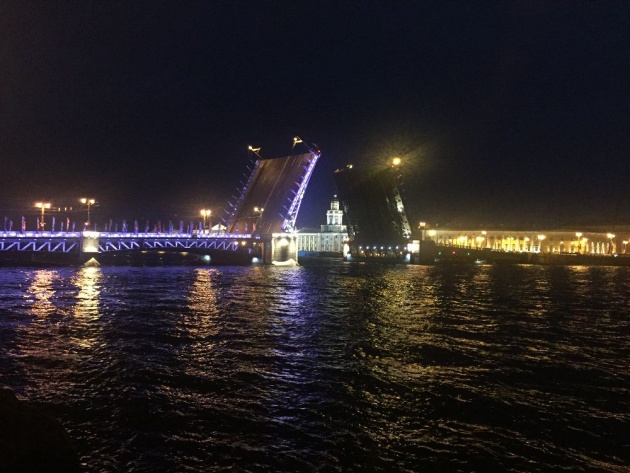 Visitors find themselves continually use the bridge to move between Palace Square, home to the Winter Palace and the Hermitage Museum, and so many numerous historic places on Vasilevskiy Ostrov. Despite the wonderful art of the surrounding architecture, Palace Bridge itself is a comparatively
simple structure, Height of the bridge is strictly limited, so as not to hurdle the view of the attractions around.
I watched the match between Brazil and Costa Rica at Saint Petersburg Stadium. It was new built stadium and Russian government worked so hard to successfully complete the huge task which was assigned to them by FIFA.
After spending three days in Saint Petersburg I took free night train for Moscow the capital. It was eight hours long distance and train was so comfortable, overall it was a good experience. I arrived in Moscow early morning and took metro to reach my hostel. The metro stations of Moscow were so different from other part of the world. At 84 metres underground the deepest station in Moscow and the 3rd deepest in the world by depth, after Saint Petersburg Metro, and the very deepest station by maximum depth, 97 m. It also carries the longest escalators in Europe. There is no doubt that metro in Moscow is one of the main attractions in Russia. After relaxing about 5 hours I took my small bag which carries my passport and currency. I reached to the most wanted destination of Moscow, the Red Square.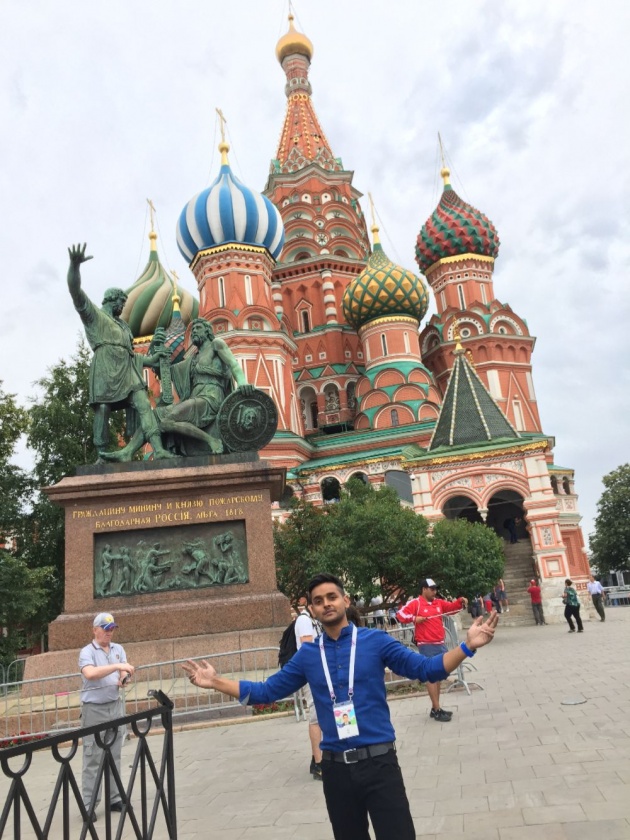 The Red Square is very important central point. Red Square is considered the main square of Moscow since Moscow's major streets, which connect to Russia's major highways, starts from the Red Square. Tourists visit red square on priority becasue there are officials buildings and also living of the president of Russia, The Kremlin. Other famous attraction of Red Square is the GUM Mall, it is centrally located and contains world class brands.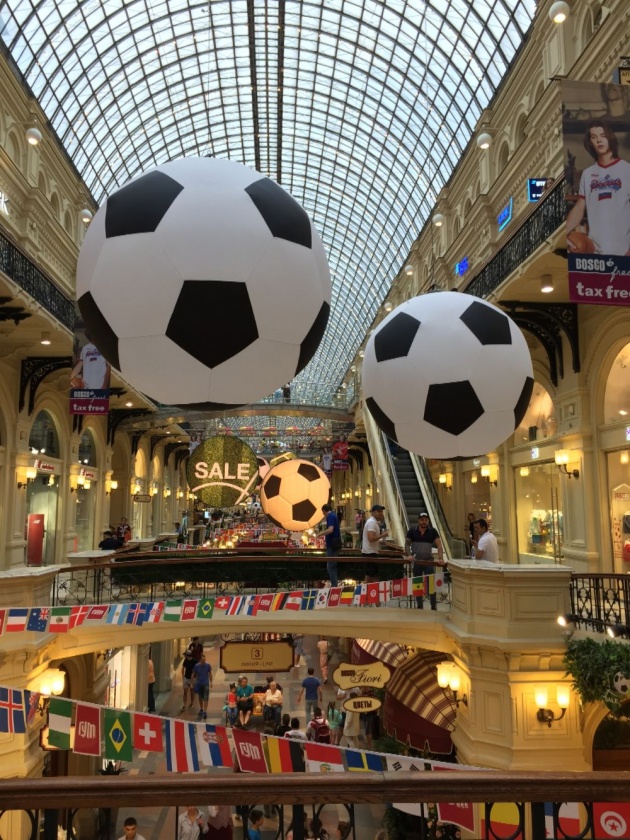 During the FIFA WorldCup, the Gum mall was decorated with flags of competing teams and footballs were also hanging in the mall. I spent about two hours exploring the whole mall, It was quite expensive mall but outllets were perfect.
On my last day one of my hostel mate who was from Sri Lanka asked me what are the places I visited in Moscow when I described he was shocked that I missed the largest Mosque of europe, that guy was studying in Russia for last 5 years so he guided me how to get there. I rushed to the mosque and Indeed it was one of the best art work I ever watched.The Moscow Cathedral Mosque was built back in 1904. Since 2011 the building has undergone complete reconstructio And then The Cathedral Mosque was inaugurated by the president Putin.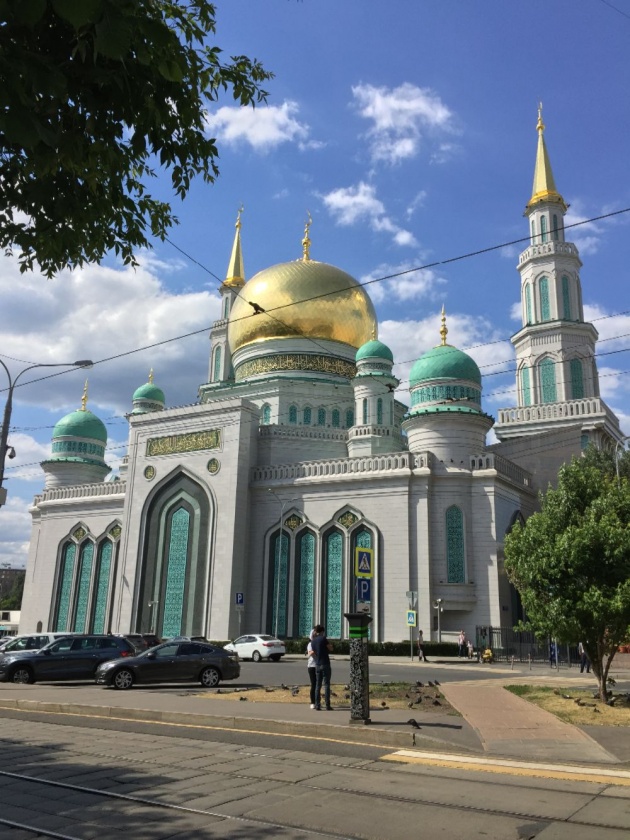 It was a brief glimpse of my Russia trip. I hope that you people would like my work and you people would encourage me to post more travelling blogs.
Thanks