Hello everyone! What's going on? If not wrong you are also gossiping and enjoying global chat survey. Once again BitLanders platform launched an effective way to engage audience plus to earn some extra bit-miles. Yeh, I am talking about global chat survey. I thing till today from starting this features mostly everyone try global survey. I also never miss this survey conducted by Ma'am Hillary. Today here I am going to discuss my experience and suggestions for global chat survey. So first going through let's discuss what is global chat survey.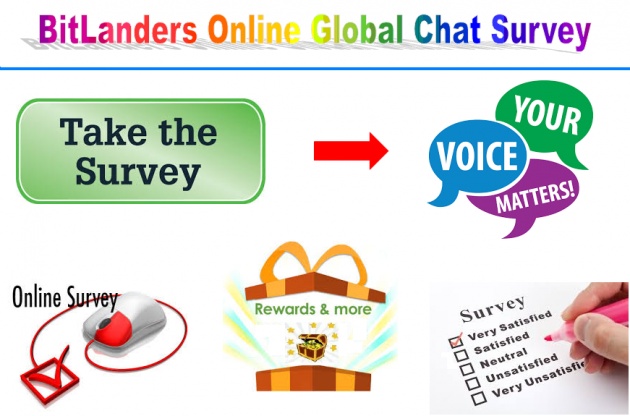 What Is Survey?
In simple terms survey means collected information or opinions from individuals. Survey can be conducted in variety of ways like through a printed questionnaire, over telephone call, by mails or on web. Whatever the method to conduct the survey but the purpose is almost same as to get the self report data from the participants. Survey is conducted in a standardized format. Questions asked may be varied, cover assorted range of topics and can be asked in manifold form.
What Is Global Chat Survey at Bitlanders
If you are curious to know about global chat survey at BitLanders then you are at right place. Every time BitLanders offer new ways to their users for more earning and engagement. Global chat survey is also one of their innovative thoughts to invite users for survey and for every question they answered will be rewarded with 10 bit-miles. The questions asked are usually of general informative type and objective type format is used for survey. What is objective format? While a question is asked with multiple answers and you have pick one or more as per your opinion know as objective format.
Don't worry it's not any professional type survey like offered another online survey website where you are qualified or not for survey decided after asking few questions. Rather here you can participate without any pre-qualification. Let see how can Participate at Global Chat Survey.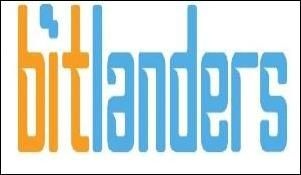 First Step
Go to the website BitLanders and scroll down the window and at bottom you will find the global chat area.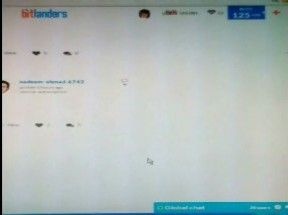 Second step
Click On the Global Chat Button and at right side of chat box you will find Hillary Invitation for Survey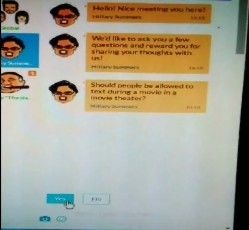 Third Step
Just click on the invitation and start your survey. Ma'am Hillary will ask you multiple questions . These may related to G.K or may be to represent your opinion. For very question you answered will get 10 bit-miles. The questioned asked usually range from 15-20 questions.
Why Should Participate In the Survey

Oh, are you seriously thinking why to participate in this survey. Then let solve your confusion. You have lot of reasons to participate in this global survey, read.
Earn Some Extra Rewards

– No doubt here all of us are mostly to earn some extra bucks then why don't have benefit this new survey trait. Usually Ma'am Hillary asked about 15-20 questions (as per my own survey experience) means with one survey you can earn about 150-200 bit-miles. Yeh, not too big but even not ignorable. If just giving your 5 minutes you can earn assured 200 bit-miles then why not. Even I also noted it can help to make you buzz scores stable then falling daily.

Uplifting Consciousness

– I know when first time start my first survey Hillary ask about some G.k. questions. Really that time I don't know about it anything but to give answer I just read some information about asked question and answered. This really let me know about my general consciousness. So I really now enjoy the survey because I check every time I know it or not.

Different Task

– There is lot of task at BitLanders to earn rewards from shopping to daily quest but this one is different among all tasks. You no need to invest your gems or rewards for earning you just need to invest your 3-5 minutes to earn about 150-200 bit-miles.

Easy Format

– Usually when we attempt any professional survey it's well structured with complicated format. But the survey format use at BitLanders is very simple. Ma'am Hillary will ask you questions with 3-4 options and you have to pick one as per your choice. Don't hesitate to share your opinions because you will be rewarded for every answer.
Blog About Global Chat Survey To Earn Double Rewards
As always Sir Micky intimate all of us about double rewards blogs,recently blog about global chat survey is subject to double rewards for one month. Means you will get double buzz bonus if write about global chat survey. it's a great opportunity to earn double rewards and to share you experience and suggestions with regard to survey. See the following Screenshot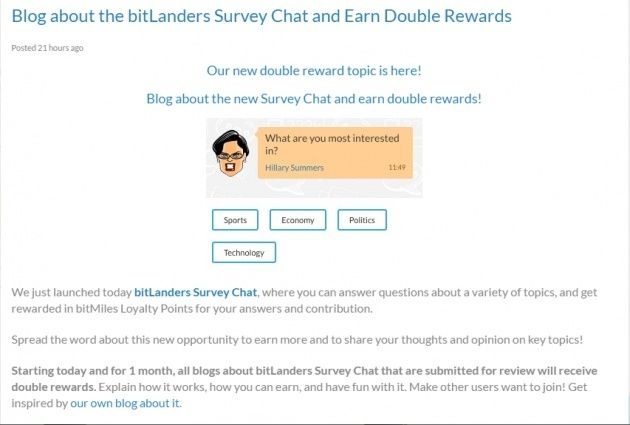 My Experience and Suggestions at BitLanders Global Chat Survey

From starting to till date I attempted about 4-5 survey and really like to share my experience. When first time I started survey I don't find it more strange feature because before that I worked for many online paid survey websites. But what I really appreciated here it's easy to attempt otherwise survey are too long and complicated to answer and until you finish it's totally unpredictable whether we are qualified for survey or not. But here that's not you will get instant reward for answering that's good. All questions are easy and format is very user friendly. And when Ma'am Hillary invited for survey I never miss the opportunity to earn some extra bit-miles without any cost. Overall everything is satisfying but still I wish to share my suggestions that I felt must include while answering the survey.
More options

– The format use for survey is excellent but there is lack of options to pick, because when I was attempting the survey Hillary ask question about – "Who is Winner of US Master Golf Tournament". At that time I just find 2 or 3 options to select the name of the winner but anywhere did not the option of "I don't know" or "Not Know". In that case I chose the option as per my desire.

Cover varied Fields

– I thing it's better to include more questions related to varied fields like finance, economy and also include BitLanders. Really it's a great chance to know about the reactions and opinion's of users about new changes made at Bitlanders. I thing they will involve and enjoy it more.

That's all. These suggestions totally unbiased but its true the new feature really make us to involve in new task to earn extra bucks. Thanks to all viewers to read my contents.