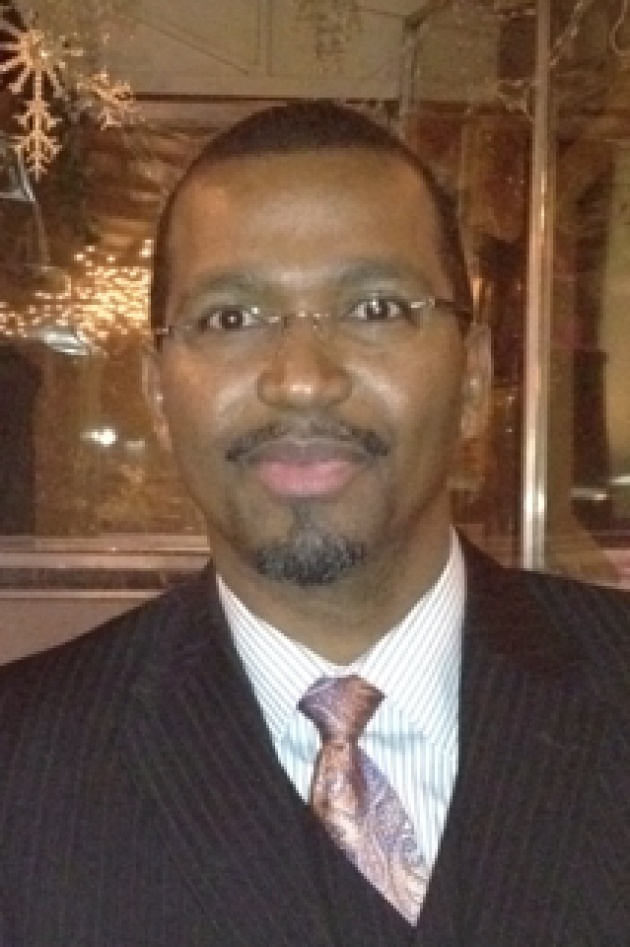 Mouhamed M.Djalo is the Public Health Manager at MedImmune, LLC and a member of Global Impact's Board of Directors.
FA: How would you describe Global Impact's charity work?

MD: Global Impact's mission statement: 'Assure help for the world's most vulnerable people' summarizes Global Impact's charity work.

Global Impact raises funds to support the work of international charities to attend to the need of the world's most vulnerable people. Global Impact is a one-stop-shop for international philanthropy and corporate social responsibility, and a trusted partner for philanthropic solutions. Partnering with Global Impact provides any private corporation the ability to tap into more than 80 of the top U.S.-based international charities vetted to the highest standards. In doing so, private corporations provide for their employees the opportunity to support the charity of their choice and the causes they have interest for and believe in. Global Impact also has the expertise to tailor solutions to meet the philanthropic and CSR needs and objectives of any corporation.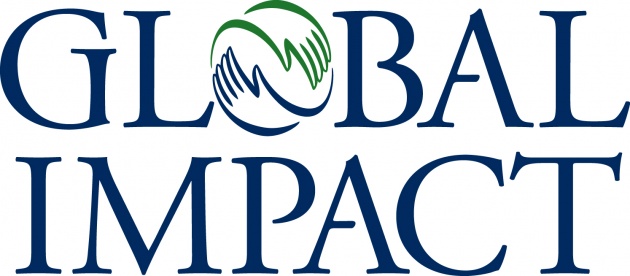 FA: What is Global Impact's greatest strength?

MD: Global Impact's greatest strength lies in its experienced leadership team, talented employees, outstanding charity partners, and compassionate Board members. Global Impact is at a crossroad and is reinventing itself using the talent within. It is improving current campaigns, recruiting new ones, designing and developing new products to benefit corporation partners' needs, and utilizing its Board members as champions and connectors in order to reach new corporate partners.

FA: What motivated you to join the Board of Directors? What about your personal background, interests and experience helps you advance the mission of Global Impact?

MD: I learned of Global Impact's charity work through a very dear friend and long-time Board member. He recommended me to serve on the Board. I researched Global Impact and discovered that their charity work is commendable and exceptional. It is an honor and a privilege to serve on their Board.

Growing up in Africa, my parents exposed me to giving back to our community at a very young age. My dad, a very successful businessman, owned an orphanage and was very supportive to the needs of others. He believed in giving back most of the surplus of what he possessed to people in need.

Since my childhood, I have been intrigued by inequalities and poverty. I believe that we could reduce poverty if we all pitch in and give part of the excesses of our possessions.

Assisting in advancing Global Impact's mission leverages my experience in the private-sector and passion for international causes. Through networking and my ability to connect with people, I introduce key stakeholders to Global Impact and accomplish our mutual benefits.

FA: Among the many humanitarian, disaster relief, international development and social investment issues that Global Impact supports, which is most personally compelling to you? Why?

MD: I am biased here. Even though I believe that all Global Impact charity work is compelling, being originally from Africa, the charity work conducted there is the most heartwarming to me. The work of Africare which is to provide clean water to health centers (especially maternity wards) across Africa is commendable. My interest lies in improving the quality of health in African communities. One of the ways to achieve and sustain the improvement of health is through clean water and international involvement and support.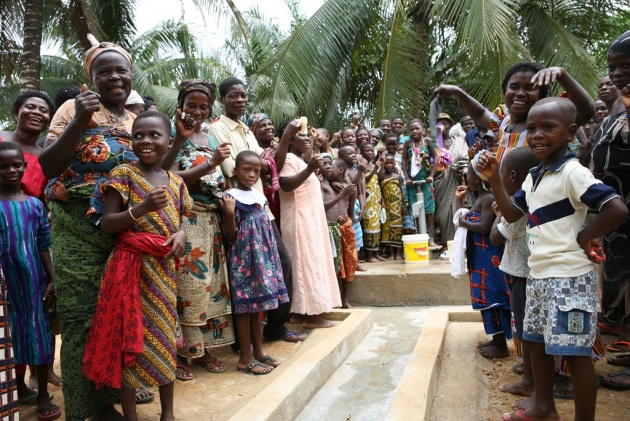 Community members celebrate the installation of a new water point as a child works the pump. PHOTO CREDIT: Alexandra Seegers/Africare/Ghana

FA: What role do you think U.S. corporations and the private sector can play in the developing world? How can business and philanthropy mutually create an environment of corporate social responsibility and 'Sustainable Philanthropy' that benefits everyone?

MD: U.S. corporations and the private-sector could play a huge role in the developing world. American people are very giving. Case and point, anytime there is a disaster relief and humanitarians are called to assist, Americans have responded in kind. Aligning with Desmond Tutu's philosophy of giving, "Do your little bit of good where you are; it's those little bits of good put together that overwhelm the world."

To create sustainable philanthropy that would be beneficial to everyone, we need to approach it in the same way as Global Impact does. We need to encourage philanthropy regardless of a natural disaster on the news. By funding programs that support people in need, U.S. corporations and the private-sector are helping make the world a better place for millions of people. As Henry Ford once said so well, "Coming together is the beginning. Keeping together is progress. Working together is success." U.S. corporations and the private-sector need to work hand in hand with Global Impact- like philanthropy to develop "Sustainable Philanthropy" that benefits everyone. Global Impact has the expertise and know-how to align and add value to corporations' need of creating goodwill.
FA: How can charity and corporate workplace giving campaigns benefit a corporation's employees and improve the bottom line for shareholders?

MD: Setting an objective and working together to achieve that objective brings goodwill to the corporation and to its employees.

The value proposition Global Impact brings to the table is the combination of the corporate's giving campaign needs and the expertise of Global Impact through its charity partners to address those needs through laser focus innovative solutions. The end result is to achieve corporate social responsibility, which is greater than the sum of its individual parts. Global Impact helps corporations and its employees achieve their philanthropic objectives. Global Impact is a customer-centric charitable organization focused on finding solutions for the needs of its partners.

One objective of most corporations is to make their employees happy. A happy employee is more efficient and therefore increases the bottom line for the shareholders. As the Dalai Lama stated so eloquently, "If you want others to be happy, practice compassion. If you want to be happy, practice compassion." Dr. Martin Luther King Jr. also stated "…the surest way to be happy is to seek happiness for others." Corporations need to collaborate with charitable organizations like Global Impact to ensure their employees are happy. Employees need to give to the world's most vulnerable people to ensure their happiness and productivity, which ultimately benefits them and their shareholders. It's a win-win for everyone.

FA: What is your favorite success story of a Global Impact program supported by the private sector?

MD: My passion lies in rescuing orphans, children, and women. I like all success stories and would not discount any. But the success stories that come to mind are:
Africare; Mali Africa: Children are receiving access to clean water and education.
African Medical and Research Foundation; Uganda, Africa: Job-related skills training gives orphans in Uganda hope for a better future.
International Rescue Committee; Congo, Africa: Safeguarding women's dignity in the Democratic Republic of Congo, Africa.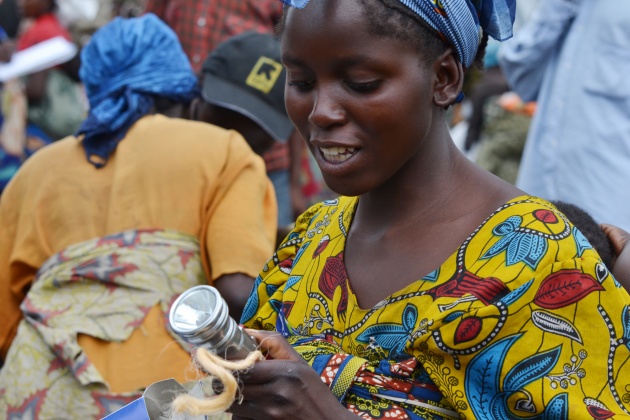 To reduce the risks women face at night, the IRC emergency kits supply them with flashlights and multiple sets of batteries, as well as whistles to blow in case they find themselves in danger. PHOTO CREDIT: Sinziana Demian/International Rescue Committee/Congo
We need more of these success stories. Please partner and donate to Global Impact!

Thank you to Film Annex for conducting this interview!