Yesterday, November 26, 2016 was held for the second time the event "Smiling with Mano Amiga", in which, children are received from the foundation Father Chinchachoma, a orphanage and Villa of the girls. The goal is to give children a day full of fun, joy, different from their routine, free of worries. And also that volunteers and angels working on that goal, have a different vision of what it is to give love.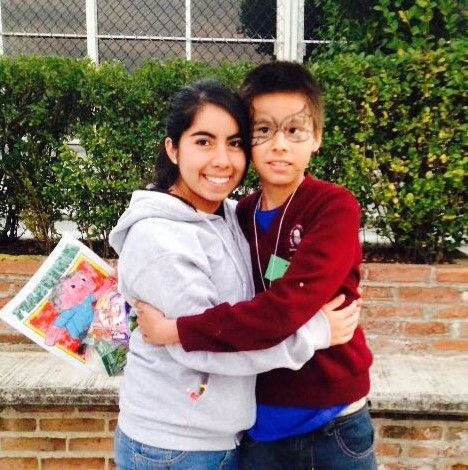 When I say that God sends us angels, I do not mean that we as volunteers are sent to those children to make them happy one day, I want to mean that they are sent to us to find Him in their eyes. Each child has a story that touches the heart of whoever hears it, has a smile hidden, experiences of pain, but also has hope, trust in us, in whom I have found shelter and affection.
This year I had the opportunity to be with Max, throughout the day he told me many things about him, Max is the oldest of five siblings, he moved so many times in recent years that he lost several years of school. But he is a brave child, who has found the love of God more than many of us even though he has suffered more. Throughout the Eucharistic celebration, he kept his hands together to pray, he sang louder than all, despite not having the opportunity to communion, while giving communion was on his knees and prayed. He showed more faith and devotion despite not even being baptized. I am sure that he is a chosen child of God even without baptism, which has Him strongly embraced.
Sharing this day with Max filled my heart. At some point in the day he asked me, for whom did we pray when we prayed? To my mind came the Pope, the teachers, the sick, them. But his response to the same question, made me shuddered: "We pray a lot for you". I still can not find a way to thank him for being an angel who prays for me, even without knowing me.
When I said goodbye to him, he repeated me the same thing, "I will pray a lot for you and I hope you do not forget me"