Samoa, Samoa, Samoa….why must you be so difficult to get to?! My team mate Brad Bolen and I set out for the 2013 Samoa World Cup on a Monday morning. We started out with a nice lil drive down to JFK airport. Not much traffic at all, smooth sailing. Gave us an opportunity to catch up on each others lives. He's doing well in case you were wondering.
After the 3 hour drive to the airport (from Albany) we had a 6 hour flight cross country to LAX airport. I don't understand how people can be so over zealous with the arm rests on airplanes! Sir who shall remain nameless, we are ALL cramped on the plane and all need to do the best we can to not step on each others' toes, or elbow each other in the side. This guy was BRUTAL…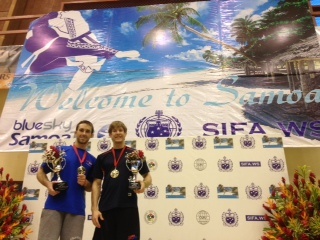 Brad & I had a 3 hour layover in Los Angeles before our 14 hour marathon flight to New Zealand. Fortunately we bumped into a few friends of ours on the Canadian national team who were also heading to the competition. 14 hours…Thank god for the abundant selection of movies on the plane. I actually got some quality sleep on this flight too, probably due to the fact I didn't have a rude gentleman bumping into my personal space unnecessarily.
After a short 1 hour layover in New Zealand we had a quick 4 hour flight to take us to our final destination of Samoa. Samoa is a beautiful country. The climate is hot and humid which makes cutting weight easy as pie.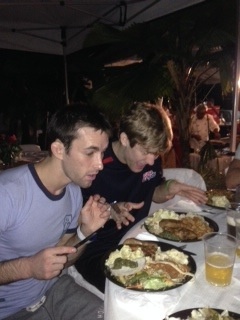 After what felt like about 30 hours of planes trains and automobiles team USA settled into our hotel. It's more of a bed & breakfast with incredibly nice hosts. All in all, the experience has been smooth sailing. We were all happy to hear that our place had free wifi, unlike some of the "nicer" hotels where you needed to pay $7 per hour for internet! Dodged a bullet there…
The competition could not have gone any better for NYAC/JMJC team members Brad Bolen & myself. We cruised to our 1st place victories winning all of our matches by ippon. In my first round I just played a tactical match with my opponent from AUS winning on four penalties. In the second round against another lad from AUS I scored a yuko with a counter then held him in a pin for the second ippon. In the finals I scored a wazari against my opponent from HKG then executed an arm bar for the last ippon of my day. This win catapulted my world ranking to a career high #24 and got me closer to the 2016 Olympic Games in Rio Much to celebrate when we get back home, starting with the 2013 NYAC All Sports Dinner!