There are many cheap metal detectors that are now available in the market today. Simply browsing online shops will provide you an endless list of results to choose from. But the problem is that, you don't actually know which among them is best suited for your needs.

To help you out, you need to consider these following features in choosing the right cheap metal detector:

1. Intended Use

Metal detectors have their own intended specific usage such as detectors designed for the beaches, underwater, deep penetration and etc... Assuming that you intend to detect at a certain site which involve submerging your equipment under the water, you need to purchase a water proof type of metal detector.

2. Durability

Most cheap metal detectors especially those that are made in China are so easy to get broken. Thus, you need to avoid them. You really have to check the quality of the materials used in the construction of the equipment. If you plan on buying your metal detector online then its best to read other's review about the durability of the product that you are planning to purchase.

3. Discrimination Feature

Some cheap metal detectors doesn't have discrimination feature. Avoid these kinds of equipment because they are simply considered as toys for the young children to play.

A discrimination feature is a special setting of the equipment that allows the user to classify the type of metal that has been detected. So through the discrimination feature, you can easily avoid trash and only dig on those worthy findings.

4. Price Between $150 to $250

Most cheap metal detectors that are made from China costs around $50 and below. They are quite very cheap but also very low quality. Honestly, they are just a complete waste of money where its best to avoid them.

A good and reliable cheap metal detector are priced between $150 to $250. So if you do not have enough budget, it's better to save your money until you can afford this specified amount of budget.
5. Warranty

Some online product reviews cannot be trusted. It is still hard to confirm the durability and quality of the metal detector that you are planning to buy. Thus, it's always a good practice to check if the manufacturer offers a warranty on their products. A one year warranty given by the manufacturer is good enough to cover any manufacturing defects of your equipment.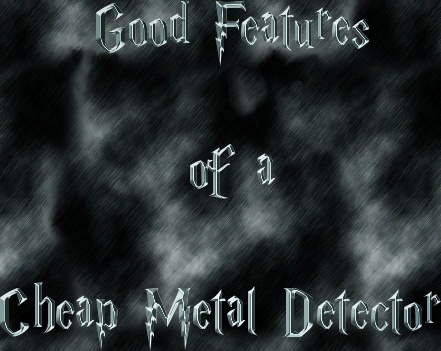 Overall, follow these good features discussed on this post and you will most like end up with a cheap metal detector that satisfy your needs.