Two films could enter the history books this year.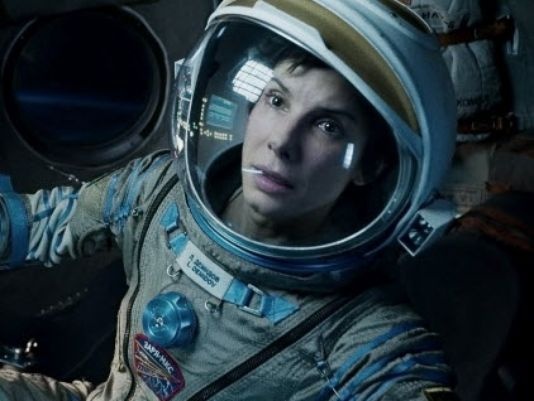 (Photo: Warner Bros.)
Oscar's best-picture race already is considered a nail-biter. But it could also launch a film into the history books.
With 10 nominations apiece, American Hustle and Gravity enter the March 2 Academy Awards as two of the rare films to compete for double-digit wins. Should either film sweep their categories, it would join the ranks of Ben-Hur, West Side Story, Titanic and The Lord of the Rings: The Return of the King as the only films to win 10 or more Oscars (West Side won 10, the rest won 11).
American Hustle could accomplish an even rarer feat, the so-called Oscar grand slam: winning best picture, director, actor and actress. That's happened only three times: with It Happened One Night, One Flew Over the Cuckoo's Nest and The Silence of the Lambs. Those films also captured either the original or adapted screenplay Oscars.
Don't hold your breath for records, analysts say, as Oscar has been nearly socialistic in his distribution of wealth lately.
But Gravity stands a real chance at 10 wins if it can pull off the Best Picture prize. Some forecasters are switching their predictions from 12 Years a Slave and Hustle, prompting speculation that the prize might be given to the sci-fi saga. Gravity is up for a raft of technical awards and director Alfonso Cuarón is the front runner for Best Director.
Some pundits believe that if academy voters begin checking off votes for Gravity in smaller categories, the movie could build momentum for the granddaddy prize.
"There could be a reverse phenomenon," said Tom O'Neil of awards site Gold Derby. "Voters usually start with Best Picture and give it smaller awards. This could start small and go big."
Steve Pond, analyst for trade website for The Wrap, also leans toward Gravity.
"Like most of my colleagues, I was predicting a picture-director split," he said. "And I've always had the nagging feeling that it's dangerous and foolish to do that, unless it's last year and (Argo director) Ben Affleck isn't nominated. If Cuarón is a favorite for director, as I believe he is, then I needed to realize that Gravity is the favorite for best picture, too. I still think it's too close to call. But since it's part of my job to call it, I had to switch to Gravity."
Whether academy voters share the sentiment is another matter. It's been a decade since Oscar staged a voting-bloc party, when 2003's The Lord of the Rings: The Return of the King claimed the biggest complete sweep in Academy Award history, taking all 11 statuettes for which it was nominated.
O'Neil cautioned that recent history suggests Oscar enjoys spreading the love. The closest any film has come to a double-digit Oscar night since Rings is 2008's Slumdog Millionaire, which captured 10 nominations and eight wins, including Best Picture.
As for the grand slam? That's less likely than a streaker at the ceremony, observers say. Woody Allen's Blue Jasmine is up for only three Oscars but is considered a shoo-in for one of them, which would ruin Hustle's chance for total domination.
"Nothing is going to stop Cate Blanchett from winning" the best-actress race, said Jeff Bock of Exhibitor Relations. "Not even Woody's scandal. That's the closest thing we have to a lock in the race this year."
Source: USA TODAY
Annex News - Movies