MEDIA RELEASE – FOR IMMEDIATE RELEASE
Greek teacher and American naval officer make history with world's first Afghan Proverbs book in Greek, Dari and English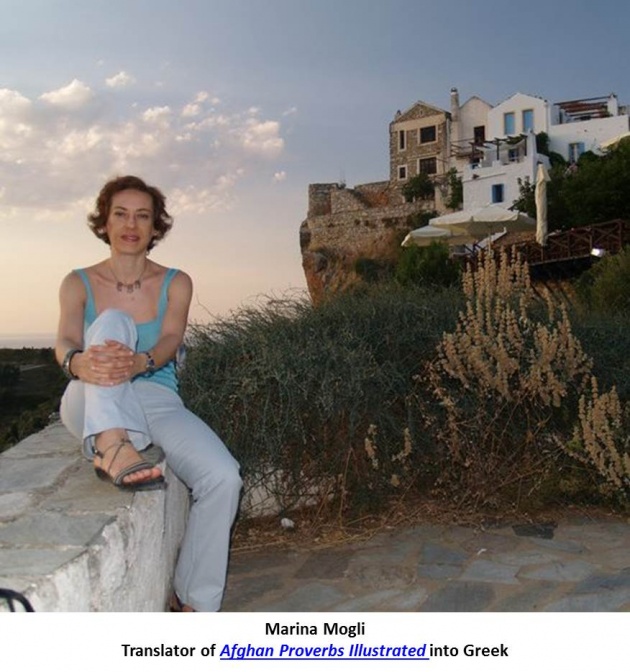 Volos, Greece and Tampa, USA, May 26, 2014 – The cultural links between Greece and Afghanistan started a long time ago. The history of the relationship goes back over 2000 years to the time of Alexander the Great. Marina Mogli, teacher of English and Greek as a foreign language and a doctoral candidate at the University of Thessaly, was well aware of the ancient and modern cultural links between Greeks and Afghans. But Mogli and U.S. Navy Captain Edward Zellem never expected to add a new chapter to that history by joining three great cultures and languages with a book of Afghan Proverbs illustrated by high school students in Kabul.
Mogli and Zellem met last year on Goodreads, an online book review website and forum. Mogli also is a volunteer who teaches Greek to new Afghan refugees and immigrants at the local Immigrant Center in Volos, Greece. She had discovered Zellem's English-Dari book of Afghan Proverbs - and she already had found that that Greek proverbs were useful in her classroom as a learning aid.
The Greek teacher and the American naval officer quickly found common ground in Afghan Proverbs as another way to promote education, literacy, language learning, and cross-cultural understanding. The result of their chance meeting and subsequent collaboration has become the new trilingual book Εικονογραφημένες Παροιμίες από το Αφγανιστάν ('Afghan Proverbs Illustrated') in Greek, Dari and English. The book is now available worldwide in over 70 countries, and among many other uses it will help integrate Afghan refugees and immigrants in Greece as part of a teaching curriculum.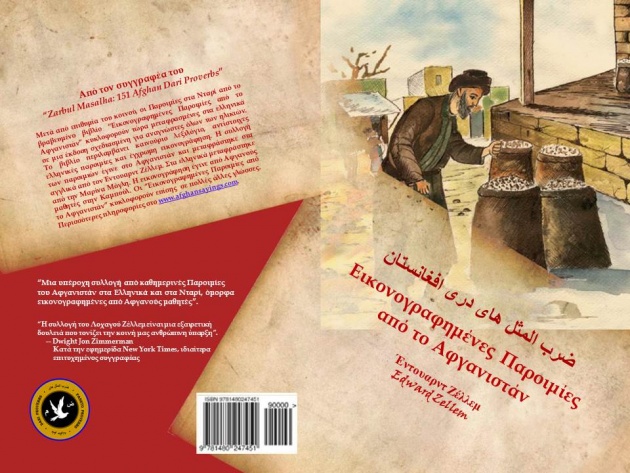 Zellem, an Afghanistan war veteran and Dari speaker who worked for a year with Afghans inside Kabul's Presidential Palace, began using Afghan Proverbs at work and socially after observing first-hand that Afghans often use Proverbs in their daily speech. He also saw that many of the thoughts behind the Proverbs are universal messages used in every culture, and so he translated and wrote them down as an off-duty personal hobby and learning aid.
His hobby soon turned into a personal crusade for better understanding between cultures. Zellem worked on his own with an Afghan high school to illustrate his collection, which became two award-winning books that have received international acclaim and a devoted global following. With the publication of Εικονογραφημένες Παροιμίες από το Αφγανιστάν, Zellem's second book Afghan Proverbs Illustrated is now in 14 languages with more on the way.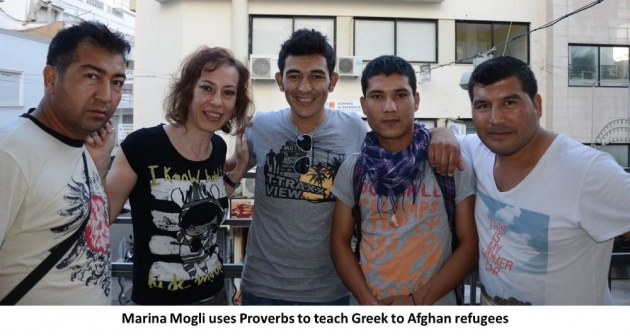 As a language teacher for years, Mogli had realized that Greeks are much like Afghans in the way they use proverbs. Both nations are connected by a cultural and linguistic history that goes back to the time of Alexander the Great, who spent years in Afghanistan and even married his Afghan wife Roxana there. Mogli also knew from her own experience that proverbs are a very effective tool for integrating refugees and immigrants, helping teach them the language of their new country in a fun and culturally significant way.
Mogli understood that a Greek-Dari-English book of Afghan Proverbs would show the common humanity between Afghans and Greeks, as Zellem's Afghan Proverbs series has already done in other countries and languages. So she offered to translate Captain Zellem's award-winning book into Greek, adding many Greek equivalent proverbs in common use today. The result is now an unprecedented new trilingual book that helps improve Afghan literacy and the integration of Afghan refugees and immigrants in Greece.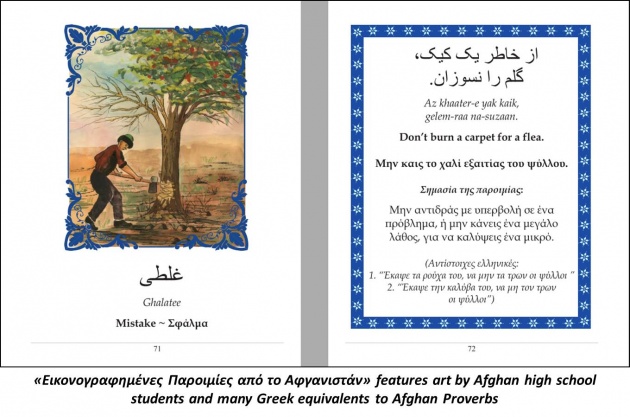 100 percent of net proceeds from Εικονογραφημένες Παροιμίες από το Αφγανιστάν go to support Afghan literacy programs. More information, recent media, and media kit at www.afghansayings.com.

About Edward Zellem
Zellem is a 27-year U.S. Navy captain currently serving at U.S. Central Command in Tampa, Florida. A veteran of several wars, he is known for his work on President Karzai's staff inside the Presidential Palace of Afghanistan, and for his two award-winning books of Afghan Proverbs: Zarbul Masalha: 151 Afghan Dari Proverbs and Afghan Proverbs Illustrated, now in 14 languages. Zellem wrote the books "to show how Afghan Proverbs demonstrate our common humanity and the humanity of Afghans." His books are available in over 70 countries worldwide through Amazon.com and other leading international booksellers.
About Marina Mogli
Mogli studied English Literature at the Aristotle University of Thessaloniki and is a PhD candidate at the University of Thessaly, where she also received her Master's degree. She has taught Greek and English as second languages for many years in public and private education. Since 2010, Mogli has volunteered to teach Greek to new immigrants and refugees at an Immigrant Center in Volos, Greece. Some of her first students were from Afghanistan, and so began her love for the country and its culture. She has taught students, immigrants and refugees from over 21 countries, helping them integrate into Greek society by learning the Greek language.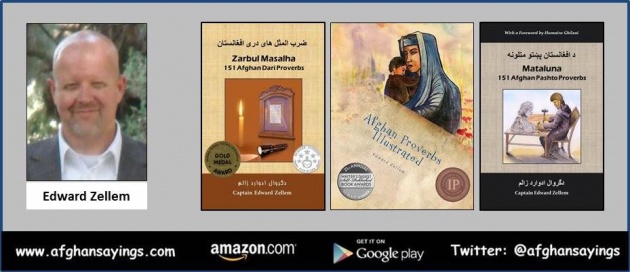 MEDIA RELEASE IN GREEK COMING SOON
###