After recent talks between Greek and Turkish Cypriot leaders consistently underperformed expectations and recent oil/mineral finds off the coast off the island state, the rhetoric has also been made more dramatic. "Instead, Turkey has been pursuing 'gunboat diplomacy' with oft-repeated display of its military strength around Cyprus. Turkey's alarming behavior has been escalating since last September when Cyprus proceeded with exploration activities in its exclusive economic zone. I call on Turkey, before this esteemed body to cease its provocative behavior." Speaking before the UN General Assembly (September 25, 2012) President Demetris Christofias of the Republic of Cyprus also called on Turkish Cypriot leaders to return to talks to reunite the divided island and accused Turkey of provocative behavior, gunboat diplomacy and trying to alter the country's ethnic make-up.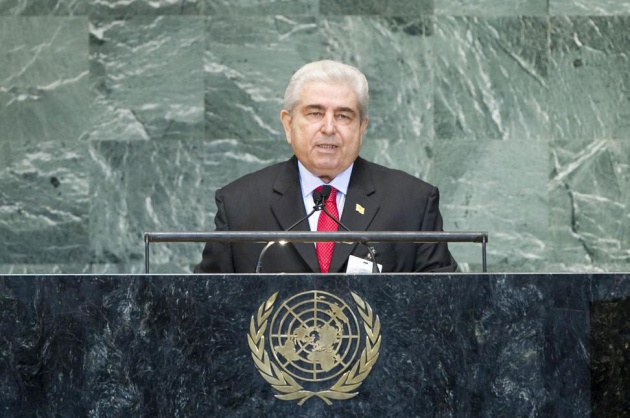 "Our commitment remains unchanged. Return to the negotiating table, continue the negotiations in good faith," asserts President Christofias (UN Photo Above). He said current the Turkish Cypriot leader, Derviþ Eroðlu, has abandoned negotiations aimed at setting up a bicommunal, bizonal federation with a single sovereignty, single citizenship and single international personality, with political equality in the Mediterranean island that has been divided since inter-communal violence erupted in 1964."Turkey, after invading Cyprus in 1974 continues to occupy, for 38 years, the northern part of the island, maintaining a strong military force and continuing the mass transfer of settlers from Turkey, pursuant to its policy for demographic alteration of the population of my country." (Below UN Photo of 2 Cypriot leaders & UNSG during more hopeful times)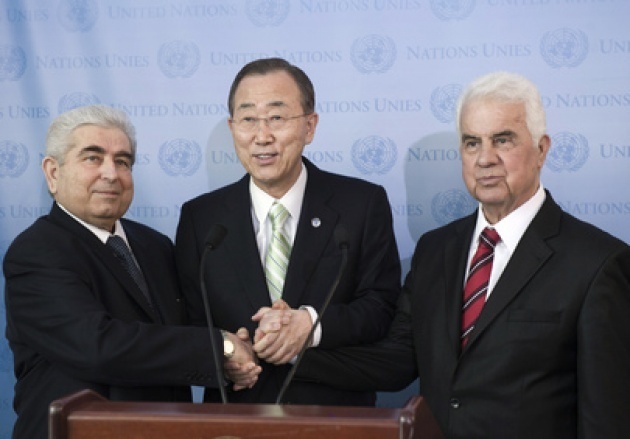 It is fair to note though that recent disappointments have been more widely attributed to changes in heart and/or demands of the Greek-Cypriot negotiators. Some on the UN Security Council had sought to apply more coercive measures to encourage a successful conclusion to the talks, but such have been resisted mostly by the Greek-Cypriot leaders and their allies on the UN Security Council. "Cyprus Talks Stalled – Will UN Security Council Step in?" This most recent speech by President Christofias is more likely to broaden the divide, and while Turkish Cypriots effectively control a third of the Island's territory, it is unlikely that they see an urgency to return to talks on basis of the terms of the Greek Cypriot leaders even as they remain locked out of the Governmental institutions of this EU member state. The current Eurozone crisis and more broadly global financial crisis is pressing Nicosia to secure greater resources from yet untapped offshore mineral wealth. However, the threat of a world wide recession and other more burning conflicts, as Syria, are likely to keep most of the globe and the UN largely disengaged, beyond a small UN Peacekeeping/Observer contingent on the Island.
Ambassador Muhamed Sacirbey - FOLLOW mo @MuhamedSacirbey

Facebook-Become a Fan at "Diplomatically Incorrect"







Twitter – Follow us @DiplomaticallyX







See more at our Popular Video Blogs & Current News Event Articles