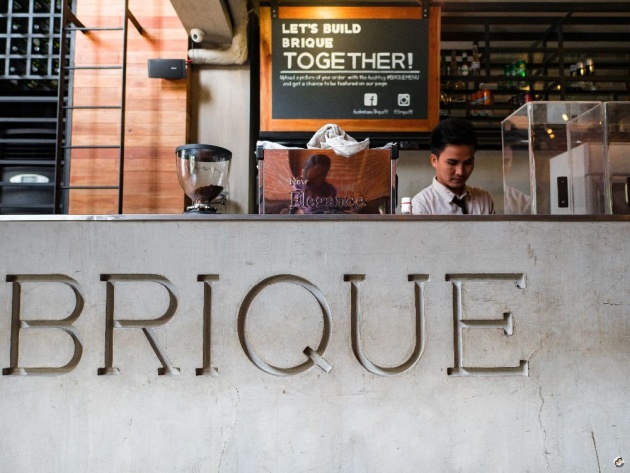 Image credits: Jean Beltran via bitLanders
Have you ever had that situation when one day, you were filled with things to do in your head, got plans for the next few days but as soon as that day starts, all plans vanished, the only thing you are aware of is that you are at home and you are bored.
That was how James and I felt that Saturday morning while sitting on our dining table, James originally planned of going home to Oslob, I was still dreaming of being in Camiguin but that was cancelled, both of us were both not able to pursue what we originally planned on doing and so, we were both stuck at home, James' company has a Fun Day event that day so he thought, well, why not join the event instead?
So we packed our camera gears, got on our motorcycle and later on, we found ourselves opening a glass door, nope, it wasn't his office's doors, it's Brique's doors. We have to have lunch first before going to the Fun Day event, right? And with that, I would like to share the review experience we had at Brique Modern Kitchen's and why I consider this to have the best salad I have ever tried in my existence.
Lunch Hunt
As mentioned earlier, James decided to go to their annual Fun Day and I was tagged along, of course, wives got a space in that specific celebration too. I might blog about how that day went too later on but this is solely intended for Brique Modern Kitchen's.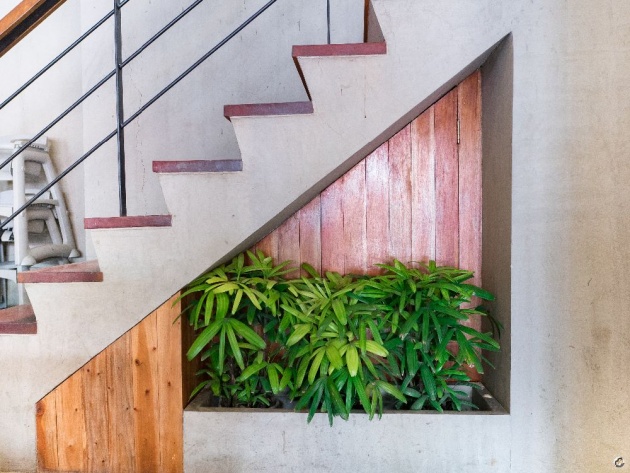 Image credits: Jean Beltran via bitLanders
But prior to arriving at Brique's, we were actually at Cebu IT Park. This is where most BPO or shall I say the BPO center of the city lies. And since it has lots of IT companies too aside from BPOs, it has also become a food hub in the city. The weekend food market "Mercado Sugbo" is here and there are lots of other food establishments.
As James asked me where we should dine in, I thought of Shaka, this is a Hawaiian restaurant in the heart of IT Park. Their rice inside a pineapple was really interesting and I had never eaten at any Hawaiian eatery before so it would be cool to try that day.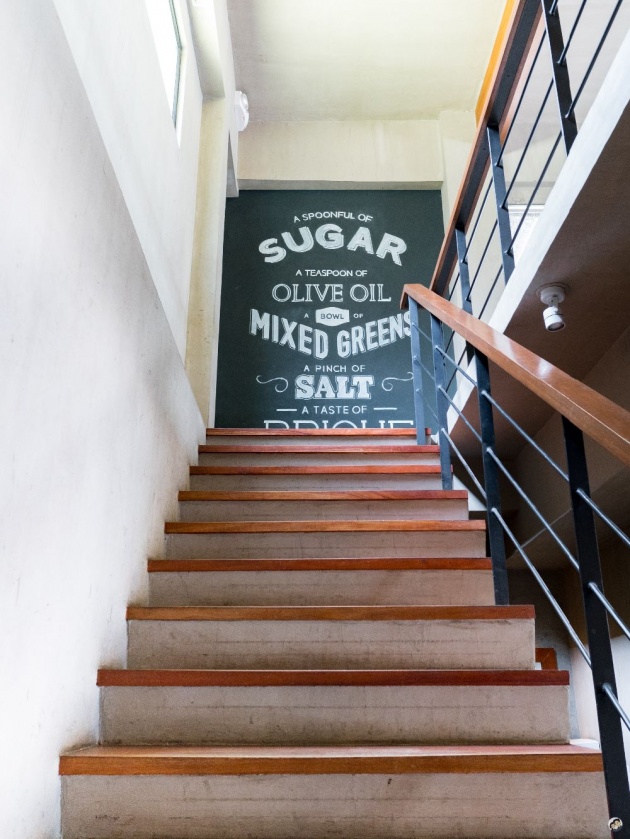 Image credits: Jean Beltran via bitLanders
But as soon as we found the restaurant, both of us got dearly discouraged to learn that we have to park two blocks away, like literally far away from where the restaurant and it was unfortunately super hot at 12 noon, so we ditched that idea and just went our way towards the office instead.
However, as the vehicle was moving, I realized we should go to Brique Modern Kitchen instead. Fortunately, as we were slowly moving, we found it to have less customer so we went in.
Brique Modern Kitchen
Video credits: Jean Beltran via bitLanders
I have heard about Brique Modern Kitchen few months before as it was a location for one of this Calligraphy session hosted by Coi. Unfortunately, I wasn't able to attend but I had been eyeing to join in the next sessions.
"Good Food. Good Company."
Brique Modern Kitchen is located at Salinas Drive Lahug, Cebu City. It opened its doors to customers last 2014, their aim is to provide an elegant spot for coffee, wine, and food lovers out in Sugbu (Cebu).
Interiors and Ambiance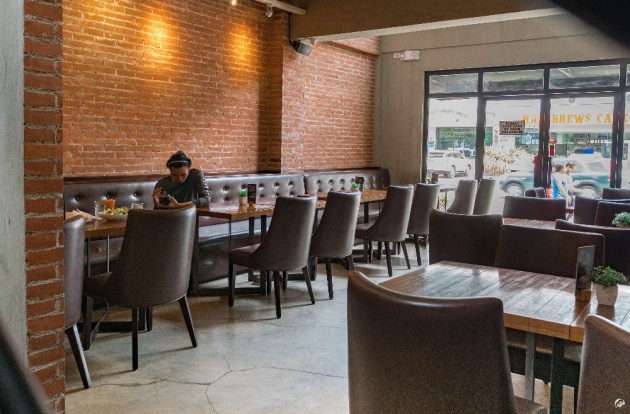 Image credits: Jean Beltran via bitLanders
Of course, I have to talk about how the restaurant's ambiance looks like. It is one of the things that I look for when coming to certain eateries like this. Let's talk about the first level only since the second floor was occupied with guests who had rented it in advance.
Brique Modern Kitchen's two-story building looked simple but elegant from the outside. Its a concrete name is wall mounted on the second floor and its glass walls and doors looked really modern! The second-floor windows are tinted while the ground floor was just a clear one.
From outside going inside, the interior was evident from the clear glass walls and door. I could see the unfinished wall brick design, it was designed that way, it reminded me of James' office, it has the same design.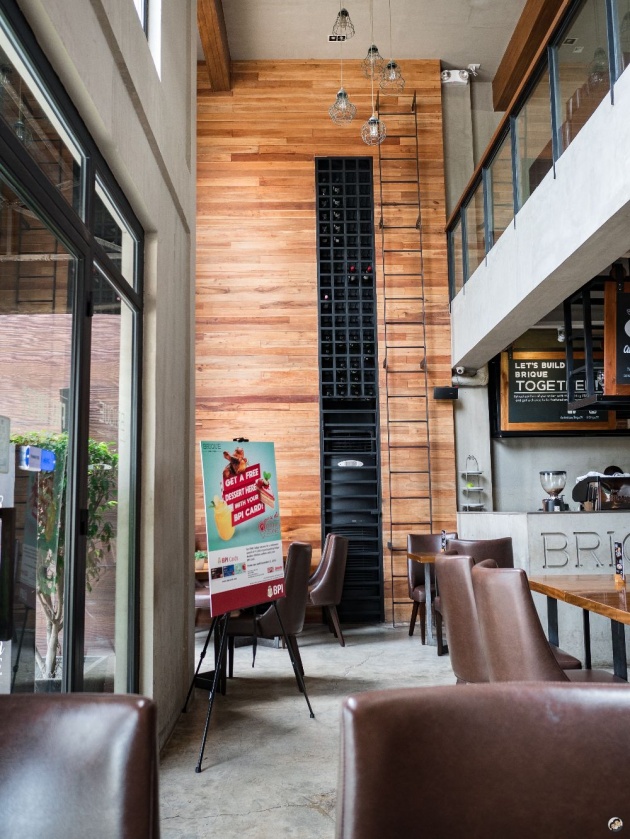 Image credits: Jean Beltran via bitLanders
As I walked inside, a staff welcomed us and showed us to a corner table for two. Its stylish couches and seats definitely captured my attention. I like their tufted back seat embellishments, it felt royal and suits really well to the table colors. Wooden top and legs but definitely sturdy.
I laid my bag in one of the chairs, I looked at the ceilings above, sides, corners, center aisle and even had a glimpse of the walls. At the opposite side wall, it was made of wooden planks covering wall on that section. I love the texture of this wood wall. And I looked closely, there's a wall-mounted wine cellar too! A stair was also mounted next to it.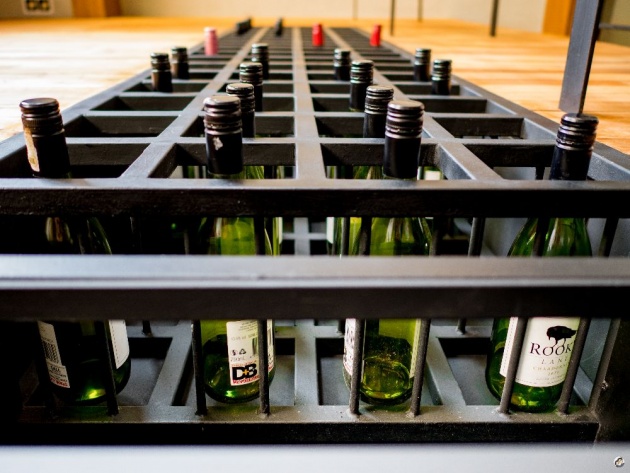 Image credits: Jean Beltran via bitLanders
What more interesting was their geometric designed hanging lights, they looked stylish and captivating too! It wasn't lit up though because it was still daytime.
The counter looked very similar to how the common coffee shops look. But I like that the rest of the walls had this unfinished texture including that in the washroom. The stairs going to the second floor is made of wood too!
Overall, the ambiance, cleanliness, and temperature looked really good and since there was only one customer with us on the ground floor, we felt freedom while taking photos of the location.
Menu and Pricing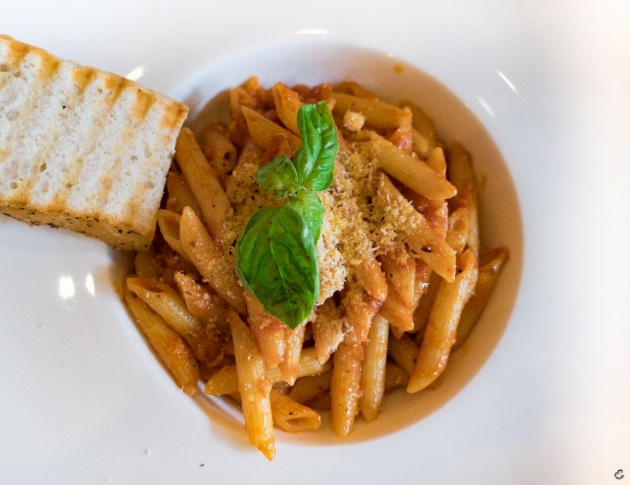 Image credits: Jean Beltran via bitLanders
Brique Modern Kitchen offers Italian pasta options, some Asian fusion food selection, Mexican food and an array of wines too. The menu was also pretty straightforward. It was clearly easy to navigate and very minimalistic. The categories printed at each bottom to help the customer navigate well on the menu.
Video credits: Jean Beltran via bitLanders
The menu showed starters, soup, and salads, sandwich, pasta, entree, desserts, breakfast options, smoothies and fruit juices, drinks and wine.
Pricing ranges from 100 to 500 pesos, that means, this is quite expensive for me but nonetheless we have to order so we can just eat our lunch.
Food Review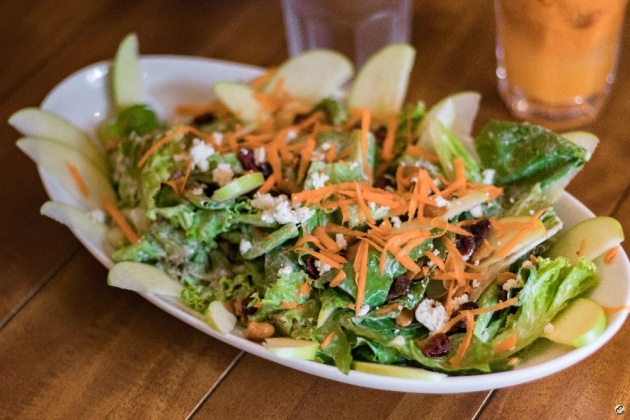 Image credits: Jean Beltran via bitLanders
James and I looked at the menu, found a salad and ordered it right away. Their Apple Dried Cranberry Salad sounded very appetizing because it is made of Granny Smith and Fuji apple with dried cranberry, candied nuts and feta served with blue cheese dressing. Now thinking of the crunchy sweet apples, dried cranberries, feta cheese and bleu cheese dressing made me want to eat this again. I personally believe it is the best salad I had ever tasted in my life, James nodded.
The combo of the apples and crunchy feels of the nuts and cranberry was like all those greens and berries embraced each other in harmony. Plus the fact that I am a huge fan of Feta and Bleu cheese helped out really good in deciding that this is the best salad for me!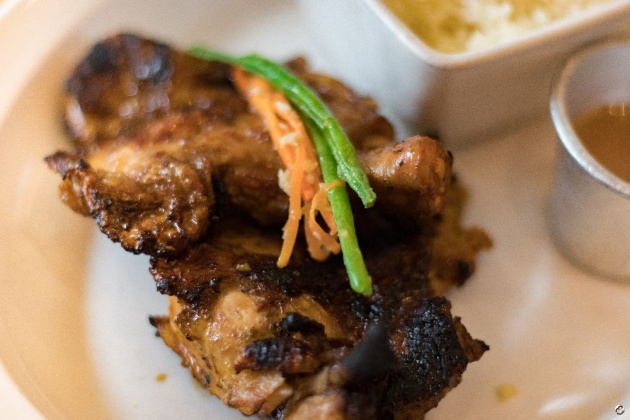 Image credits: Jean Beltran via bitLanders
James even said to himself that he would just request the crew to pack his chicken order as he is already full of the salad as the serving was huge. Anyhow, we both finished the salad together!
But I had to also order a pasta, I love eating pasta when we are out so this time I ordered Arrabbiata, this is a homemade tomato sauce with garlic, chili flakes, and dried basil. This didn't disappoint either! I opted to have Penne over spaghetti pasta though and I didn't regret it at all.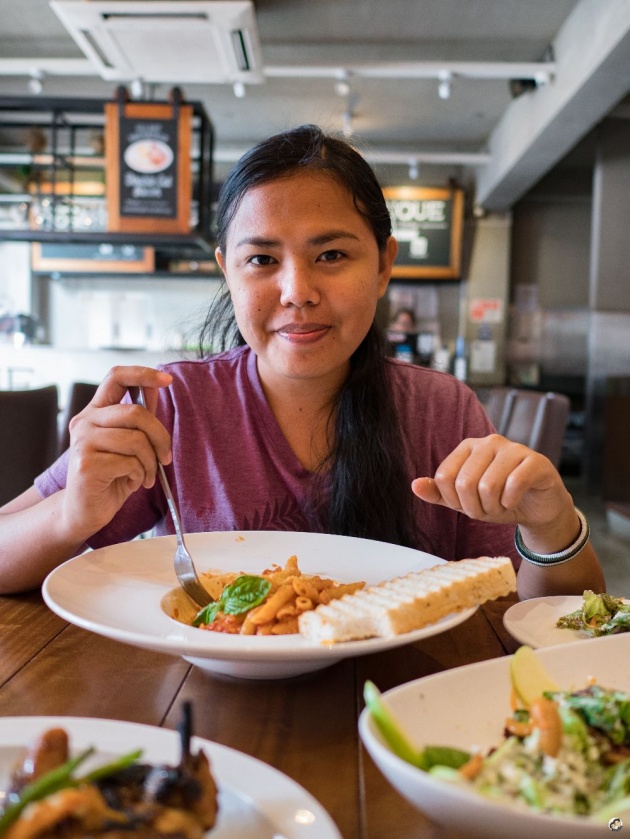 Image credits: Jean Beltran via bitLanders
James' opted for their Asuete ginger chicken which was just grilled Asian spiced half chicken with soy lime glaze. Mind you, James was totally ecstatic while eating it. He mentioned it was really really great!
I concluded that Brique Modern Kitchen provides really good food! This gave me a run for my money. It has a perfect ambiance and good food indeed! Perhaps the only issue I had was that they do not accept debit or credit cards when we dined in although they got some marketing tarps displayed about getting a freebie when buying something worth more than 1000 pesos so we were forced to withdraw some cash at the nearby ATM.
Apart form that, there's no more other complain or take away from this dining experience. I rated this 8 out of 10 of course.
______________________________________________________________________________________________
This blog entry was written and published by Jean Beltran-Figues for bitlanders.com.
Join me, click here to sign up and claim your $1.
Let's talk about cryptocurries: altcoinstalks
Are you a traveler? Book your next hotel through Airbnb and claim your ₱1,600: jeanf3125