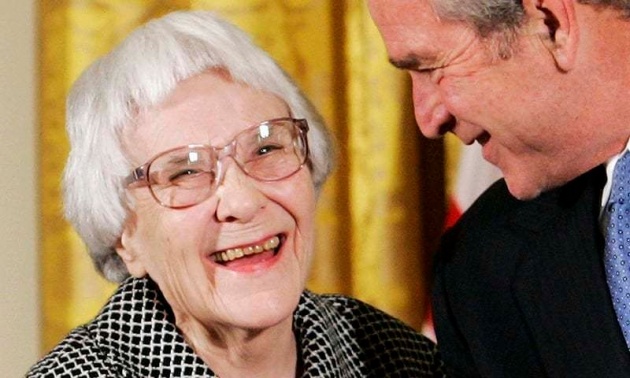 Harper Lee, who wrote one of America's most enduring literary classics, "To Kill a Mockingbird," about a child's view of right and wrong and waited 55 years to publish a second book with the same characters from a very different point of view, has died at the age of 89.
Mary Jackson, the city clerk in Lee's hometown of Monroeville, Alabama, confirmed to Reuters by phone that Lee had died.
For decades it was thought Lee would never follow up "To Kill a Mockingbird" and the July 2015 publication of "Go Set a Watchman" was a surprising literary event - as well as a shock for devotees of "Mockingbird."
"To Kill a Mockingbird," published in 1960, is the story of a girl nicknamed Scout growing up in a Depression-era Southern town. A black man has been wrongly accused of raping a white woman, and Scout's father, the resolute lawyer Atticus Finch, defends him despite threats and the scorn of many.
The book quickly became a best-seller, won the Pulitzer Prize and was made into a memorable movie in 1962, with Gregory Peck winning an Oscar for his portrayal of Atticus.
As the civil rights movement grew, the novel inspired a generation of young lawyers, was assigned in high schools all over the country and was a popular choice for citywide, or nationwide, reading programs.
By 2015, its sales were reported by HarperCollins to be more than 40 million worldwide, making it one of the most widely read American novels of the 20th century. When the Library of Congress did a survey in 1991 on books that have affected people's lives, "To Kill a Mockingbird" was second only to the Bible.
Lee herself became more mysterious as her book became more famous.
Lee reportedly had written "Go Set a Watchman" first but, at the suggestion of a wise editor, set it aside to tell a tale of race in the South from the child's point of view in the 1930s.
Changing racial views
Nelle Harper Lee was born April 28, 1926, in Monroeville, the youngest of four children of A.C. and Frances Finch Lee and a descendant of Civil War General Robert E. Lee. Like Scout, Lee grew up a tomboy.
Lee had studied law at the University of Alabama but, six months before finishing her studies, she went to New York in the early 1950s to pursue a literary career while working as an airline reservation clerk.
In 1956 friends Michael and Joy Brown gave Lee a special Christmas gift, a year of financial support so she could work full time on "To Kill a Mockingbird." The book was published in 1960, shortly after the dawn of the US civil rights movement, and would sell an estimated 30 million copies.
It would become required reading in many American schools but the American Library Association said it was frequently challenged by those who did not like its subject matter.
Lee also played a key role in researching another great American book by Truman Capote, her childhood friend and the inspiration for the frail, precocious Dill in "To Kill a Mockingbird."
In 1959 she accompanied Capote to Holcombe, Kansas, to work on "In Cold Blood," the chilling account of the murders of a farming family. Her mannerly, down-home approach undoubtedly smoothed the way for the flamboyant Capote.
There was speculation that Capote helped her write "To Kill a Mockingbird" the book but in his 2006 biography, "Mockingbird: A Portrait of Harper Lee," Charles J. Shields disputed that.
He also said Lee's contribution to Capote's "In Cold Blood" was greater than believed.
Lee's sister said the authors eventually fell out because Capote was jealous of Lee's Pulitzer.
Seven facts about Harper Lee
Here are seven facts about the great author.
She went by Harper, her middle name, because she was afraid her first name, Nelle, would be mispronounced as "Nellie," not "Nell."
Lee based the "To Kill a Mockingbird" character Dill on childhood friend Truman Capote, who in turn used her as the basis for a character in his "Other Voices, Other Rooms."
"To Kill a Mockingbird," published in 1960, won the Pulitzer Prize the following year, but Conrad Richter's "The Waters of Kronos" beat her out for the National Book Award.
Lee's fans were stunned to learn 55 years after publication of the novel of a long-stashed manuscript written before "To Kill a Mockingbird" and even more stunned that Atticus, the hero of the first book, was portrayed as a segregationist in "Go Set a Watchman." Atticus was based on Lee's father.
Lee and actor Gregory Peck became friends during the filming of "To Kill a Mockingbird." She remained close to his family and Peck's grandson, Harper Peck Voll, is named for her.
"To Kill a Mockingbird" created a cottage industry in her hometown, Monroeville, Alabama, with a museum dedicated to it, although Lee filed a lawsuit claiming it was selling unlicensed merchandise, such as "To Kill a Mockingbird" beverage coasters.
Actresses Sandra Bullock ("Infamous" in 2006) and Catherine Keener ("Capote" in 2005) portrayed Lee in movies about the writing of Capote's "In Cold Blood."