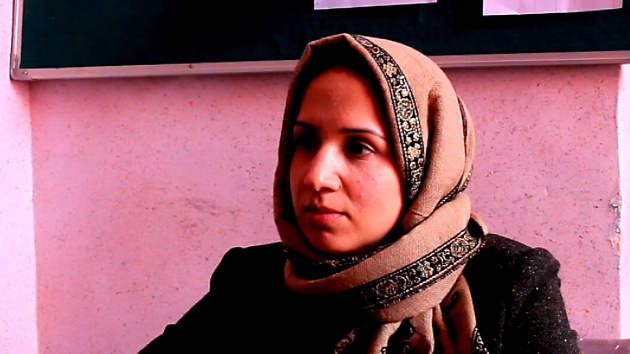 Fazela Hamidi is Hatifi High school principle and she has been working in different departments of Education in Herat province, here is an interview with her about Afghanistan educational system.
?Can you talk about the school's history
Hatifi high school is one of the oldest and historical schools of Herat. It was established in same date when Qheyasoding Qhori High school founded in 1317. It's one of the biggest schools of Herat with having 12000 square areas.
In 1381 the female section of this school started, both female and male section managed by Hedayatullah Khan but they are separate and now I am the principle of Hatifi School from 10 months ago.
?Can you please talk about your background and education
As I mentioned I have bachelor degree in English literature of Herat University. I have been working in different departments of education, for first time I was starting to work as a teacher in Qheyasodin Qhori high school, then I became as head of teachers and I worked part time in AIL institute at trainings and master trainings part of this institute; also I worked in as a member and team leader of Best Project. I was working as instructional assistant in Goharshad Begom High school, later I have been selected as Hatifi High school principle after passing open contest for principle of schools.
?When and why you're chosen as school principle
I have been selected as Hatifi High school principle in 1390 after passing open contest of school principles. The mean reason was my efforts which I am always trying to become successful in my life and I try to do some work for several times to achieve a good result.
?What are your school best consequences till now
The best consequences in school were improvement of administrative work of this school and learning quality by efforts of teachers, administrative members and students during year 1390.
Most of the re-building and maintenance of this school was doing by development council of school.
In this year 7 different department, student council and school mayor was starting to work. The school mayor has 11 active member whose are doing the most works of school; also a computer class helped and built by Film Annex and citadel companies for Hatifi School that now students can easily search and learn new technologies from
Internet.
?What do you think about the education system in Afghanistan? How can it be improved
As this is clear for every one that better tools and equipment will bring better result for any type of training at school; in few last years with having of this few opportunities it brought better quality result for education system in Afghanistan, for an example we can talk about effects of computer and internet that came with project of school online that in real time students talk about their problems and share ideas with schools in London that we can say it's a big achievement at last few years; but still we have some lankness that I hope it will be cover in near future.
?Please tell us more about the (schools online) project
Schools online is 4 years project funded by United states that cover 5 best schools in Herat province. By this project most of the schools plans has been managed by 64 schools around the world and fortunately this year our school entered in this network and we had two workshops about that in Kabul province.
What else would you want to be built in Afghan schools in addition to the Internet classrooms? What do the kids need
At first step I am looking to bring better teaching quality for students and I am staying on practical exercises; right now our problem is that we have 4 shifts in different times in our school that brought a big difficulties for students and teacher, I have already purposed to department of Education to change the time from 4 shifts to 3 shifts that at least students can study a subject in 40 minute instated of 25 or 30 minute and teacher also can control and be in teach with students.
?What do you think about the Examer system in your school
About this project I can say this is really a good system that brought transparency and correct procedure that will save time and resources. Also it has a good point that prevent from changing the question and answers; as well as it is a new system that made active the student to study hard and more.
Old procedure was like to collect all exam papers and checked them one by one with human resource; also financial costs that was paid by students and dedicate a class to save all papers while we are really in need of space and rooms. But with this system we can easily access to our data and its speed up our work.
Please see the Dari version of this interview.