Video credits: myoficio via YouTube
Working from home becomes monotonous at a time, so in order for me to get myself a breather from the corners of the house, I sometimes go to other places to work. Several co-working spaces are popping out of Cebu City. There are now numerous options to choose from and the rates are now becoming competitive, it then boils down to the amenities and ease of stay.
So previously, I had tried working remotely from the Workplace Cafe, in both two of their branches and one in Aspace Cebu as well a few months ago. In both two locations, I had a good experience. You may learn more about Workplace Cafe in the following Querlo Chat:
Today, I got another space to review! Introducing, Headquarters Cebu. The co-working space's name sounds really interesting, it somehow talks about it being a corner, a spot where all those who are freelancers and students can just come and chill. Let's learn more about the Headquarters Cebu in this blog together with my own experience and review.
Image credits: Jean Beltran via Cloudinary
Headquarters Cebu Review
I came to know about this new co-working space from another freelancer friend and college mate. She is a nomad, someone who travels a lot, bringing her work with her anywhere in the country. She posted on social media that she's currently working at Headquarters Cebu, she seemed satisfied with the service so I thought, I could visit it one day in the future.
Image credits: Jean Beltran via Cloudinary
However, it didn't take a while before I could go in and really try working from the Headquarters Cebu as one time, when I was on my way home from my weekly full day job at our office, there was heavy traffic going to my husband's work. I don't want to be trapped in the traffic so I thought I will just wait for my husband somewhere. It was timely that Headquarters Cebu is just a few minutes walk from where I was located. I went ahead and walked my way to space.
Headquarters Cebu started off as an MBA thesis paper and market research project. Eventually, the owners decided to turn it from theory to reality. Today, Headquarters Cebu have seen the demand for people to look for a place to be productive and so they had catered to the demands for a place to work and chill at the same time.
Image credits: Jean Beltran via Cloudinary
Location
Headquarters Cebu is located at the 3rd Floor of the CAIAA Building which is beside Axis Vibo along Escario Street, Cebu City. Note that it is on the third floor so I had to use the stairs and it was not very convenient, I must say. I was catching my breath as I reached the third floor, my backpack has weight because I had my Lenovo Legion Y520 with me and other stuff.
Amenities and Service
Image credits: Jean Beltran via Cloudinary
The Headquarters Cebu space is open from ten in the morning until four in the morning and offers unlimited fast WIFI connection, depending on your stay, you can get free complimentary drinks.
Internet access was not a problem, although there were a couple of other visitors around, I still had a good internet connection. As per my other friends who had tried working here, it seemed like this was actually the best coworking space in terms of internet speed. However, mine was not that strong though compared to their experiences. Here's my speed for that day: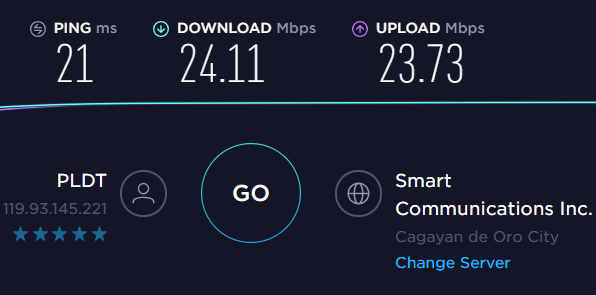 Image credits: Jean Beltran via Cloudinary
Checking on their tables and chairs, it is very close to that of the Workplace Cafe, there were chairs which are like that of some coffee shops while some are those high back comfortable computer chairs. The area was super quiet which I definitely like.
Headquarters Cebu also offers the use of lockers for those who have availed their weekly and monthly rates. These lockers are just located right next to the cashier. Also, they have meeting rooms too, however, their outlets are not compatible with the common laptop power adaptors. I asked the staff around and gladly, they had an extension wire which can support it.
They got a few items which they sell as well like succulent plants and some kawaii figures.
Image credits: Jean Beltran via Cloudinary
Everything seemed fine until I reached a point when I needed to go to the washroom. I was surprised to learn that they only have a common one outside the space. It was not too far though however, I found it a little messy. There were items at the sink which I suppose shouldn't be there in the first place. There were no available tissue papers and the hand soap bottle provided at the sink was already empty.
Food and Beverages
Image credits: Jean Beltran via Cloudinary
As mentioned earlier, they offer free 1 complimentary brewed coffee or iced tea on the first hour. Add P50 for unlimited brewed coffee or iced tea. So, it's just between coffee and iced tea for now but the catch was that if you choose coffee, it will be coffee all the way and the same goes if you choose iced tea. So, it is not very convenient for me and in the first place, I can only take one cup of coffee a day.
Image credits: Jean Beltran via Cloudinary
They got a promo when I visited the place where if a customer who's visiting for hourly rate reaches three hours, they'll provide a free beverage on top of the first hour's complimentary drink. So since I spent more than three hours, I was supposed to receive two cups of brewed coffee, however, the first lady who attended the space didn't give me my first complimentary drink nor offered it to me so I only was able to take one drink. That was a minus for customer service.
They also offer a limited set of food and beverages. They got chips and cookies and some tea but aside from that, there are no other options on the menu.
Overall
Image credits: Jean Beltran via Cloudinary
After more than three hours of working and chilling, my husband messaged me that he's already on his way to pick me up. I paid only Php 120 for the entire stay.
If you are nearby this area in Escario Street and don't mind having all day brewed coffee plus don't really care about the cleanliness of the washroom, then this place could be a good one for work which requires a high-speed internet connection.
Image credits: Jean Beltran via Cloudinary
Note though the following that I don't like about Headquarters Cebu: the location, as I have to take the stairs to reach the third floor, their washroom which was unclean and their limited options for food.
On the other hand, I like that space is quiet and very cozy and the staff who helped me was very friendly. That's it. Consider those prior to coming!
Video credits: CNBC International via YouTube
Thank you for reading and participating in the Querlo Chat!
---------------------------
About the author:
Jean Beltran-Figues is a photography enthusiast.
A traveler who wants to promote her beloved country, the Philippines.