Heads Up! - A Review
Overview:
Size: 106 MB
Current Version: 3.7
Last updated: Sep 29, 2016
Languages Offered In: English, Spanish
Compatible devices: iPhone, iPod touch, and iPad
Compatible version: iOS-7.0 or up
In-app purchases: Yes
Available for: Free (Each additional decks prices 99 cents)
Developer Warner Bros. International Enterprises
Launched: May 2, 2013
Rating: 4.5 stars
Introduction:
Who doesn't love a cool, hilarious and fun guessing game that you can play literally anywhere you want? Heads Up is one of those amazing guessing games one can play anytime, anywhere. Whether you are with your group of friends in college's cafeteria or in a party, stuck up in a bank's long line or on your way on a road trip.. Heads Up is always there to make every situation whole lot fun and entertaining.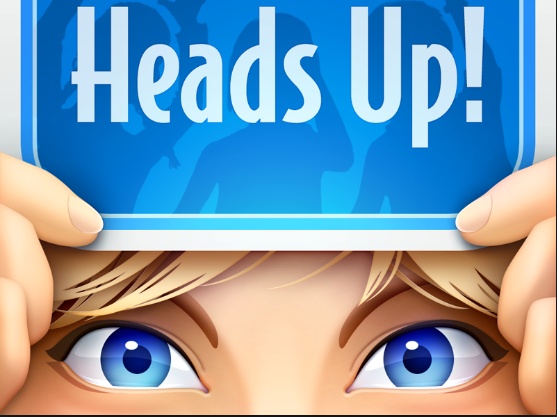 Source: itunes.apple.com/us/app/heads-up!/id623592465?mt=8
Introduced by Ellen DeGeneres, the game is played on her show "The Ellen Degeneres Show". The game has tons of thrilling features to offer. From singing to naming celebrities, acting out on a situation or guessing the word on the card from your fellow's clues before you run out of time. .The game has much to offer.
Features:
Let us discuss some of the amazing features of the game.
Characters:
Most of the advanced games these days include an individual utilizing a single cell phone, gazing down at their screen and shutting out everybody around them, yet not this one.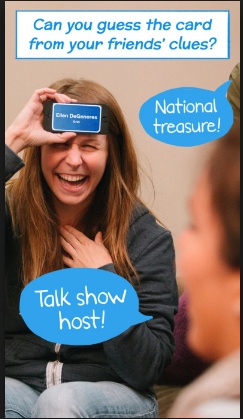 Source: https www.148apps.com/app/623592465/
This is a game to play with a group of colleagues or friends. The game itself does not have any characters. Yet the user is required to play it with their mates.
Game Play:
The player is allowed to walk through a number of categories and choose the one they like.
Every game keeps going a minute. The players play in turns and the person who scores the most is declared the winner.
The game is designed to play in such a way that one player holds their cell phone on their head yet it isn't totally necessary; as long as you can't see the screen and the others can, you can hold it out in front of your chest too instead of forehead that displays a phrase or word so that another player ( or players ) can see what is being unveiled on the phone's screen.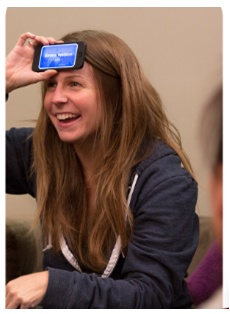 Source: itunes.apple.com/us/app/heads-up!/id623592465?mt=8
The other players can act out the answers following some loose rules. Now the player holding the cell phone has to work out what exactly is being displayed on their phone through the other player's (or player's) clues before they run out of time.
If the player's guess is right, they can move on to a new card for display by simply their cell phone down or by tilting up they can pass to a new card.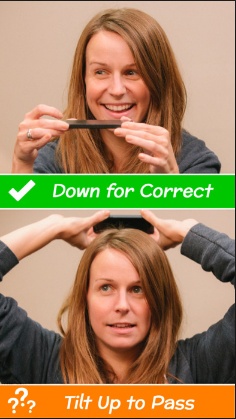 Source: itunes.apple.com/us/app/heads-up!/id623592465?mt=8
If the players guess is wrong, they turn their phone face up to pass.
Difficulty Level:
This game is designed for fun purpose so generally, it is not very difficult. It does not require the user to stick to it in order to win. Generally played between a couple of people there isn't any win situation, it depends on the competency of a person. You answer right; you score a point, it is as simple as that!
Levels:
With more than 50 themed decks to look over, numerous packed with more than 400+ energizing game-play cards, the fun will never stop! So whether you're a craftsman, a vocalist, an on-screen character, or a science geek - there's something for everybody.
The game accompanies more than 7 decks of cards (for free version), yet there are more than 45 extra decks you can purchase through in-application purchases, each for 99 cents.
Free decks include: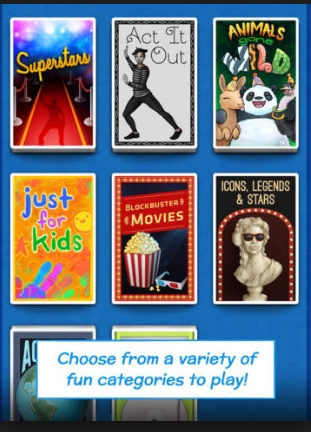 Source: itunes.apple.com/us/app/heads-up!/id623592465?mt=8
Act It Out
Superstars
Animals Gone Wild
Accents And Impressions
Characters
Act It Out
Just For kids
Famous Families
NYC
And lots more.
Additional decks include:
The Big Bang Theory
Baseball
Work It
Bottoms Up
Basket Ball
Football
F.R.I.E.N.D.S The TV Series
Bad Behavior
Favorite Fictional Characters
70's Fever
And lots more.
Note: Each additional deck costs $0.99 each.
Graphic And Sound Effects:
Overall, the application has a colorful, interactive and vibrant interface.
The app comes with fun and exhilarating sound effects that go well with the game and makes your gaming experience more fun and exciting.
The game also offers a 'How To Play' tutorial, shot by Ellen Degeneres that explains well the method of playing the game.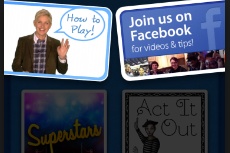 Source: www.usatoday.com/story/tech/columnist/gudmundsen/2014/01/05/family-party-apps/4263663/
Other Special Features:
Available in two different formats:
Heads Up!
Heads Up for Kids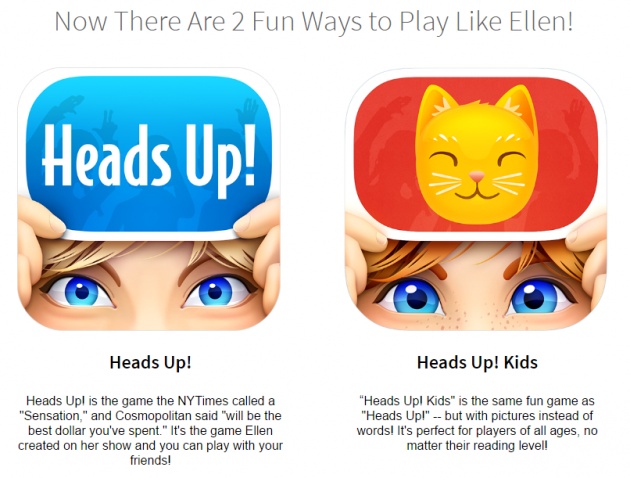 Source: www.ellentv.com/page/2013/04/23/heads-up/
Build Your Own Deck:
The "Build Your Own Deck" mode is accessible for $0.99 and permits clients to transfer any pictures they'd like for a personalized encounter.
Video Recording:
Video Recording is a fun element offered by Heads Up. The game offers the users the option to share the video made throughout the game. At the end of your game, there is a "watch video" option.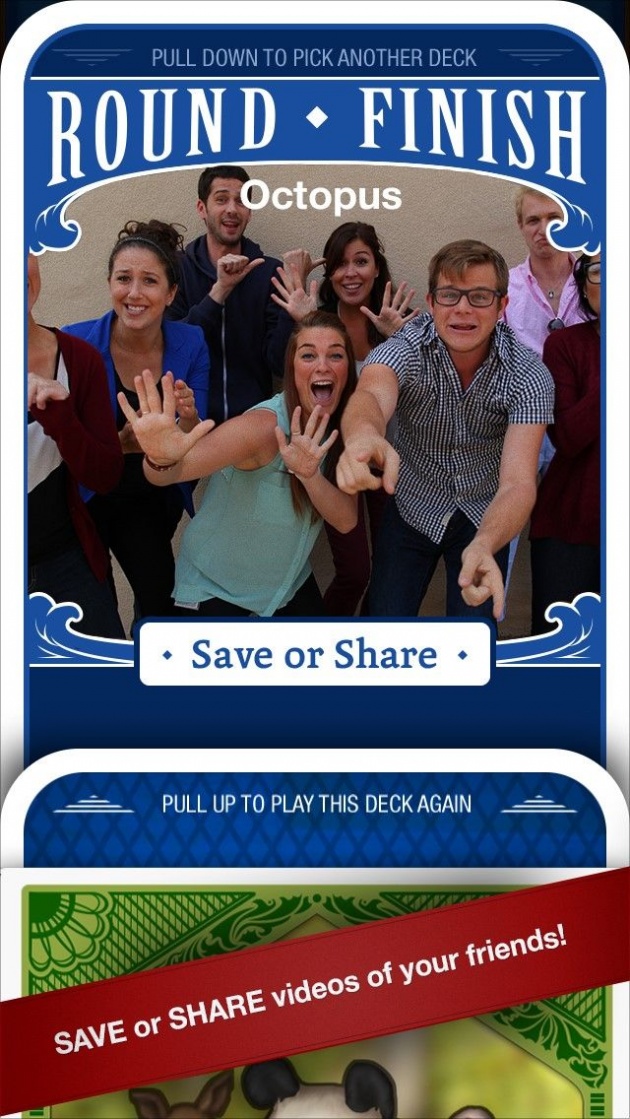 Source: www.148apps.com/app/623592465/
The videos (recorded during your games) would also appear in your phone's photo library too. You can share this video on Facebook, Instagram etc
Bottom Line:
In a nutshell, Heads Up! Is a fun, social and hilarious game that makes your parties, family events and friend's gatherings more thrilling and exciting. It won't let you get bored. It's colorful and cool architecture makes it a stand-out.
However, there is a room for improvement in many aspects. The game offers limited options for example: the users can not control the length of the match. Often the questions do not change when the cell phone is tilted forward; furthermore, skipping a question doesn't continually raise another one consequently. These issues may seem little but in middle of a challenge, when the player only has a minute to work out the question, add up to big losses and may result in an unhappy user.