Your Diet is a bank account. Good food choices are good investments.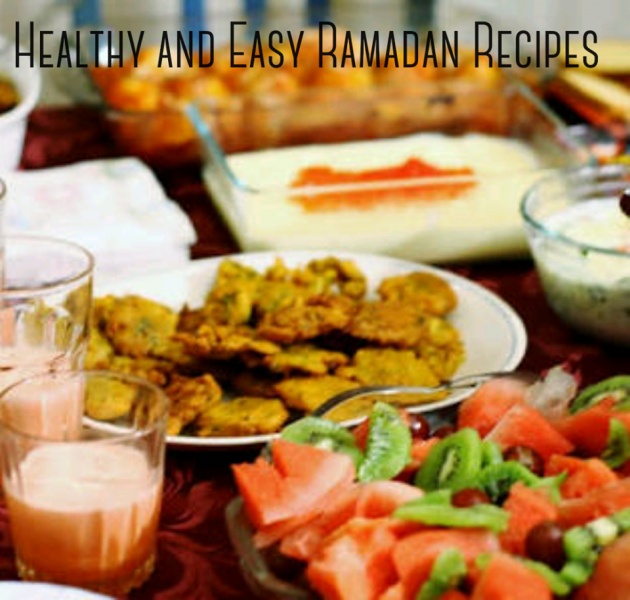 Image Credit: Truth_seeker
To stay healthy and full in the Holy month of Ramadan, you have to take care of your food habits as well. There are two proper meals everyday in Ramadan, if you are fasting. One important meal is 'Suhur' and the other one that is the most organized and cherished one is 'Iftar'. So what you really need to eat in your Suhur and Iftar is all up to you, but you can make it better and healthier for you and your family. For this purpose, all you need to do is to follow these suggestions:
Drink plenty of water and juices to keep yourself hydrated.
have fruits and yogurts, most of all in Iftar.
Don't eat much but always have energy food.
Last but not least, try these recipes for sure. I know you people, are going to love it.
Easy To Make Recipes
Try to cook healthy and eat good food. Most of us love to eat outside, but during Ramadan, prefer eating home made clean and energetic food. Here are some yummy and easy recipes, those will surely help you cooking delicious meal easily, with some basic ingredients who are actually helpful in boosting your energy during this month of fasting and otherwise as well. So I am sharing 10 easy, healthy and yummy recipes with you.
Date Nut Bars
Dates are the essential part of Iftar, they are the real source of energy and yes, we can make yummy desserts with them as well. here is the recipe of one of those delicious desserts, that you can use in your Iftar and lately you can have these bars in your breakfast as well.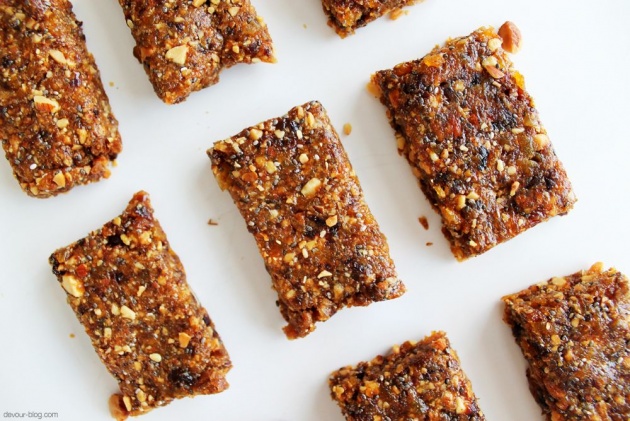 Image source: Devour
What you need:
1 package pressed dates
3 tbsp cocoa powder
⅓ c almond butter
½ c slivered almonds
2 tbsp chia seeds
1 tsp cinnamon
½ tsp vanilla extract
How to make it:
Place all ingredients in a medium bowl. With your hand, combine them and mix them well and form a ball.
Place the dough or the ball you made on a board, cover with wax paper, and flatten it with a rolling pin. Cut it by using a knife into 10 pieces and enjoy. Store these bars in your fridge for a week, wrapped each bar with plastic paper tightly. And yes if you want to eat them already, you surely can. But my suggestion is to wait for a week for best results and taste.
Choco-Nana Shake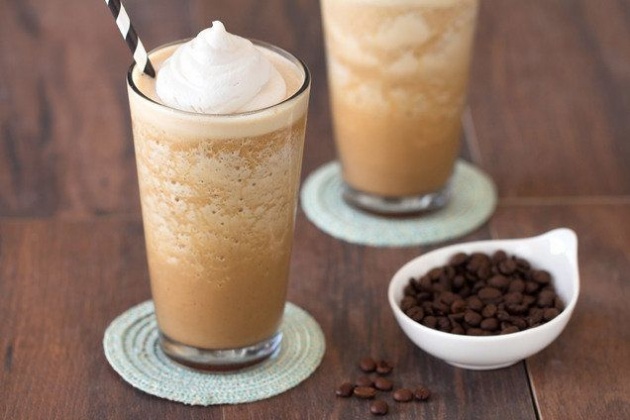 Image credit: Google
As the name speaks itself, this is a milkshake made of two basin ingredients, one is chocolate and the second is banana. And it is energy drink for Iftar and in normal days, yes you can start your day with this drink.
What you need:
Banana 6 (frozen and chunked)
Powdered chocolate 8 tbsp
Milk 2 glasses
Vanilla ice cream 3 cups


How to make it:
Place all ingredients including frozen banana chunks, powdered chocolate, milk, and vanilla ice cream into a shaker, and blend until it gets smooth and creamy. Pour into long beautiful glasses and serve them with chocolate bars. I am sure you will love it. Last but not least, you can try coffee with chocolate as well and you will try the new blend of taste as well.
Lassi
Lassi, as most of us knows, is an Indian and Punjabi drink made of curd or yogurt whatever you say. And it helps in taking care of thirst issues and dehydration especially in Ramadan. The best time to drink Lassi is in Suhur. A very easy recipe and it takes just five minutes to make it. I am giving to recipes here, one for sweet lassi and second for salty one. Whatever you want, according to your taste, you can get it.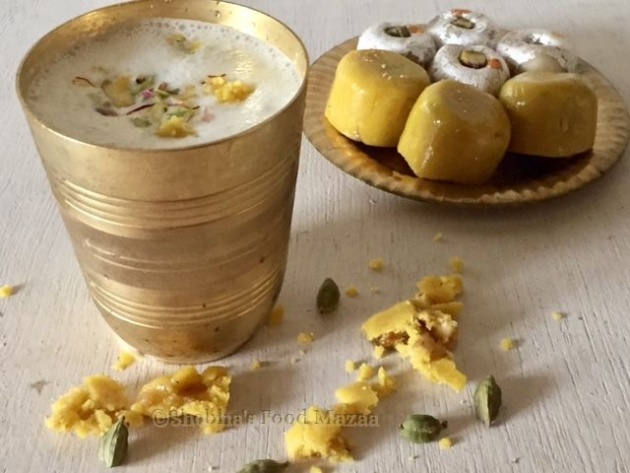 Image source: www.shobhasfoodmazaa.com/
Sweet Lassi
What you need:
Yogurt ½ kg
Milk ½ kg
Sugar ½ cup
Ice as required
How to make it:
Add yogurt, milk, sugar and ice in a jug and blend it well. Now take out the lassi in glass and serve.
Salty Lassi
Video Credit: Lily's Kitchen via Youtube
What you need:
Curd 1/2 kg
Salt to taste
Black pepper to taste
Cumin power (roasted) to taste
Ice as required

How to make it:
Put curd in jug. Add salt, black pepper and ice blend well. Pour in glass and sprinkle cumin powder. Ready to serve.
Chickpea Mango Fusion Salad

A very delicious and rich salad, that is more o less a fusion of Indian and Mexican touch. You can have it in your Iftar and can add it with your meal, any grilled thing or barbecue.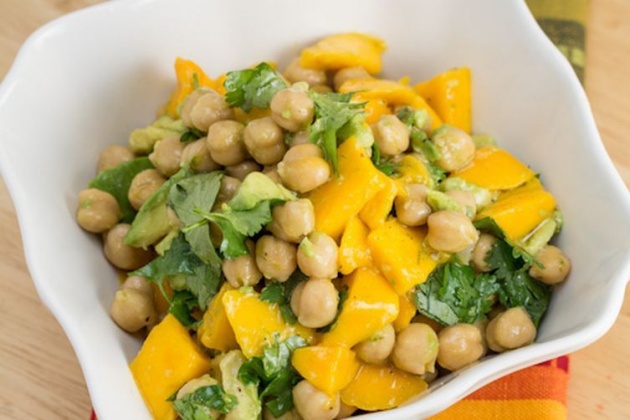 Image Credit: Food52

What you need:
Boiled chickpeas 2 cups
1 ripe mango, chopped
1 red bell pepper, chopped
1 cup cilantro leaves, chopped
Salt per taste
Black pepper according to taste
1 tsp cumin
½ lime (or more, to taste)
How to make it:
Mix all ingredients. Chill in the fridge for at least an hour before serving. Isn't it easy to make it? So try this for sure. Have fun by adding such a yummy recipe in your salad bar. Say thanks to me.
Date And Almond Milk
Again a recipe of dates and almonds but this time an energy drink, that I love to have in Iftar and it is generous of me to share the easy recipe with you all and I know you guys will say thanks to me not on my face, but at least in your heart. Lol.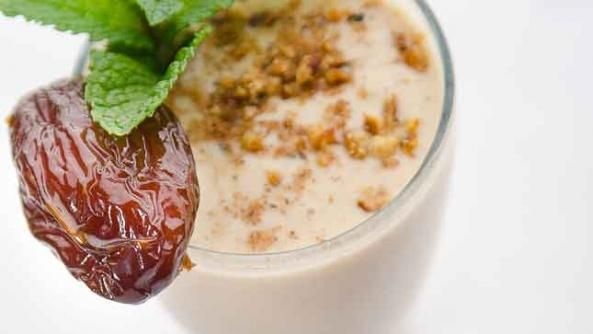 Image Credit: Google
What you need:
Deseeded Dates 10
Fresh Milk 1 liter
Sugar 3 tbsp
Almond 10 (chopped)
Ice as required
How to make it:
In the blender add milk, dates and sugar and blend it. you can add some nuts while blending too. Add some ice cubes in the glass and pour the shake in the glass. Garnish it with chopped almonds and the available nuts and serve.
Lemon Chicken
Spice up your Ramadan and daily recipes with some lemon chicken thing. A complete meal that will leave you with tantalizing taste buds. Try and Enjoy.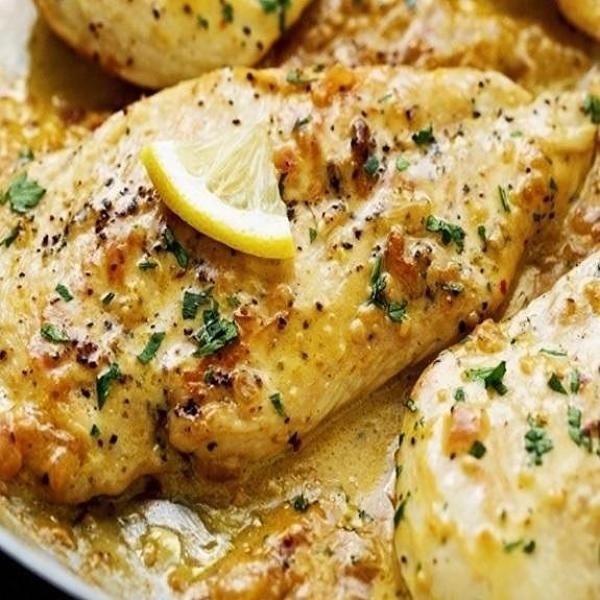 Image source: Pinterest
What you need:
Chicken leg piece 1 kg (boneless)
Oil for frying

For Batter:
All purpose flour ½ cup
Corn flour ½ cup
Egg 2
Baking powder 1/2 tsp
Garlic 1 tsp (chopped)
White pepper 1/4 tsp
Salt 1 tsp
Water as required
For Lemon Sauce:
Lemon juice 4 tbsp
Oil 5 to 6 tbsp
Ginger 1 tsp (chopped)
Corn flour 3 tbsp
Garlic 1 tsp (chopped)
Salt to taste
Chicken stock 2 cup
Lemon rind 1/2 tsp
Soya sauce 3 tbsp

How to make it:
For Lemon Sauce, heat oil in a frying pan and add ginger, garlic and salt. Cook well. Then add chicken stock, lemon rind, lemon juice, soya sauce till boil. Then add corn flour in sauce mixture and cook for 2 to 3 minutes. Lemon sauce is ready.
Now beat egg, add all ingredients of batter into it. Then marinate chicken in it for a while. Heat oil in a frying pan and fry chicken pieces for 6 to 7 minutes till light golden. Remember you have to deep fry them. Then cut fried chicken into slices and pour lemon sauce, you already made, over it. Garnish it with sliced lemon and sliced green chili or green coriander. Tasty lemon chicken is ready to serve. Try it and give me feedback as well.


Potato Puffs
Potato is the vegetable having most of the carbohydrates and when you have consumed all your energy after fasting, you need some good food with potato recipe. Here you go.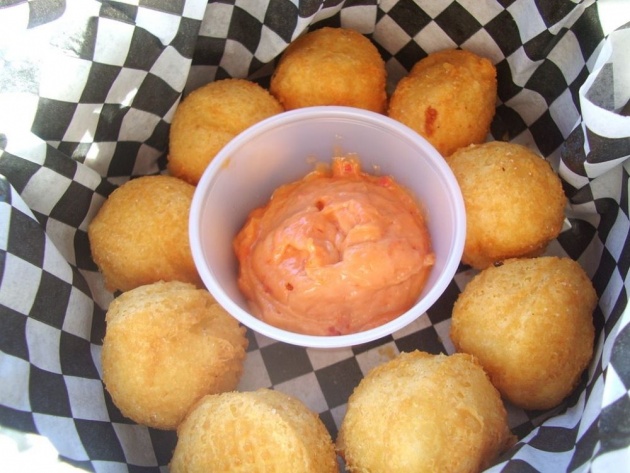 Image Source: www.kathyylchan.com
What you need:
Potato ½ kg
Eggs 2
All purpose flour 2 tbsp
Bread crumbs 6 tsp
Salt and black pepper to taste
Oil for deep fry

How to make it:
Peel and grate the potato. Mix in eggs, all purpose flour, bread crumbs, salt and black pepper. Heat oil in a pan and deep fry until it gets golden. Serve with chili and garlic sauce, because I love it.
Mayo Chicken Croquettes
Video Credit: Youtube
What you need:
Boneless chicken ½ kg
Green chilies 4
Salt 1 tsp
Black pepper powder 1 tsp
Mustard paste ½ tsp
Filling:
Carrot 1 (chopped)
Mushroom 4 (sliced)
Salt ¼ tsp
Black pepper powder ¼ tsp
Cheddar cheese ½ cup
Mayonnaise 2 tbsp
Chopped green coriander 2 tbsp
Chopped green chilies 2
Chopped green onion 2 tbsp
For Coating:
Eggs 2 (beaten)
Bread crumbs as required
Oil for fry

How to make it:
Put chicken, green chilies, salt, black pepper and mustard paste in chopper and chop it. Keep it aside. Mix together filling all the ingredients, you can add veggies of your choice as well. Now spread mince mixture on your palm and put filling in center and give it shape of croquettes. Dip in eggs then coast bread crumbs and line in a tray and keep it at cool place for 30 minutes. Now is the time to heat the oil and fry on medium slow heat until golden from all sides. Serve them with mayo sauce and ketch up. I can feel the taste. Can you?
Shahi Dahi Bhallay
This is my favorite Iftar item and I don't miss it a single day and it is typical Indian cuisine, and my mom's specialty. So recipe I am sharing it as quoted by mom. Shahi Dahi Bhallay are normally on the dining table of every Indian family. Try this for sure.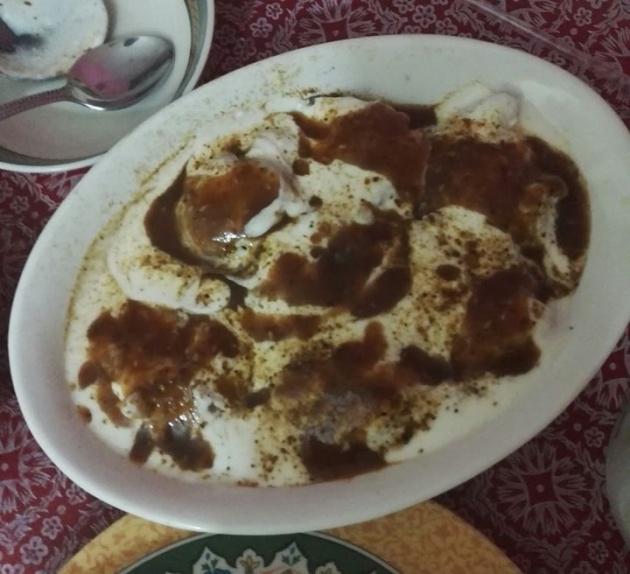 Image credit: (Myself ) Truth_Seeker
What you need:
Gram flour 1 cup
Cumin seeds 1 tea spoon
Carom seeds 1 tea spoon
Salt 1 tea spoon
Baking Powder A pinch
Yogurt As required
Chat Masalla As required
Oil To fry
For Sauce or Chatni
Tamarind Half quarter
Plum Half quarter
Sugar 3 spoons
Salt As per taste
Red Chilli powder Half tea spoon
How to make it:
Take all the ingredients of batter except oil, add water, mix it well and leave it for 20 minutes. Heat up oil in a pan to fry balls from the batter. Fry them well. Dip them in water till then they get soft, press them softly to remove water.
For sauce, dip tamarind in water, bring the seeds out, then add plum into it and water, cook it well. Add all the spices and sugar and cook for 5 more minutes. Let the sauce get cool. Spread Bhallay in a dish, add mixed yogurt on them, then sprinkle Chat masalla on it. Garnish it by pouring sauce on it. Serve and enjoy the taste yourself too.
Green Fruit Smoothie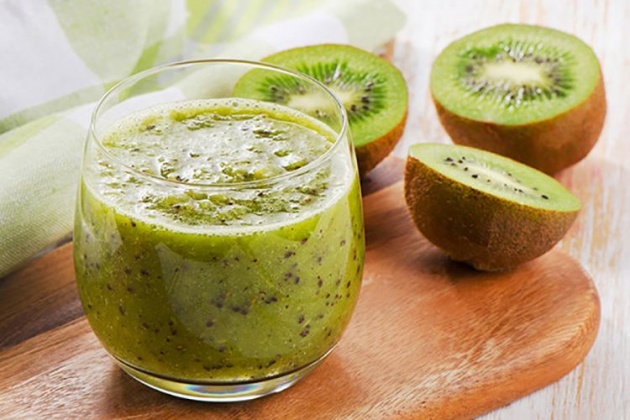 Image Source: Google

Green smoothie is made of fresh fruit and yogurt. It is very refreshing and a cool healthy drink. Here we go with the recipe.

What we need:
1 cup low fat plain yogurt
1 cup green grapes
1 cup honeydew chunks
1 ripe kiwi fruit, chopped
How to make it:

Blend all ingredients. Makes 3 to 5 servings. You can add seasonal fruits of your choice as well, but green fruits are preferred. You can garnish it with mint as well.
Food is a huge passion of mine, and because I want to eat whatever I want, I run every morning, and then I do weights a few times a week. It's just how I can balance eating pancakes in the morning, a big burger for lunch, and then a fat steak and cheesecake at night.
And that much I love food, but healthy and clean one. So happy and good food will make you happy and help you lead good fasting in the Holy month of Ramadan. Make amazing recipes with the ingredients of daily use and enjoy them. Add what you love to eat in the recipes mentioned above and cherish the good food moments. Click photos and share them with me.
Happy reading and happy eating friends. Looking forward to your feedback.
Regards