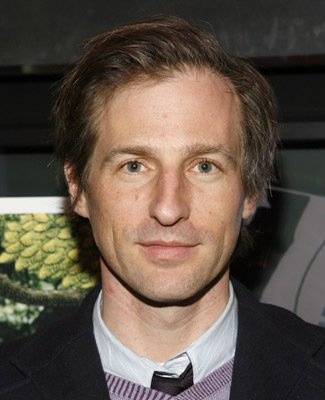 (Director Spike Jonze - IMDB image)
Even before becoming a filmmaker, I've been watching movies for the last 20 years with a pretty critical eye. Yes, I admit it can take some of the joy out of just letting myself fully tune out and enjoy a movie. Although, with that being said, I love watching films to learn and be inspired by the techniques and conventions used by other directors.
Back in the mid to late 90's when I was a teenager, I was watching a lot of MTV. Along with the bands, some of the coolest and most inventive music videos were coming out at that time. It just so happened that a lot of those really cool music videos were being directed by a guy named, Spike Jonze. He directed the Beastie Boys' video for Sabotage, Sonic Youth's video 100%, Weezer's video for their song Buddy Holly, Fatboy Slim's video for Praise You and what is still to this day one of my favourite music video of all time, Wax's California. Brilliant! Spike helped push the medium of the music video. He directed videos for all the bands I was listening to at the time and they were innovative and smart and unlike anything I had seen before.
So when Spike made the transition from music video to feature film with Being John Malkovich in 1999, I was definitely excited. Followed up by Adaptation, I felt that Spike Jonze was really on a roll. Then came Where the Wild Things Are.
To this day, Maurice Sendak, the illustrator and author of Where the Wild Things Are has been one of my biggest artistic influences. His children's book Where the Wild Things is by far my favourite children's book of all time along with millions of other people. So I had really big expectations for the movie adaptation when it came out. Needless to say, while I found myself liking the film...I really wanted to love the film. Unfortunately, I found myself being disappointed with the weak plot and over emotional depressing go nowhere storyline.
So when I saw the latest preview for Spike's new film Her, I was again excited because the concept looked really fun and original. Plus, the script was penned solely by Mr. Jonze. Luckily a friend of mine, Craig, who is a film critic and blogger for a local Vancouver newspaper, invited me the advanced screening last night. I guess my first mistake was going in with really high expectations from all the rave reviews. Currently the film has a 91 on Rotten Tomatoes, a bunch of film festival awards and three Golden Globe nominations.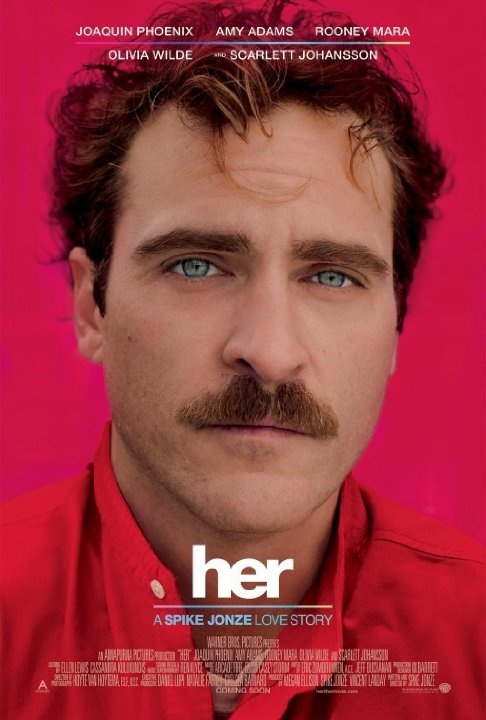 (Her - IMDB movie poster)
I'm happy to say the film starts off really well and hooked me. Great concept and smart writing. I was getting really excited about how the plot would unfold...but then it just started to drag for me. Maybe it was all the solo shots of the lead actor, Joaquin Phoenix, talking to his handheld computer that started to bother me. His romance with his computer's operating system, as interesting as a concept as that is, was just so slow paced and dragged out for the better part of the movie. I get it, the guy is falling in love with his computer! I guess audiences like myself, are just not used to seeing a single character having conversations with another character that you never see for the better part of two hours. Therefore, there's a lot of long slow zooms into Joaquin's face or shots of buildings as the two characters talk to each other. Although, the film did pick up near the end and I found myself enjoying it again.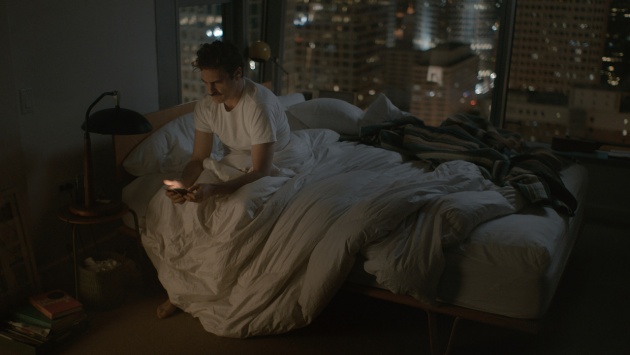 Although, I wasn't the only one who felt this way. During those slow paced and dragged out scenes, I could see that even my buddy Craig was getting really bored. I could see him rubbing his face to try to stay awake. After the film we discussed how Spike missed a number of great opportunities to really explore the concept further and push the story. Craig even went so far as to say that if he was watching it at home, he would have wound up turning it off half way through. He also mentioned that he felt that the way the film was shot, that it looked like one long Apple iPad commercial...which I agree with.
Also we both agreed that the Scarlett Johansson voiced operating system didn't feel believable in the beginning. There needed to be a bit more of a evolution of her voice and personality. Craig mentioned that he personally wouldn't recommend the movie but maybe just for home viewing since there are some interesting bits, and it's an intriguing idea. For me, I would recommend it since I really think it's a cool concept and there's a cautionary tale being told that I think is important for everyone who's connected to technology like smart phones and computers to see. As a society, I really feel like we're headed in this direction.
Despite its shortcomings, Her is a really smart film with some solid humorous laugh-out-loud moments. It probably could have benefited from being cut down to an hour and 45 minutes instead of being over 2 hours long. That would have definitely helped with the pacing. Although, overall, I can say I did enjoy the film...but unfortunately, I didn't love it.
So I guess the moral of the story is the same as when I went to see Where the Wild Things Are...never go into a movie with too high of expectations. If I were grading the film, I'd give it a solid 'B'. If I gave it a Rotten Tomatoes percentage, I'd give it a 79% since I really liked the concept but found the execution was a bit flawed. If I were rating it on IMDB, I'd rate it an 8 out of 10 stars. So still a good movie...just not great.
Well, that's really my first movie review. Hope I didn't spoil anything for anybody. I'd be curious to hear your thoughts if you've seen the movie or want to see the movie. Please leave a comment below and please subscribe for updates on future blog postings and video uploads! Thanks for reading!