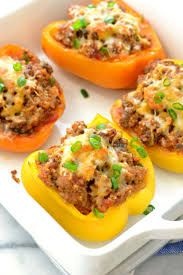 1. Protein-Style Thai Turkey Wraps

This is essentially an easy Thai-style stir-fry, but it's so much cuter tucked into lettuce wraps. The recipe uses powdered peanut butter for its sauce, but go for the real stuff if that's what you have—the protein count won't change much.
Protein per serving: 40 grams
2. The Best Healthy Turkey Chili

Need a chili recipe to keep in your back pocket for those big gatherings and game nights? This one just might be your winner. It's full of lean turkey meat and has a super-rich flavor filled with spices and tomatoes. It also doesn't require hours in a slow cooker.
Protein per serving: 30 grams
3. Turkey Quinoa Stuffed Bell Peppers

When both turkey and quinoa are involved, you know there won't be any shortage of protein in your meal. Oh, there's also a generous sprinkle of cheese on top of each serving, giving you some seriously power-packed peppers.
Protein per serving: 36 grams
4. Kale and Turkey Sausage Sauté With Parmesan

There's something about a warm salad that makes it feel more like a proper meal, and this one is especially filling from all that turkey. Plus if you're still getting used to kale, it goes down much easier when cooked and topped with Parmesan shavings.
Protein per serving: 32 grams
5. 5-Ingredient Spaghetti Squash With Pasta Sauce

Store-bought marinara sauce and canned tomatoes make this pasta-but-not-really-pasta dinner a total snap to put together. But the onion, turkey, and optional spices have the end result tasting super fresh, as if it took you hours to cook. Ladle it onto spaghetti squash for a lighter alternative that still satisfies the craving for noodles.
Protein per serving: 28 grams
6. Turkey Marinara Stuffed Portobello Mushrooms

If stuffed peppers aren't your thing, try putting your Italian-inspired turkey mix into Portobello caps instead. The 'shrooms are actually a surprising source of protein compared to other veggies—not to mention they make perfect big shells for plenty of that marinara-soaked meat.
Protein per serving: 33 grams
7. Tex-Mex Stuffed Zucchini With Avocado Salsa

Yet another super-stuffable veggie, zucchini makes for fantastic "boats" to spoon your Mexican-spiced turkey and salsa into. Top it with all your favorite fixin's and think of it as a lower-carb taco.
Protein per serving (2 boats): 27 grams
Beef/Pork
8. Grilled Steak and Peach Salad With Blue Cheese and Red Wine Vinaigrette

Steak and peaches aren't an obvious match, but that doesn't mean they don't make a delicious combo. Piled on top of spinach and garnished with pecans and blue cheese crumbles, the combination gives you a surprise in each bite.
Protein per serving: 27 grams
9. Mustard Pork Tenderloin With Grilled Vegetables in Foil

Don't let the longer cook time throw you off here—most of it is spent letting the meat marinade. You just need to step in for the last 30 minute to throw it, along with the veggie packs, on the grill. Piece of cake (er, steak?).
Protein per serving: 33 grams
10. Sesame Beef


Enjoy Thai takeout with a fraction of the oil, sugar, and sodium with this homemade sesame beef recipe. Ready in less than 20 minutes, it's even faster than delivery! Serve on top of brown rice to make it a full meal.
Protein per serving: 23 grams