Hollywood Movie Review - 12 Strong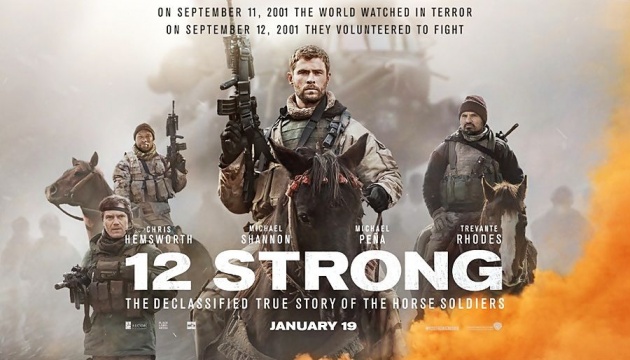 Image Credit: thesource.com
✔ Introduction
Hello Friends, I hope you are doing fine and are having a good time on bitlanders. Today I have come up again with my new blog with the title of "Hollywood Movie Review - 12 Strong". Friends, this blog is about a recently released Hollywood Movie "12 Strong". This movie is based on the United States Army Special Forces operation in Afghanistan in the wake of 9/11 attacks in America. The movie shows how the soldiers left their families to serve for their country in a very difficult battle, in very tough circumstances and in a very hot weather in Afghanistan against a brutal enemy. This film is loosely based on the book of Doug Stanton with the title of Horse Soldiers. The movie was directed by Nicolai Fuglsig and the screenplay was written by Ted Tally. The movie was produced by Jerry Bruckheimer for the Production House of Alcon Entertainment.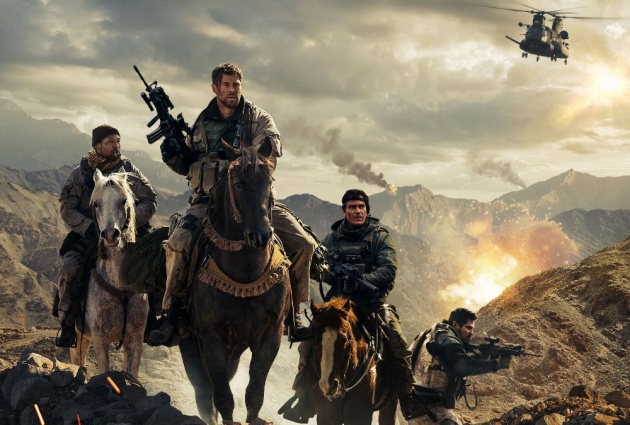 Image Credit: hdqwalls.com
The movie "12 Strong" was released on January 19, 2018 under the distribution banner of Warner Bros. Entertainment Inc. Some details of cast of this movie is as under:
✤ Chris Hemsworth as Captain Mitch Nelson
✤ Michael Shannon as Chief Warrant Officer
✤ Navid Negahban as General Abdul Rashid Dostum
✤ Geoff Stults as Sean Coffers
✤ Michael Peña as Sergeant Sam Diller
✤ Trevante Rhodes as Sergeant Ben Milo
✤ Thad Luckinbill as Vern Michaels
✤ William Fichtner as Colonel John Mulholland
✤ Rob Riggle as Colonel Max Bowers
✤ Austin Stowell as Sergeant Fred Falls
✤ Jack Kesy as Charles Jones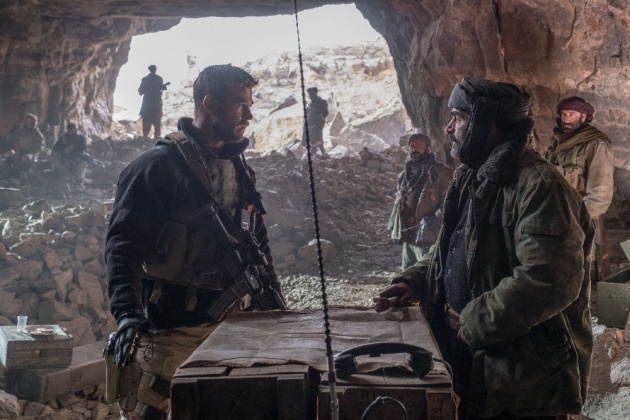 Image Credit: hdqwalls.com
"Understated" isn't a word you'd ordinarily use to describe a Jerry Bruckheimer production, but that's surprisingly what "12 Strong" ends up being.

That's not to say it's completely restrained, by any means. In telling a tale of real-life heroism against staggering odds, this is a rousing war picture, meant to stir equal amounts of excitement and patriotism. Set soon after the attacks of Sept. 11, 2001, "12 Strong" is packed with protracted battle sequences, full of deafening bombings and seemingly endless amounts of gunfire. The cumulative effect is draining; you'll walk out of the theater with the feeling that you, too, have gone to war – and an appreciation for those who are brave enough to do so themselves.
Movie Review Extracts From: www.rogerebert.com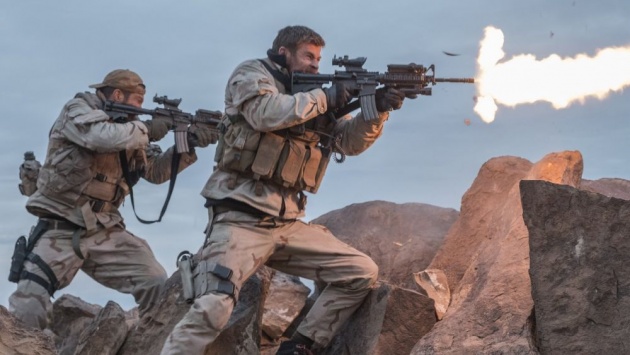 Image Credit: wall.alphacoders.com
Video Credit: Warner Bros. Pictures via Youtube.com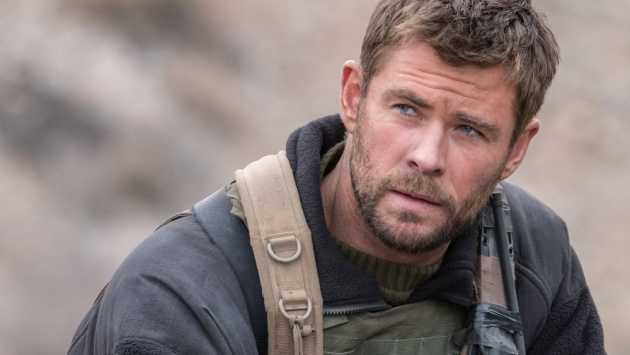 Image Credit: wall.alphacoders.com
✔ Movie Plot And Review
The movie begins with Mitch Nelson who is a soldier working in the United States Army as a Captain. He is living happily with his family which consist his wife and a daughter. They move into a new house on September 11, 2001 and are making arrangements for their luggage. Suddenly, the news of 9/11 attacks emerge on the TV and the whole family goes into shock. Captain Mitch Nelson now knows that there will be a military strike from the United States as a response. Therefore, he volunteers in his unit to command the operation in Afghanistan to fight with terrorists. He is denied to lead because in his unit, he is junior to Lieutenant Colonel Max Bowers who is supposed to lead the operation. However, keeping in view the passion and determination of Captain Mitch Nelson, he is given the responsibility to command the Forces for this operation. He is joined by other fellow Army Officers including Chief Warrant Officer Hal Spencer. All the Army personnel bid goodbyes to their families and move towards their target where military operation will be conducted.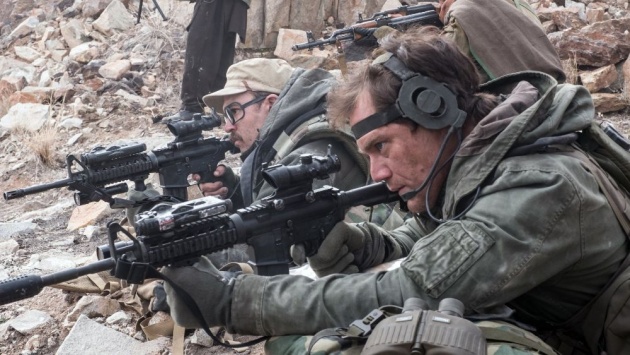 Image Credit: wall.alphacoders.com
The unit name of Captain Mitch Nelson is Operational Detachment Alpha (ODA) 595 and as they reach Uzbekistan which is near the Afghanistan border, they are accompanied by the Northern Alliance leader Abdul Rashid Dostum who is also fighting against Terrorists with his men. When they reach near their target, half of the unit 595 men leave with Abdul Rashid towards the operation site. While half of the team remains in their base camp which is given the name of "Alamo". The main aim of 595 is to capture the city of Mazar-i-Sharif from the terrorists. Abdul Rashid Dostum expresses his personal enmity with the Taliban leader Mullah Razzan because he thinks that he is a brutal person who could kill anyone even in his family to control the area and to implement their own rules. When the ambush is made, Abdul Rashid Dostum makes an error in anger and emotions which results in a lot of casualties. Captain Mitch Nelson confronts Abdul Rashid Dostum for being careless and asks him to do as he is ordered by the Army.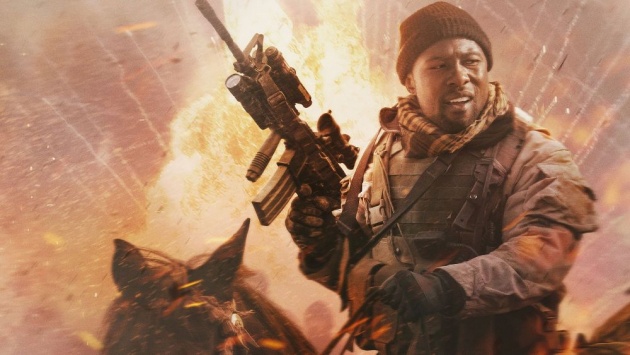 Image Credit: wall.alphacoders.com
Abdul Rashid Dostum seems to be not happy with Captain Mitch Nelson and thinks that he needs more experience to fight against dangerous and experienced terrorists. On the other hand, the United States Troops tell Abdul Rashid Dostum to stop thinking being a warrior instead of a soldier. Soon, both of them mitigate their differences and start a new task to cut of the terrorists' supply route. Most of the assignments in Afghanistan turn out to be successful in the command of Captain Mitch Nelson. However, Abdul Rashid Dostum comes to know that another rival warlord "Atta Muhammad" is also being helped by American Troops in another part of Afghanistan; he again becomes unsupportive and leaves the area along with his accomplices as a protest. Now American Forces single handedly fight against Taliban as well as Al-Qaeda and heavy fighting ensues between them. A suicide bomber also attacks American Troops causing casualties. However, the USA Forces manage to enter Mazar-i-Sharif and take control of the city. Abdul Rashid Dostum returns with his forces having found and killed Mullah Razzan. Eventually, he reconciles his differences with Atta Muhammad and Captain Mitch Nelson returns to USA along with his unit after spending 23 days in Afghanistan completing a dangerous operation successfully.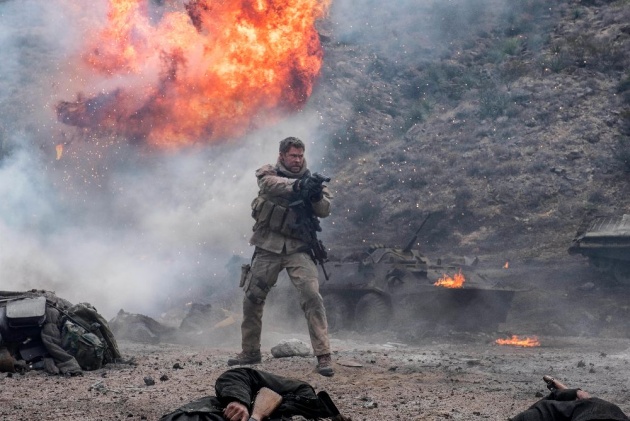 Image Credit: hdqwalls.com
✿ Here is Querlo Chat for you. Isn't it fun to chat with a Chatbot ?
Video Credit: Pro Quality via Youtube.com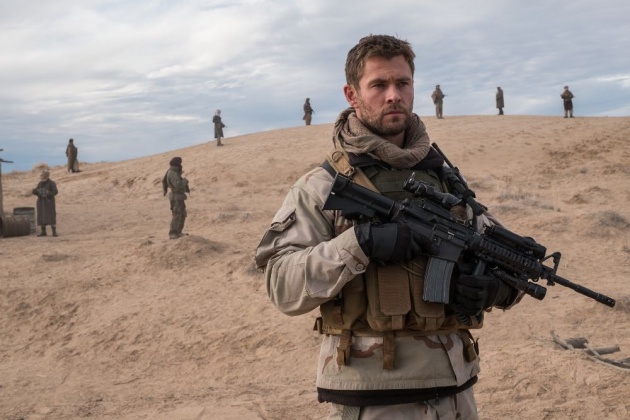 Image Credit: hdqwalls.com
✔ Conclusion
The movie "12 Strong" portrays the real life of soldiers no matter which forces they belong to. The life of a soldier is full of action, war, threats, winning, injuries and sometimes dying while performing the duties to save their motherland's interests. The movie was made very well depicting true situation in the areas plagued with civil wars and terrorism. It is of course the first responsibility of any soldier to answer the call of duty and they do it with full zeal and passion leaving behind their family and loved ones. They may come back winning the battle or their return may be in the form of a dead body while fighting for the nation. The plot of the movie which is based on non-fiction book, was very well executed by the Director and Producer of the movie. The movie also made a very good business on the box office and made good profits. The movie lovers like to see such movies which enthrall and excite them with full war zone action.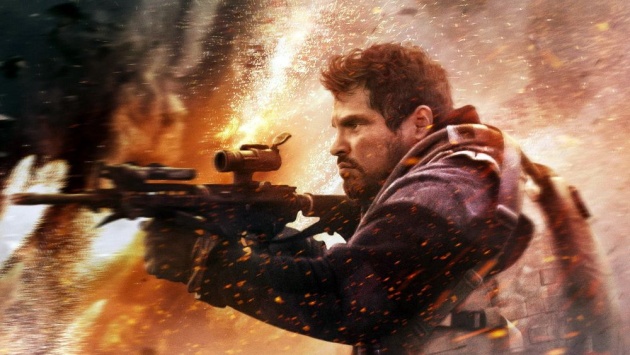 Image Credit: hdqwalls.com
✿✸✔✤✪ - - - - - - - - - - - - - - - ✿✸✔✤✪ - - - - - - - - - - - - - - - ✿✸✔✤✪ - - - - - - - - - - - - - - ✿✸✔✤✪

Thanks for Reading. This Blog was written by Rafaquat Noman (a Resident of Saudi Arabia and a Traveler) for bitlanders.
✿✸✔✤✪ - - - - - - - - - - - - - - - ✿✸✔✤✪ - - - - - - - - - - - - - - - ✿✸✔✤✪ - - - - - - - - - - - - - - ✿✸✔✤✪