Hollywood Movie Review - Tully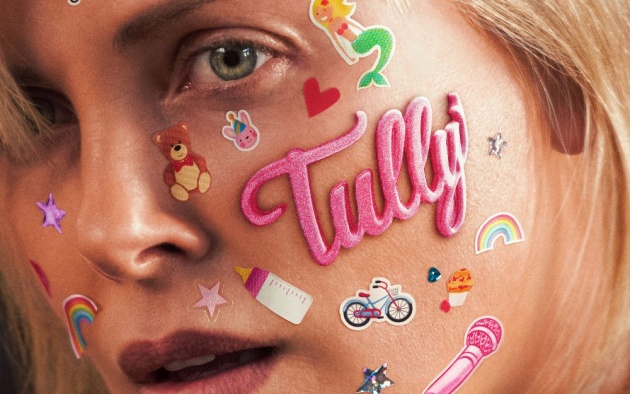 Image Credit: hdqwalls.com
✔ Introduction



Hello Friends, I hope you are doing fine and are having a good time on bitlanders. Today I have come up again with my new blog with the title of "Hollywood Movie Review - Tully". Friends, this blog is about a recently released Hollywood Comedy and Family Drama Genres film "Tully". This movie is about a mom who has been undergoing a lot of different and unique emotions after birth of her children consecutively. Maybe she is going through typical after-birth symptoms in which women go through depression and other obscure feelings. The movie depicts the ordeals of a mom in a very effective and humorous manner as she has to go through a lot of matters related to children on daily basis. The movie was directed by Jason Reitman and was produced by Aaron L. Gilbert for Bron Studios. The story of this beautiful movie was written by Diablo Cody who is quite famous for writing stylish movie contents.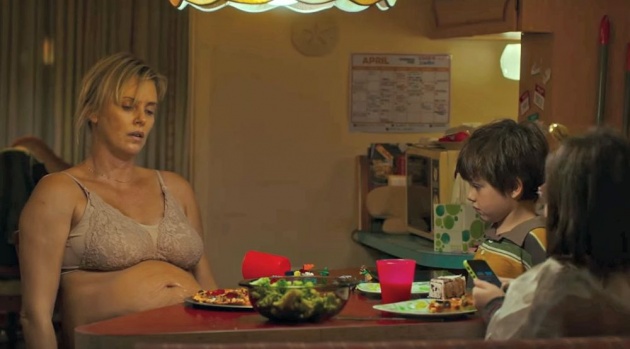 Image Credit: www.theyoungfolks.com
The movie "Tully" was released on May 4, 2018 under the distribution banners of Focus Features LLC. Some details of cast of this movie are as under:
✤ Charlize Theron as Marlo Moreau
✤ Mackenzie Davis as Tully
✤ Ron Livingston as Drew Moreau
✤ Asher Miles Fallica as Jonah
✤ Mark Duplass as Craig
✤ Lia Frankland as Sarah
✤ Elaine Tan as Elyse
✤ Gameela Wright as Laurie
✤ Tattiawna Jones as Violet
✤ Maddie Dixon-Poirier as Emmy
✤ Joshua Pak as Dallas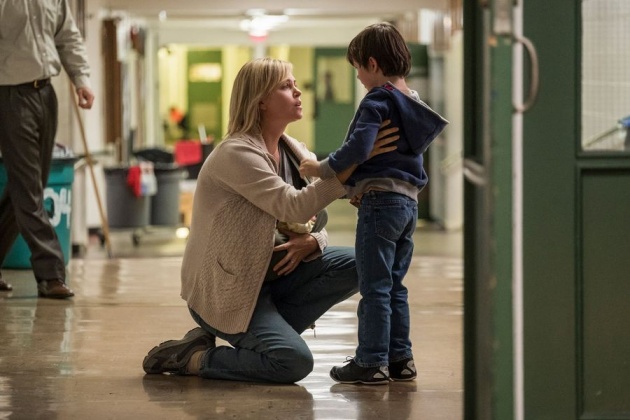 Image Credit: www.imdb.com
There are certain truths about new motherhood that are unassailable. Things that lodge themselves in your psyche as permanently as the butternut squash stain on your last halfway decent T-shirt. The bone-deep exhaustion. The uneasy combination of anxiety and boredom. The pressure to bring sexy back when it feels like someone has driven a combine harvester through your nethers. All of which this latest collaboration between writer Diablo Cody and director Jason Reitman nails with harrowing accuracy.
Movie Review Extracts From: www.theguardian.com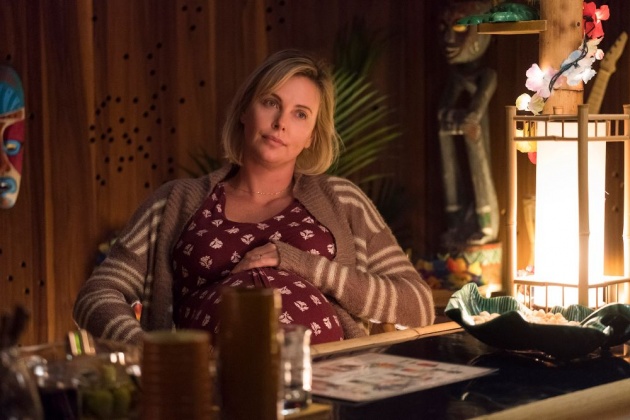 Image Credit: www.imdb.com
Video Credit: Focus Features via Youtube.com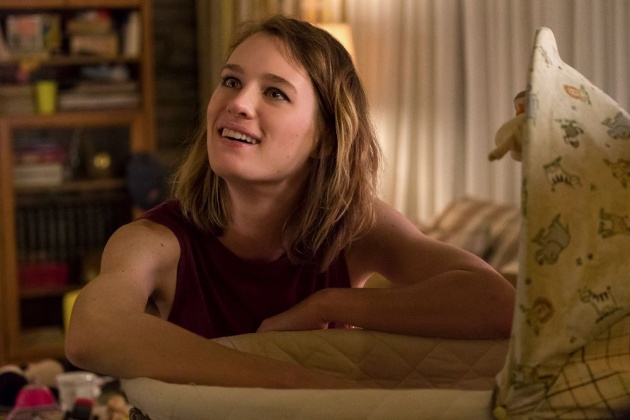 Image Credit: www.imdb.com
✔ Movie Plot And Review
The movie starts in Marlo's house where she is living with her family that includes her husband Drew Moreau and two children, one is son Jonah and the other is her daughter Sarah. She is living a general mom's life which includes taking care of her children and making them lunch and dinner etc. Besides, she comes to know that her responsibilities are going to increase as another unplanned child which is a result of unprotected sexual encounters is coming into this world soon which makes Marlo a kind of more frustrated and anxious mom. Furthermore, her son Jonah is also suffering from a strange and unique type of disease that requires his skin to be brushed gently by a soft brush because he feels itching and uncomfortable sensation in his body. On one day, Marlo and her husband along with kids visit Marlo's brother house who advise them to have a nanny in order to feel comfortable with daily children's routines. However, Marlo does not think that she should allow a stranger into her house which could pose different other challenges and could lead to family's security issues (in the worst circumstances).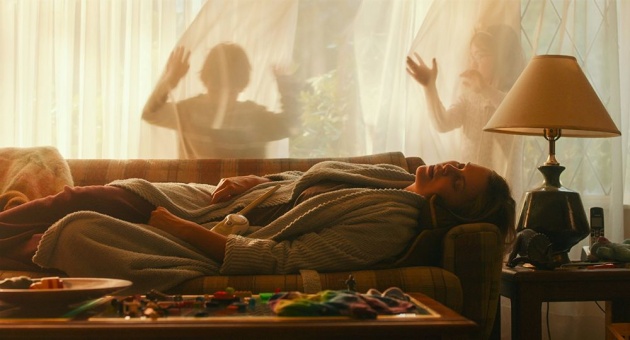 Image Credit: www.imdb.com
Marlo's brother Craig and his wife Elyse also express their wish to hire a night nanny as a baby shower gift and insists on having one nanny but Marlo does not accept. Moreover, at Jonah's school, Marlo is again and again recommended by the Principal that she hire an aide for her son because of his sometimes eccentric behavior which makes Marlo a bit angry. Soon, Marlo undergoes labor and gives birth to a daughter and she names her Mia. When she comes back from the hospital, she feels extremely exhausted and anxious while performing a mom's tasks such as pumping breast milk for baby, changing the baby's diapers and other related tasks. She soon starts thinking about having a nanny because Jonah's school's administration dismisses him for his unorthodox behavior besides constant yelling of the new born baby. At night, a night nanny Tully visits Marlo's house and helps in her routine works. They spend a nice time together and Marlo has a chat with Tully before going to sleep. Next morning, when Marlo wakes up, she becomes happy to see that Tully had cleaned the house already for her.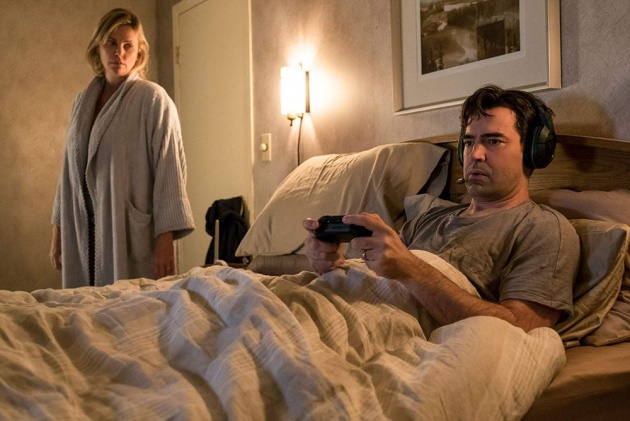 Image Credit: www.imdb.com
As the time goes by, both Marlo and Tully develop friendly relationship and Marlo also starts having discussion with Tully on private topics as well which also includes her husband's sexual likings etc. People around Marlo such as her husband, brother Craig and his wife feel that there has come a positive change in the temperament of Marlo as she looks fresh and happy now. One night when Tully comes, she looked upset and when Marlo asked about it, Tully explained that it was because of her roommate with whom she had some arguments over some personal matters. They both go out for a drink and Tully informs her that she would not be able to continue with her as a night nanny because she feels that Marlo can adjust without her. While driving back, Marlo finds herself losing control over her car due to a sudden sleepy feeling and she ends up into a river. She sees Tully under the water who comes for her rescue and as Marlo wakes up, she finds herself in a hospital and comes to know that there is no existence of Tully and she made up the whole episode in her mind due to less sleeping and exhaustion. When Marlo goes back home after treatment, she starts to live a normal life as the whole experience of imagining Tully had filled a new energy into her.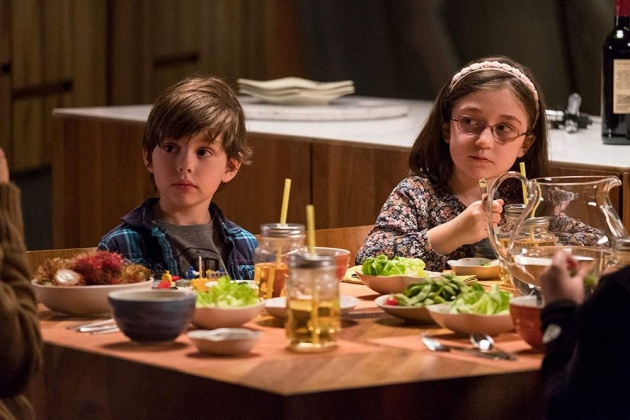 Image Credit: www.imdb.com
✿ Here is Querlo Chat for you. Isn't it fun to chat with a Chatbot ?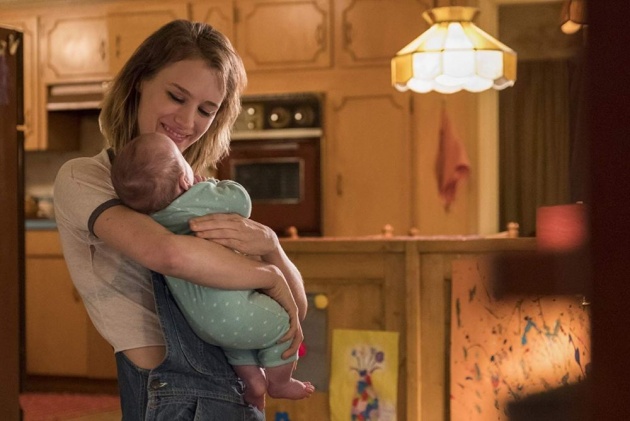 Image Credit: www.imdb.com
Video Credit: Movieclips Coming Soon via Youtube.com
✔ Conclusion
The best thing about the movie "Tully" was Charlize Theron's beautiful appearance and her acting as a mom. The humor she created while performing duties of a mom was mind blowing and she portrayed the character very well. The central idea behind the movie was simple but unique and that impressed the movie lovers a lot. The movie critics gave positive reviews for the movie and on the whole, the movie was generally liked by Hollywood movie lovers all over the world. Mackenzie Davis also performed her role very well and turned her character into a live personality in the movie proving her mind blowing acting skills. The film was first premiered at the 2018 Sundance Film Festival and got many acclaims and appreciation there as well before its official release in the United States of America in May 2018.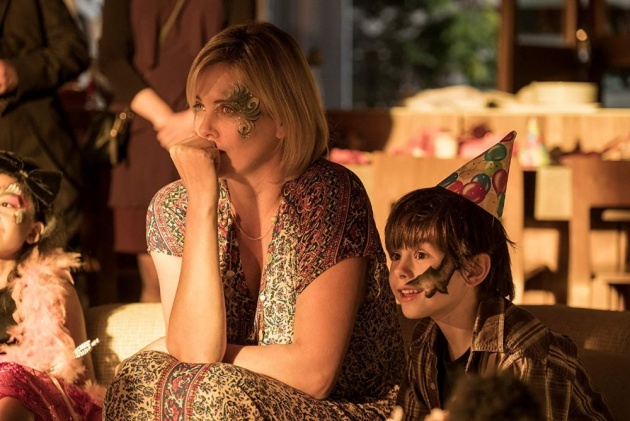 Image Credit: www.imdb.com
✿✸✔✤✪ - - - - - - - - - - - - - - - ✿✸✔✤✪ - - - - - - - - - - - - - - - ✿✸✔✤✪ - - - - - - - - - - - - - - ✿✸✔✤✪

Thanks for Reading. This Blog was written by Rafaquat Noman (a Resident of Saudi Arabia and a Traveler) for bitlanders.
✿✸✔✤✪ - - - - - - - - - - - - - - - ✿✸✔✤✪ - - - - - - - - - - - - - - - ✿✸✔✤✪ - - - - - - - - - - - - - - ✿✸✔✤✪