Hollywood Movie Review - Upgrade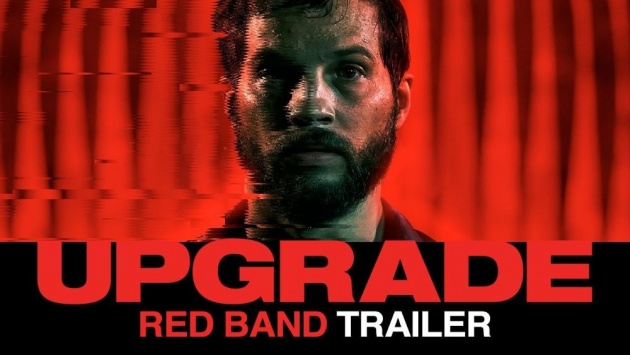 Image Credit: www.beatbanga77.com
✔ Introduction



Hello Friends, I hope you are doing fine and are having a good time on bitlanders. Today I have come up again with my another new blog with the title of "Hollywood Movie Review - Upgrade". This blog is about a recently released Hollywood movie "Upgrade". Friends, this movie is a science fiction movie in which use of new and modern scientific technology was shown. A man unknowingly uses the technology to take revenge as the enemies killed his wife. However, he comes to know later that he was actually being used and new technology was tested on him. Day by day new scientific inventions are becoming part of our lives and this movie is about one of those inventions. The movie was directed by Leigh Whannell and produced by Jason Blum for the Blumhouse Productions.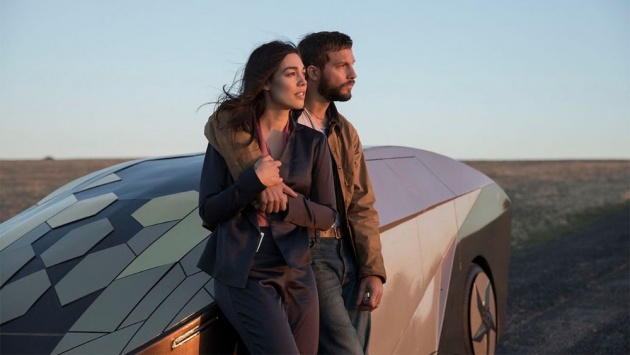 Image Credit: collider.com
The movie "Upgrade" was released on June 1, 2018 under the distribution banner of Universal Pictures. Some details of cast of this movie are as under:
✤ Logan Marshall-Green as Grey Trace
✤ Simon Maiden as STEM
✤ Harrison Gilbertson as Eron
✤ Betty Gabriel as Cortez
✤ Benedict Hardie as Fisk
✤ Melanie Vallejo as Asha
✤ Richard Cawthorne as Serk
✤ Clayton Jacobson as Manny
✤ Linda Cropper as Pamela
✤ Kai Bradley as Jamie
✤ Sachin Joab as Dr. Bhatia
✤ Michael M. Foster as Jeffries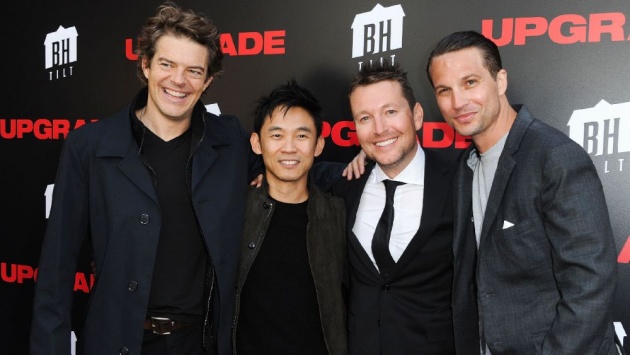 Image Credit: www.hollywoodreporter.com
That such '80s-era films as The Terminator and Robocop were an inspiration becomes instantly apparent in the latest directorial effort from Leigh Whannell (veteran of the Saw and Insidiousfranchises). Infusing its familiar dystopian sci-fi tropes with stylishly gonzo, low-budget filmmaking and inventive narrative flourishes, Upgrade proves far more entertaining than it has a right to be.

The futuristic revenge thriller revolves around the blandly named (intentionally) character Grey Trace (Logan Marshall-Green), an automobile mechanic whose disdain for technology is signaled by his listening to music on vinyl. Grey's Luddite tendencies don't interfere with his loving relationship with his wife, Asha (Melanie Vallejo), who works at a high-tech firm and has outfitted their house with state-of-the-art technology.
Movie Review Extracts From: www.hollywoodreporter.com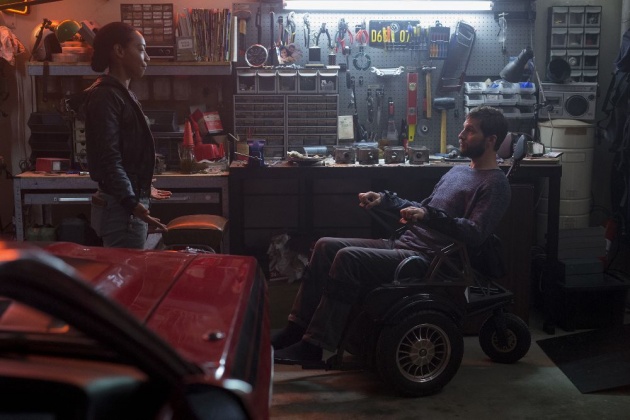 Image Credit: collider.com
Video Credit: TRAILER CITY via Youtube.com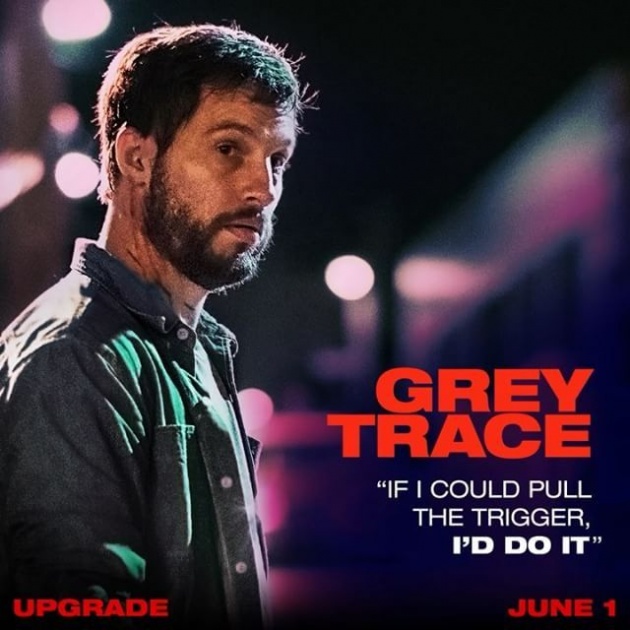 Image Credit: www.stunmore.com
✔ Movie Plot And Review
The movie begins as Grey Trace is living a happy life with his wife Asha in a modern world where science and technology has even entered into human body in terms of strengthening power and skills. Grey Trace is a mechanic by profession and does not like to go out of his house for work as he is a home based mechanic. However, his wife works for an advanced scientific company which deals in human to computer augmentations. Asha and Grey do not take part in these augmentation techniques as they are not comfortable with them but they do not know that the people who deal in augmentation need people like them who are pure in this manner as they are without any technical interference in their bodies. On one eventful day, Grey takes Asha to his customer and friend Eron to return a car. Eron is fully interested in technical innovation and as he meets with Grey and Asha, he shows them a newly designed Computer Chip named "STEM" which he claims will rock the future of modern science as it is based on Artificial Intelligence. Eron informs them that this Chip can make smart decisions like a human brain and can use human muscles' power to act quickly making reflexes of a human very fast after implantation.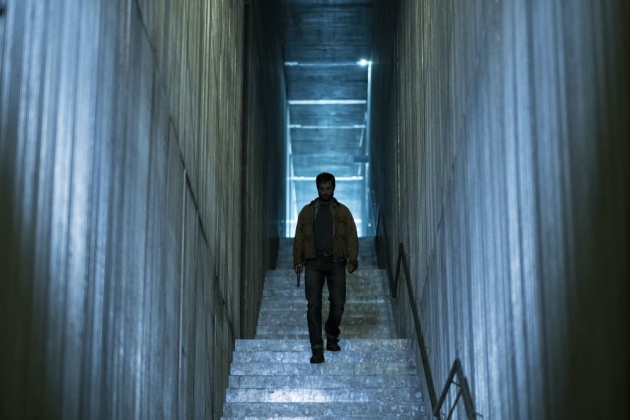 Image Credit: www.openlettersmonthly.com
Grey and Asha are happy to see Eron's new invention but do not show too much interest in it. When they go back to their house after meeting with Eron, they meet an accident on their way as their smart car crashes causing Grey and Asha to stop at a desolated place where they get attacked by four men which results in Asha's death as those men fire at her and injure Grey very badly. When Grey gets back consciousness, he finds himself in his house bound to a wheelchair with his mother Pamela. Grey feels very devastated and wants to end his life as he does not want to live without Asha. However, Pamela tries to pacify him and gives him a hope. Meanwhile, Police Detective Cortez begins visiting Grey's home for investigation to find the culprits. Eron also visits Grey after sometime and convinces him to implant his Chip inside his body in order to recover fully and quickly. Eron is in double mind as he wants to avoid machinery into him but also wants to take revenge for his wife's murder. He decides to have a go at it after Eron's insistence and after the operation, he starts to recover quicker than expected and miraculously leaves the wheelchair very soon.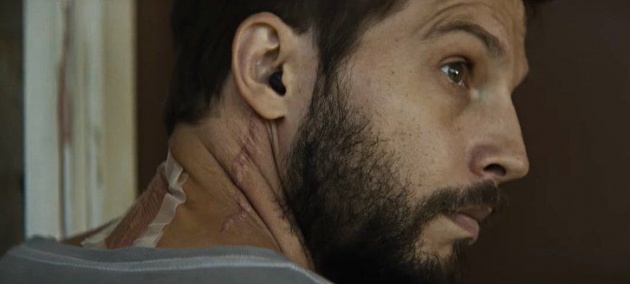 Image Credit: www.newyorker.com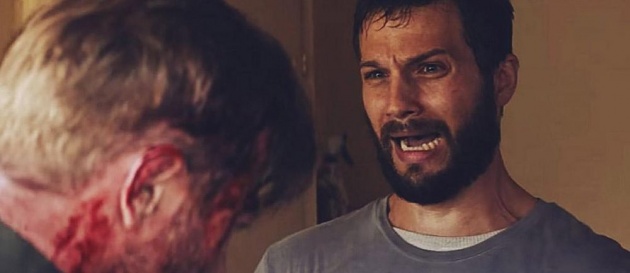 Image Credit: theplaylist.net
As soon as Eron's chip "STEM" is implanted into Grey's body, he fees that he have received special powers. Now Grey starts hunting for the culprits who murdered his wife without any reason. Now, the STEM starts talking to Grey and sometimes wants to control his body on its own. Grey soon finds out that actually Eron's chip STEM wanted to test itself onto him and starting from their car crash which resulted into Asha's death to Grey's implant, everything was staged by STEM. It is further revealed to him that even Eron was used by the STEM and Eron had been overpowered and blackmailed by STEM to carry out its orders. Grey kills the murderers of his wife but after completing his revenge, he shoots himself as the truth gets disclosed to him. However, he wakes up in the hospital and finds Asha besides him who convinces Grey that what he went through was a bad dream. However, in reality, STEM had found a new body to move into the world as Grey and now older Grey has to live his remaining life in a fantasy world with Asha.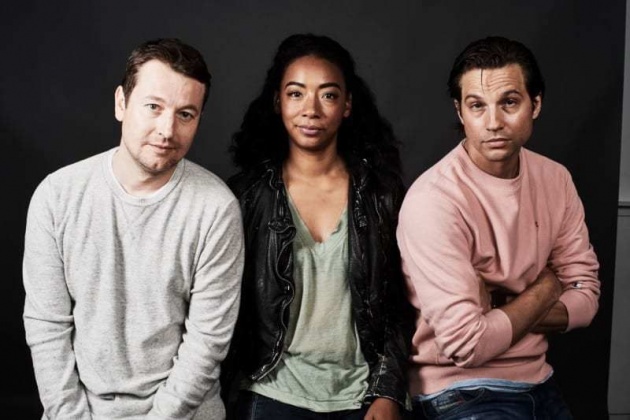 Image Credit: comicsverse.com
Video Credit: Dread Central via Youtube.com
✿ Here is Querlo Chat for you. Isn't it fun to chat with a Chatbot ?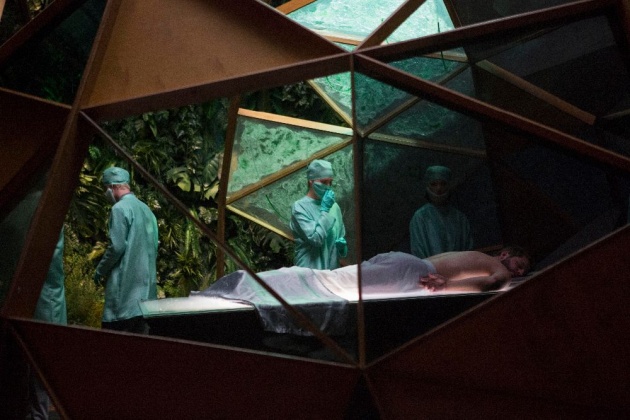 Image Credit: cdn.collider.com
✔ Conclusion
The Hollywood movie "Upgrade" has a modern technical theme and the central idea behind the movie's story is the use of scientific inventions for humans. In the modern world now, we see robotic limbs etc implanted on humans which are actually for the betterment of humans' lives. However, some inventions are lethal for humans just like a nuclear bomb as they can fully jeopardize the environment humans live in. The use of technology should be in a positive manner to serve humanity instead of causing a threat to humanity. The visual effects, camera work and the inventions showed in the movie were very attractive. The filming of script was also very good besides the characters in the movie who justified their presence in the movie by giving remarkable performance. Blumhouse Productions have been coming up with new and thrilling scientific concepts in their movies in recent times and have proved themselves to be successful in their ventures.
✿✸✔✤✪ - - - - - - - - - - - - - - - ✿✸✔✤✪ - - - - - - - - - - - - - - - ✿✸✔✤✪ - - - - - - - - - - - - - - ✿✸✔✤✪

Thanks for Reading. This Blog was written by Rafaquat Noman (a Resident of Saudi Arabia and a Traveler) for bitlanders.
✿✸✔✤✪ - - - - - - - - - - - - - - - ✿✸✔✤✪ - - - - - - - - - - - - - - - ✿✸✔✤✪ - - - - - - - - - - - - - - ✿✸✔✤✪