Hollywood Movie Review - War for the Planet of the Apes
Image Credit: wall.alphacoders.com
✔ Introduction
Hello Friends, I hope you are doing fine and are having a good time on bitlanders. Today I have come up again with my new blog with the title of "Hollywood Movie Review - War for the Planet of the Apes". Friends, this blog is about a recently released Hollywood Science and Fiction movie "War for the Planet of the Apes". This movie is the third edition in the film series of Planet of the Apes. Previous movies were released with the titles of Rise of the Planet of the Apes and Dawn of the Planet of the Apes in the years 2011 and 2014 respectively. The story of the movie revolves around war between intelligent Apes and humans. This movie was directed by Matt Reeves whereas the movie was produced by Peter Chernin along with Rick Jaffa and Amanda Silver. The screen play for the movie was written by Mark Bomback who was a co-producer of the last film in this series released in 2014. The movie was produced under the supervision of Chernin Entertainment, an American Film Production and Financing Company.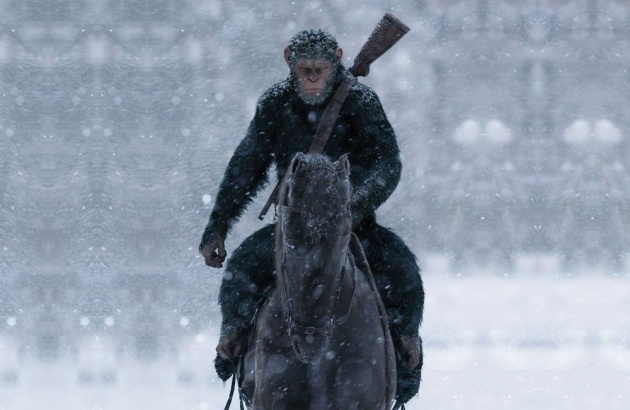 Image Credit: wall.alphacoders.com
The movie "War for the Planet of the Apes" was released on July 10, 2017 in the United States under the distribution banners of 20th Century Fox. Some details of cast of this movie are as under:
✤ Andy Serkis as Caesar
✤ Woody Harrelson as The Colonel
✤ Amiah Miller as Nova
✤ Karin Konoval as Maurice
✤ Terry Notary as Rocket
✤ Ty Olsson as Red
✤ Michael Adamthwaite as Luca
✤ Toby Kebbell as Koba
✤ Judy Greer as Cornelia
✤ Sara Canning as Lake
✤ Max Lloyd-Jones as Blue Eye
✤ Devyn Dalton as Cornelius
✤ Aleks Paunovic as Winter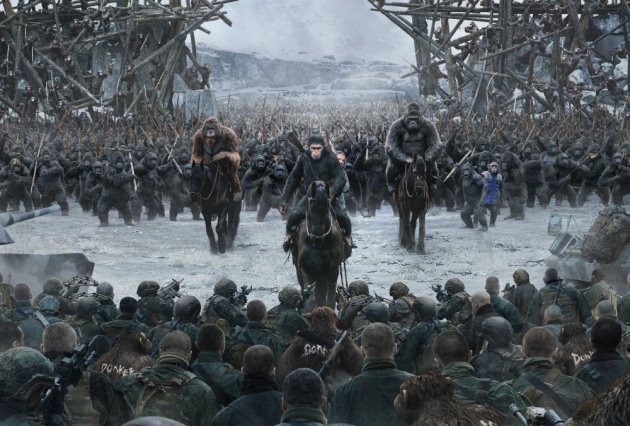 Image Credit: wall.alphacoders.com
"War for the Planet of the Apes" is a film that unapologetically embraces the first word of its title. It opens with soldiers in a lush green forest with nicknames on their helmets, marching toward the enemy through the brush in a style that reminded me of "Platoon." Over the next two hours, other war films will flash through your mind, most commonly "Apocalypse Now," which Matt Reeves' excellent blockbuster cribs from openly, even turning its villain into a Colonel Kurtz in the heart of darkness, complete with shaved head and rambling philosophy. (At one point, graffiti even reads "Ape-pocalypse Now," as if to make clear that Reeves and company aren't stealing as much as directly paying homage.) So why turn a franchise about sentient apes into a war movie that echoes the stories of Vietnam? What can be gained from looking at the darkest side of humanity through the lens of a summer blockbuster? The answer is quite a lot.
Movie Review Extracts From: www.rogerebert.com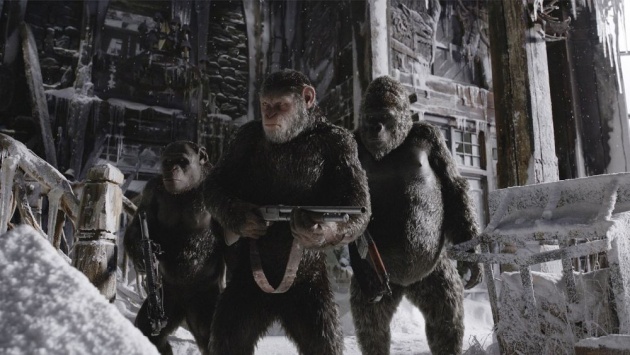 Image Credit: wall.alphacoders.com
Video Credit: Planet of the Apes via Youtube.com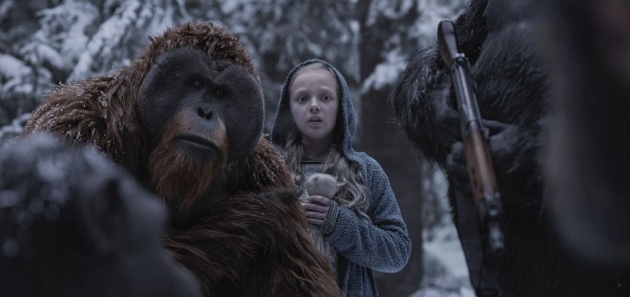 Image Credit: wall.alphacoders.com
✔ Movie Plot And Review
The movie begins as 15 years ago a scientific experiment went wrong which destroyed the humanity and gave increase to a particular kind of intelligent apes because it spread a virus across the globe known as "Simian Flu". Since there were many intelligent apes, therefore, existence of humans went into great danger and the war broke out between intelligent apes and humans and the apes were led by "Caesar". On the other hand, humans also created a force which was led by Colonel McCullough and his force was given the name of Alpha-Omega. In the humans' force, there were a lot of apes which were previously a part of rebel apes group. One of the main rebel apes was Koba who was always eager to attack humans. Although Caesar wanted peace between apes and humans, but because of Koba, the fight was at its peak now and Caesar was hiding in his command base but he has to face humans now as the situation is very crucial.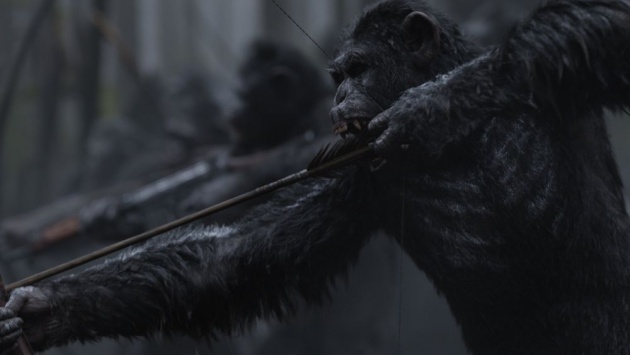 Image Credit: wall.alphacoders.com
Caesar wanted a new place for the intelligent apes and he goes with his team to find new home for themselves. They reach a place where they find a little girl "Nova" and one of the apes whose name was Maurice and he is Caesar's adviser takes the girl with him despite Caesar's disliking for his decision. On their way to explore their new home, they encounter Bad Ape who first stole the horse and a rifle but is captured soon by the Caesar's apes and he also joins Caesar group with an intention to betray them afterwards. Later on, Caesar goes to the military camp alone, only to find chained apes who tell him that apes have been made slave for humans. In the meantime, Caesar is hit by a rifle butt by Bad Ape from behind and he loses consciousness. When he wakes up, he finds Colonel McCullough in front of him. Caesar tells him that he is after him because he killed the apes' family. Although, Colonel McCullough apologizes but in an insincere way. Caesar is also slaved and put to work along with other apes without proper food and water. When they asked Colonel McCullough for some food, he started treating apes brutally and even killed few apes in the process.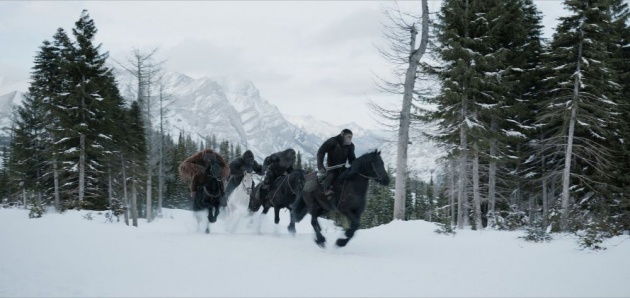 Image Credit: wall.alphacoders.com
Seeing the ordeal of Caesar and other captivated apes, Maurice and Bad Ape think of a way to reach military camp in order to save Caesar and other apes. They start digging a tunnel and manage to reach the camp soon. As all the apes confined in the camp escape, Caesar heads towards Colonel McCullough's room in order to finish his mission to kill him. When he reaches Colonel McCullough's office, he finds him drunk and also unable to speak which means Colonel McCullough was going towards primitive stage. Therefore, to end his pain and ordeal, Colonel McCullough takes the gun and shoots himself as Caesar could not find the courage to do so, although, gun was in his hand. Afterwards, while running towards his group, Caesar holds on to a grenade and hurls it towards a leaking tank in the facility resulting in a huge explosion and leading towards the end of all enemies who attacked the camp. After reaching his group through the tunnel, the apes led by Caesar move onto their journey towards a new home. Nova is also with them and soon they reach a new land that the apes are happy with. The film ends as Caesar passes away peacefully after completing his mission.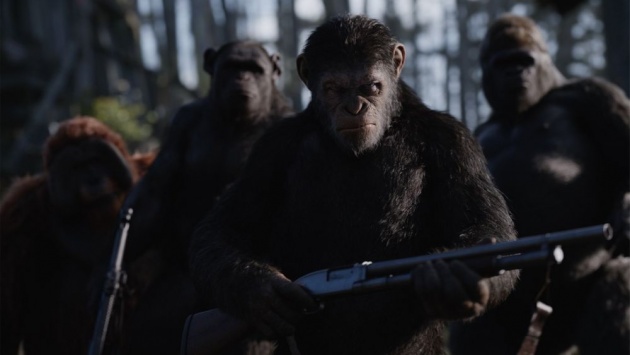 Image Credit: wall.alphacoders.com
Video Credit: movies N TV series via Youtube.com
✿ Here is Querlo Chat for you. Isn't it fun to chat with a Chatbot ?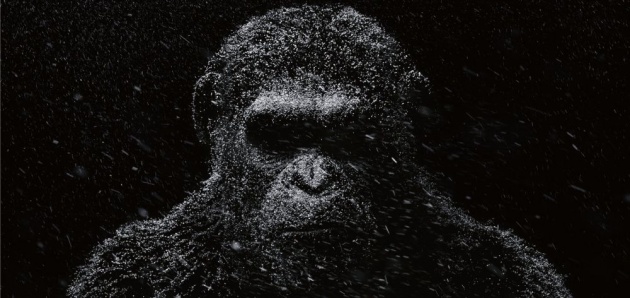 Image Credit: wall.alphacoders.com
✔ Conclusion
The interest of movie lovers in the previous versions of Planet of the Apes film series must have enticed the producers and directors to go for the third movie in the series. The movie was indeed very entertaining to watch because it covered all emotions such as love, hatred, sincerity and kindness in an amicable manner. The movie is based on fiction but has overwhelmed the audience with its strong script and very good camera work. All the cast of the movie performed their roles very well and it emerged at the box office as a hit movie by earning more than 490 Million US Dollars. The ending scenes were very productive and meaningful as they conveyed the message that everyone can find their destination after a hard work and sacrifices as Caesar did in the movie.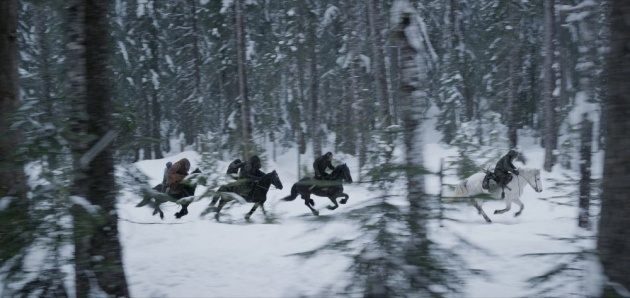 Image Credit: wall.alphacoders.com
✿✸✔✤✪ - - - - - - - - - - - - - - - ✿✸✔✤✪ - - - - - - - - - - - - - - - ✿✸✔✤✪ - - - - - - - - - - - - - - ✿✸✔✤✪

Thanks for Reading. This Blog was written by Rafaquat Noman (a Resident of Saudi Arabia and a Traveler) for bitlanders.
✿✸✔✤✪ - - - - - - - - - - - - - - - ✿✸✔✤✪ - - - - - - - - - - - - - - - ✿✸✔✤✪ - - - - - - - - - - - - - - ✿✸✔✤✪