In today's movie industry where huge hits are mostly sci-fi and comic-book films, it is a box office struggle to create an enjoyable chick flick. But still, writer-director Hallie Meyers-Shyer made a lighthearted, modern, romantic-comedy story for her directorial debut starring the award-winning actress Reese Witherspoon. The movie Home Again is about a battling, newly-separated, forty-year old Alice Kinney who is in the process of finding true happiness amidst life struggles – a story of a strong woman perfectly suited to be featured in the BitLanders Film Series.
Let's take a deeper look at this feel-good movie through my review!
♥ The Movie ♥
(Video Credit: Hallie Meyers-Shyer via BitLanders)

(Image Credit: via IMDb)
▶ The Characters
Home Again's casting pool is not much star-studded compared to the previous movie I recently reviewed, Ocean's 8. But with Reese Witherspoon as its female lead, a romantic-comedy flick could never go wrong. See below for the list of other characters in the movie.
◈ Alice Kinney (Reese Witherspoon)
➤ Alice is the daughter of the late director John Kinney (David Netto) and actress Lillian Stewart (Candice Bergen). She is married to music producer, Austen Blume, but has been civilly separated for five months. Alice decided to move back to her father's home in Los Angeles to start anew with her two kids, Isabel (Lola Flanery) and Rosie (Eden Grace Redfield). She is also currently attempting to venture into the business of interior designing.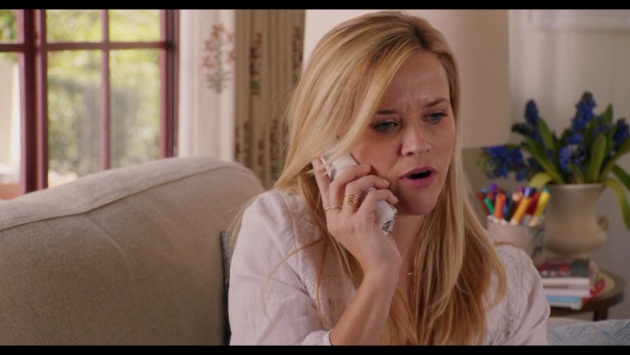 (Image Credit: Screenshot by JustAGirl)
◈ Harry Dorsey (Pico Alexander)
➤ Harry is an aspiring film director, already with a positively acclaimed short film in hand. He, together with his two other mates (one of whom is his brother), moves to L.A. to make a pitch to potential producers for a script they are currently working on. After a night-out, he stumbles upon Alice and they got attracted to each other.
◈ George Appleton (Jon Rudnitsky)
➤ George is the scriptwriter of the group. He also somewhat likes Alice but kept it to himself because she is already hooking up with Harry. He received an opportunity to work on a script independent from the group which made Harry feel bad, but they later reconciled.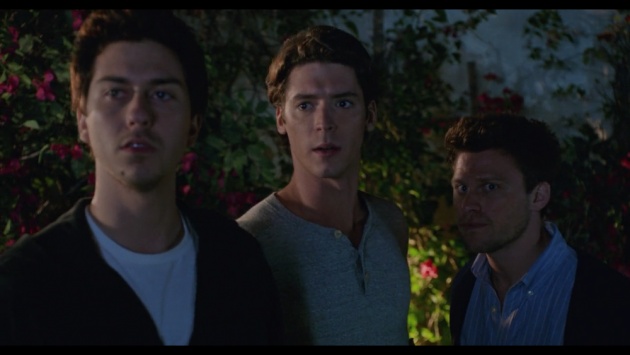 (Image Credit: Screenshot by JustAGirl)
◈ Teddy Dorsey (Nat Wolff)
➤ Teddy is the younger brother of Harry and the actor in the group. He is an expert in technology and helped Alice with her business website. At one point, he punched Austen in the face after the latter tried to manipulate Alice into getting back with him and kick them out of the picture.
◈ Austen Blume (Michael Sheen)
➤ Austen is the estranged husband of Alice who is a music producer by profession. He later went to Alice's home to reconcile and try to fix their marriage. However, Alice chose to finally go for divorce instead of reuniting with him.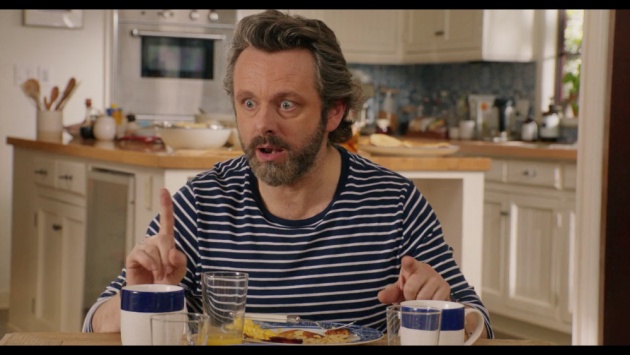 (Image Credit: Screenshot by JustAGirl)
Other characters include Zoey Bell (Lake Bell), Alice's first-ever client, and Justin Miller (Reid Scott), horror film director who got interested in the work of Harry, George and Teddy.
▶ The Plot
The movie begins with Alice Kinney narrating the life story of her father, John Kinney, who was a prominent independent director.
Flash forward to present, Alice was shown crying in front of the mirror of their bathroom. Today was her birthday, but the agony of failed marriage and singlehood crept into her. She was greeted by her two daughters, Isabel and Rosie, whom she drove to the first day of school.
(Video Credit: Movieclips Trailers via YouTube)
Alice went with her friends, Tracy and Kori, on a night-out to celebrate her birthday. At the bar, she stumbled upon Harry who was also celebrating with George and Teddy for their shot at WCA. They all hit off and had a drunken sleepover at Alice's house.
The next morning, they were all surprised with the arrival of the kids with their grandmother, Lillian, Alice's mother. At first, the old woman felt off discovering three young men, fresh from drunkenness, in their home but was soon won over with the boys' charm upon discovering their passion for film and admiration towards her late husband.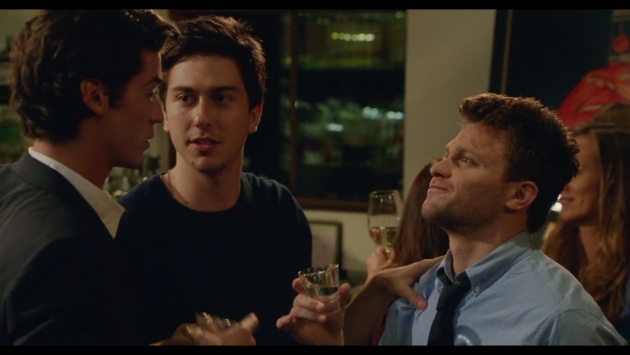 (Image Credit: Screenshot by JustAGirl)
After Alice arrived home from driving her kids to school, Lillian asked her to let the boys stay at their guest house until they worked out a concrete job. She thought it was an awful idea but soon gave in to her mother's request. She prepared the vacant guest house for the three young men.
The three immediately went along harmoniously with Alice's family. Teddy helped her out in making her business website live, while George built a strong emotional connection with Isabel who was suffering from anxiety. She also established romantic and sexual relationship with Harry. However, at one point, she called it off with him after he stood her off on their supposed date.
When you make a decision about your life when you're twenty-five years-old you think, "Does that sound like a good life decision for the rest of your life?" -Alice Kinney
Meanwhile, George and Teddy both received different job opportunities. When Harry found out about it, he stormed out at them, thinking they sought other works because they were losing faith on their group's original plan. He moved out and left the two.
Alice was shocked as she arrived home finding her estranged husband, Austen, outside waiting for her. He had made it known to her that he doesn't feel fine with three male strangers living together with his family. One morning, he approached an angered Teddy who, after engaging in a small talk with him, punched him in the face. The two engaged in a brawl just as Alice and the kids arrived. This prompted her to kick the men out of the house.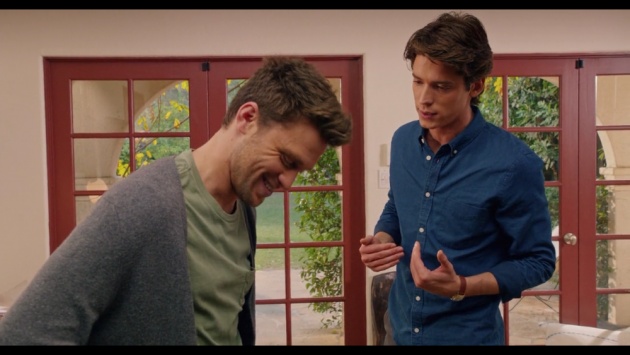 (Image Credit: Screenshot by JustAGirl)
Shortly after the scene, Austen tried convincing Alice to reconcile, fix their marriage, and start over again. But Alice informed him that she doesn't feel it was the right thing to do and wanted to get a divorce instead. Alice then went to visit the three young men on their new place to apologize for how the things turned out for all of them. She also talked with Harry for closure.
On the day of Isabel's school play, the three boys were having a meeting with an investor for their movie. Although halfway through it, Harry cut the discussion short after the investor seemingly wanting to deflect from their original work. He emphasized they needed to go to an eleven-year old's play, something far more important than sitting around talking about a different vision for their movie.
The three of them hurried to the school to catch Isabel's play. At the moment she was about to perform her part, Isabel had an anxiety attack seeing no George at sight. He had become her emotional support ever since he encouraged her to pursue her passion for writing. She was rambling with her monologue when George finally got on the side of the stage to reassure her.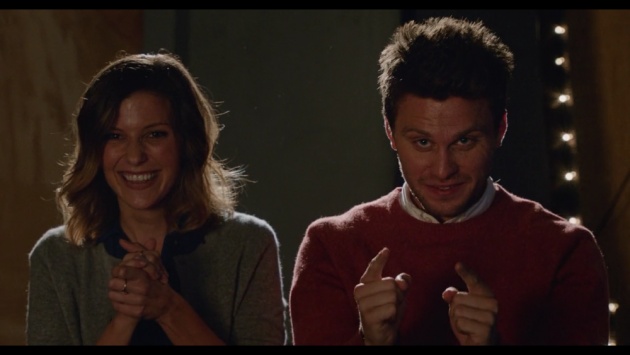 (Image Credit: Screenshot by JustAGirl)
That night, Alice's entire family, including Lillian, Austen, and together with the three boys, had a candlelit dinner to celebrate the success of Isabel's play. It was also revealed that its story was about their family as noted by the little, Rosie.
♥ My Movie Review ♥
Home Again is a lighthearted romantic comedy movie with a simple storyline. I wouldn't call it a flop, even though it received low rating from movie critics. It just happened that many people nowadays tend to look for a film with either a strong statement or superb visual effects. This movie, though not technically great, is still enjoyable and entertaining.
"What kind of movies do you like?"
▶ Direction, Cinematography and Screenplay
This is the first film Hallie Meyers-Shyer directed, which also she happened to write. Sharing the same sentiment of one movie critic, I think Home Again is not a bad start. In fact, it could be considered as a debut effort given the fact that it really is hard to create a romcom flicks today.
As the credits roll, it can be said that Home Again is a tight, witty script from a first-time director with a long list of hits ahead of her - and, of course, the golden age of Hollywood dynasties lighting her way." -Julia Cooper, The Globe and Mail
Script wise, I would say it was okay. Not bland, not off. It is still unique, to say the least, to make a female may-december love kind of affair in the big screen. Of course, many still think it is not good in the society's eyes for a mature woman to hook up with a far younger guy. Although there were times I felt Witherspoon overpowering the entire film, I still can't get over Alexander's boyish charms which made the team-up more believable.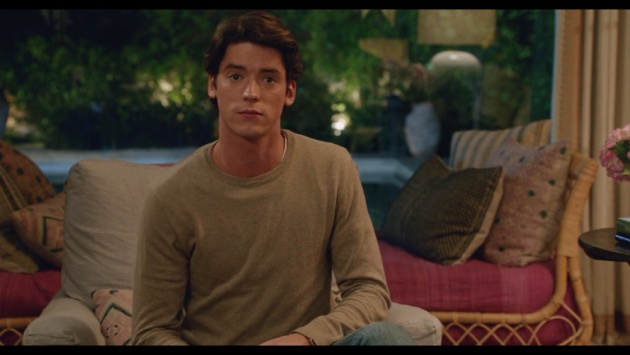 (Image Credit: Screenshot by JustAGirl)
▶ Movie's Message
Home Again tackles a couple of issues which I found really interestingly great. It featured anxiety struggles through Isabel's character, and also with Alice, herself. It also talked about the imparity for separated women, near the age of forty, to hook up with younger men and be viewed negatively by society. In the story, Alice was shown to have pursued short-lived romantic and sexual relationship with Harry who was thirteen years her junior.
The movie also touched the topic of marriage and divorce, with people not really ending up together even though how much they try. A really very empowering message was portrayed towards the end of the movie where Alice did not end up with any of the guys, but ended up achieving happiness by reconciling with her own self. This, I think, shows women empowerment through her character.
Overall, I think, my favorite part would have to be the movie's message on passion and life-long dreams.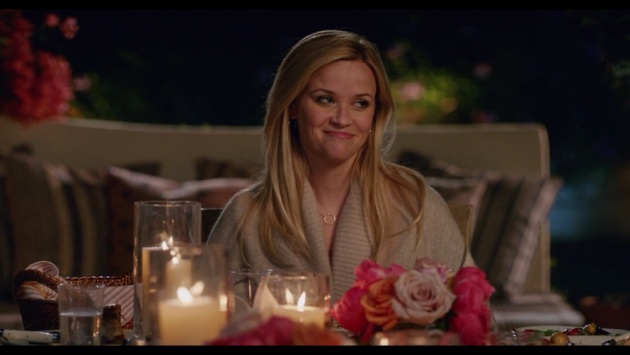 (Image Credit: Screenshot by JustAGirl)
"Do you support women's empowerment?"
▶ Casting
I think it is undeniable that Reese Witherspoon always pulls off any character when it comes to romantic comedy flicks. She did it again this time as Alice. Witherspoon has not lost her girlish charms yet, which made the movie better than what it would have been without her.
I also already mentioned about Pico Alexander's charm in the movie. I think he was so handsome and cute in the movie which added to the beauty of the film. The other actors also did great on their own characters. I just want to point out the child actress who played Isabel, because I will be waiting until she grows up into a really beautiful lady.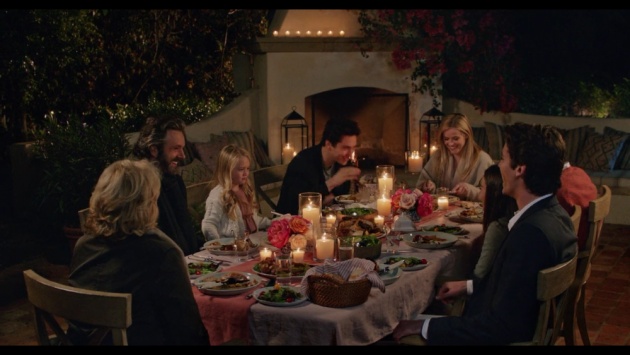 (Image Credit: Screenshot by JustAGirl)
♥ Other Related Reviews ♥
If you are interested to make further readings about the movie, here are some movie reviews you may want to check from movie critics.
◈ HOME AGAIN Review — Reese Witherspoon and Candice Bergen – What's Not to Like? by Lisa Johnson Mandell of At Home in Hollywood
◈ Review: Director Hallie Meyers-Shyer debuts with charming rom-com Home Again by Julia Cooper of The Globe and Mail
◈ Home Again...and Again and Again: a Review of Reese Witherspoon's Latest Movie by Glynis Costin of Instyle
Also, a fellow in BitLanders also made an insightful review of the movie. You may check the link below.
◈ The bitLanders Film Series to Support Women Empowerment: HOME AGAIN by Amber255
How about you? What do you think of Home Again? Let us know by either leaving your comment below, or by creating a blog for the BitLanders Film Series supporting women empowerment!