Vegetable Gardening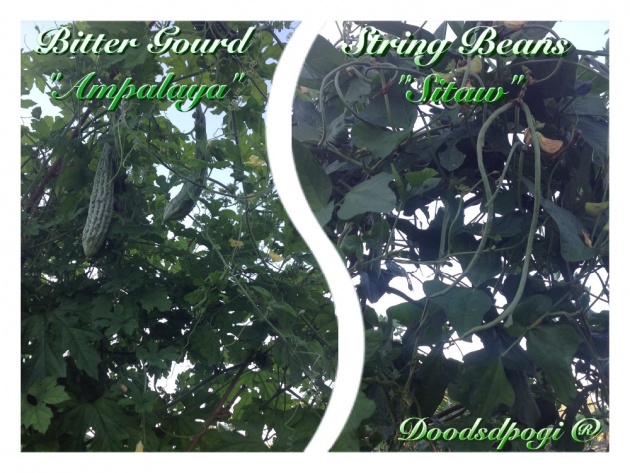 My mother's String Beand and Bitter Gourd ready for harvest.
Backyard "Gardening" is very common with the families living in the rural areas wherein "farming" is the main source of livelihood. This is one of the sources of income as well as food for families while waiting for the harvest time in their respective farms. Backyard "domestic livestock production" usually to supports for their needs of the farmers and their families.
When I went home for two (2) months vacation last April 2014, I was able to catch up with the post-harvests of my mother's "vegetable garden". Post-harvests because in matter of weeks some of vine vegetables will expire and die.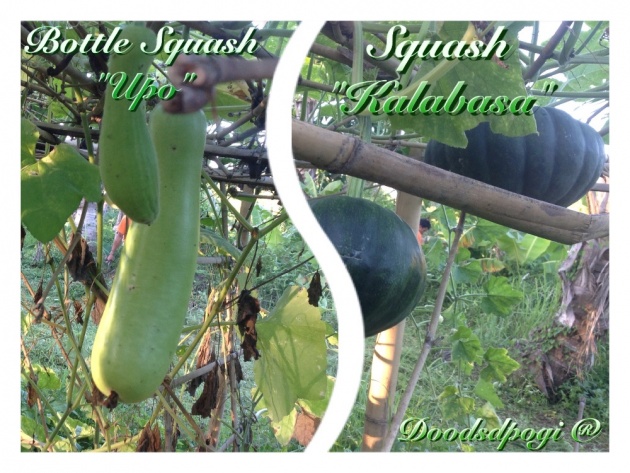 My mother's Squash and Bottle Squash which will be ready for harvest after a week.
Almost all of us in the family were "green-thumb". This includes the skills in both "agriculture" and "aquaculture". We have either inherited or learned these skills for both our parents were from families of expert "agriculturists" and "aqua-culturists". Our great grand parents were once owners of hectares of fish pond and agricultural lands in our place which were gone down through generations.
My mother has planted few rows of common vegetables that are easily grown such as string beans "sitaw", squash "kalabasa", bitter melon or bitter gourd "ampalaya", bottle squash "upo", tomatoes "kamatis", eggplant "talong", lady finger "okra", sweet potato "kamote" and cassava "kamoteng kahoy". These vegetables are "short-live" they become less productive after several harvests and eventually will expire and die later on. She has also some "long-live" plants like "papaya", "moringa"and other fruit bearing vegetables.
My three weeks old Bitter Gourd Plants.
We cannot consume all my mother's harvest. So my mother will sell them for few bucks to finance some of the household expenses. She will simply arrange them on the table under the shades near our gate and interested neighbors and passersby will buy what they want to cook for their families. The vegetables were safe because they are "organic". More so, they are all freshly picked, nutritious and versatile for local dishes.
I was summer seasons but I decided to plant a row of bitter melon or "ampalaya" at the vacant lot near our water pump for easy watering. That was on the third week of my vacation. I want my mother to harvest them and remember me when I'm already back to the Metro. I dug fifteen (15) big holes and put "compost" in every hole to sustain the fertilizer that the plants need until they mature and bear fruits. In each hole I placed five (5) seeds just enough spacing for them to climb on the "twig trellis". I was very happy to see them growing healthy after three (3) weeks.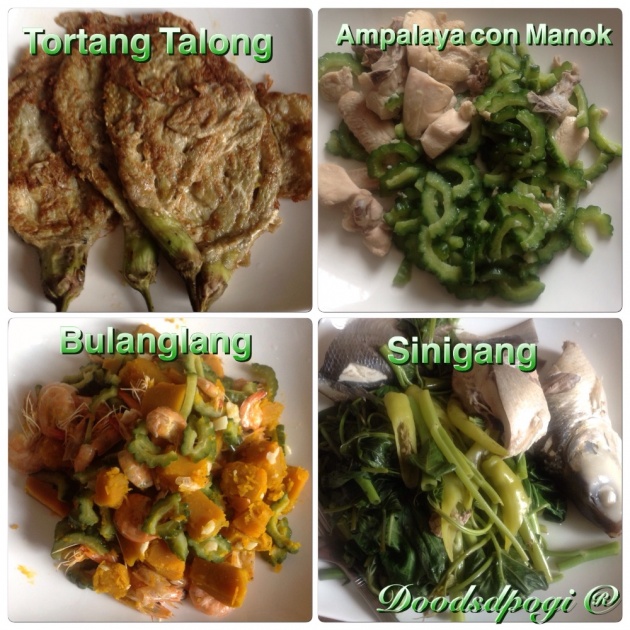 Some of the local dishes that my mother cooked for us using her harvested vegetables.
Gardening is one of the very "therapeutic" and "healthy pastimes". It is both a therapy and an exercise as you water and take good care of them especially every morning. They bring different kind of happiness and accomplishment as you see them grow healthy and most fulfilling during harvest time. The proper "nutrition"that gardening is bringing to our family is "priceless". Most of all, it give "aiding livelihood" and "income" to the family that does not need big capital but only requires "love", "hard works"and "dedication".
Happy gardening everyone!
Photo through the creation of Doodsdpogi ®