"People say I still have the innocence of a child. Maybe I have. I still look at the world with wonder, and with all living things I have a terrific sympathy. It was the most natural thing in the world for me to imagine that mice and squirrels might have feelings just like mine".
My childhood has been filled with Disney magic from watching Walt Disney films and TV shows. Even at my age now I still convey the influence of Disney shows specifically the princesses shows. As I stated in my Fulfillment of a Childhood Dream blog: "I am a person who believes in what seems unreal. In short, I believe in fairytales and in happy endings". To have a happy ending in my life may be uncertain as of the moment but one thing is for sure -- Hong Kong Disneyland is "The Happiest Place on Earth that brought forth a happy ending to my childhood dream.
Let me share with you the happiness of a child within as I bring you to Hong Kong Disneyland where my childhood dreams do come true in The Happiest Place on Earth.
THE ENTRANCE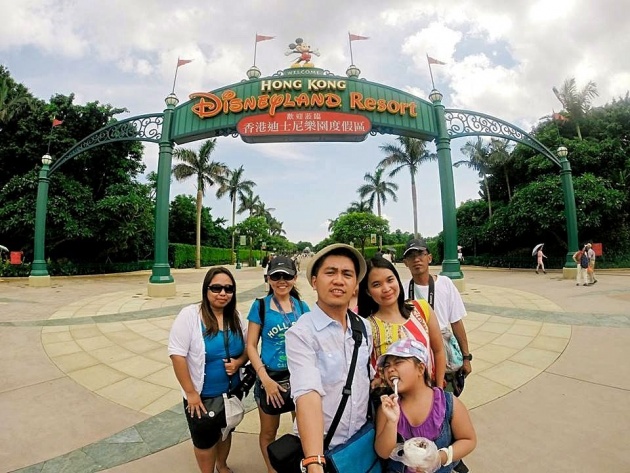 Hong Kong Disneyland main entrance / Photo Credit: Joycee Abaquita via Facebook
In my newly submitted blog Hong Kong Disneyland The Happiest Place on Earth, I left off my writing at the entrance of Hong Kong Disneyland. Let me begin my second part journey to The Happiest Place on Earth to where I left off. Entrance to the park is far beyond at our back as shown in the photo above. A little bit of muscle stretching for your legs is highly required.
TREE SHADES FOR RESTING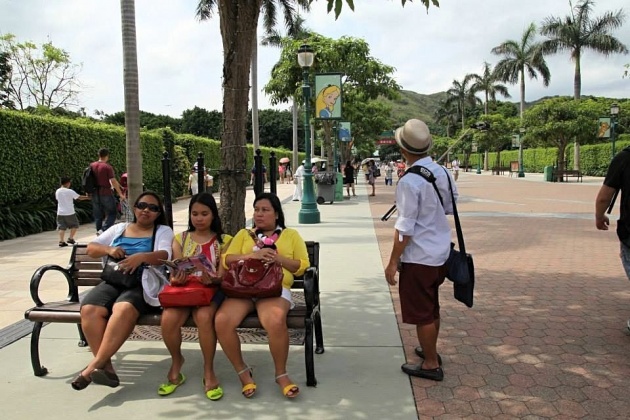 Tree Shade / Photo Credit: Dimpsy
If going to Disneyland Park on a sunny day, make sure to bring all the necessities to cover yourself against the scorching heat of the sun. The park requires a lot of walking but need not worry about your swollen or aching feet. You can always take a pause. Choose a tree to shade, sit back and relax for a little while to any unoccupied benches that you can spot along the way.
FOUNTAIN AT THE ENTRANCE OF THE PARK
"I hope we never lose sight of one thing—that it was all started by a mouse."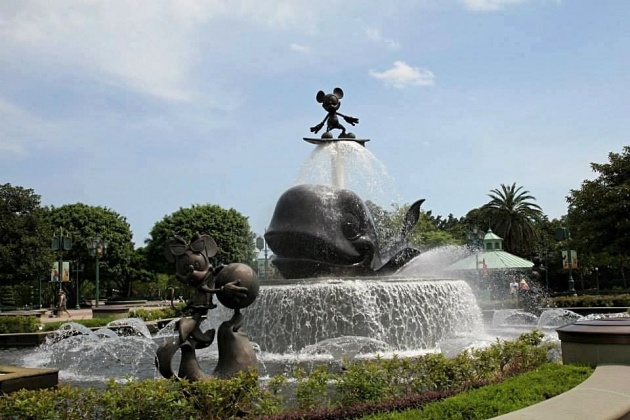 Fountain at the Disneyland Entrance / Photo Credit: Dimpsy
A huge fountain will greet the guests as you come nearer to the entrance of Disneyland Park. Obviously, Mickey Mouse is the star of the park and Disneyland isn't a Disneyland without Mickey. It's a refreshing sight to behold while watching Mickey surfing on the waterspout from the whales blowhole in an up and down motion.
Main Entrance to the Fountain / Video Credit: nv70r via Youtube
Let me show you a recorded video from nv70r. This video will give you an idea of the distance that you will be walking. If you are a fan of Disney you'll never get tired of walking because of the excitement especially for first timers like yours truly.
MAIN ENTRANCE OF DISNEYLAND PARK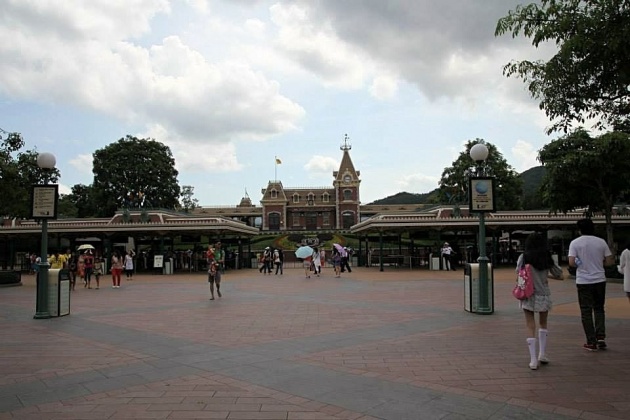 Disneyland Park Entrance / Photo Credit: Dimpsy
Finally, I can see the park's entrance from where I stood. Seeing from afar is Mickey's landscape design from a vast array of plant species and well-trimmed topiary as I drew closer to the Disneyland Park entrance. Before you could get to the entrance make sure you have your tickets with you for your admission but if you haven't, just go directly to the ticket booths near the main entrance of the park. Or you can buy your tickets online. Ticket booths are open 30 minutes prior to the opening of Disneyland Park main gates.
DREAMS DO COME TRUE
All our dreams can come true if we have the courage to pursue them.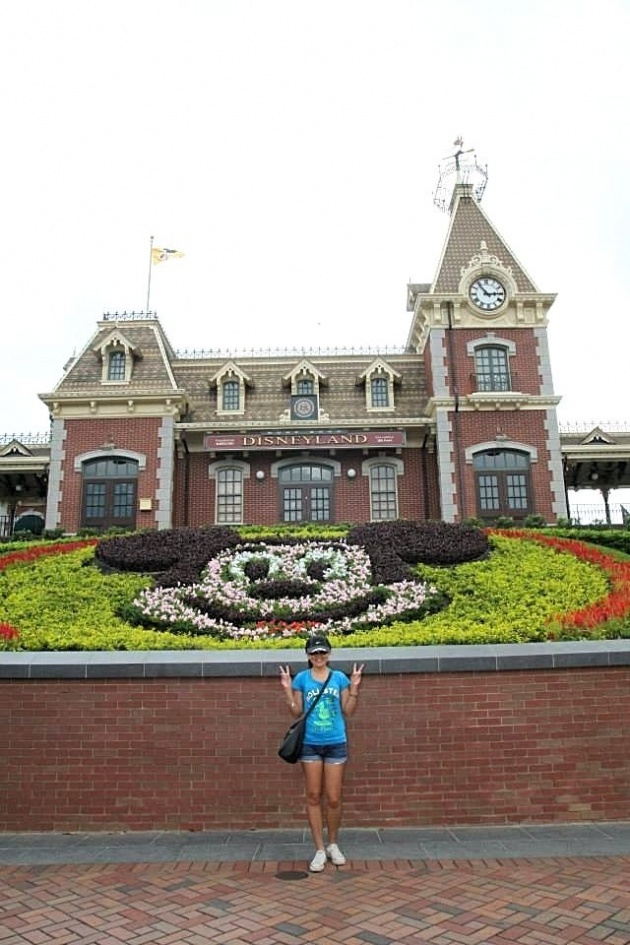 Mickey's Landscape / Photo Credit: Dimpsy
I can comprehensively recall the burst of happiness within me as I pass through the turnstile or baffle gate and chanting: "dreams do come true". While waiting for my turn for the photo opportunity, I suddenly felt the eagerness as a child and hurriedly stood and pose in front of Mickey's landscape as soon as the area was cleared--as if someone's going to steal the chance. Ahhhh...the happiest day of my life in the happiest place on Earth.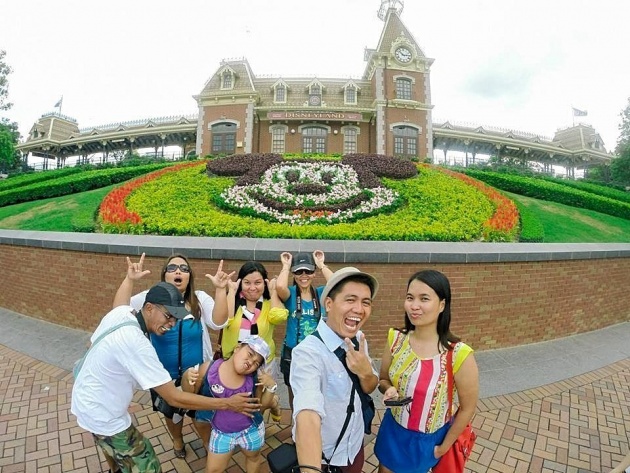 Groufie / Photo Credit: Joycee Abaquita via Facebook
But of course, photo opportunity and happiness are best shared to a group of friends having wanderlust disorders. LOL! If you can see the building in the photo above Mickey's head, that's the starting point of Disneyland's railroad ride. It's a locomotive ride that will give you an overview around Hong Kong Disneyland but unfortunately for us, we missed this ride due to a time crunch.
HONG KONG DISNEYLAND LAND AREAS
Themed areas or Land areas as it was commonly known are areas where guests can see and enjoy various rides, shops, dine and live entertainment in a themed environment. In every Disneyland Park, they have their respective flagship attractions or land areas. Here in Hong Kong Disneyland, there are seven (7) land areas but unfortunately, we failed to explore all of the areas because we're focusing on the important highlights of the park. Anyways, I will only share with you the areas and activities that we've been to and done.
Main Street, U.S.A.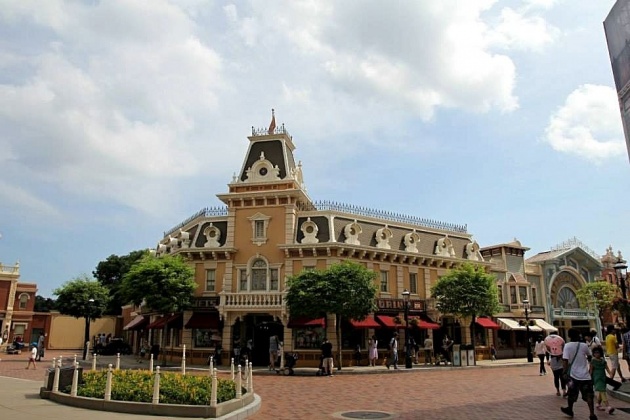 Main Street, USA / Photo Credit: Dimpsy
Main Street, USA serves as an extension from the park's entrance that is quite a replica of Anaheim Disneyland's Main Street, USA. This road will lead all the way to the Sleeping Beauty Castle which is one of the iconic castles of Disneyland. What you can find in here are souvenir shops, 20th-century cafes, jewelry stores and the most awaited Disney in the Stars Fireworks at night as well as the Flights of Fantasy Parade Route.
OPERA HOUSE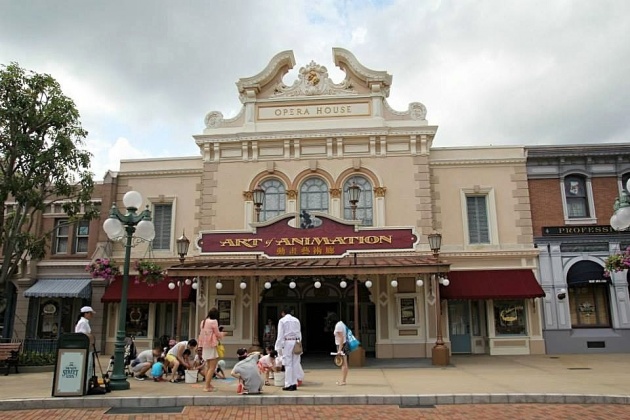 Opera House / Photo Credit: Dimpsy
Before reaching the iconic castle there are a lot of structures and shops that you might want to pay a visit. Such structure like the Opera House where you can watch Abraham Lincoln come to life that is featured in a show Great Moments with Mr. Lincoln with the use of Audio-Animatronic technology. In here you can pass by some large rooms of artworks and articrafts showcasing the life works of the President.
Aside from Abraham Lincoln's show, you can also trace the beginning of "The Happiest Place on Earth". It is a self-guided tour where you can see an old scale model of Disneyland Park dated from the time it was opened on July 17, 1955. Other scale models that you can see are Carousel Horse from the Griffith Park Merry-Go-Round, Sleeping Beauty Castle, and Splash Mountain. Displays of rare illustrations and artworks of Disneyland attractions like the Haunted Mansion and Space Mountain can also be viewed here. A rare behind the scene photos of Walt Disney would be an added bonus viewing.
CENTENNIAL HALL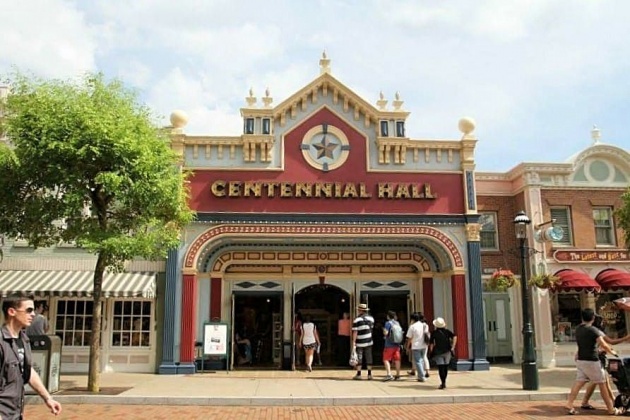 Centennial Hall / Photo Credit: Dimpsy
This is my favorite shop. All the Disney souvenirs that you need are available here at the Centennial Hall. The items were a little steep but just for the sake of having a souvenir from your trip, might as well have at least 1 to bring back home but if you can go beyond your means then go ahead and indulge yourself. But for someone like me whose money doesn't grow on trees, I only got myself a ref magnet of Mickey Mouse as an addition to my collections.
SLEEPING BEAUTY CASTLE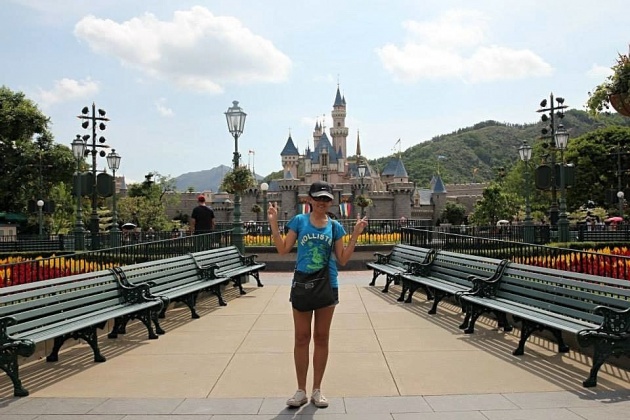 Sleeping Beauty Castle / Photo Credit: Dimpsy
As I mentioned above, the Main Street USA will lead all the way to the far end to one of Disney's iconic castle the Sleeping Beauty Castle. At around eight in the evening, people will gather in this area to secure a spot for the evening highlight -- Disney in the Stars Fireworks. For the meantime, the fireworks and castle visit has been suspended due to some renovations of the Sleeping Beauty Castle. It will be in public viewing early next year. Been curious about the ongoing renovations of the Sleeping Beauty Castle. That's one reason to visit HK Disneyland for the second time around. I wish!
I wanna share with you a video of the Main Street, USA in Hong Kong Disneyland in The Happiest Place on Earth that is recorded by Jeff Carroll. Strolling on the Main Street, USA is time-consuming already. Just take a look at the video to have a clearer vision of what I was talking about and at the same time, it will give you an idea on how you to manage your time in exploring Hong Kong Disneyland.
PARK MY FINGERS
Since my photo attachment has reached its limit, I will park my fingers as of the moment for the 2nd part of my Hong Kong Disneyland: The Happiest Place on Earth and rest assured, the third part of this article will be coming soon. The third part is all about what you can see and do upon entering the Sleeping Beauty Castle.
Thank you for reading once again and see you on my next blog.
♥ ♥ ♥
Hong Kong related blogs that you might like: