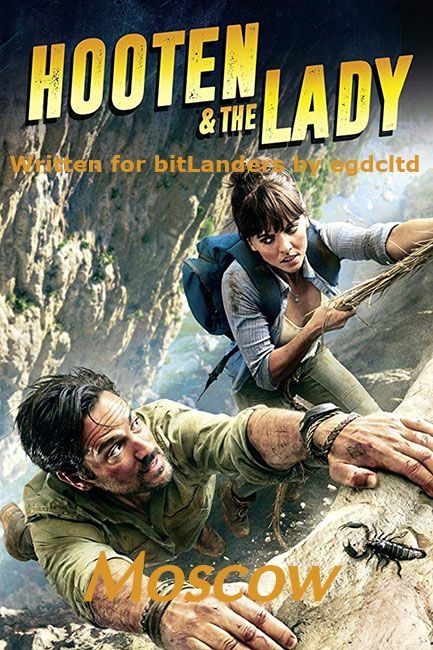 Image Credit: IMDb

"Moscow" is episode six of season one of Hooten & The Lady, an action adventure series about 'odd couple' partners that bears some resemblances to certain types of eighties films. In this episode the 51st Imperial Fabergé Easter egg turns up in Moscow but someone other than Hooten and Lady Alex is interested in it.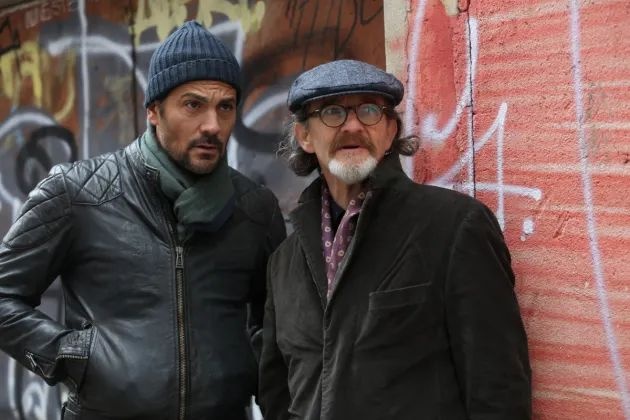 Image Credit: tvfanatic
Hooten is in Moscow
The episode opens with a man travelling on an underground, before finally exiting in front of St. Basil's Cathedral in Red Square, Moscow. The man has been looking around a lot as he travelled. He goes into a quiet area and a man's voice asks if he's going somewhere. The second man is Hooten, and the first, Hercules, is a friend of his. Hooten wants to know why Hercules has had Hooten tailing him all over Moscow.
The 51st Imperial Fabergé Easter Egg
In a bar, Hercules tells Hooten that he's found it, his life's work. Something that no-one believes exist. Hercules has never given up and now he's found it, the 51st Imperial Fabergé Easter egg. Hercules wants to know if he can find a buyer, and Hooten says yes. When asked if he can trust them and are they safe, Hooten says yes. Hooten says it will take a few days to arrange the sale and Hercules gives him an address and says that he's booked Hooten into a hotel.
Someone is Watching
Hercules says that he was sorry to hear about their death, both her and Hooten's son. Hercules says that it was him, he killed them both, and Hooten says he found them as he wasn't careful. Hercules says he's dead now. There's another man in the bar, apparently reading a book, but he's also watching Hooten and Hercules. Once their meeting is over, the watcher goes outside and meets another man, removing a microphone from the book.
Someone Else is Interested in the Egg
On a yacht moored off Suva, Viti Levu, Fiji, a woman gets a recording. She goes to a mostly unseen man and tells him, in a Russian accent, that he will be interested in this.
Lady Lindo-Parker's Vision for Alex's Wedding
Alex and Edward are waiting for Alex's mother, who turns up with her assistant, Millie, whose job it is to record every bright idea that Lady Lindo-Parker has. In The Inner Temple in the City of London, Lady Lindo-Parker is explaining her vision for Alex's wedding; Alex's input into this isn't really required. Edward agrees that everything Alex's mother says is wonderful; simply to get them out quickly, he quietly explains to Alex. Then Alex gets a call from Hooten.
Someone Wants to Talk to Hooten; Not in a Nice Way Either
Hooten is getting ice in his hotel in Moscow afterwards when someone knocks him out. When Hooten comes too (without concussion, as is typical for media portrayals of being hit over the head), he is in an abandoned warehouse, tied to a chair with two men watching, one of whom has a baseball bat.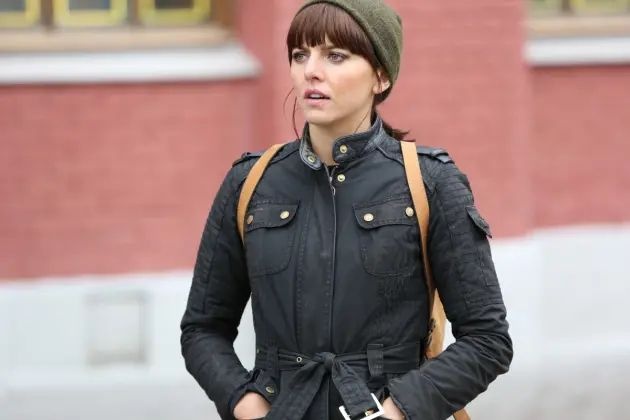 Image Credit: tvfanatic
Alex Goes Looking for Hooten
Alex is at the hotel but it's a bit busy, so she goes to use the bathroom. One of Hooten's captors makes a call, and Alex hears the other end of it, because the woman taking the call is, coincidentally, in the same bathroom. So Alex follows. Eventually, she finds Hooten, who has been stripped naked and hung from a bar whilst his captors follow up on some misinformation he gave them. The woman from the bathroom is called Valerya, and Alex knows her. They studied ancient history at university together. Alex does not have a high opinion of Valerya.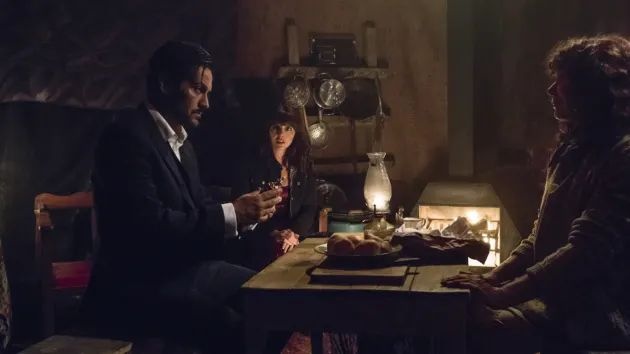 Image Credit: tvfanatic
Dissension Between Alex and Hooten
When Hooten tells her what she has come to Moscow for, she insists that it's a fake. Fabergé's studio was destroyed during the Russian Revolution, so whatever Hooten has been told about is a fake. Hooten describing Hercules as a really good thief doesn't help matters. This ends up deteriorating when Hooten tells Alex she really doesn't want to get married.
An Ongoing Plot Element?
Meanwhile, back in London, Lady Lindo-Parker has got tired of Alex constantly running off with Hooten and takes matters into her own hands. There's also the question of the mostly unseen person who Valerya is working for. Given the timing, and the discussion between Hooten and Hercules in the bar, it seems likely that the man the two were talking about is not actually dead. As well as being extremely dangerous. This is the first time what looks like an ongoing plot element has cropped up in the series.
Hooten & The Lady Trailer
Video Credit: JoBlo TV Show Trailers via YouTube

More Blogs from this Television Series:
Want to earn from blogging on bitLanders? CLICK HERE to sign up and get a reward.