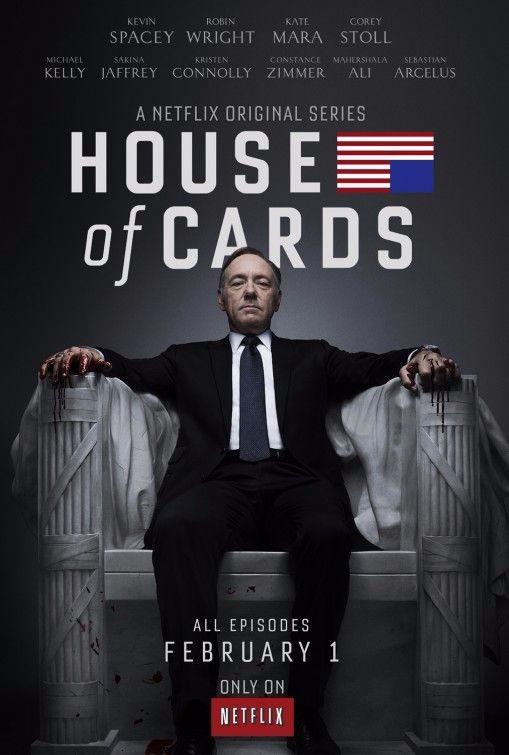 Image Source: Impawards.com
Hello, everyone. Here am I back again with another review. If you have not given a read to my previous work, Please Click here to check them out.
Political drama is the kind of genre that is not tailor made for all the audience. Gone are the days of 80's or 90's where the, it was either a representation of something serious happening behind the closed doors or a more satirical admiration of entire political system. That paper-book storyline, would not work in the 20th century. Today people need intelligent drama. Not only it should have a gripping story but something meaningful to resonate with the common public. In 2013 Netflix gave exactly that, by introducing their Original Web Series House Of Cards. Right at the time, when US elections were writing history, this show gave the people a perfect adaptation of the seediness of the political struggle in the United States. Action, story, drama, Dark Humour the makers have left no stones unturned. House of Cards is a perfect example of a TV Series that we can binge-watch and have no regret about it. So here is my review of the Political Drama Series House of Cards.
I would be doing a Two Part Review of the series, as cramping the entire narration in a single blog would not be justified.
SERIES INTRODUCTION
"House of Cards" is an American Political Drama web T.V Show/Series formally created by Beau Willimon. The series is the U.S version of the infamous BBC mini-series of the same name, with the storyline based upon the Noval by Micheal Dobbs.The series was worldly distributed by Sony Pictures Television and its digital rights went to Netflix.The First season of the series in form of 13 episodes, was released on February 1, 2013, by Netflix. followed by Season 2 released on Feb 14, 2014, Season 3 on Feb 27, 2015, Season 4 on Mar 4, 2016, and the current ended season i.e Season 5 on May 30, 2017.The makers of the show were initially very skeptical regarding the future of the show and the new season was only made based on the performance of its predecessor (And as per the latest news Season 6 is very much on..)
PLOT OF THE SERIES
House of Cards revolves around the Protagonist Congressman Francis 'Frank' Underwood (played by Kevin Spacey) a man possessed with ruthless desire to become most powerful person simultaneously disposing of anyone who dares to stands in his way. Throughout his vengeful journey, he is equally supported by his conniving, classy & outright venomous wife Claire (played by Robin Wright) who molds into her own as the series progresses Together they conspire their way up the ladder in order to become the First couple in the country. One of the most amazing parts of the show is Frank the main character plays a Fourth Wall breaker (a performance where a character directly communicates with the audience pretending the camera to be invisible) throughout the series.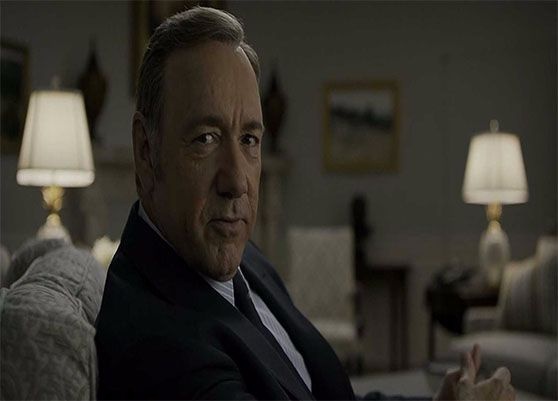 Image Source: IMDb.com
House of Cards has recently concluded its 5th Season. Each Season has its own Plot which is carried forward to the next season. In this blog, I would be reviewing the First and the Second Season's plot.
SEASON-1 (2013)
House Of Cards Season 1 Trailer- Video Source: Youtube.com
In the first scene itself, Frank displays his realistic and ruthless behavior when he kills a suffering dog with his bare hands and breaks the Fourth wall, explaining the audience "Sometimes Unpleasant yet necessary things have to be done by someone". Frank believes that after securing the election for his party and President Garrett Walker(played by Michel Gill), he would be appointed as the new Secretary of State but only to his disappointment, the position is passed onto another party worker Linda Vasquez(played by Sakina Jaffrey).Linda informs Frank that President wants him to present the agenda in the Office of Congress.Frank filled with revenge, uses his sly nature to come close to the president with the ultimate goal of gaining sublime power for himself.Supporting Frank in all his thwarted endeavors is his loyal Chief of Staff Douglas 'Doug' Stamper (played by Michael Kelly). Franks wife Claire runs an NGO only to build up her own influence and gain power.She wants to get recognized on the Internation stage and decides to change her organization staff (which is, by the way, running very smoothly) asking her Manager to fire the staff and later informing the same manager that she is being let go herself clearly describing her power hungry similarities she shares with her husband.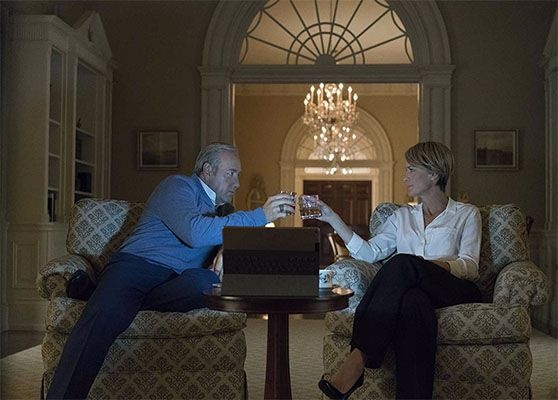 Image Source: IMDb.com
Underwood begins his master plan by firstly gaining peoples trust and later on manipulating them in his own power play.He begins to have an interdependent relationship with a young political news reporter Zoey Barns (played by Kate Mara) by passing on the inside White House information to her only in exchange of his intimate needs. Zoey uninformed by Frank's true intentions starts an alleged kinship with him only to publish scandalous stories for her newspaper fed to her by Frank Himself. Simultaneously Frank starts manipulating fellow congressmen & a troubled alcoholic Peter Russo (played by Corey Stoll). With Peter's help, Frank develops a successful plan to replace the Current Secretary of State with his own candidate Catherine 'Cathy' Durant (played by Jayne Atkinson) along with that that he ends a major teacher's strike in Pensalvennnia & passes an education bill, thus raising his stature in the eyes of the president.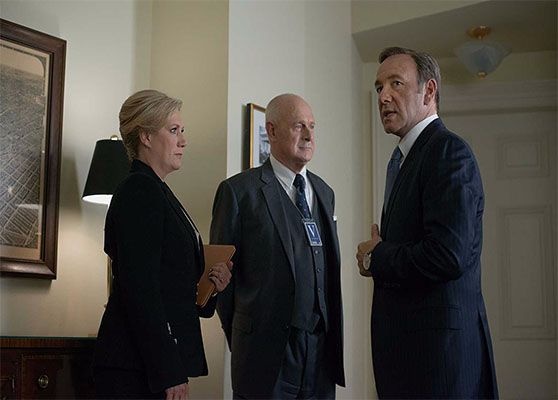 Image Source: IMDb.com
Underwood helps Russo in preparing for the Governor of State Election but later uses a girl Racheal Posner (played by Rachel Brosnahan) only to destroy him, by shattering his abstinence to alcohol and forcing him to appear in a drunk state at a T.V interview just before the elections. As a vengeful act, Russo talks about Franks schemes to the press, but Frank the Power hungry, master planner he is, ends up killing Peter Russo by drugging him and making the whole act look like a suicide.After this entire episode, Raymond Tusk (played by Gerald McRaney) who is a private sector billionaire, is chosen as a prime candidate for Vice President by President Walker.
But behold the Surprise....
In the Season Finale to all our surprise. Frank Underwood recieves the nimination as the Vice President of United states.You must be wondering how on Earth this happened......Be sure to tune into House of Cards to find your answer...and believe me you will be surprised indeed.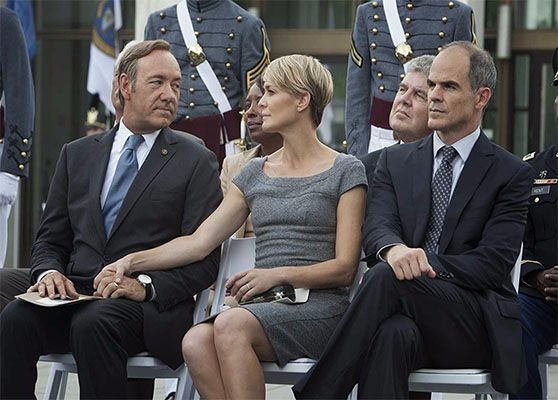 Image Source: IMDb.com
SEASON-2 (2014)
House Of Cards Season 2 Video Source: Youtube.com
The story is picked up from where Season 1 ended. With Frank on the verge of being sworn in as new vice president, Zoey begins to investigate Russo's death with help of her two colleagues, her now boyfriend Lucas Goodwin (played by Sebastian Arcelus) and here coworker Janine Skorsky (played by Constance Zimmer). She ends up finding that Frank was the reason behind his death by locating and confronting Racheal.To put this to an end Frank calls up Zoey to meet at a subway station and ends up pushing her in front of the train again making it look like a suicide.Meanwhile, Dough takes Racheal to a safe house and with a help of a hacker, Gavin Orsay (played by Jimmi Simpson) entraps Lucas in an FBI sting operation, pleading him guilty in Cybercrime.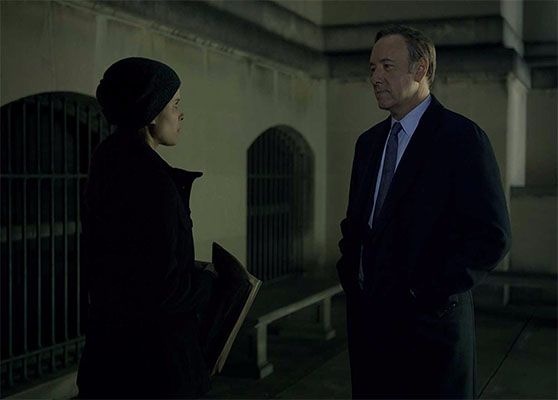 Image Source: IMDb.com
Knowing that Tusk has a major influence over President, Frank decides to between drive a wedge between them. By using his back-channel diplomatic skills (luring Chinese Business tycoon and friend of Tusk, Xander Feng (played by Terry Chen)into his trap)and playing dirty politics he ends up starting a Trade war between China & US, over rare earth mineral which eventually increases the US energy prices. During this crisis situation Tusk openly questions, President Walter's tactics which do not go well with him thus deterring his faith in Tusk.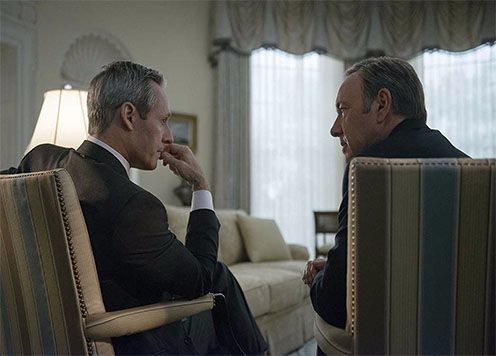 Image Source: IMDb.com
On the other hand, Claire begins to develop a good friendship with the First Lady where they support a bill to prosecute a military personnel over an assault.She later finds out about the marital problems being faced by the First couple and both Claire and Frank uses this information to their respective advantage.
From this part, it is all about Frank, his power hungry, revenge seeking tactics and the ability to turn any situation to his and only his favor drives him to reach his ultimate goal.His non stop manipulative schemes, leads him to become the President of United States by the end of the season 2.

How!! For this you need to watch House of Cards...

And just so you start thinking that the series should be over as Frank was able to achieve his goal of Ultimate Power, you are mistaken...It is actually from this point onwards he realises where exactly the true Power lies.....
CAST OF THE SHOW

Cast of House Of Cards- Image Source: Google Images
Main Characters
Francis J. "Frank" Underwood, played by Kevin Spacey - A ruthless and power hungry congressmen whose sole ambition is to manipulates people, politics and government to achieve his goals and become the President of the United States.
Claire Underwood, played by Robin Wright Frank's wife who runs a non-governmental organization and supports her husband in all his sinful endeavors.
Douglas "Doug" Stamper, played by Michael Kelly He is Franks loyal chief of staff and would do anything to help him gain power, always stands beside Frank and knows how to get the job done.
Garrett Walker, played by Michel Gill - He is the President of the United States, former Governor of Colorado.
Raymond Tusk, played by Gerald McRaney a billionaire businessman with a lot of influence internationally, He is a close friend of the President (but not for long..)
Zoey Barnes, played by Kate Mara She is a reporter for a leading Newspaper and forms an intimate relationship with Frank Underwood, only to uplift her career.
Peter Russo played by Corey Stoll He is a Democratic congressman from Pennsylvania's and a recovering alcoholic addict.
Rachel Posner as Rachel Brosnahan, a prostitute whom Underwood and Stamper use to bring about Russo's downfall. Later she fights for her survival and freedom from Dough who holds her as a captive.
Other notable mentions...
Linda Vasquez, played by Sakina Jaffrey - President Walker's White House Chief of Staff.
Gavin Orsay played by Jimmi Simpson - A computer Hacker who works with Doug.
Catherine "Cathy" Durant, played by Jayne Atkinson - She is a Democratic Senator and Franks Loyal who later on becomes the Secretary of State.
Lucas Goodwin, played by Sebastian Arcelus An editor who later becomes Zoey's boyfriend and is convinced that Frank killed Zoey.
Janine Skorsky played by Constance Zimmer- She is Zoey's friend also an editor in the same newspaper.
Xander Feng, played by Terry Chen a corrupt Chinese businessman, and one of Raymond Tusk's business partners.
David Fincher (creator and co producer of the show) is no stranger to an intense drama which has a strong dependency on the cover plot (He is the same man behind critically acclaimed movies "Se7en" & "Fight Club") His style of work Usually has a character development is based upon the circumstances that are built around that him. And House of Cards is a perfect example of that. Oscar winning actor Kevin Spacey truly epitomises Frank Underwood's character and makes it so believable.He is like an apex predator in the ocean full of sharks. Loyalty is rewarded by Frank but only to the extent, you are still of use to him and surely knows how to take revenge in the most brutal political way.His desire to be on top of the White House food chain and leaving no stones unturned to achieve his goal. Supporting him is his wife Claire, personated by Robin Wright who is equally devious out spoken at times but knows how to maintain her poise & dignity. She is the kind of Character which has the infinite possibilities to grow (Definitely looking forward to her character development in the series...). That time Hollywood hottie Kate Mara plays a young rookie journalist has a lovely shade to her character in the series from being an eye candy she transforms into women on a mission to bust Frank. Other cast members have held their own in the series and their respective storyline majorly revolves around Frank's character.
Special Mentions to Netflix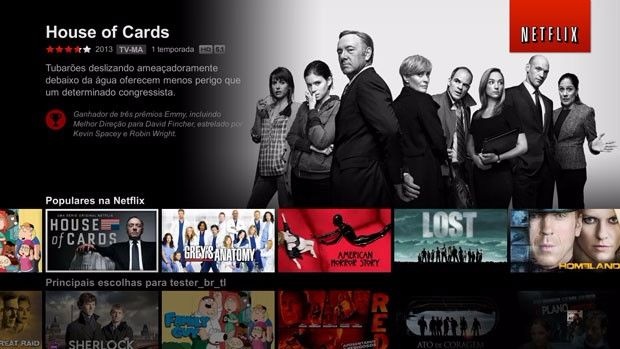 Image Source: Google Images
Today Netflix is a very familiar name, but 5 years back no one thought that it will change the way media is consumed. In this modern day where Youtube has set itself as a platform for small scale independent content creators, Netflix has done the same for the high budget to medium budget creators. It has given a new dimension to TV and led to almost decline of DVD rental services.It has changed the way we watch out favorite TV shows by providing inexpensive subscription rates a plethora of options, and tons of ways to watch. The emphasis on digital distribution straight to TV sets, which circumvents a traditional theatrical release, has also cut down distribution costs and helped to resuscitate the mid-budget feature.
Netflix entered the content-production industry in 2013, debuting its first series, House of Cards. It has greatly expanded the production of both film and television series since then, offering "Netflix Original" content through its online library of films and television.[10] Netflix released an estimated 126 original series or films in 2016, more than any other network or cable channel.As of July 2017, Netflix had 103.95 million subscribers worldwide, including 51.92 million in the United States.
Information Source: Wikipedia.com
With so much media being consumed these days Netflix has held its own and allowed viewers to watch any series over and over again. Not only the content is smartphone friendly but can also be enjoyed on game systems like PlayStation 4 and X-box one. Since its launch in 1997, it has grown exponentially and with the regular advancement, in digital media/film making (Introduction to 8k video making with higher frame rates) one can imagine its future is very bright.
As mentioned earlier this article will be a two part series and this is the conclusion to part 1. I have tried to summarise both the seasons to best of my ability without disclosing any major plots. Hope i have given you some goals to give it a try.Kindly do so as you shall not be disappaonted.
Stay tuned for Part 2 where I will discuss the story further (Plot summary for Season 3,4,5..) future developments of the series and most importantly my final verdict to this going to be cult classic...
To be Continued...........
Before you leave here is a little Political survey for you...
Till we further meet Enjoy the day and Peace Out....