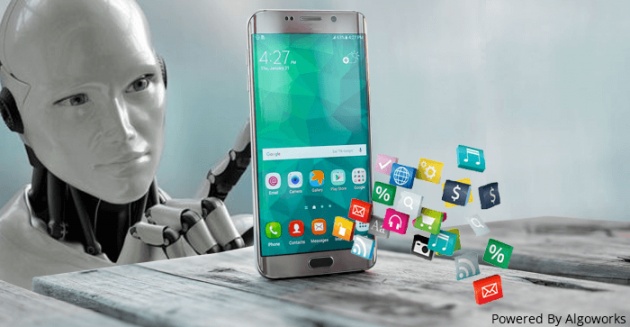 Image source : Algoworks.com
Hey everyone, it has been a while since I wrote a blog and I'm very glad to know that bitLanders is finally talking about the future of the world which I'm sure pretty much revolves around the Artificial Intelligence. For those of you who do not know what Artificial Intelligence is, in simple words, it is basically the ability of a machine to learn and think. Now this ability to learn and think can be integrated in any device or anything that happens to be used by us in the current world. It can be used in our television sets that we watch, cam be used to strengthen the security systems of our houses that we live in, can be used in our cars that we drive or it can be used in the mobile phones that we use, and many more stuff such as its use in medical fields and military which I will be talking about in the further blogs.
A brief video about what Artificial Intelligence is, has been depicted in the video below :
Video credits : ColdFusion's YouTube Channel
Introduction to the Topic

:
This blog is going to be about "How Artificial Intelligence is Changing Mobile Technology". Since this is going to be a C-blog, I am going to give you a little introduction about the blog that you will be seeing in the chat powered by Querlo. There are a lot of reasons that why Artificial Intelligence is being integrated in the mobile devices these days. To begin with,
It can lessen the saturation in the mobile market that has been caused by unlimited number of mobile devices by giving AI integrated mobile devices in market.
It can help incorporate reasoning to logically solve problems for example the AI instilled apps take billions of data from the Uber or Lyft drivers who have traveled the routes so it can help a common man to reach to the destination quicker with the help of that data.
It can assist in recommendation services and provide knowledge and opinions to people whenever required
To put the reasons in simple words, Artificial Intelligence when incorporated in mobile devices has revolutionized the world by bringing solutions to the problems in a matter of seconds which wasn't possible before. So, in the chat blog, you will learn, in detailed aspect, the following things :
Why Artificial Intelligence?
What does AI in the mobile device really mean?
What mobile brands are currently leading worldwide with respect to AI incorporated in their devices?
What benefits does this innovation bring to the new world?
What is the impact of Artificial Intelligence on mobile phones?
Following is the chat blog with the respective screenshot of it which provides you the answers of all the questions relevant to the topic ;
Details regarding "how Artificial Intelligence is changing Mobile Technology" explained
Chat blog created using Querlo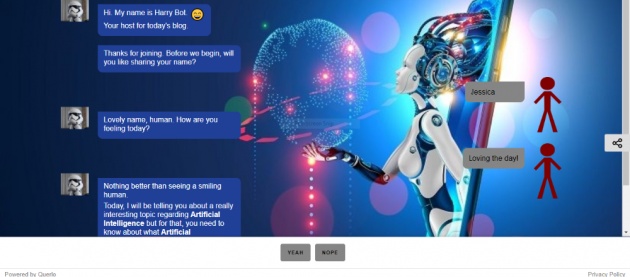 Screenshot taken of the C-blog created using Querlo
Summary of the Chat Blog

:
So, right now, if you have gone through the chat blog, I am pretty sure there will be no such need to give the summary a read but for those who want the details to be compiled in a brief manner, this is for them. In the blog, we learnt :
About the meaning of Artificial Intelligence in mobile devices which revolved around the fact that you will have digital assistants in your phone which will do any task that you will tell them to do.
We learnt that the reason why Artificial Intelligence is necessary in mobile phones now. It is for the sake of saving the time so that more creative work can be done in that time and kill the saturation of the market because of typical alike mobile devices by different brands.
We learnt various benefits of AI when used in the mobile devices that how it can give the users an organized system, how it can help in generating the loyalty by dealing with finance apps in the phone, how it can have intelligent interactions with user and give logical evidence based solutions and much more.
We learnt about various mobile brands which are bringing AI integrated devices. These include Google, Apple, Samsung and Huawei. We talked about the unique AI based features each mobile brand is bringing in their new and latest mobile devices.
Lastly, we learnt about the impact of AI on these mobile phones that what conditions that this innovation improves in the mobile devices which end up being super fruitful for the users.
So, this was an overall summary of the whole chat blog and what you should have learnt if you went through the chat blog. It was a great experience sharing this amazing innovative information with you guys. For more such blogs, subscribe me at bitLanders. Happy reading!