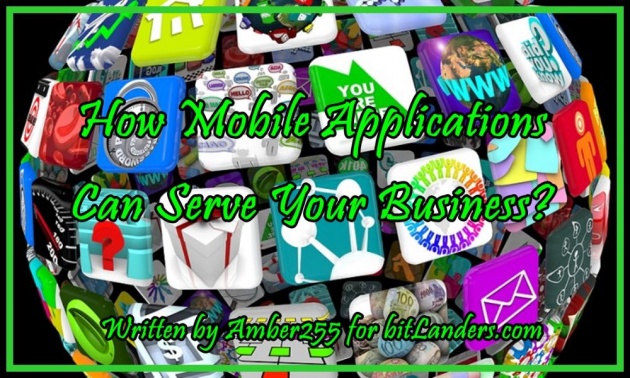 How Mobile Applications Can Serve Your Business? - Photo credit: blog.bz.ppg.br, edition by Amber255 via bitLanders.com
The era of smartphones opened absolutely new opportunities for business marketing professionals in both small businesses and large corporations. Nowadays people carry everything in their pockets - starting with specific tools like GPS, ending with computers connected to the Internet.
Whether you have created a mobile gadget yourself or whether you are hiring a professional, you can expand your business by becoming accessible to anyone who uses the Internet on mobile devices.
The website is still a great way to advertise and deliver your products, services, and give quality customer experience, but today, mobile apps can reach more customers. After all, the Internet is browsing through mobile phones and other smart devices. Hence, the most varied services and products can be handled, purchased and sold via a mobile app. Creating apps and promoting your business through them can help reach a wider audience.
If you think that mobile apps are solely for big name brands like Walmart and Bank of America, you are wrong. More and more small and midsize businesses are following the mobile trend, understanding that an effective mobile strategy involves more than just a mobile-friendly website.

Credit: allbusiness
Just after the app creation, it's worth thinking about ways to get the most profit possible. Even if you decide not to make additional money from your mobile gadget, the increased interest in your business due to the mobile app should soon cover the cost of creating it.
Business needs to use all development's offers to stay competitive to other businesses. It is a serious but worthy step for a business to create mobile app.
Mobile App for iPhone and Android for Your Business - Video credit: youtube
I offer some examples of how mobile applications can serve your business.
Additional Sales Opportunities
It is worth noting that many small business managers decide that they do not need a mobile gadget, fearing that the cost of development will be higher than the profit from sales. Even if an app's creation becomes a really expensive whim, such a way of appearing is rather an exception than a rule. If you choose only the basic app functions, the app's price will be quite low Costs reduce also when there is a good understanding of what, how much, and when you will need it before creating an app.
One of the greatest opportunities for business to maximize profits through mobile apps is that smartphones have created a new world of shopping and engagement on the smartphone. The relationship between the client and the business became more immediate and independent of the geographical situation.
The daily morning trips to work, queuing at a movie ticket or sitting in front of a doctor is the time when people can shop or use the goods and services you offer.
This free time that people used to read in the past, now is possible to use for attracting users. Mobile app maximizes user engagement in this free time. Searching by phone is extremely popular, especially among young people. When existing customers spread their message from mouth to mouth, talking to friends or acquaintances, new customers find you through search. Social network integration helps customers find you more easily, expanding the range of potential customers.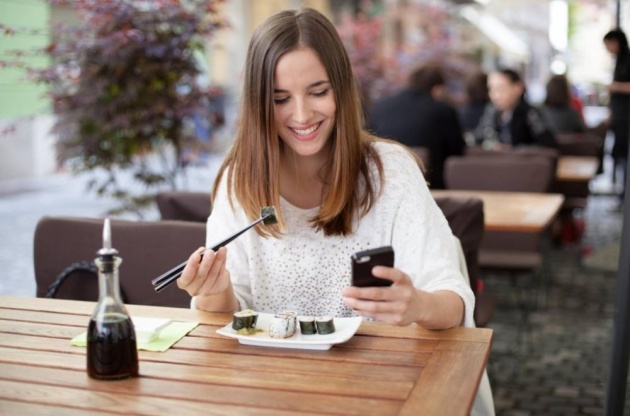 Grow business with mobile app - Photo credit: imagenesmy
Push notifications can remind users of the empty shopping cart, encouraging the customer to shop around. The simpler and smoother the account and billing process, the more chances the customer will complete the process of shopping. It's geographically targeted advertising.
A classic example of well-targeted advertising is: a potential homeowner trapped in a daily trip from work, sees a message about a newly developed complex that says, "If you lived here, you would already be at home."
Now multiply this story a billion times, and you will receive modern smartphone-enabled advertising. This smart advertising can reach users based on their location, display ads optimized by geographic location and context.
Businesses can do something from hot offers to advertising campaigns based on factors that work in a particular geographic region. They can also show coupons to potential users nearby or help users find the right vendor advertising right on the map.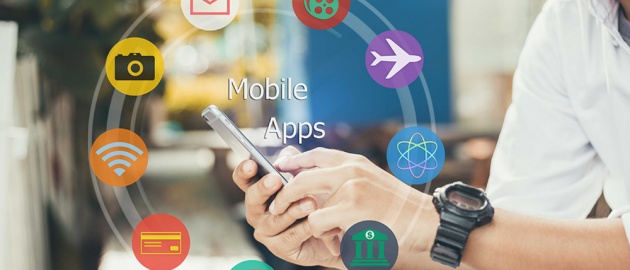 How mobile app can help business - Photo credit: twitter
Dynamic offers
Mobile apps are a whole different level both in terms of business logic and visitor accessibility and the connectivity you can create with your customer.
When you use technologies such as push notifications or location targeting, wonders begin. Businesses can use data collected from a user's geographic location system, which has made it possible to deliver offers and orders when the delivery of the goods is scheduled in just the right time.
For example, cinemas sessions and other time-sensitive services that are wasted at some point and cannot be restored. Theater can keep track of users and those who are nearby and just checked the session time but haven't bought a ticket, send coupons with the mobile app's help. Or, the bar, where there are not enough visitors in the evening, could offer an unexpected "happy hour" to the regular visitors.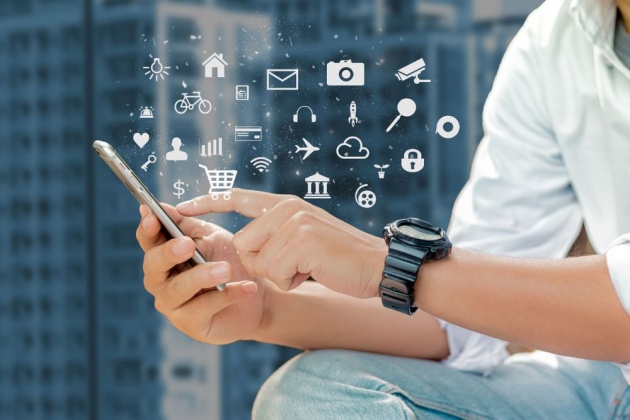 Business applications for mobile devices - Photo credit: topsimages
The geo-location function works very powerfully. Just imagine, a client passes by the restaurant during the lunch break, and he receives a message that the table in this restaurant is free for him. Push notifications can be configured so that they will come only to those users who are or fall into the selected zone. When setting up sending a message, it is necessary to highlight the area around the restaurant, and when people pass by, messages will appear in their smartphones with a suggestion to have dinner at a restaurant.
A mobile gadget is a great tool for demonstration of products and services. When you visit your gadget, people can instantly find and buy what they need without searching.
A mobile app with push notifications is actually a very powerful tool if used wisely. We all love discounts and bonuses which we can receive via push-notifications - messages we get to our mobile devices from the app instaled. According to statistics, push-notifications are twice as likely to return customers to the application.
How Mobile App Can Increase Your Sales And Grow Your Business - Video credit: youtube
Conversion Funnel
When did you come to the store, did you look and go without buying it? We call this a bounce off. People buying online are bouncing off for a number of reasons, and people buying through a mobile device - have an even bigger number of reasons for bouncing off. The user may not have a credit card to settle, the information entry is maybe confusing and frustrating, or they are simply distracted and put the phone back in the pocket.
Fortunately, one way to help prevent transaction interruption is automatic addressing. The GPS system installed on the phone can help track down the user's location and enter the address automatically.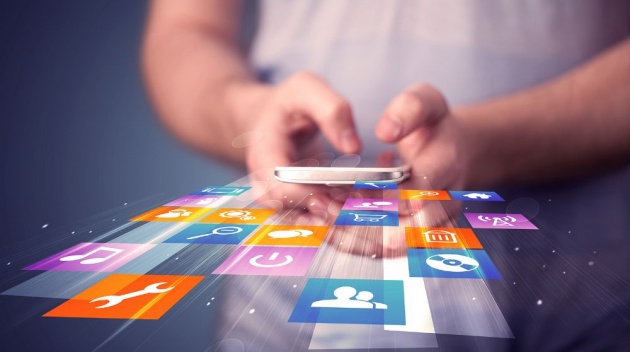 Mobile application for business - Photo credit: medium
When a new user arrives on the site or in the application, we want him to take a targeted action - payment, registration, checkout or any other action that is valuable to the developer. But, first, not all of those who fall into the product, do this action. Secondly, before committing it, users go through several intermediate steps of interaction with the connection, clicking on various buttons, switching sections of the menu, following links and pages, filling in various forms.
In order to investigate users' behavior in the product, understand how they see it, find weak places, find out at what steps along the path to the goal they bouncing off, and optimize the processes inside the application — business pushing visitors through the conversion funnel.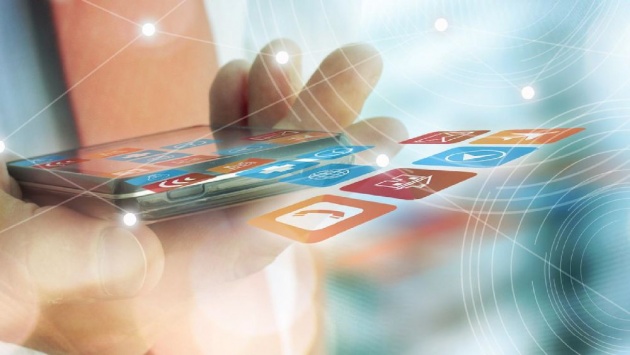 Mobile application for business - Photo credit: imagenesmy
Having obtained the result of the funnel, you can find weaknesses: places with the least conversion. The funnel is an excellent tool to optimize the users' way to the goal, increase their interest in the product, prevent bouncing off, and thereby improve the financial performance of the project.
Data Collection
When a person leaves the house, he can forget anything except the keys, wallet, and phone. Just imagine: the business falls into all the phones of customers, potential customers and, in fact, remains in their pockets. Companies interact with customers all the time when they use their mobile device. The scale is amazing! No other type of advertising in the whole history of mankind has offered such an opportunity - to be constantly in the pocket of a client and interact with him.
One of the most powerful online business tools is that they can track the customer's whereabouts from the moment they visit the website. What the customers were interested in and what deterred them? Where exactly the visitors were in the online shop, what they did when they got into it. Site administrators can answer these questions very easily.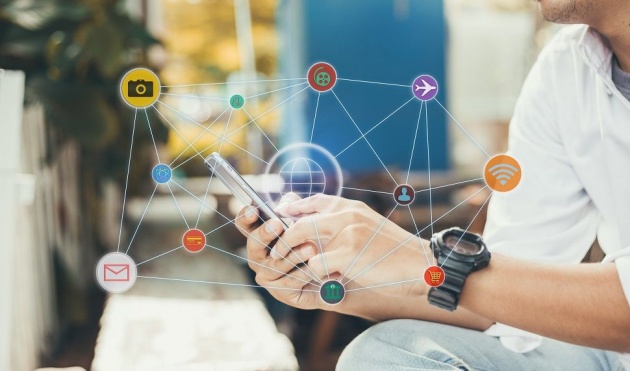 Business applications for mobile devices - Photo credit: twitter
Some physical stores collect data using wireless internet (Wi-Fi). The smart devices in the pockets and handbags of customers connect to the WI-Fi, and in such a way, the stories can track the customer's trajectory. Collecting the signals emitted by a smart mobile device reveals a whole new era of data collection and analysis for retailers who are trapped in the physical world.
Compete Everywhere
Many physical store owners complain that shoppers come to look around, come to see the goods live, but plan to buy online because it is a usually cheaper way. When a traditional retailer loses in this case, the user and the online shop owner gain benefits. The products' prices comparison tool helps online stores attract more traffic and boost sales.
Mobile apps help businesses increase their revenue mainly due to increased efficiency. Instead of advertising in the full spectrum, it is possible to reach consumers very straight.
Businesses can reach customers who have long been away from the store but are now nearby. Consumers can shop for short periods of free time that they would waste before. Businesses can discount a product just before they write off the item.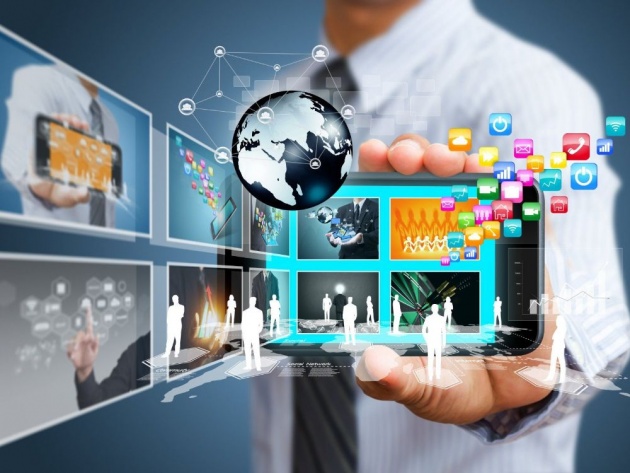 How mobile app can help business - Photo credit: studioromata.blogspot.com
To get new customers, the company can offer them an interesting bonus for installing the application. Bonuses and discounts are loved by everyone. And almost everyone has mobile devices. The application helps to launch new interesting marketing campaigns and thus compare favorably with competitors and gain the trust of customers.
For example, a company offers a lifetime discount of 10% on certain types of goods and services for installing a mobile application or getting a cup of coffee as a gift upon presenting the installed application to the cafe administrator. As a rule, for the cup of coffee, visitors will order another cake or a full meal. The cafe remains in the plus, and the business gets a loyal customer.
All these small nuances contribute to higher revenue and better customer service.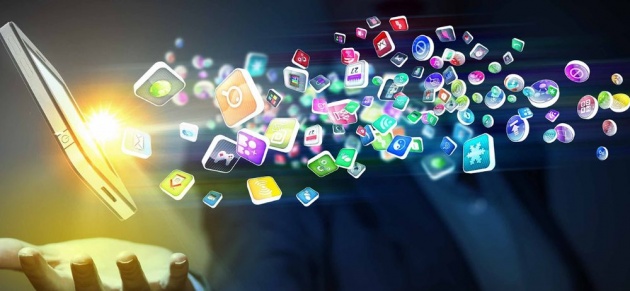 Grow business with mobile app - Photo credit: skmsoftware.wordpress
On A Final Note
In fact, the lifestyle and pace of life are changing very fast, but the man is far from being forced to live in the new world with the old attributes. There are many innovations that help a person to tighten up time, work, daily agendas, finances, overcome everyday worries, and ultimately even lighten the mood.
Not only can you buy clothes, home appliances, furniture, and everything else online, but you can also order food - at a specific time, from a well thought out a shopping list - just at your door. Standing in traffic jams for a long time, running around the shop, and dragging everything home definitely takes time, and here it's all at the touch of a few buttons.
A mobile gadget is a part of the frequent business, regardless of its size or area of activity. At present, many small business representatives have representative websites, and only a small part know the need for a mobile app. And it can attract more sales and offer better customer service.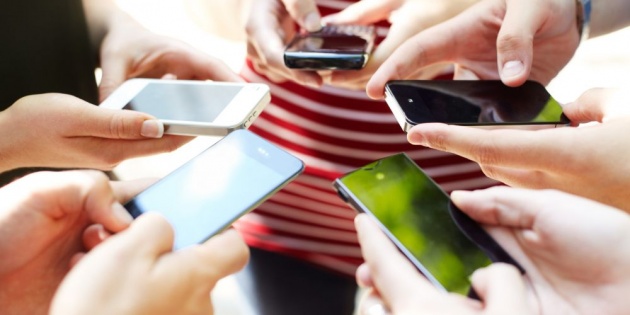 How Mobile Applications Can Serve Your Business? - Photo credit: twitter
We are already accustomed to the fact that a company without its own website seems unreliable. And is it time to say the same about companies without mobile apps? I think it is most important to understand a few things: more and more customers are looking for services or products using a mobile phone or tablet. This means that the greater the likelihood of selling is for those who value it and adapt quickly.
Simply having a mobile application will not solve all your business's issues and will not make it successful overnight, but in wise, capable hands, the mobile app will become a powerful marketing tool.
In 2020… There will be a widespread belief that the World Wide Web is less important and useful than in the past and apps are the dominant factor in people's lives.

Credit: apogaeis
SUCCESS!
**********************************************************************************************
Thank you for stopping by and reading my blog
2019, All Rights Reserved.
You are very welcome to join Bitlanders and share your valuable knowledge and opinion.
***********************************************************************************************