Image Credits: https://www.onority.com
As I have explained in the previous blog that being a blogger is an easy thing but to become a successful blogger is a tough thing to achieve. But if you work hard and adopt some techniques then you can become a successful blogger. Some of the techniques have been explained in the previous blog about How to be a Successful Blogger and the remaining techniques I am going to explain in this blog. So stay active and pay your full heed to this blog so that your knowledge gets increase about to get success as a blogger. So let's continue.
Find Powerful Topics to Write About:
This is also a very important thing to consider. Most of the times we struggle to find a powerful topic so that we can write perfectly and attract the readers. For me, it is the most difficult task to do because it takes me a lot of time to think and select a topic to write. However, this is the first and most critical step so you have to be careful while selecting a topic because the reader will be scrolling many articles and if your article was among those articles which were not catchy for the reader then your article will also go unread.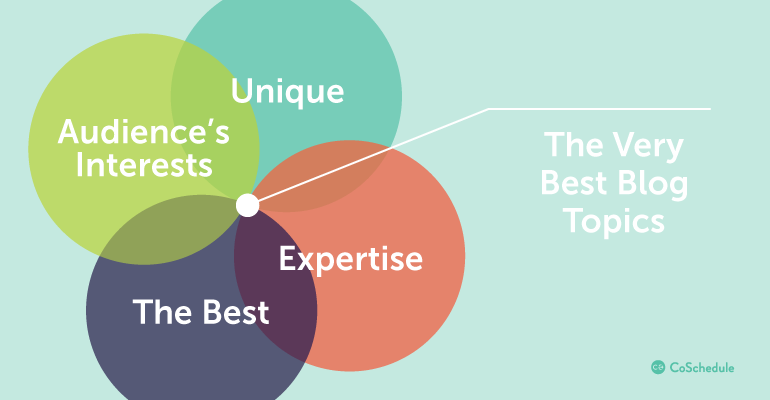 Image Credits: https://neilpatel.com
Writing in Depth:
To become a successful blogger, your blog or your article should be in detail. This does not mean that you have to focus on long length articles. This means that your articles should be long but not irrelevant. So, you must have to provide the complete and detailed information about what you are writing. Your thoughts and your ideas should be clear to the reader for the very first time.
If the reader tries to read your blog again and again just to understand what you have written or what you are saying then there will be no use of writing such a long blog. Your ideas and your thoughts should be clear from the first line to the last line. This will also make you a successful blogger in the field of blogging.
Image Credits: https://coschedule.com
Social Media Engagement:
Social Media has gone a sort of viral in this modern age. This is because the world has been revolutionized and now the internet is available in every corner of the world. Now the people are connected to each other round the clock with social media. Engaging social media for your blog is also a very useful thing. If you engage more and more people from social media then the traffic on your blog will be increased which will increase your earnings and you will enjoy blogging. So, write good quality blogs, share it on social media with your friends and the people with whom you are connected socially and become a successful blogger.
Image Credits: http://www.deirdrebreakenridge.com
Search Engine Optimization-SEO:
The next thing is Search engine optimization, so just move ahead towards search engine optimization as it is important for every blogger because it leads to optimization of your website in the search engine to get a better outcome from the search engines. But before proceeding further, you must know what is Search engine optimization:
Search engine optimization (SEO) is the process of affecting the online visibility of a website or a web page in a web search engine's unpaid results—often referred to as "natural", "organic", or "earned" results. In general, the earlier (or higher ranked on the search results page), and more frequently a website appears in the search results list, the more visitors it will receive from the search engine's users; these visitors can then be converted into customers

Source: wikipedia
So, you have to do Search engine optimization of your blog after writing a good quality blog. This will include different things and different steps. You can learn SEO from youtube where many videos are available to teach you SEO. There are also many articles related to SEO so you can also read those articles to learn SEO.
Image Credits: http://www.ineedmagnus.com
But keep one thing in mind that if you understood SEO then blogging will be no more difficult for you. But if you did not learn SEO then blogging will be a hard nut to crack for you.
Make the Reader Relax:
When a reader comes to your website or to your blog, then make him feel relax and get his attention. You can only do this if your blog is well written and well presented. One more thing which makes the reader relax is the loading speed of your website or your blog. If your theme is a bit slow then the reader will not feel easy to wait for your website or your article to load. Instead, he will move on to the next article. Thus make your article more presentable and more relaxing for the reader so that he may pay his full attention and read your full article.
Image Credits: https://gigaom.com
Accept the Reality, Accept the Criticism:
If you start writing and people begin to read your blog posts then you should be ready for all type of criticism. People will criticise you of what you wrote but all you need to do is to accept the criticism and answer them with cool replies. In short, you should be ready to accept the reality and act accordingly because criticism means people are reading your blog posts and understanding what you are delivering. So keep calm, keep blogging and keep improving day by day.
Image Credits: http://www.kubipet.com
This is all from my side and it is the end of this article. Meanwhile, here is a video about how to become a successful blogger and a Querlo chat for you to read and answer few questions.
Video Credits: Jay Baer via youtube