I have been visiting Bitlanders for last two months without a single break and trying to understand the ways of working (read earning).

Here is what I am going to do

I am on Bitlanders for almost 2 years but active for last two months or so and how to earn from this wonderful site Bitlanders is still an unsolved mystery for me. But I assure you that it will not remain a mystery forever or very long. I know most people registered on this site are looking forward to crack this mystery and I am one of them. But I am in the process of learning the ropes and quite close to that.
I am a member of different forum sites where this site is mentioned as one of the most complicated earning sites. Most members want to join and they do so after hearing the good earning opportunities here but leave the site when not getting the desired results. However, I am not one of them who leave anything midway just because he couldn't get the desired result. In fact, it makes me more determined to do better when failed. I am optimistic and I believe that failures bring you closer to success.
How to Go Up- Simple, try to learn the ropes!
Video Credit: My Own Video
I often read successful members of Bitlanders and follow their suggestions. One of my most favorite members on this site is Sharon Lopez whom I admire for his helpful advice. I read her suggestions on several forums and social media sites and never miss a chance to ask for her suggestions.
In fact, she's been answering a lot of my queries and questions about how to work in Bitlanders and my queries seem to be never ending. However, I appreciate her willingness of helping everyone and patience to answer me and anyone.
I have two particular forums in my mind where I read Sharon Lopez and explained about earning Gems and Buzz Points. In fact, she has become an important member once she posted her recent payment proof. I must admit that posting payment proof certainly encourages new members and they feel motivated and want to do better.
The fact that I have written several such payment posts in my long writing career explaining how I managed to earn that much on daily basis irrespective of the fact that some members did not believe they could work their way to such dizzy heights. But it was their problem since they did not want to try things in a right systematic method. However, I am of the opinion that everyone who is willing to earn well on a particular site should know the right procedure.

So what I am planning to do?

It's not as simple as sound so I will follow the golden rule of earning from a particular site- I will read the rules and guidelines first. In fact, I have already read a number of articles written by the learned members. I will familiarize myself with the different rules and terms of the site. I will go through the FAQ as and when possible as you always have a chance to better yourself.
Reading the FAQ and guidelines along with articles by experienced members undoubtedly make you better and bring you closer to your target. This will certainly help and prepare new members mentally and technological stuff and make them aware that they can do it with a little bit of extra efforts. There are ways to work and increase our income in Bitlanders but I agree that I am still in search of them. However, I will find them out and there should be no doubt about that - lol
What are the efforts needed here?

As I understand and the FAQ section also suggests that Buzz Score is one of the most important aspects of your earning potential on this site. Let me accept it here that I am not ashamed to say that I am here for one single purpose and that is- earning money as I would not go in the standard statements coming from some members that they are to interact with other members and earning is secondary for them. Interaction is fine but for me earning is prime. Any doubts? So, read the FAQ and guidelines when in doubt, that will make things better.

Here we go

So what I am planning is to increase my Buzz Score to earn something worthwhile. But is it as easy as I said it or what are my plans to do it? According to my information, there are 6-7 ways which can increase your Buzz Score.

First of them is Writing Blog Posts of course - but how?

I have no Gems to do that so how do I submit my articles for review???
In fact I have only 3 Gems in my account and my Buzz Score reads 14+
But the good thing is that I have accumulated 3+ dollars in my account so I can buy few Gems from the site. I have decided to buy 25 Gems by spending $3.12 and yes, I will also get a Buzz for 5 days that will help my cause to some extent.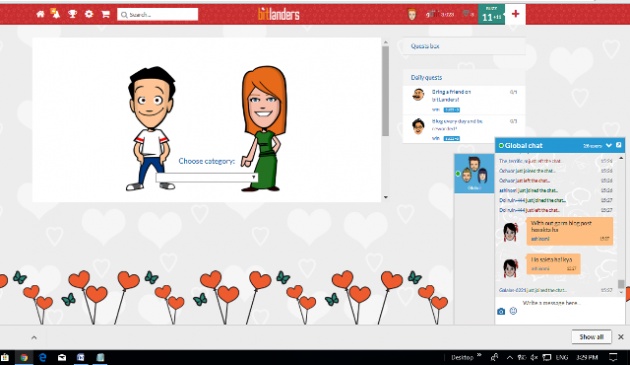 Image source- Bitlanders
Let me accept a bitter fact here that my first two posts did not do well as I was not up to the expectation of the editors but I have nothing to regret as one learns with his mistakes. In fact, her remarks made me even more determined. I had decided to post something better which will help other members as well increase my earning too.
I hope I will not feel disappointed when I see our editor with her clenched teeth next time. She gives you a bad remark for your own benefit… Isn't it?

So where am I heading to?

RIGHT HERE ON TOP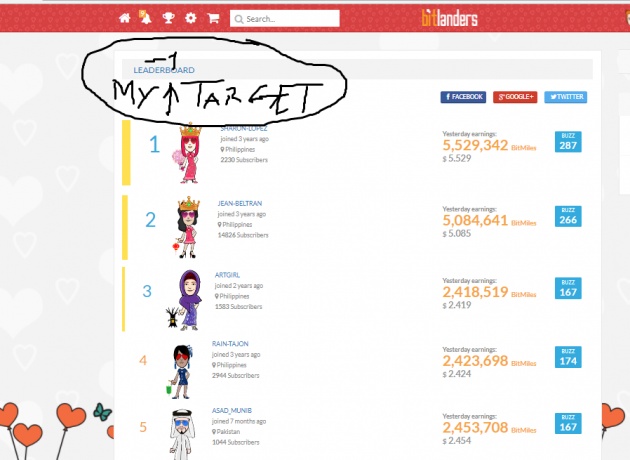 Image Credits: Bitlanders
So, there is no other way but to submit your article for review which will increase your Buzz Score. I have exhausted my Gems but if you have joined the site recently you have enough for 3 submissions. I have used up my Gems so I have bought 25 Gems from the site from my accumulated amount in my account.
Here is an important point to note which I'm telling you from my own experience. Write a long post having over 600-700 words or if you can write more words make it 1000 or even more.
At least I am not going to follow one rule on this site, I will no more write 5-6 paragraphs as stated in Bitlander's FAQ section lol. Longer the better but please do not compromise with the quality while going for quantity as both are important. You know what? You get Gems back according to your article's quality and Buzz as reward. So what all you have to do is- concentrate on quality and be careful that you stay on the point of article.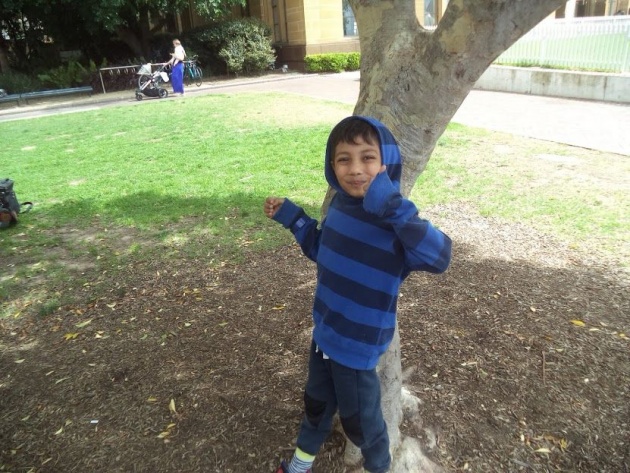 Image source- My own camerawork
Meanwhile, you can earn Buzz Score and earn better by posting

Images
Videos
Articles
I have posted images and videos on this site and that helped me earn a little better but I am counting on posting and sharing articles more in future as images and videos do not count in your base score. I have submitted all above mentioned items but as I said earlier I am counting more on my articles. Maybe my photos were not as good as expected.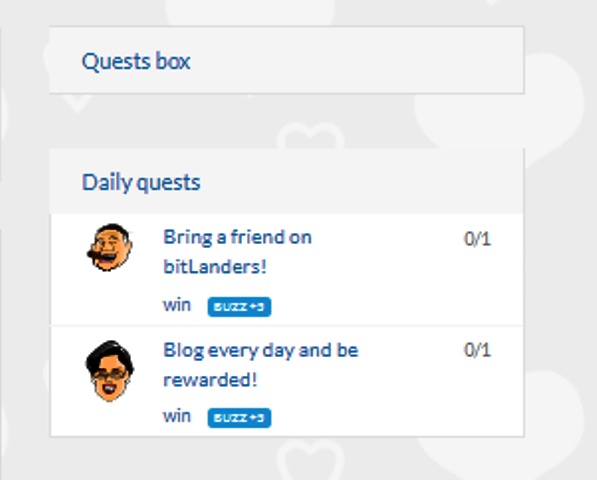 Image credit Bitlanders
The picture above is self explanatory and shows clearly that your earning increases following the four steps regularly. In Addition- Log in everyday and read and share as many as you like. I am trying to understand the value of sharing my own posts as well other's work on social media but I am very much sure it works on this site as it works on other sites. I am very much in the process of adding members in my network by commenting on their work and giving Buzz to deserving posts. I am reading blog posts by Bitlanders and watching videos but I have yet to bring a friend on this site. So I have yet to do this on regular basis- I have Gems for the purpose and I am going to do it Yay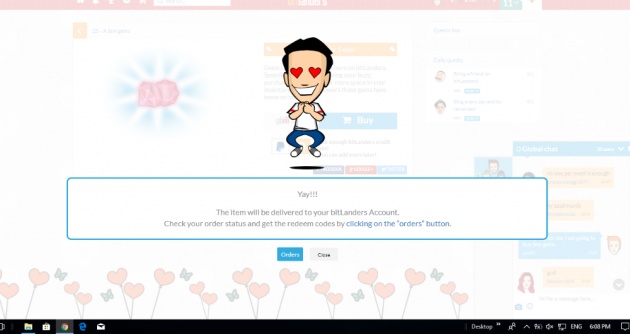 Image source Bitlanders

Finally, I have not yet added my ID Proof on this site but I would not hesitate to provide my ID proof as and when required since the site doesn't need anything which may harm your privacy as many people think and convey on other forums. I would like to end with my final remark. I am writing on different websites for last 8 years and have earned a lot of money by doing so. However, earning from all websites has a common rule. You should know the requirement of that particular site and follow all the rules strictly.
As I said earlier that I have been here on this site on a regular basis for last two months. I have had some bad days and some better days but never felt disappointed for a single moment. I am sure I will succeed on this site as I have done on so many other sites. Thank you and assuring you all that you can also do it if you try it sincerely.
I have a couple of published articles here- My Article
Note for blog owners- Wait for my next article which will give you an idea about importance of sharing your work on Social Media.
My Special Thanks to Ms. Sharon Lopez
Meanwhile you can follow me on Twitter My Twitter account