In a recent interview, Eren Gulfidan spoke with Nilu Sherpa, a noted female filmmaker in Kathmandu, Nepal, about her work and how to empower women through film. Sherpa is one of the newest filmmakers to join Film Annex with her short film, "KAGAJ," which means "paper" in English. The short film focuses on the importance of education.

When asked about her experiences as a female filmmaker in Nepal, Sherpa says,

"There aren't many female filmmakers in Nepal. As a child, I always wanted to be the first woman to direct a movie here, but with time I realized that it is not as easy. This is a field dominated by men. Many a times, I find myself to be the only female on set. I strive everyday to prove my ideas when my work is at par with, if not better than, my male counterparts."

However, she says that being a female filmmaker has also been useful for her career. "As a filmmaker, the advantage of being a female filmmaker in Nepal is that I am a known face in the film circuit because there are very few filmmakers. So I know that everyone is talking about me and watching my next move closely."

Before Sherpa settled into filmmaking, she tried her hand at many other careers. However, she says that nothing else "nothing settled, calmed, excited, and satisfied" her like making movies. Her movies are infused with emotions, which Sherpa believes are "the core of any action". She says she came up with idea for "KAGAJ" when she saw street kids. Sherpa says, "When I saw street kids, I always knew that education would make a difference in their lives, and how they got this education was the question."

While in Sherpa's film, the children use an unconventional method to educate themselves, other children aren't quite so lucky. That's why projects that focus on education in Afghanistan and other countries around the world are so important. For example, the Afghan Development Project connects and builds Afghanistan schools for girls so they can learn technological skills for the future. Their education in social media and women's filmmaking through the Afghanistan Development Project gives them access to share their feelings and thoughts with the entire world. As Sherpa says, "With quicker and easier access to the Internet, the world has become smaller, and one voice can reach a million voices in no time." I believe this quote rings true in any country.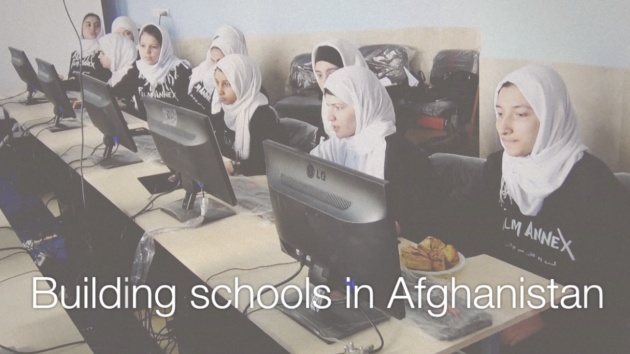 I believe that woman filmmakers like Sherpa will play a huge role in shaping womens rights in Afghanistan and other countries. Film has a power that very few other types of media possess. There's an immediacy and emotional connection in a film that only rarely translates into writing. People from any country in the world can see a film and feel the emotion behind it. That's why initiatives like the Afghanistan Development Project and others like it are so critical for female empowerment around the world.

As Sherpa says, "Films are like fuel to fire. A voice to the masses. Women can talk about their issues and come up with solutions that can be brought about only by the medium of films. So I think films can be a major tool for women to empower themselves and each other." Providing filmmaking education in Afghanistan could be a huge step forward and give thousands of girls and women the chance to express themselves.