Hello friends!! It's been a while since I've written about my Photoshop journey, so today I would like to start writing again after a very long and busy day I've had. Last October 7, 2018, when I came back from Manila to take a computer proficiency examination, I opened my laptop and visited my favorite sites, Bitlanders and Deviantart. I didn't mind about my blogger site yet but anyway, so there I was at Deviantart and I've discovered about this new contest. Deviants are encouraged to participate in this contest.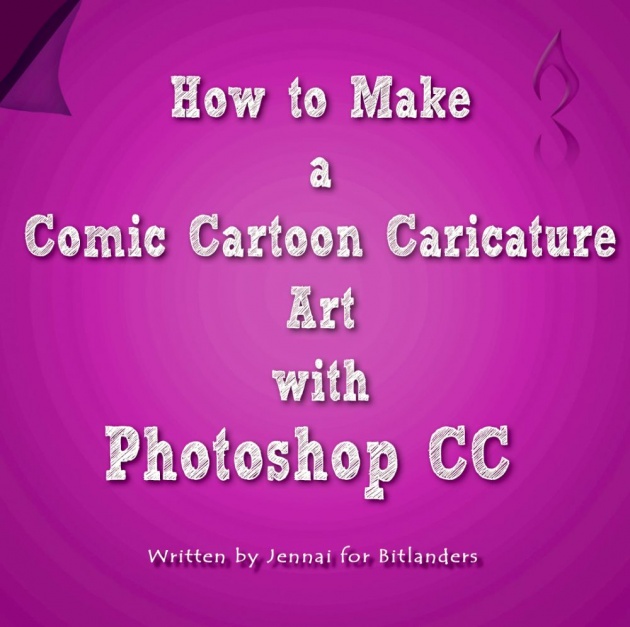 Image Source: Jennai via Bitlanders
What's the Contest?
The contest is about simply making a fan art. Yep. My favorite hobby, making fan arts. I figured maybe this could be something I would really enjoy doing.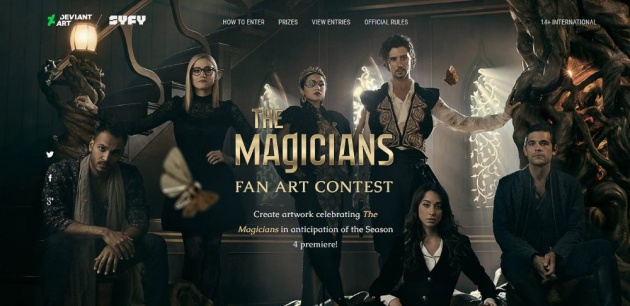 Image Source: Screenshot by Jennaikikz via Deviantart
I started recalling some of my previous fanart projects and listing down bits of my ideas. I also downloaded the template and asset pack provided by Deviantart. I wasn't hoping to win this contest, I just enjoy doing fan arts so I plan on making more.
How to Make a Comic Cartoon Caricature Art
I have here a sample photo I got from pixabay.com. I will be converting this photo into a comic cartoon caricature art using my all-time favorite photo editing software, Adobe Photoshop.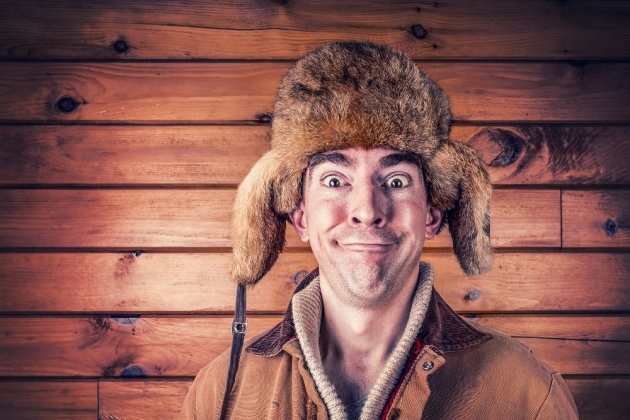 Image Source: https://pixabay.com/en/hat-fashion-style-happy-man-591973/s
#1 Cutting
First thing I did was cut the subject out from the background of the photo. There are many options in Photoshop as to how to cut the selected subject. My favorite is using the pen tool.
Photoshop Pen Tool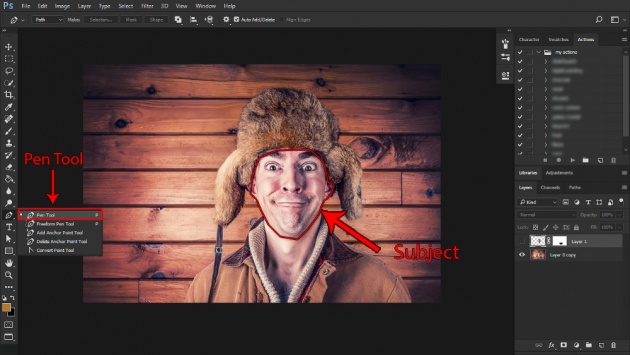 Image Source: Jennai via Bitlanders
Using Photoshop Pen Tool is a time-consuming work but the best thing about using Photoshop Pen Tool would be the output subject. I use this Pen Tool to get a crisp and fine cut of any subject from a photo.
Using Photoshop Wand Tool
Ok, as I have said earlier, Photoshop offers a lot of options. I usually use the wand tool to select similar colors on any photo or select and crop any refined shapes from any image.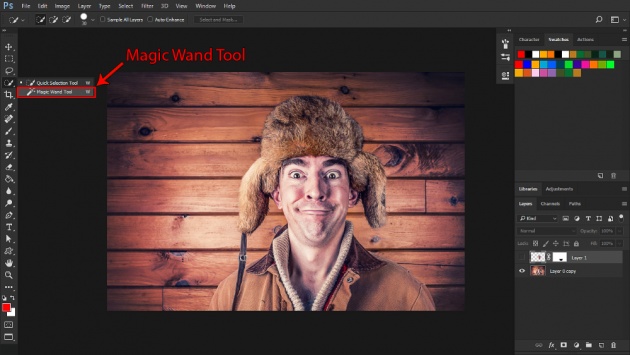 Image Source: Jennai via Bitlanders
Using Photoshop Erase Tool
There are actually three (3) kinds of erase tool available in Photoshop namely, (1) Eraser Tool, (2) Background Eraser Tool, and the (3) Magic Eraser Tool.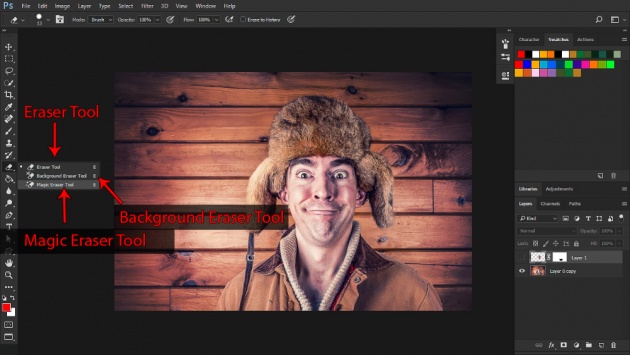 Image Source: Jennai via Bitlanders
Eraser Tool
Eraser Tool is just like the usual erasing tool wherein I would just swipe my cursor around the photo by holding and left clicking on my mouse while moving around.
Background Eraser Tool
The Background Eraser Tool is something special. I use this tool for erasing complicated areas like hairs. Whenever I want to erase a background from a subjects' complicated stylish hair, this tool does the magic for me.
Magic Eraser Tool
The Magic Eraser Tool is another one that Photoshop possess. Just like the name itself, Magic Eraser Tool can erase anything in just one simple click, like the Wand Tool. A very good example would be like a picture of an apple in a white background. Using the Magic Eraser Tool and just by clicking on the white background, it would just magically remove the white background.
#2 Using Liquify Filter of Photoshop
Ok, enough of the cutting tools. So the next step I did was liquify the subject I've selected to reshape the face and make it funnier or cartoonize the pose.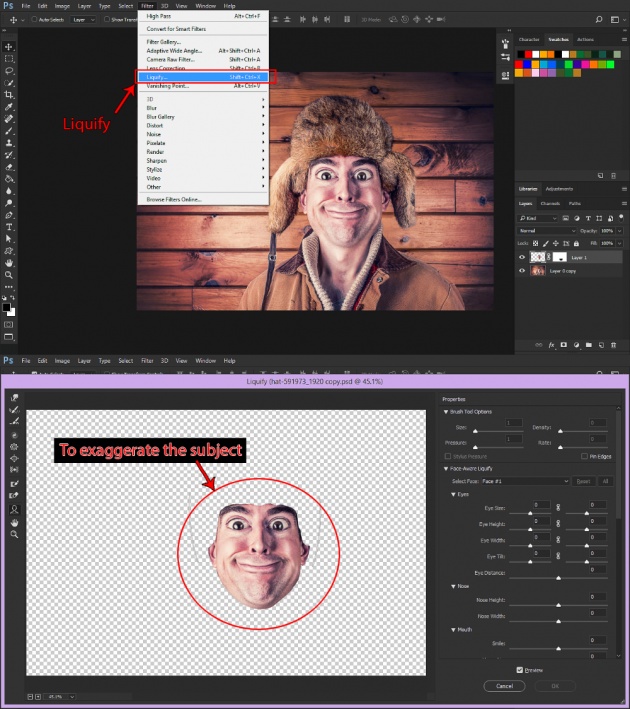 Image Source: Jennai via Bitlanders
As I have been surfing the internet for a while, I came up with different ideas as to how to liquify and make different shapes of caricature faces. I've been experimenting with Photoshop as well at the same time, it's fun.
#3 Rendering Effects
And there it is, the photo is now a caricature art. A simple art using photo manipulation with Photoshop, but then again, after looking at the photo, I still feel like it's missing something.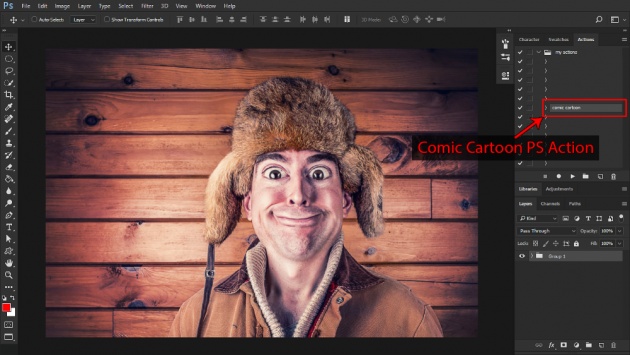 Image Source: Jennai via Bitlanders
And so I've decided to render more effects on it.
As I love working on a fast-paced environment, which in short, I don't really like taking too much time working on something that takes too much time, as redundant as it is, oh well, I used my collection of Photoshop Actions which I applied to the photo.
Comic Book Caricature Art
I came up with an idea of a comic book art and placed a little twist in it, like make it a caricature comic book art.
I chose the Comic Cartoon Photoshop Action. As you can see below. In just a click, I made a comic cartoon caricature art from an ordinary photo, yes!! Just like that!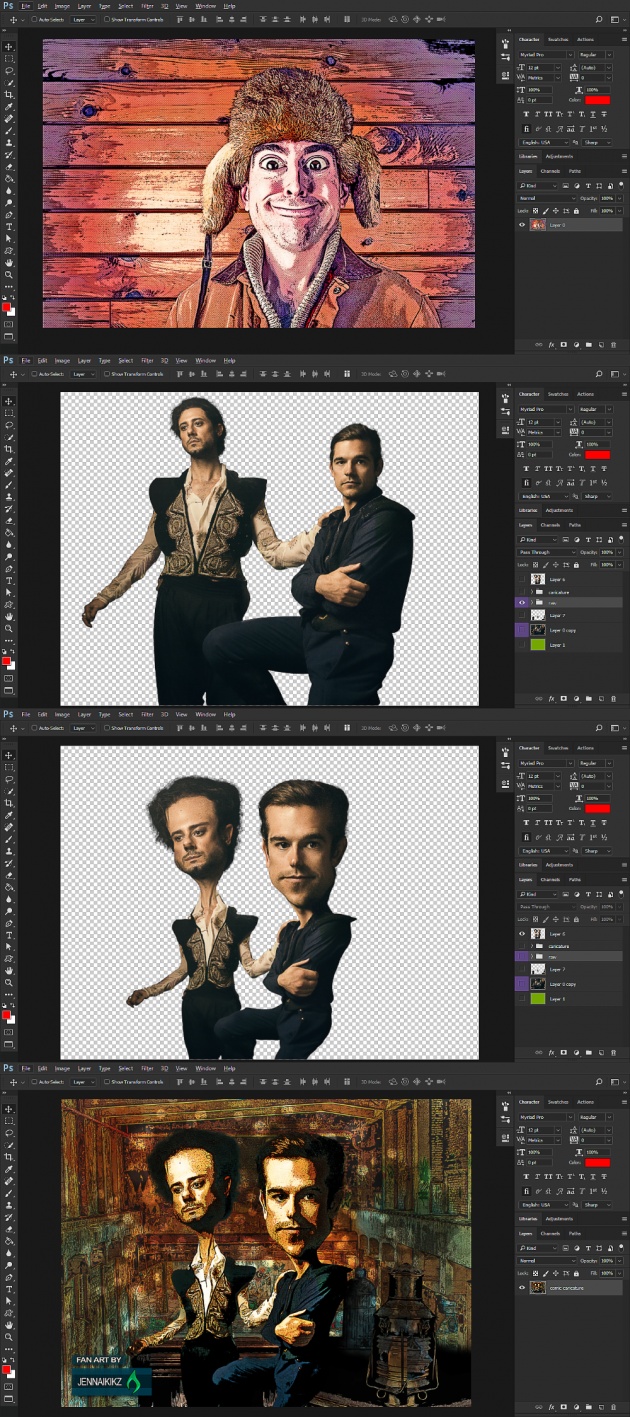 Image Source: Jennai via Bitlanders
I mean, I love to draw traditionally, but after discovering the capabilities of Photoshop, I got so amazed and curious to learn more.
I still plan on making more fan arts and experimenting with Photoshop as well as creating more Photoshop Actions.
Playing with Photoshop is just something I love doing to escape from my stressful day-job.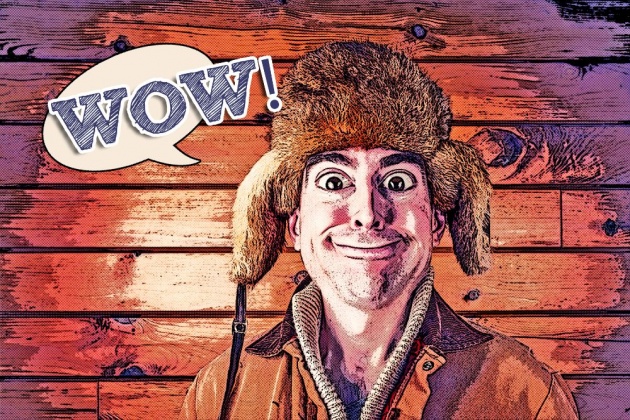 Image Source: Jennai via Bitlanders
Updating my blogger blog is also kind of difficult to achieve so I might just stick on making more fan arts for now, but I don't really plan on giving up my blogging- website- building habit. I think I just might need a little space from my daily routine, a break perhaps.
Video Source: Engr Jennz via Youtube
Anyway, thank you so much for reading my blog. I hope you guys enjoyed reading. Check out some of my blog topics about my Photoshop journey as well:
How to Use Photoshop Actions with Photoshop CC
Making GIF (Graphics Interchange Format): A Web Animation with Photoshop CC
Making Customized Mug Design with Photoshop CC
How to Create Customized Photoshop Layer Style: Gold Text Effect
How to Make Your Own Customized Photoshop Shortcut Keys with Photoshop CC
How to Make a Customized Banner or Header Design with Photoshop
You're welcome to visit my blogger site. I usually post my blogs there too and offer some photo editing services there as well. I've actually been earning from my hobby now and blogging is just one of the many ways. Thanks Bitz!