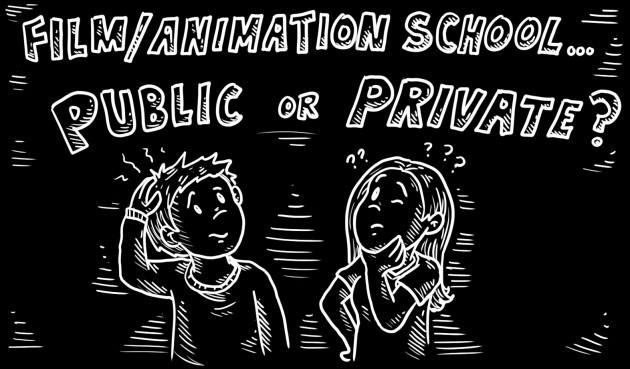 This blog post is part two of three and is a continuation of the first blog post on this subject of how to pick the right animation and film school. I had originally considered this blog series to be two blog posts but I had written so much in part two that I decided to split it up into a couple of posts. In the second part of this post, I try to offer some advice on what to look for when choosing a private animation/film school. In part three, I will discuss the benefits of public post secondary institutions. I am writing these words from my experience both as an animation student at a public university and a classical animation instructor of four years at a private art college where I taught and developed curriculum for a degree in classical animation. As well, I have both a Bachelor of Media Arts in Film Animation and a Bachelor of Education.
Private animation/film schools are great if you're interested in working in the film, animation, and video game industries post graduation. They are intense, expensive, and you should get in and out with the skills you need. But not every school is the same and some are always better than others. So how do you tell what schools are better than others, here's some advice.
When looking at private...and public schools for that matter, make sure to research their faculty and instructors. Read the instructor bios on the school's website. If they don't have bios on the website, ask the school's advisor about the instructors and Google them. Find examples of work they've done online. These are the people who will be passing on their knowledge to you. Thus, it pays to make sure you get to know who will be teaching you for the next two to four years. If you want to work in the industry, make sure the instructors still work in the industry or have a long career working in their field. Many schools will just hire alumni who have never worked in the industry so they don't have to pay them as much. If you want to find industry work afterwards, most times the instructors can help find you work or provide you contacts within their networks. If your instructor has never worked in the industry, how can you expect them to help you get a job in the industry?
Networking is key to finding work in the animation and film fields after you graduate. Therefore, your instructor is usually your first network at finding work post graduation. Yes, of course your skills and talent do play a role in getting you work but this industry is a 'who you know' kind of work environment. There's a lot of talented people out there…sometimes your edge is being able to work a room or attend the right events. Also, always, and I mean always, have business cards with you with a link to your work online. If I had a dollar for every animation/film student I met who didn't have a business card, I would have at least a couple hundred bucks! It's unprofessional and looks badly on you if I don't have a way to contact you after talking about your skills for half an hour at an industry cocktail reception. Writing your name and website on a napkin is probably going end up getting used when I'm looking for something to wipe my hands on after eating a hor'dourve. I actually catalogue business cards of animators I meet and when I need animators, I can quickly pull up the business cards. These days, websites/video sharing sites are the best way to direct people to your demo reels or samples of your work.
Also, ask what kind of gear each school has for their students to use. Does the school have the latest gear or the latest animation/film software? Find out what software the school uses. Is it what is being used in the industry to make visual effects or edit with? You want to make sure they have all the most updated versions so that when you graduate you are familiar with these programs if you hope to gain employment at a studio. What kind of cameras do they have? Are they using Red or old Panasonics from 2004? Do the instructors even know how to teach how to use these new cameras? It's also a good idea to talk to some of the students and see what they think of the school and their instructors. You can learn a lot from their experiences. Check out the online forums, read reviews..visit the Facebook page and read student comments. Also what is the school's reputation? If a lot of companies hire graduates from a particular school, chances are they are teaching what these companies are looking for and the school is probably being selective by picking the right students for their programs. Film and animation school is an investment of your future…they definitely aren't cheap. You wouldn't buy stock unless you did your research…so make sure you take your time and research various schools before deciding on one.
It's also important to keep note that when you're in private animation and film school, grades don't mean anything. So don't get caught up in getting an A on every assignment. Your assignments are often subjective and if you get caught up on getting A's you're missing the point of learning and making mistakes. You're really just there to learn skills to develop your talent. Studios don't care if you got an A on your assignments, they just want to see a strong portfolio and demo reel...and know you work well with others in a team environment..so try to get along with your classmates on group projects.
Most times your instructors are industry workers, not teachers. So chances are they have no idea how to grade or teach for that matter. I've known a lot of super talented animators who were instructors but had absolutely no teaching ability. This can often be a huge source of frustrations for students if there is bad communication between teacher and student and if an instructor has trouble presenting the lesson in an understandable way. You're paying big money for an education and to get trained. My only advice is to use all that your paying for wisely. Absorb as much info as possible, use the gear as much as possible, do your own tutorials, make films that aren't just assignments. Utilize as much of what you're paying for as you can in the short time you'll be at the school. Ask tons of questions even if it annoys your instructors, stay after class, ask for critiques from instructors, students, and staff, learn from your fellow students, form partnerships, and most importantly have fun. When I went to school I learned tons from what the other students were doing…it was almost like a mini friendly competition between us to out do each other. That really helped push us and motivate us to do our best work all the time.
Always keep in mind that a lot of these private programs are really intense, usually only a one or two-year diploma. You're usually learning four years of material in 1 or 2 years…and you're paying high tuition fees to do it. Because private schools are a business the more students they can pump out the more money they make. This is often difficult because in Vancouver alone there are more than 6 or 7 (if not more) private school pumping out animation and film students…which is flooding the job market. It is definitely competitive and most students get discourage competing with other students for work post graduation. So it's really important develop a high work ethic while in school, find ways to excel, and to find that edge after graduation...something that makes you desirable to these companies…and more often than not, it's your creativity that makes you shine.
In part three of this blog series coming later this week, I'll discuss the benefits of public animation/film colleges and universities as great ways to develop creativity and foster talent. As well, I will share some great advice from my animation buddy and Oscar winner David Fine on his animation school experience. Please subscribe for updates on new blog postings and video posts. Thanks!
My graduation film while attending Emily Carr...The Horror of Kindergarten. It took me two semesters, 9 months to complete it...and now I cringe every time I watch it. But at the time I was extremely proud of it.