Video Credits: Daragh Walsh via YouTube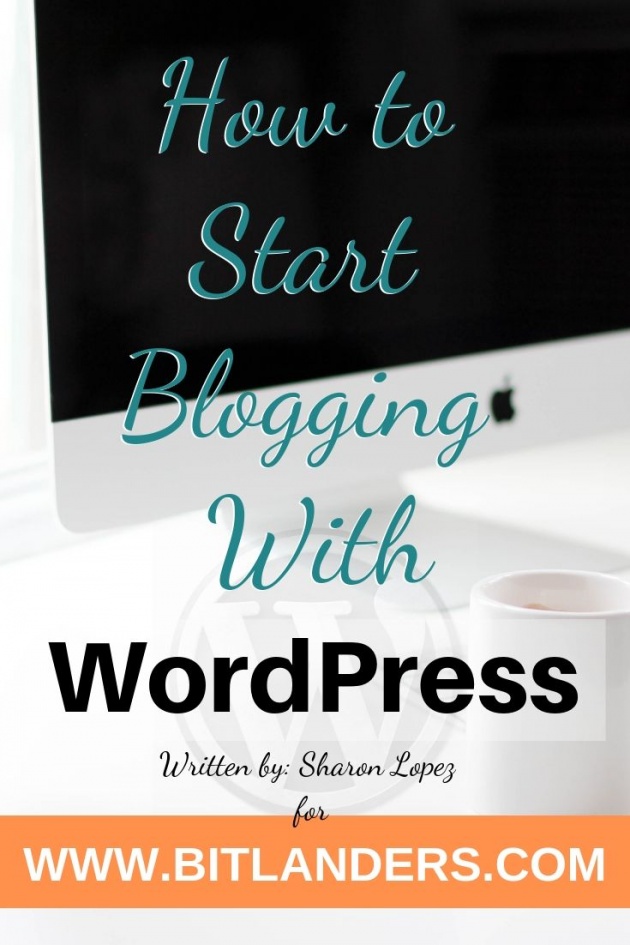 Image Credits: Sharon Lopez via Bitlanders
Many individuals are aiming to start their own blog for a variety of reasons. Some may want to blog for personal satisfaction and enjoyment while most people would want to start a blog with the purpose of monetizing the same. With all those blog posts circulating on the internet about the possibility of creating passive income from blogging, who wouldn't be enticed to start one? In fact, even companies are now implementing the blogging-for-business strategy in order to increase exposure of their brands among the social media.
In my previous post, we talked about the things we need to know before starting a blog. We discussed the three important aspects we need to consider when starting a blog which are the hosting, domain and the content management system or cms. In case you missed it, you can visit it from HERE.
STARTING A BLOG
In this blog post, we will walk through the process of setting up our own blog using WordPress. I hope you find this post helpful.
Before we proceed with the setup process, it is imperative that we understand the difference between WordPress.Org and WordPress.Com. This will help us choose the platform that will suit our business needs.
Here are the steps in setting up a blog with WordPress:
1. CHOOSE A DOMAIN NAME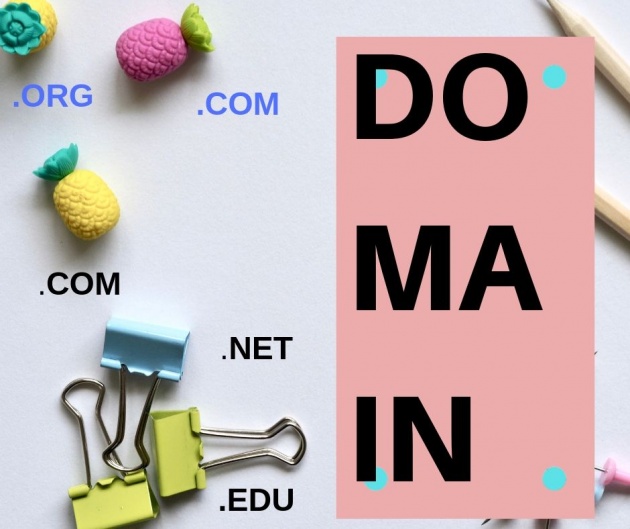 Image Credits: Sharon Lopez via Bitlanders
First, we need to choose a domain name. Every website should start with an interesting domain name. So, choose your domain name wisely. Your blog's name should be unique, easy to remember and should represent your product or service.
Have a list of your preferred domain names and alternatives prior to the conduct of the setup process. This will help you save time just in case the name you have chosen has already been taken.
You can purchase your domain name and hosting service from one company. I purchased my domain and the hosting of my blog from NameCheap. You have to create an account and start your domain search by entering the desired name on the space and click search. Repeat the process until you found the most suitable name for your site.
Refer to the image below for guidance.

Image Credits: Sharon Lopez via Bitlanders
2. CHOOSE A HOSTING PACKAGE
Once you have done choosing a domain name for your site, you may choose the hosting package suitable for your site. I have chosen Namecheap hosting provider because I can host three websites in one hosting package for as low as $2.88 per month. Though you can choose from the different hosting providers available online.

Image Credits: Sharon Lopez via Bitlanders
3. INSTALL WORDPRESS
Once the purchase is completed, you will receive detailed information about your purchase including your cPanel login details which you will need to use in accessing the same. You can return to the dashboard and look for the newly purchased hosting package and click Manage.
You have to log in to your cPanel using the login details sent to your email in order to install the WordPress content management system. Currently, cPanel has been set to auto login on your succeeding logins for easy access.
Once at the cPanel dashboard, scroll down to the script and click the WordPress logo.

Image Credits: Sharon Lopez via Bitlanders
The WordPress installation process is now ready. Click Install.

Image Credits: Sharon Lopez via Bitlanders
Complete the necessary details being required.

Image Credits: Sharon Lopez via Bitlanders
Once the necessary information has been provided, you may click Install. It may take a few minutes before the installation may be completed.

Image Credits: Sharon Lopez via Bitlanders
4. CHOOSE YOUR DESIGN
Image Credits: Sharon Lopez via Bitlanders
WordPress has thousands of free themes you can choose from. You may also opt to use paid themes. You can choose from the wide selection of free themes, download it on your desktop and upload it to your new site.
5. ADD FUNCTIONALITY
Plugins are a great way to enhance the functionality of your site. Some plugins may require a fee but we can also start using a free trial. There are also free plugins which are equally effective.
My favorite plugins are Yoast SEO, which helps me check the SEO score of my content, Akismet, which helps me eliminate spam comments, and many others. I am also using Google Analytics to keep me updated on the performance of my website in terms of traffic.
Related Post: 6 WordPress Plugins That I Love
6. WRITE YOUR FIRST BLOG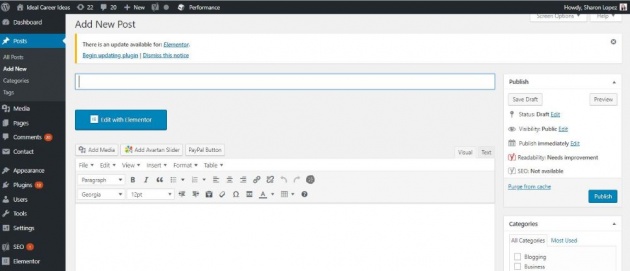 Image Credits: Sharon Lopez via Bitlanders
Now that your blog is ready, the only missing item is your first post. Start writing your first blog post by logging in to your WordPress Admin Panel. On the Dashboard, click Posts, then Add New Post. a new post editor will show where you can write your first post. Once done, click Publish. You can view your post by clicking the Preview button.
Here is another video which can give additional information that you need in order to successfully launched your WordPress blog.
Video Credits: James Stafford via YouTube
Congratulations!
You have successfully created your WordPress blog!
Creating a WordPress blog is actually easier than we thought. We can create our own blog even if we are not tech savvy.
So, what are you waiting for? Create your own blog today!
Thank you for visiting and reading my post. I hope that through this blog post, I was able to afford you with additional information that you can use as you continue to explore the possibilities of making a living online.
More from this Author:
10 Blogging Lessons I Learned From Bitlanders
Why Do We Need to Back Up Our Online Contents
Different Ways to Earn From Our Blogs
DISCLAIMER: The views and opinions expressed in this blog post are that of the author and does not in any way represent the agency or department she currently belongs.
ADDITIONAL NOTE: The sites mentioned in this post are for information purposes only and links are provided for easy access. The author does not receive any remuneration from the said companies or sites.
♥=♥=♥
Written for Bitlanders
by ♥Sharon Lopez
Date: January 30, 2019
Visit my blog profile for more ♥BLOG POSTS
Sharon Lopez is the Author/Owner of IDEAL CAREER IDEAS
Want to earn from sharing your opinions through blogging? Join us in Bitlanders and claim your 1 DOLLAR REWARD upon signing up. CLICK HERE TO JOIN