September 5, 2018
This is one of the dates that I might want to keep in my memory forever. It is because I didn't expect that our company would hold this kind of celebration.
So just to give you a little introduction about my job, I'm an ESL (English as Second Language) Instructor as of the moment and basically, I teach English to non-English speaking races such as Koreans, Japanese, and Chinese.
So I woke up in the morning not knowing that there would be a big celebration later on. Then I took a bath, ate breakfast, and headed to my workplace. Also, I bought 3 bananas and some rice with me going to work because our Human Resources (HR) personnel advised us to bring rice on this day because we'd have a 'simple lunch' gathering, which I really had no clue that it was going to be in line with Teachers Day.
When I arrived at the area, I went to our conference room to check what's going on because we were told that the event would happen there. When I checked the room, this is what I found: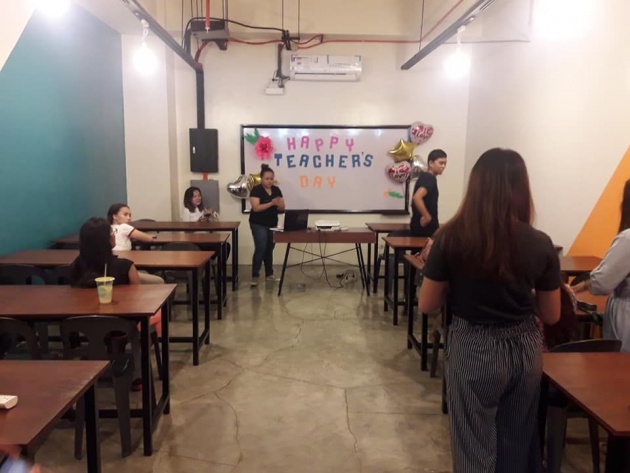 Photo Source: Jvanity1 (bitLanders.com)
I was surprised! So this is what the 'simple lunch' was all about. I got fooled when our supervisor said that it's going to be a birthday celebration. She got me fooled! She tricked me, I mean us. Probably, the manager and supervisor didn't want us to know that it would be Teachers Day. Nice try our dear Supervisor. You got us. Well done! :D
I also went to my work station to put my bag and other things and to my surprise, there's a letter sitting on top of my desk. I wondered if it was unintentionally put there and that someone must have forgotten to get it back but no, that person didn't come back. I checked the letter. It's too girly in design but it says on the cover, "HAPPY TEACHER'S DAY!". So this letter is part of the celebration. That's too cute for a company to give this to their employees so I appreciate the fact that they appreciated all our effort. For sure, I'll keep this in an envelope.
*The letter of appreciation that I received: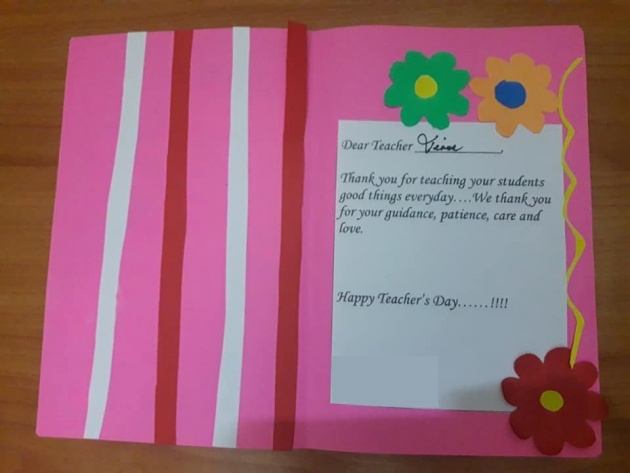 Photo Source: Jvanity1 (bitLanders.com)
And then one of my colleagues named Glemae suggested if I could accompany Sir Kent, our IT personnel, in buying some soda at Rustan's Supermarket nearby our workplace. It was my mistake that I wasn't able to take pictures while we were buying soda because I wasn't able to think of it and because I was still in a state of surprise during that time. I'll just show you the pictures of Rustan's Supermarket on the later part of the blog.
After 10 to 15 minutes, we returned to the workplace bringing soda. To my surprise again, wow, they prepared a lot of food for us. :)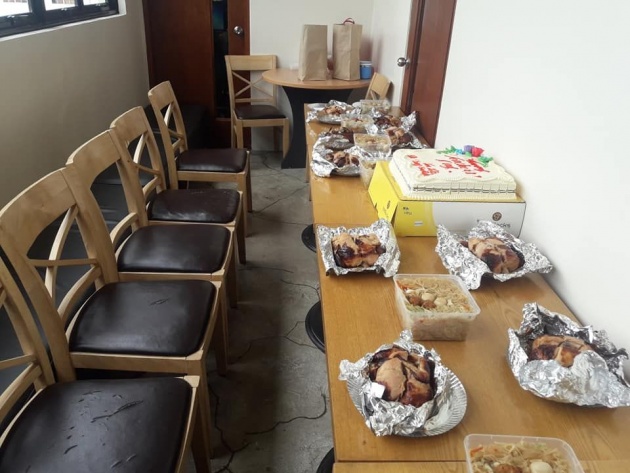 Photo Source: Jvanity1 (bitLanders.com)
*The noodle styled-food that you can see in the picture below is what you call as Bam-i, a traditional Filipino style noodle. I got curious how this one tastes. I hoped this was delicious.

Photo Source: Jvanity1 (bitLanders.com)
*There's roasted chicken as well. Wow, my favorite. Roasted chicken. :)

Photo Source: Jvanity1 (bitLanders.com)
Then all of us, teachers, were called to gather at the conference room. Everyone followed as what our supervisor asked us to do. Everyone was now looking for a place to sit as shown in the video below.
Our supervisor started to speak in the front and explained to us the real reason for the celebration. She gave her warmest appreciation to everyone for doing their best to become the best teachers.Then she showed us a video presentation of gratitude to teachers.
Conference was done. It's time for lunch time. I and my co-teachers headed to the pantry to have our stomach filled. Our training head did the honor of giving blessing to the food.
It's time to eat! I'm sure that I'd be full this way because the rest of my colleagues are females and I'm the only male employee aside from Sir Kent.
*Our eating time.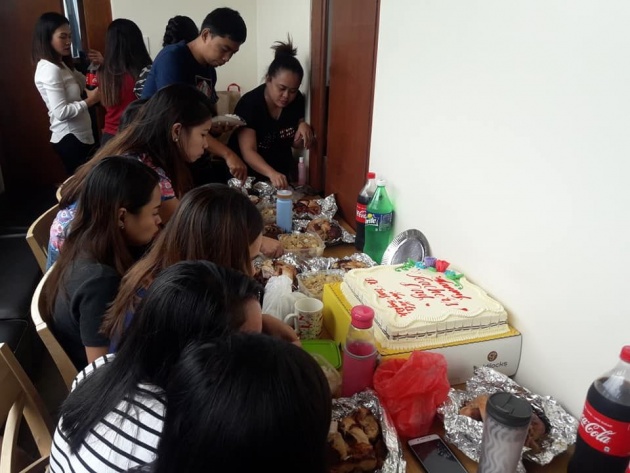 Photo Source: Jvanity1 (bitLanders.com)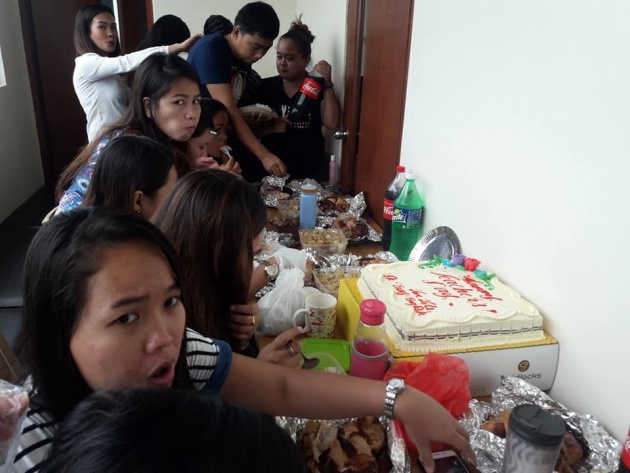 Photo Source: Jvanity1 (bitLanders.com)
Women can only eat little amount of food so I wouldn't have a competitor in eating. Hehehe.
First, I ate the Bam-i because it looked so tempting. Second, I took some pieces of roasted chicken. I tasted good! It tasted sweet although it's not really sweet. It's a mixture of sweetness and tenderness so I think it was delicious.
I did round two since there was still a lot of food left. Hehe.
*My round two! Hehe.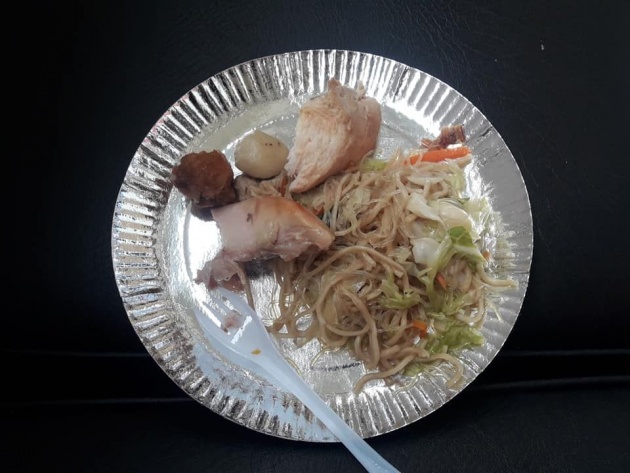 Photo Source: Jvanity1 (bitLanders.com)
I still ate Bam-i and roasted chicken.
I wasn't yet full after having the second round. Of course, I didn't eat a lot on purpose because I'm still waiting for the cake to be served. After it had been sliced, I just asked for one piece because I had to limit myself. Two of my teeth are decaying. I also didn't drink the soda for the same reason. I need to take care of my teeth.
While all of us were eating, some of my colleagues talked about the management. They said that the management agreed that we could have this kind of celebration. I just wondered if this happened because our Filipino supervisor asked permission from the Korean management to hold this kind of event? So it means that if our supervisor didn't ask, this event would never have happened! Does that mean that the letter was just made by our Filipino supervisor and not by the Korean management themselves? I thought that it was the management who made that letter. I feel a little bit bad that it might just be our supervisor who did all the effort. So does that mean that the management didn't care about us at all?
At least, they still gave our supervisor the permission to hold this kind of event. This could be somehow the least thing they can do. It would have been better if the Korean head joined us during the event so that we could feel that they were truly giving us gratitude, but they were not there at the event. (Sigh)
Four hours after, I went back to Rustan's Supermarket to take pictures of it.
*This is where we bought soda earlier: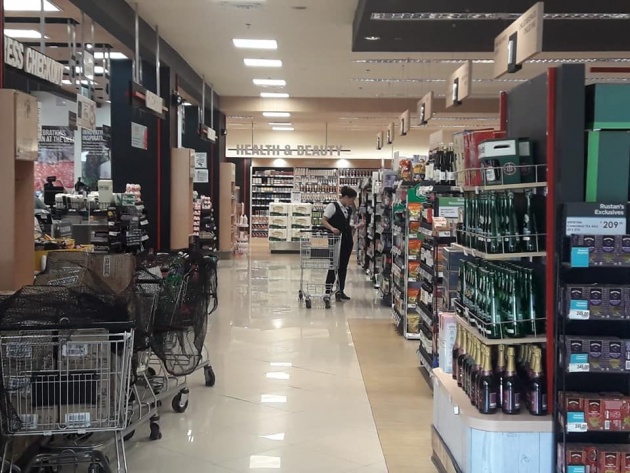 Photo Source: Jvanity1 (bitLanders.com)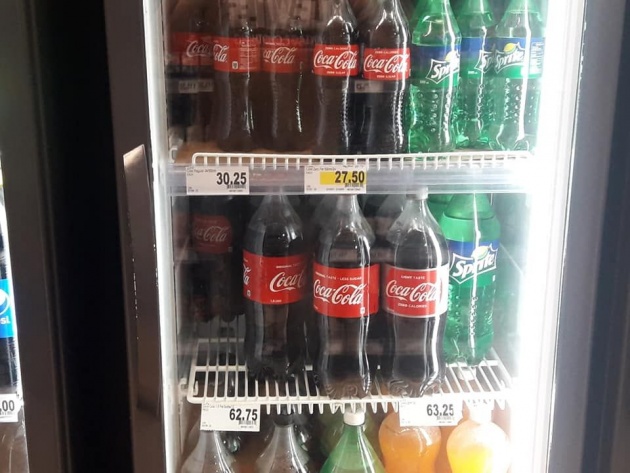 Photo Source: Jvanity1 (bitLanders.com)
I'll just end this blog from here because this is how we concluded our celebration. All of us, the teachers, had a lot of fun time and we'll keep this joyous event in our hearts.
*Happy Teachers Day to all teachers!
Video Source: Mahendra Guru: Online Videos for Govt. Exams (youtube.com)