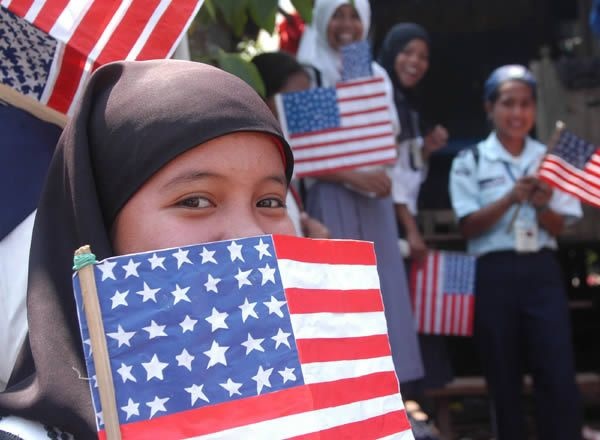 It was Ramadan and I was fasting and yet I wore no scarf. My husband's friend had come to the United States with his wife and three daughters from Afghanistan on a Special Immigrant Visa case, and a week later still I had not found time to go and see them. When I was free one day, finally I decided to go to welcome them and introduce myself.
I knocked on their door and a young beautiful woman opened it, welcoming us inside, smiling and we both kissed on our cheeks.
The hotel room was small, packed with closets, huge suitcases, twin beds, and people. Two men sat near the window, two small girls were asleep on one of the beds, and another woman with her two boys and girl sat on the other bed. The light was dim and the room felt suffocating.
I greeted them all. A five-year-old boy shook my hand. I was amazed by his social attitude; no wonder Kabuli kids are friendly and smart. They learn from their parents.
I sat on the edge of a bed feeling a bit uncomfortable but after a few minutes of small talk, the men decided to go and bring back food from one of Iranian restaurants to break the fast. Four of them left and the women sat and chatted.
The young woman, Sara, whose beautiful long hair reached to her knees, told the middle-aged woman, Aziza, that she cried all day yesterday until her husband got upset at her and quieted her.
"My daughters didn't like America. Here at the hotel it's very hard. I hope the immigration office gives us a house soon. In Afghanistan, we lived with my big family of in-laws and now suddenly we are alone. This is such a hard transition."
The other lady advised her: "The first days are hard. You will get used to it," she said.
I looked at Aziza's daughter who sat quietly next to her mother. She wore a tight scarf, long sleeves and a long dress, yet she had jeans on. With a beautiful face that glowed, she looked completely different from an American teenager and I wondered after a few years how she might look. I had changed after I came to the USA, so I knew she would change too.
When I came to study for my bachelor's degree, I wore a hijab for the first few years. After I did some research I discovered that the hijab was only a cultural construct. I decided to take it off and wear it occasionally. I also didn't start shaking hands until my sophomore year, thinking I was committing a sin to do so.
"Do you still wear your scarf when you go out?" Sara asked Aziza.
"Oh, yes, we do. My brother-in-law told us to put aside our scarves saying, 'here is America.' I told him my daughter and I are fine with scarves."
She then whispered to Sara, "It's not good to let girls loose in this society." Sara nodded.
Aziza's boys were absorbed in the TV and didn't pay attention to the women's chat, but I sensed her daughter was listening.
"Yesterday, Sadeq made us laugh so much," Aziza said. Sadeq was the five-year-old boy who earlier greeted me.
"Really? What happened?" Sara asked, smiling. I watched them quietly and listened carefully.
"We went to the mall. Sadeq was making faces to a young American girl and she made faces back. Finally I told him to stop it. When I asked him why he was doing that, he said, 'I don't like the girl because she is wearing revealing clothes.' She had a tank-top and shorts."
Sara laughed, "Oh, God. How cute!"
Aziza smiled too and continued, "Yes, and I teased him and told him, 'I will make your sister wear the same clothes,' and he said, 'I will kill your daughter if she wears such clothes.'"
"Allah jaan. That's very funny," Sara said, laughing.
"Yeah, he is very zealous."
I was the only person in the room who did not think this was at all funny. I felt sorry for Aziza's daughter and angry with Aziza and all the mothers like her. A child dictated to his mother how his older sister should dress and threatened to kill his sister if she didn't, and his mother found it entertaining.
This explains the violence Afghan women face. Violence runs in our children's houses, in our mothers' actions and words like milk in their breasts. Mothers are angels but they can become the worst enemies of their children by not teaching them right from wrong.