My father bought his first car in 1957, when he was in his 20s... it was one of the firs Fiat 500, one of the small cars designed by the genius mind of Dante Giacosa which revolutionized the mass transportation and the comfort of middle class families of that time in Italy.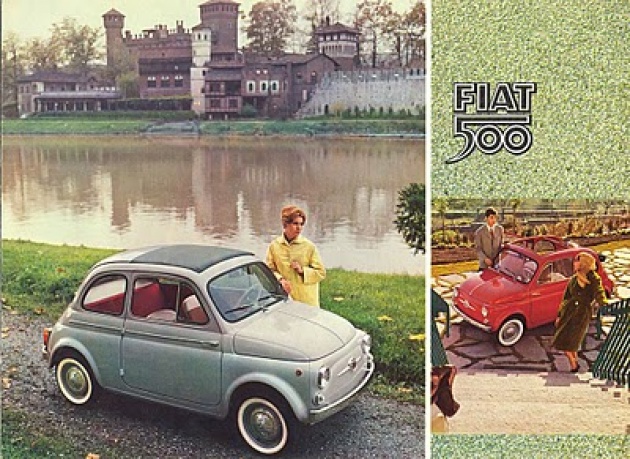 I often think to what my mother told me several times about those road trips with their 500, with me in my yellow infant seat, secured between two suitcases on the back seat... no seat belts at the time, and I can imagine the picture (although I was really a little one year old baby) of my father concentrated in driving the car, my mom talking to him and checking on me every now and then, and me looking around and entertaining them with strange noises and phonemes.
Those memories, among others in my childhood, make me love the 500 like no other cars in history, and I still would like to own one... yes, the one from 1957, and I totally understand why this car is now a cult with clubs and associations all over Europe.
My passion for technology and for cars started in my very young age: I learned to drive when I was eleven, thanks to my curiosity and to my father (my mom didn't need to know... shhhh) and I did appreciate the evolution of European cars throughout the 70s and 80s... then in the 90s every car start to become more similar to the others, and the beauty and personality of the unique style of every different model, like we had in the previous twenty years, started to be not so present anymore.
The first time I stepped in the United States was in 1985, more exactly August 16th, and besides feeling I was living in a movie, I noted how everything was bigger, included streets, highways and cars... very fascinating! That was a first for me... and many other trips to the US have followed, until now when in New York I have my residence. I don't have a car, I use my bike, but looking around I always wondered, since in New York car parking is often an issue, how nice it would be having small cars around... and with my great pleasure, just a little time ago, the Fiat 500 appears on the streets of New York and on the US market!
Is not as charming as my father's 500 from 1957, but every time I pass by one of those little cars I look at them with half smile, a little chunk of emotion and some pride, all Italian.
Tonight I spent some quality time among friends, and on my way home, riding my bike in a beautiful and breezy night, I passed two 500s, parked side by side, and they brought me back to those memories I wanted to share with you.