Click the image to visit their website!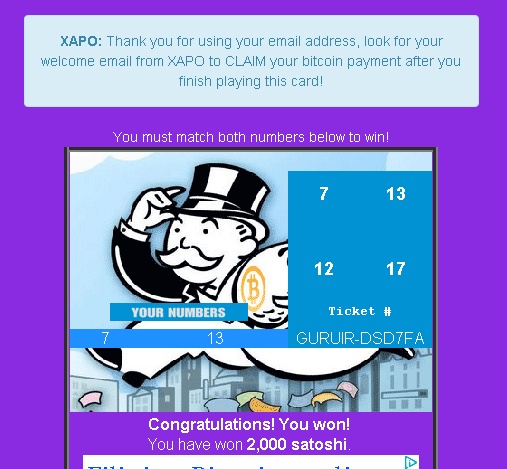 Hey! I won 2,000 satoshis!
Scratch4Satoshis is a unique bitcoin faucet. Other faucets just let's you claim satoshis by solving captchas. This faucet let's you play first. If you win, you will be awarded with 1000, 2000, 10K up to 200K satoshis.
And while reading more about the website, I come across the webmaster's "Thank You" note:
Thank You
"We are running a bitcoin site because of my son. He's nine years old and for the last three years has been obsessed with Minecraft. He's never had the ability or the resources to run his own Minecraft server, until now. This website, while giving you some bitcoins, also brings in some revenue to pay for the platform hosting which allows him to host his own minecraft server, something we didn't think possible for him, since we suspect he has Asperger's Syndrome. For those of you who don't know what this is, it's an autism spectrum disorder where the person is easily overwhelmed by his environment and frequently hides within his or her own world or hobby. A classic definition is, Asperger syndrome is often considered a high functioning form of autism. It can lead to difficulty interacting socially, repeat behaviors, and clumsiness. In the case of my son, this has been minecraft and although he has made huge leaps in development since we began to suspect his condition and help to bring him out of this defensive mode, it's small successes just like THIS website, with your help, that give him the confidence to grow as a person. I want to take this moment to thank you for visiting and to please consider returning or visiting my other websites!"
All I can say is WOW! I thought this is just ANOTHER website making money online. I was moved by this story. I don't know whether this is true or not, but I'm glad I was able to help them in my own little way by patronizing their website. And I hope you will too. :)