Indian Movie Review - Judwaa 2
Image Credit: www.imdb.com
✔ Introduction


Hello Friends, I hope you are doing fine and are having a good time on bitlanders. Today I have come up again with my another blog with the title of "Indian Movie Review - Judwaa 2". Friends, this blog is about a recently released Indian movie "Judwaa 2". The story of this movie revolves around two young boys who were twin brothers and they were forced to part in their early childhood, in fact, right after their birth because a thug took one of the boys with him from the hospital and then nobody knew what happened to him. The other one moved to London with his parents and after twenty odd years the brothers meet up again after a series of comedy and action sequences which go along with the movie's story. The movie was directed by David Dhawan, who also directed the first version released with the title of Judwaa back in 1997. The subject movie was produced by Sajid Nadiadwala and the screen play for the movie was written by the duo of Sajid Samji and Farhad Samji. The movie was produced under the supervision of Nadiadwala Grandson Entertainment, an Indian Film Distribution & Production Company.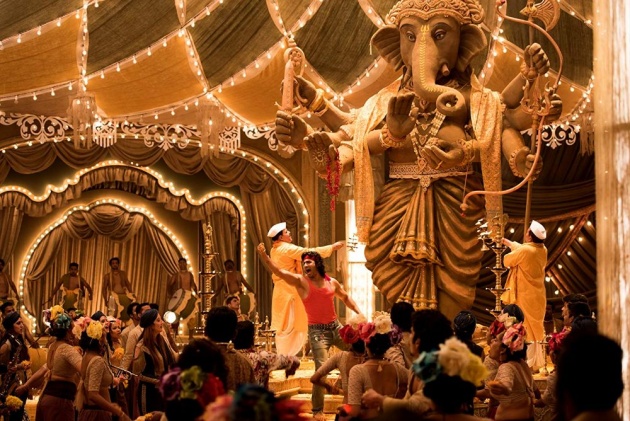 Image Credit: www.imdb.com
The movie "Judwaa 2" was released on September 29, 2017 under the distribution banner of Fox Star Studios. Some details of cast of this movie are as under:
✤ Varun Dhawan as Raja and Prem Malhotra
✤ Jacqueline Fernandez as Alishka Bakshi
✤ Taapsee Pannu as Samaara
✤ Anupam Kher as Balraj Bakshi
✤ Sachin Khedekar as Mr. Rajeev Malhotra
✤ Prachi Shah as Mrs. Ankita Malhotra
✤ Upasana Singh as Samaara's Mother
✤ Rajpal Yadav as Nandu
✤ Manoj Pahwa as Sharafat Ali
✤ Pavan Malhotra as Kuldeep Dhillon
✤ Zakir Hussain as Charles
✤ Vikas Verma as Rocky
✤ Johnny Lever as Pappu Passport
✤ Vivan Bhatena as Alex
✤ Donna Preston as Nancy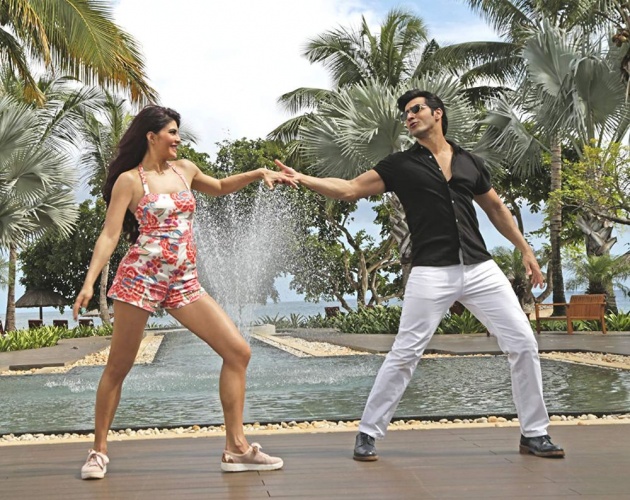 Image Credit: www.imdb.com
When you enter the movie hall for this outing, remember to let your hair down and guffaw because from the opening scene itself you're familiar with the tropes. David Dhawan who has made three dozen vacuous comedies, with an enviable success ratio. He was even crowned the undisputed king of comedy once. Here, he gives you a rebooted version of his 1997 comic-caper of the same name. The earlier one had Salman Khan, this one has Varun. It helps that the leading man has a mammoth following with today's kids. And, he is viewed by those clued into Hindi mainstream cinema as a combination of Govinda and Salman, both of who carried off their kitsch routine with a certain flair. Varun doesn't let you down either. Whether he is playing a geek or a goon, he is absolutely endearing and delivers, exactly what his daddy orders him to.
Movie Review Extracts From: timesofindia.indiatimes.com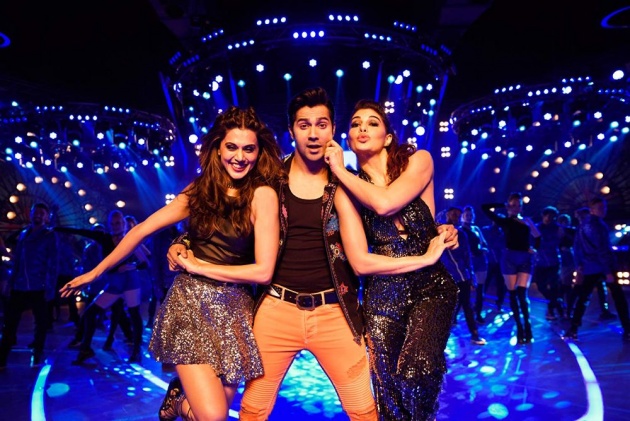 Image Credit: www.imdb.com
Video Credit: FoxStarHindi via Youtube.com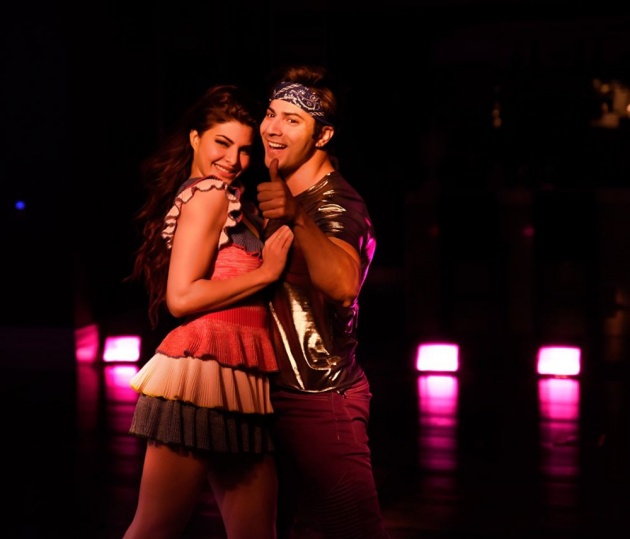 Image Credit: www.imdb.com
✔ Plot Of The Movie And Review
The movie begins as wife of Rajeev Malhotra is going through labor pain and she asks her maid to call her husband and inform him about the situation. On the other hand, Rajeev Malhotra is in airplane and tells her wife to relax and he said he would try to reach as soon as possible. On the airplane, Rajeev Malhotra meets with Charles who is actually an illegal liquor smuggler. Charles hears all the discussion between Rajeev Malhotra and his wife and wishes good luck to him. Rajeev Malhotra and Charles befriend on the flight and as they land, Charles put an illegal liquor bottle into the luggage of Rajeev Malhotra without his knowledge. As they cross the Customs officials, Charles is stopped by them and is checked for any illegal belongings. However, the Customs staff finds nothing and on the other hand, Rajeev Malhotra reaches hospital in the meantime to attend his wife who had just delivered twin boys. Rajeev Malhotra becomes very happy to see his sons after a long time of his marriage. However, Charles reaches the hospital from the Customs office and during their talk, Rajeev Malhotra suddenly takes out Charles's bottle containing illegal liquor bottle and tells him that he knew what Charles was carrying and he also knew why Charles used him for his evil deeds to dodge Customs officials at the airport.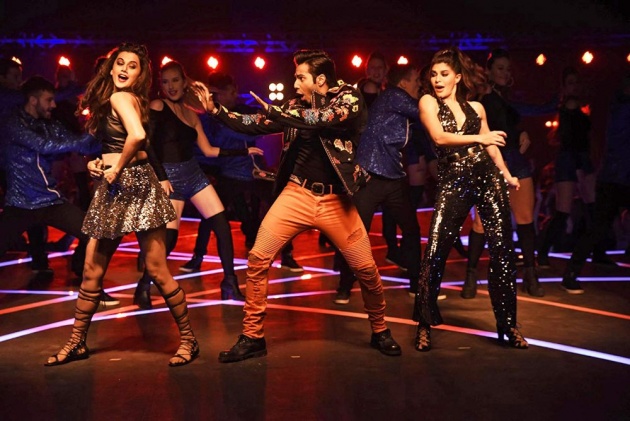 Image Credit: www.imdb.com
As Rajeev Malhotra tells that he had already called the Police to arrest Charles and as soon as Rajeev Malhotra shouts for the Police to come in, Charles takes custody of one of Rajeev Malhotra's son and using him manages to escape from the hospital. Later on, he puts the new born boy nearby the railway tracks and runs away. The child is rescued by a woman who brings him up as her own son and names him Raja. Charles is apprehended by the Police soon and is sentenced to 20 years in prison. On the other hand, Rajeev Malhotra unable to find his lost son; leaves for London along with his wife and his son Prem. The movie forwards to 20 years after as Prem has grown up to be a musician and teaches music to one of his friend Samaara who soon becomes his girlfriend as the love feeling was mutual between them. Charles is freed by the law enforcement agencies and he again starts looking for Rajeev Malhotra and his family to take revenge.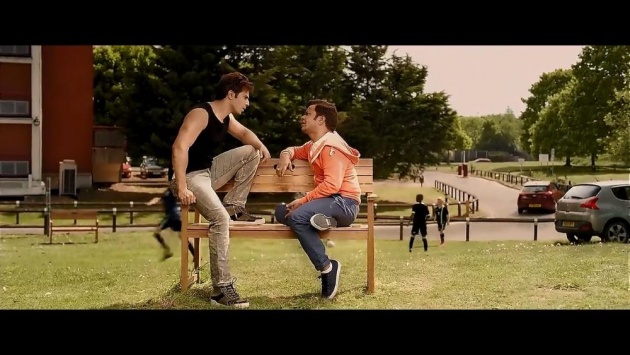 Image Credit: www.imdb.com
On the other hand, Raja becomes a young man and lives his life as an ordinary person. Soon he has to flee to London as he incidentally injured on of the goons in town and Raja finds his life in trouble if he stays in India. On the flight, he meets his to-be girlfriend Alishka and soon they start dating each other afterwards and start a relationship. Raja and Prem meet each other in London and get astonished to see that their faces look alike; however, they do not know that they are twin brothers. As Charles captivates Raja's friend Nandu and asks Raja about Rajeev Malhotra, Raja comes to know that he and Prem are twins. Soon, heavy fight ensues between Raja and Charles along with his goons. Charles is captivated again as Raja and Prem reunite as twin brothers and live a happy lie afterwards with their parents after marrying with their respective girlfriends.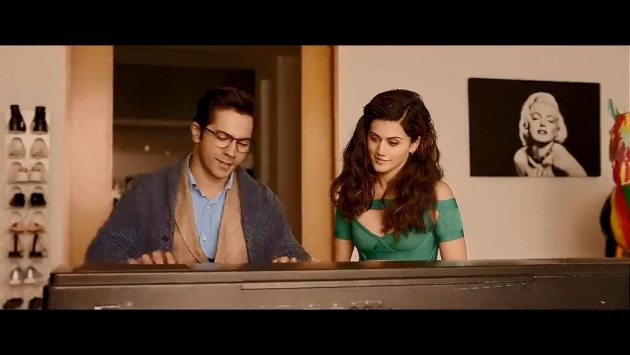 Image Credit: www.imdb.com
Video Credit: 007 music maan via Youtube.com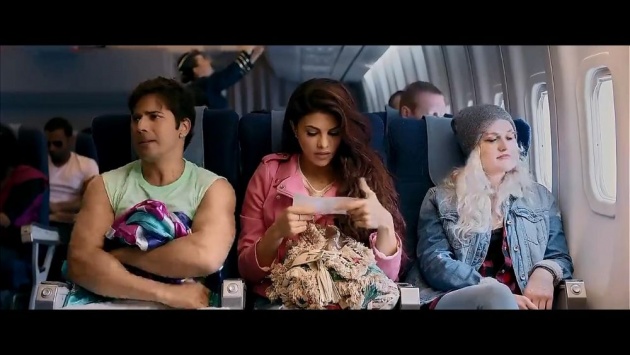 Image Credit: www.imdb.com
✿ Here is Querlo Chat for you. Isn't it fun to chat with a Chatbot ?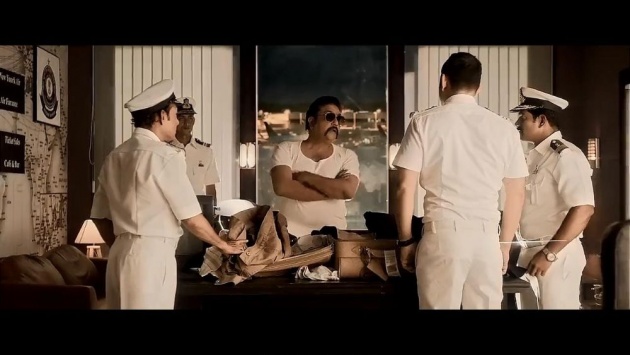 Image Credit: www.imdb.com
✿✸✔✤✪ - - - - - - - - - - - - - - - ✿✸✔✤✪ - - - - - - - - - - - - - - - ✿✸✔✤✪ - - - - - - - - - - - - - - ✿✸✔✤✪

Thanks for Reading. This Blog was written by Rafaquat Noman (a Resident of Saudi Arabia and a Traveler) for bitlanders.
✿✸✔✤✪ - - - - - - - - - - - - - - - ✿✸✔✤✪ - - - - - - - - - - - - - - - ✿✸✔✤✪ - - - - - - - - - - - - - - ✿✸✔✤✪