Indian Movie Review - Sanju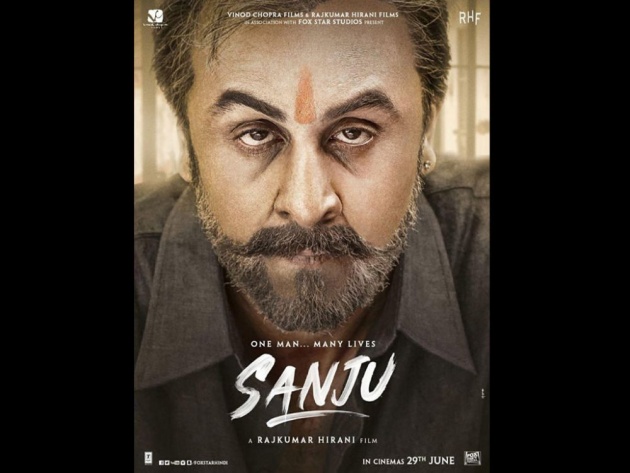 Image Credit: wallpapers.oneindia.com
✔ Introduction



Hello Friends, I hope you are doing fine and are having a good time on bitlanders. Today I have come up again with my another new blog with the title of "Indian Movie Review - Sanju". Friends, this blog is about a new and a hit Indian movie "Sanju". The story of this movie is about the life events of a Bollywood Hero Sanjay Dutt. The movie has shown and sparked a lot of interest in the Bollywood film viewers and has broken the record as the highest first day collection for a 2018 Indian film in India. The film contains incidents related to many ups and downs in the life of Sanjay Dutt. The movie was directed and co-written by Rajkumar Hirani, who is a famous Director in the Indian Film Industry for giving number one movies. The film was produced by Vidhu Vinod Chopra for the Indian Film Production Company Vinod Chopra Films.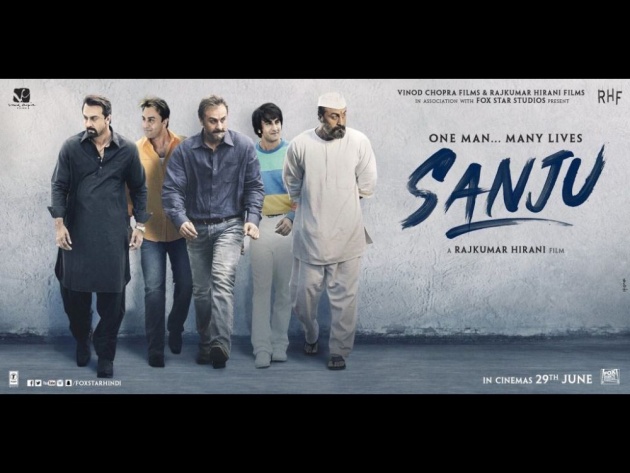 Image Credit: wallpapers.oneindia.com
The movie "Sanju" was released on June 29, 2018 under the distribution banner of Fox Star Studios. Some details of cast of this movie are as under:
✤ Ranbir Kapoor as Sanju
✤ Dia Mirza as Manyata Dutt
✤ Paresh Rawal as Sunil Dutt
✤ Manisha Koirala as Nargis
✤ Vicky Kaushal as Kamlesh
✤ Sonam Kapoor as Ruby
✤ Anushka Sharma as Winnie Diaz
✤ Jim Sarbh as Zubin Mistry
✤ Piyush Mishra as D.N. Tripathi
✤ Karishma Tanna as Pinky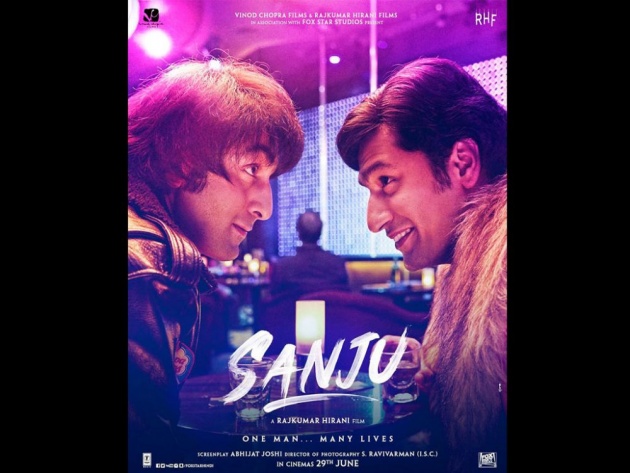 Image Credit: wallpapers.oneindia.com
One man, many lives is just the tip of the iceberg when it comes to Sanjay Dutt. Rajkumar Hirani's film presents a vivid and very dramatic look in this biopic of sorts. The film starts off with Sanjay Dutt (Ranbir Kapoor) wanting a writer for his biography even while he's preparing to surrender himself to the Supreme Court's judgement in the Arms Act case. A film writer fails him miserably, so Sanju turns to a more established writer Winnie (Anushka Sharma) to pen his biography. His confessions and recollections to Winnie are intimate and give us deep insights into the highs and lows of his life, which is nothing short of a roller-coaster ride. Like any Rajkumar Hirani film, Sanju blends humour with drama effortlessly. While it doesn't reveal much about the protagonists' relationships and marriages, it does tell a strong story of an unbreakable bond between a father, son and a best friend. In fact, Sanjay's relationship with his father Sunil Dutt (Paresh Rawal) forms the major part of this story and some of the most heart wrenching and touching moments in the film belong to both of them.
Review Source: timesofindia.indiatimes.com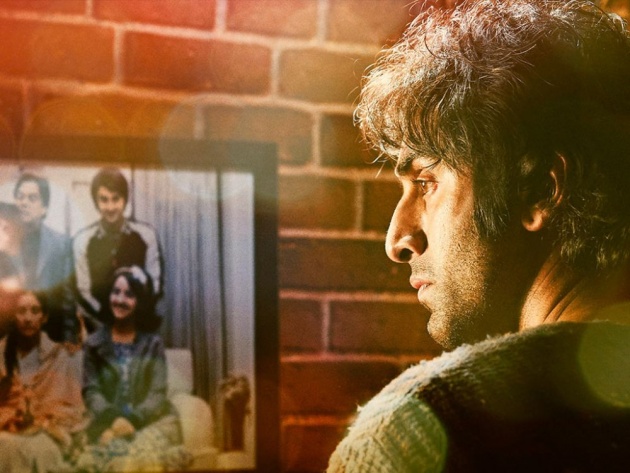 Image Credit: wallpapers.oneindia.com
Video Credit: FoxStarHindi via Youtube.com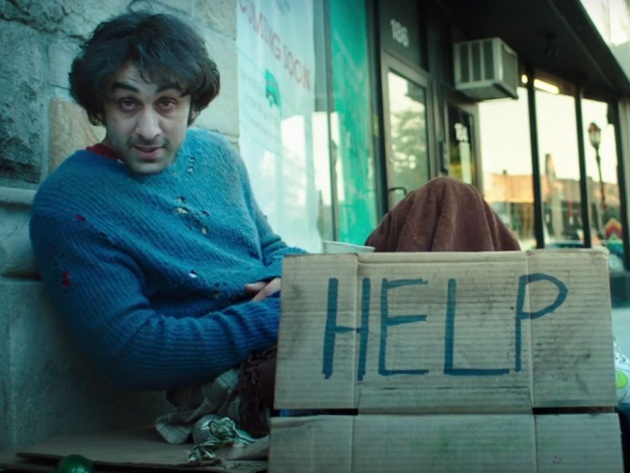 Image Credit: wallpapers.oneindia.com
✔ Plot Of The Movie And Movie Review
The movie begins at Mumbai Beach in Sanjay Dutt's apartment in a high-rise building as Sanjay Dutt tells the audience that one of his friends D. N. Tripathi has written a book on him based on his life experiences. However, while reading the book, he gets angry as D. N. Tripathi compared him with Mahatma Gandhi because he thinks, as a common notion in India, Mahatma Gandhi was a great Indian leader and a personality like Sanjay Dutt can't be compared with Mahatma Gandhi. Therefore, Sanjay Dutt deals with D. N. Tripathi in a thug-like manner because of his mistake in the biography. Soon afterwards, Sanjay Dutt's wife Manyata Dutt asks one of the most famous writer Winnie Diaz who is a London based celebrity. Due to her commitments, Winnie Diaz first hesitates to write a biography but later on agrees to do so as certain events encourage her to write biography on Sanjay Dutt's life.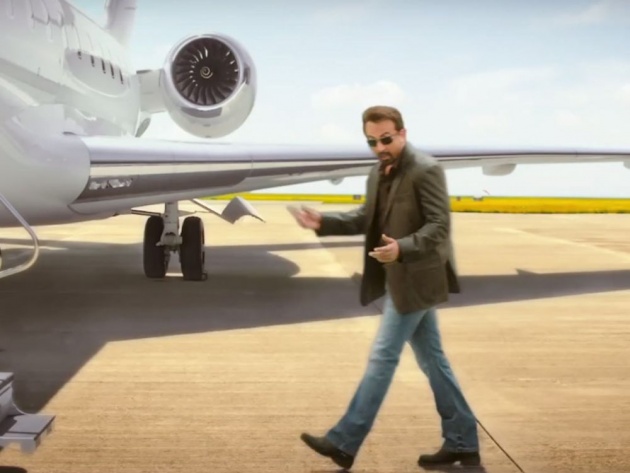 Image Credit: wallpapers.oneindia.com
Winnie Diaz meets with Sanjay Dutt accompanied by Sanjay's wife for an interview and afterwards starts writing about Sanjay Dutt's life after his consent. The movie forwards in a flashback when in 1981, Sanjay started his movie career following his father Sunil Dutt's footsteps. Film Rocky was his first movie which made a good business on the box office. Sanjay got fame instantly and with the combination of good looks, this fame brought rebelliousness in him as he started disliking his father's controlling attitude towards him. That resulted in the use of drugs and affairs with different girls including prostitutes as well. More movies followed and Sanjay managed to make a solid foundation for himself as a Hit Bollywood Hero. However, his joy was short-lived, as by the time his first movie released, his mother Nargis Dutt fell terminally ill due to Pancreatic Cancer and soon passed away. Since Sanjay Dutt was very much attached with her mother emotionally, therefore, this loss was a huge for him and he took shelter in drugs.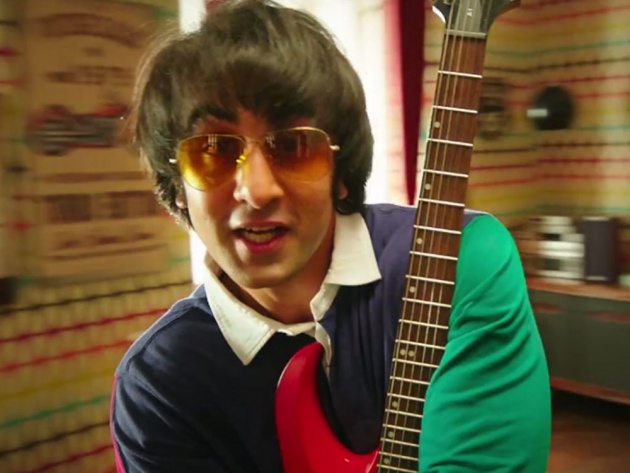 Image Credit: wallpapers.oneindia.com
In 1993, another twist came into the life of Sanjay's life when he was held responsible for having illegal weapons and his involvement in series of bomb blasts in Mumbai. Sanjay was arrested and spent his next five years in prison. His films proved to be flops in the meantime at box office. However, in 2003, a big breakthrough came into his life as his movie "Munna Bhai M.B.B.S." became one of the most favorites and hit movies in the industry in which he appeared with his father. He appeared in some more hit movies that proved his worth. However, he was arrested again in 2013 in connection to his previous cases. He was lucky to survive again and came out from those cases in 2016 for good. In Sanjay Dutt's life, his early girlfriend Ruby and his friend Kamlesh left huge effects on Sanjay's life and they also helped him to come out of addiction and use of drugs. That is the reason why Kamlesh still remains as one of the best friends of Sanjay Dutt and his family.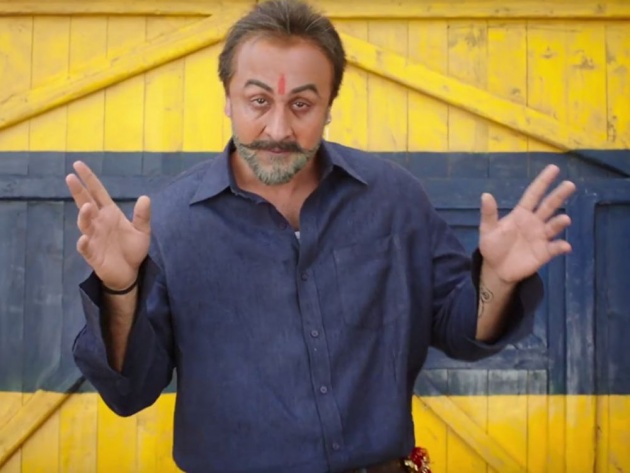 Image Credit: wallpapers.oneindia.com
Video Credit: T-Series via Youtube.com
✿ Here is Querlo Chat for you. Isn't it fun to chat with a Chatbot ?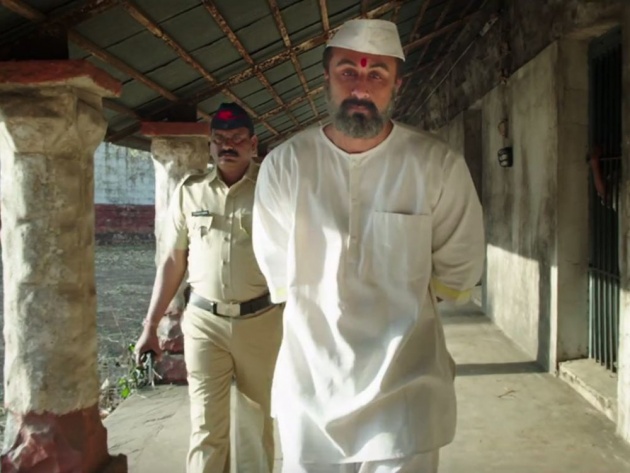 Image Credit: wallpapers.oneindia.com
✔ Conclusion
The movie "Sanju" is a very nice movie about the life of Sanjay Dutt. Rajkumar Hirani has done a wonderful job in the movie and has turned the biography of Sanjay Dutt into a very entertaining and a blockbuster movie. The movie could easily have taken turn to be a boring movie but here, the expertise of Rajkumar Hirani come into play which has done a wonderful job. The character of Sanjay Dutt was played very well by Ranbir Kapoor and he performed very well. The movie's music is also awesome and Sanjay Wandrekar as well as Atul Raninga did very well in terms of providing their best music. The movie has started to be one of its kinds as it has rocked the cinemas from the day one and is likely to be one of the highest grossing Indian films in the year 2018.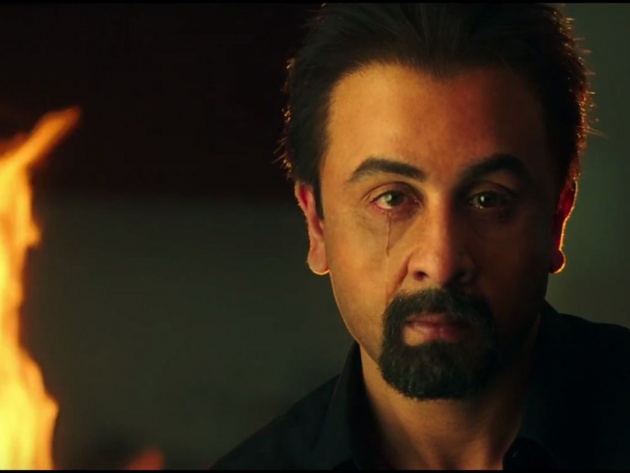 Image Credit: wallpapers.oneindia.com
✿✸✔✤✪ - - - - - - - - - - - - - - - ✿✸✔✤✪ - - - - - - - - - - - - - - - ✿✸✔✤✪ - - - - - - - - - - - - - - ✿✸✔✤✪

Thanks for Reading. This Blog was written by Rafaquat Noman (a Resident of Saudi Arabia and a Traveler) for bitlanders.
✿✸✔✤✪ - - - - - - - - - - - - - - - ✿✸✔✤✪ - - - - - - - - - - - - - - - ✿✸✔✤✪ - - - - - - - - - - - - - - ✿✸✔✤✪