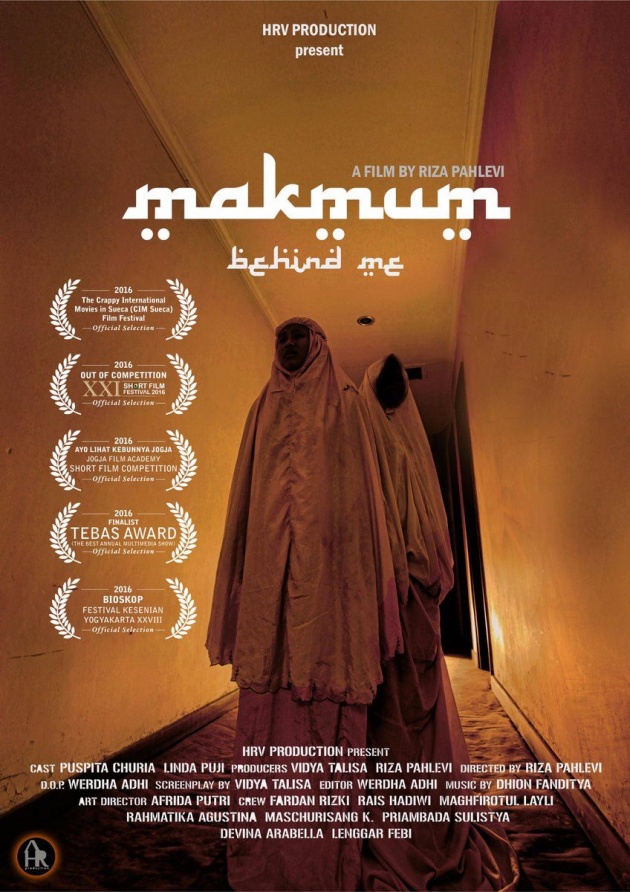 Hello guys~ LookUp again here :3 I am back with movie review blog but this time is quite special because I will write review about horror short movie titled "Makmum" or "Behind Me". I watched this movie a few months ago while searching for horror videos on Youtube and I am quite satisfied with this movie. And after many thoughts finally I decide to write review about "Makmum". Happy reading~!!!
I suggest you to watch the movie first before continue reading my review as it will not take long to watch it. In order to enjoy watching "Makmum", I suggest you to wear headphone or earphone and watch it at quiet night :D
"Watch Full Version of Makmum Below"
About Makmum
"Makmum" or "Behind Me" is an Indonesian horror short movie directed by Riza Pahlevi. "Makmum" was released on November 11, 2016 with a duration of about 8 minutes and about 9 minutes for the full version. With religion and horror as its genre, this movie was written by Vidya Talisa Ariestya. "Makmum" is a short film based on a true story and so far has won many awards from various festival films or competition. The movie itself has gathered around 8,020,669 views till now since its released under HelloMotion at Youtube 6 months ago.
"Awards received by Makmum"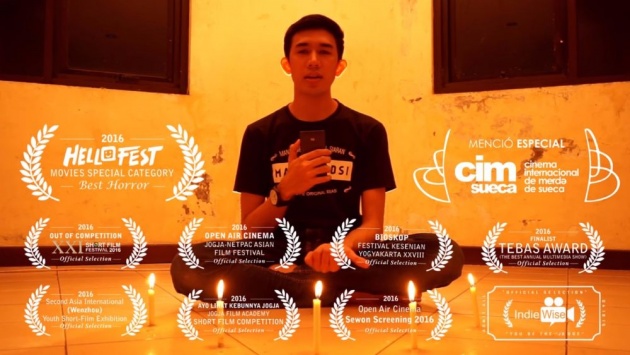 Image Credit: screenshot from Youtube video
Story of Makmum
Nurul is a diligent and religious student. One night, she wake up at 2 AM and pray as usual. She felt there is someone behind her and copy her movement during praying. She thinks that someone behind her is one of her friend. At last, she realize that she's the only one who stay at the dorm. Because all of her friends have gone back to their hometown. So, who's behind her? -viddsee
"Puspita Churia Faradis as Nurul"
Cast of Makmum
Puspita Churia Faradis as Nurul
Nurul is a student who lives in a dormitory. On one night, she wake up to pray and unexpected things happened.
Linda Puji Setyoningrum as Ghost
The cast of "Makmum" is only 2 peoples. Since this is a short movie which is just few minutes long. So, I do not know what to write in the cast description, because I try my best to not spoil the movie :D
Behind Me
Finally, I have a time to write a review about this short horror movie. Actually I am confused about what to write here because this is a short movie so I try not to give any spoilers about "Makmum". But yeah, the above story itself already spoilers about what is going on in the movie :D "Makmum" will be the first Indonesian movie I've ever reviewed because mostly I only write review about drama or movie either from Korea or Thailand. And I am glad that this movie was came from my beloved hometown, Yogyakarta.
"Nurul woke up at midnight to pray"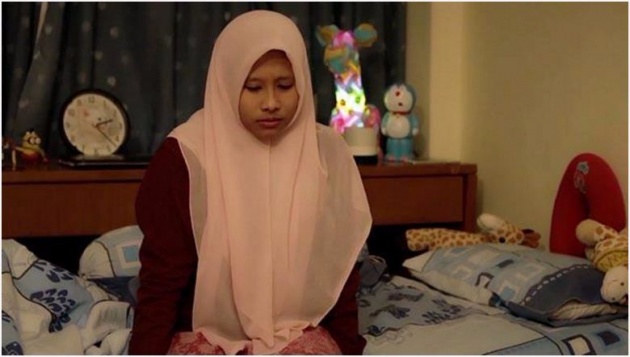 Makmum: the congregation who follows the imam (leader) during prayers. -oxforddictionaries
As a short movie, the story of "Makmum" is simple. The story may not be the strong point of "Makmum", but I could say that the editing, the sound effects, the selection of filming place is the highlight of this movie. For some people who are not Muslims may think that this movie is ordinary or not scary at all after watching it. But on the contrary, for some Muslims maybe "Makmum" will give a frightening impression because they also do daily prayers just like what Nurul did on the movie. Or maybe they have same experience like on this movie :D
"Nurul pray alone at her room"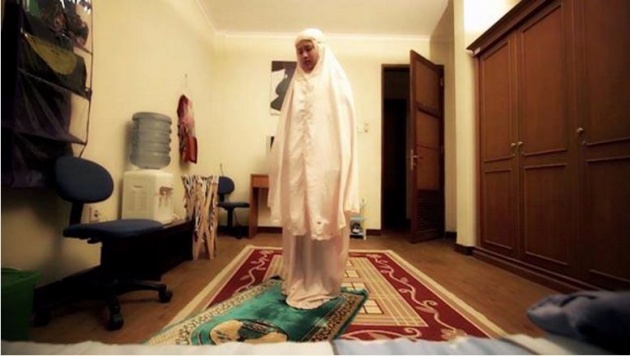 For me, "Makmum" is quite scary, even though it was a short movie but it was quite impactful. They chose a suitable place as a filming location and actually it was an old and empty dormitory. The unexpected thing at the end of movie was really shocked me. I also have watched some video reactions on Youtube while watching "Makmum" and yeah, some Youtubers got scared when watching it :D
"Nurul frightened after pray"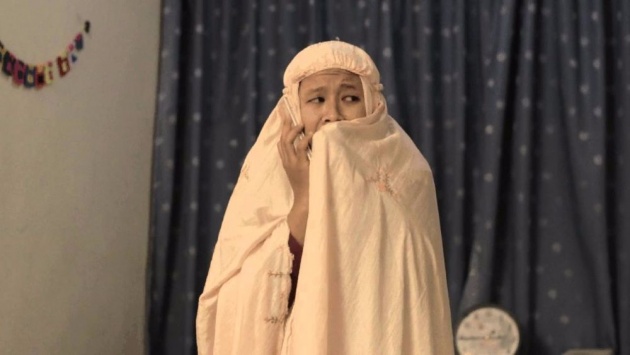 5 Facts About Makmum
After the success of "Makmum", the director, Riza Pahlevi released some related videos about this movie on Youtube. One of them is a video that contains about "5 Facts About Makmum". If you understand Indonesian, you can watch the video below, otherwise I will explain it below.
"5 Facts About Makmum"
The scenario of "Makmum" was written during the day

Actually, the director of "Makmum" asks the writer to write this movie script at night. However, Vidya Talisa Ariestya as the writer refused to do it, because she said herself that actually she did not like horror movie and easily frightened. Because of fear, she wrote the script during the day and someone must be around her. (And I wrote this blog at midnight, while continuously checking my back :3)

The filming of "Makmum" was done at night

The filming of "Makmum" was performed at night. Although there are some people who disagree, but for the sake of getting the feel of horror, they decide to agree with it. The filming was done at night until morning, more than at 3 am. The scene where the ghost appeared was taken at 1 am till around 3 am.

During the filming, Puspita (Nurul) did not dare to look at Linda (The Ghost)

Puspita as Nurul was shocked when she saw Linda as a ghost for the first time after the make up was done, and she decided not to look at Linda during the filming. Even so, the director forced Puspita to look at some scary wallpaper on his phone to make her get the scared feeling.

The file of "Makmum" once disappeared

After working hard filming until morning, some files of "Makmum" disappeared and cannot be backed up. The files includes the last scene where Nurul has to face the ghost, and it took 26 times take to get the satisfactory result. And they decide to re-filming in the next week.

The voice of ghost on the "Makmum" is Riza Pahlevi's voice

One of the scary thing of this movie is the voice of ghost in "Makmum" which turns out to be the voice of Riza Pahlevi. Of course after went through some editing. (You can replay the video to make it sure :D)
"The director of Makmum: Riza Pahlevi"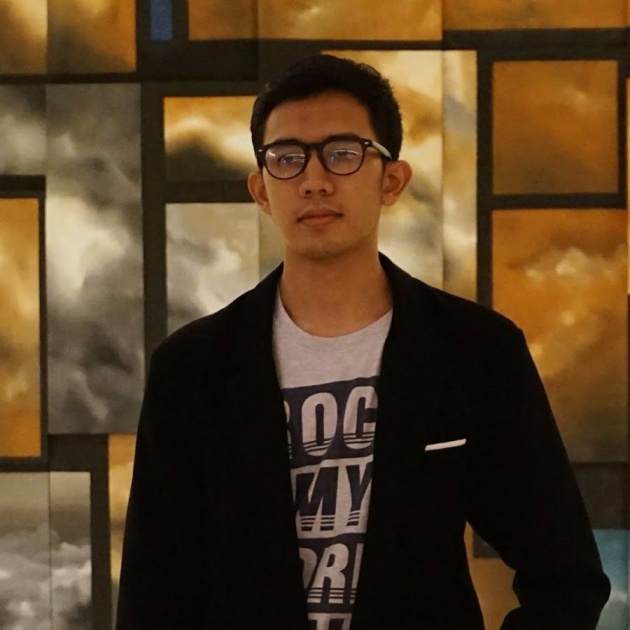 Actually, Riza Pahlevi released the second part of the video about "5 Fact About Makmum". Since it mostly contains only responses about the questions in the comments so I will not write them here, but you can watch it here: https://www.youtube.com (only for Indonesian :D)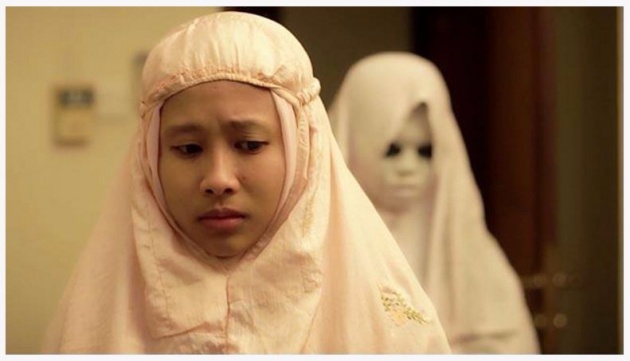 That's it my simple review about an Indonesian short movie, "Makmum". I hope you enjoy it.
ALWAYS WATCH YOUR BACK :D
Regards
LookUp
©2017 LookUp. All rights reserved.