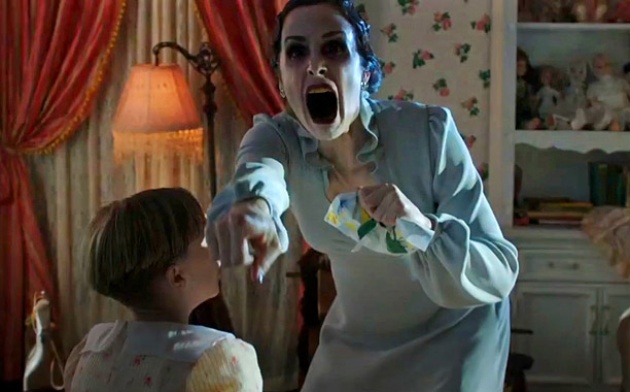 "Insidious: Chapter 2" scared away competition and took the top spot with $41 million more than three times the opening take of the 2010 original which debuted with $13.3 million (watch "Insidious: Chapter 2 "review and interviews below).
The sequel now becomes 2013's second biggest grossing horror opening behind "The Conjuring" according to Deadline. The film also sets the second largest September debut with "Hotel Transylvania" still at the top with its $42.5 million debut in September of 2012.
The pair of star Patrick Wilson and director James Wan now own the Top 2 spots with their solid horror flicks namely "The Conjuring" and "Insidious: Chapter 2," both smart takes on the haunted house genre. Distributed by FilmDistrict and produced by Blumhouse (Jason Blum and Oren Peli), the sequel's budget was merely $5 million. Blumhouse is fast becoming very profitable with its low budget, high grossing films.
The other new release was "The Family" starring Robert De Niro as a, surprise, surprise, Mafia boss who is forced to go into hiding along with his family (Michelle Pfeiffer plays the matriarch) in France. The action comedy debuted at No. 2 with $14.5 million.
Previous weekend's box-office champ, "Riddick" starring Vin Diesel, fell to No. 3 with $7 million. "Lee Daniel's The Butler" was at 4th place with $5.58 million crossing the almighty $100 million mark.
The raunchy Jennifer Aniston and Jason Sudeikis comeday, "We're the Millers," rounded out the top five with $5.4 million.
Here's the estimated Top 10 box-office films for the weekend of 9/13/13:
1. "Insidious: Chapter 2," $41 million.
2. "The Family," $14.5 million.
3. "Riddick," $7 million.
4. "Lee Daniels' The Butler," $5.58 million.
5. "We're the Millers," $5.4 million.
6. "Instructions Not Included," $4.25 million.
7. "Planes," $3.06 million.
8. "One Direction: This Is Us," $2.4 million.
9. "Elysium," $2.05 million.
10. "Percy Jackson: Sea of Monsters," $1.82 million.