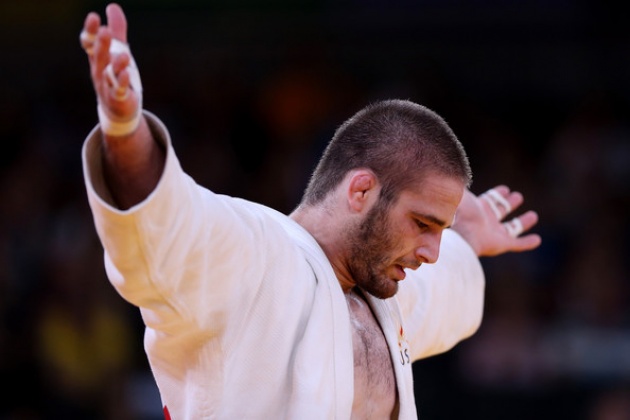 Travis Stevens of the United States (white) competes against Avtandil Tchrikishvili of Georgia in the Men's -81 kg Judo on Day 4 of the London 2012 Olympic Games at ExCeL on July 31, 2012 in London, England.
(July 30, 2012 - Source: Quinn Rooney/Getty Images Europe)
Film Annex had the great opportunity to interview Olympic Judo athlete, Travis Stevens, who competed at the London 2012 Olympics.
FILM ANNEX: Can you give us highlights from your experience at the London 2012 Olympics?
TRAVIS STEVES: In London, I was having the time of my life. I was on top of the world feeling unstoppable until I lost the judge's decision in the semi final. Just before the flags were raised, I was confident that I had won, and there was no doubt in my mind. When I saw that all the refs had voted against me, I was crushed and was mentally devastated. It was the lowest point in my life. I had all my dreams taken away from me and I didn't know how to recover. The Olympics took me on a rollercoaster ride. Within a few hours, I had hit the highest point in my life and the lowest point in my life.
F.A. What does the Olympic dream mean to you?
T.S. The Olympic Dream means years of hard work and dedication. It's life-long goal that I want to see through to the end. I have been through so much on my journey to become an Olympian and failure is not an option. It's such a big part of my life that I can't imagine waking up in the morning a not training for the games.
F.A. What did the Olympics teach you culturally?
T.S. The best part about Judo is that it lets you travel the world on a regular basis, and you get to see everything the world has to offer. I love how people can put their differences on hold and get together for an event like the Games.
F.A. Did you get to share any valuable experiences with athletes from different cultures? If yes, can you give us some examples.
T.S. I was pretty depressed after my loss so so I didn't get out much. I watched most events from my room.
F.A. Did digital and social media have an impact on your Olympic experience?
T.S. Social media played a huge part in my preparation. All the comments I received on Twitter and Facebook made me feel like everyone was supporting me while I was getting ready for the games.
F.A. Did you use any social media tools to share news with your fans, send pictures, videos, and messages?
T.S. I used twitter, @judosilencer.
F.A. What do you think of Film Annex's Afghan Development Initiative? With this project, we are building schools in Afghanistan and connecting children to the Internet so that one day they can watch your Olympic performance and get inspired to represent Afghanistan in the Olympics. Do you think the Internet can inspire children to be Olympic athletes one day?
T.S. I think educating children on the games and what they stand for will defiantly inspire kids to have their own Olympic dreams.
F.A. If an Afghan child asked you for advise on how to make it to the Olympics, how would you answer?
T.S. I would give them the best advice that I ever got from my first coach. "Never miss a workout." You can never be too tired or too sick to train. Show up and give it everything you can.
For more information on Travis, visit http://en.wikipedia.org/wiki/Travis_Stevens and follow him on Twitter!