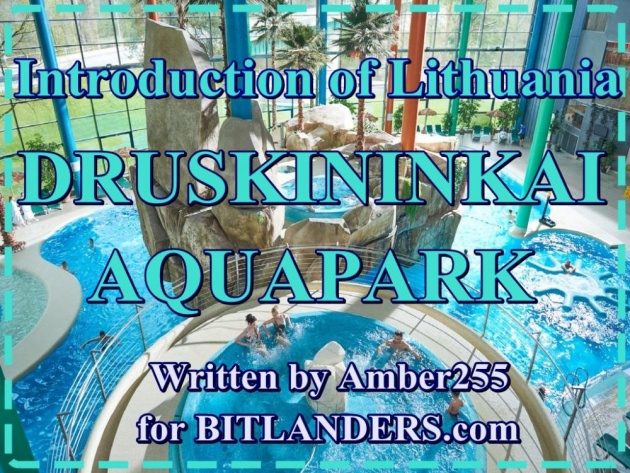 Introduction of Lithuania: Visit Druskininkai Aqua Park
Photo credit: viamichelin.it - Edition: Amber255 via Bitlanders.com
Greetings fellow readers! In my post about the most famous tourist attractions in Lithuania, I mentioned that I will write a separate blog about the Druskininkai Aquapark. I have been there two times. It is quite far away from the town I live in. And here we have own Holiday Park. It is smaller but with similar activities, so no much sense to drive four hours to the Druskininkai Aquapark. Of course, it is a fun place, especially in winter time. Aquapark is famous behind Lithuania borders. It's a favorite place for Polish and German tourists. Also, we have many tourists from such countries as Scandinavia and other Baltic states. So, if you love water entertainments, visit our biggest Aquapark, but before coming, first read my review of the Druskininkai Aquapark.
Aquaparks always give a festive mood and warm up us the whole year round! There, people can have fun and enjoy many water entertainments, the hot and cold swimming pools, hot bathhouses and saunas, health baths, Jacuzzi, and many other holiday-smelling activities. It looks like time is stopping here, and the body and soul are filled with vital energy.
I have not many photos made there or videos as it is a place where you enter without your camera or phone. Or you have to have the protection from the water. So I will use some public photos in addition to my own.
Druskininkai Aquapark - Video credit: DruskininkaiAquapark via Youtube.com
Druskininkai Town
I tell everyone that really there is no need to go abroad to have a good rest and to see very beautiful things. This can be done in Lithuania too! We have really beautiful corners, perfectly arranged and adapted for tourism. Here is an ideal place for a great holiday - one of the oldest resort in our country - Druskininkai.

Today, Druskininkai is described as an international year-round balneological, mud, mineral water and climate therapy resort. According to historical sources, the local residents were the first ones who spoke about the cure sources there. People said that after they wade in mud sources of Panemune, their wounded legs became healthy. The good news spread fast. Stanislaw August Poniatowski, a former Lithuanian-Polish king, had ordered his doctors to study the medicinal properties of Druskininkai mineral water. After 4 years, he declared Druskininkai a curative area.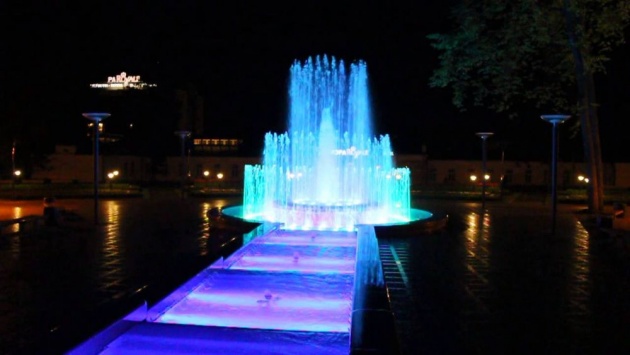 Druskininkai Music Fountain - Photo credit: youtube.com
In Druskininkai, the word rush does not exist. Some return home, while others come to find the silence that was lost in the big city. People who love nature, are doing miracles here.
Having come to Druskininkai resort, we are all well aware of the famous places to visit - the Aqua Park, Snow Arena, K. Dineikas Park, the Musical Fountain, the Druskonis Lake, the MK Ciurlionis Museum, the most popular restaurants.
Druskininkai resort- it's an enchanting nature, green parks and exhibits in them, health procedures, extreme entertainments, and snow in the summer!
At this stage of my life, I have the opportunity to travel. Our group has travelled around much of Europe, Australia, Tasmania, and Vietnam, but Druskininkai refreshes my soul. I always find energy and peace here.

Credit: akvapark.lt
The most loved by people is an Aquapark area in Druskininkai AQUA complex.
My Impressions About Druskininkai Aqua Park
Before opening Druskininkai Aquapark, everybody in Lithuania was excited and wanted to visit it, as it was first such complex. The first time, I visited it with my family, it was years ago when I still lived with them. So, one weekend we were ready to explore this new Aquapark. Right after entering the city of Druskininkai, a large, well-visible sign of the Aquapark met us showing the direction where we can find it. There were a few more visible signs on the way. For us, as we had the first visit to Druskininkai resort, these references were very useful, but a couple of signs could be built more as, at some intersections, we had to be guided by intuition.
Unfortunately, we were disappointed with going back, because there was an absence of the signs on the road - so we missed one necessary turn. When we went there the second time, we already had a GPS, so no problems, but at that first time, we had not it. Anyway, if they were able to take care of the arrivals, they could care about leaving ones.
Druskininkai Aquapark - Photo credit: plus.google.com
Another thing is the parking of a car. Unlike the aquaparks of Vilnius or Jurmala, the parking at the Druskininkai Aquapark is paid. You need to pay for the cars left in the park's territory and the cars left behind the street. So, if you don't want to pay for parking, rather leave the car a little further, and take a short stroll.
The Druskininkai Aquapark is located in one big building with the spacious hotel. There is also a cafeteria and a pizzeria. If you wish, you can stay for the night or few nights there (what we actually did when came there for the second time). It's a very handy thing, especially if you have the plan to stay there for the whole day.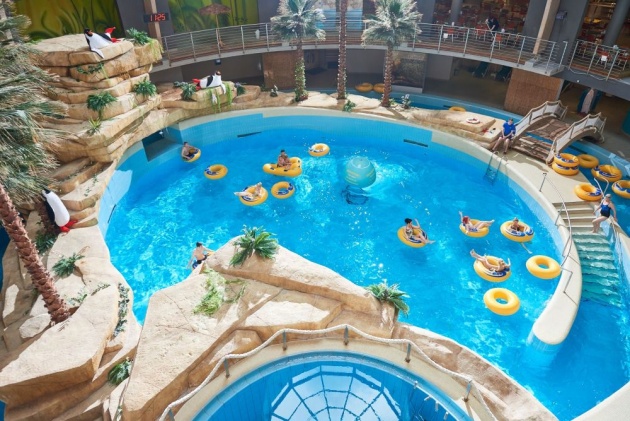 Druskininkai Aquapark - Photo credit: akvapark.lt
If to talk about all the aquaparks I have visited, I can safely say that they need to be visited for at least four hours or for the whole day. Clearly, staying for two hours will cost less (if no discounts take place at that time). It will not be a rest, but quick rush to visit all attractions. This is especially true for Druskininkai Aquapark, which has one distinctive feature - an individual sauna complex. Two hours of calm relaxation will not be enough.
There is also a separate, large lounge and children's pool on the second floor. On the first floor, they have their own separate space - a framed shallow two-part basin. The pool of children was warmer than the big pools, so if your child is not afraid of water, he will spend more than one hour in the children's pool. There are also a lot of children's playgrounds specially designed for children.
Saunas are a separate complex, but going to the park and not visiting the sauna is not worth it. By the way, people to the bathhouses are allowed only from the age of 18 years. This rule can be assessed differently, but such a ban ensures that the sauna complex will be a real place to rest.

Children area in Druskininkai Aquapark - Photo credit: tury.club
Water Entertainment Area
Many interesting water entertainments are waiting in this area. Everybody knows how the water affects our body: it helps to relax, it relieves stress, and it has many other advantages for our body. After water entertainments, we become more active, more energetic, our metabolism and blood flow accelerates. This area is very spacious; it covers a space of 9,000 square meters.
This area consists of a slide tower and a pool area.
The slides hill has 6 different closed and open slides, and the longest one is 212 meters long! I have to say that these attractions a bit disappointed us. They are, it is possible to descend, but... When you compare with what you used to have in other similar places, you understand what these are missing. Two slides with inflatable wheels, and four slides without them. Not the best option, but the adrenaline level in the blood still can be elevated. In addition, this is a good exercise, as the height of most extreme amusement is about 10 typical apartment floors.
Druskininkai Aquapark: Space Bowl - Video credit: TUBERIDES via Youtube.com
The pool area consists of the swift stream, sea-wave pool, a majestic big water pool with rocks, water cascades, multi Jacuzzis on several floors, massive currents, and many other entertainments. There are also two saunas in the water entertainment area: dry KARAKUM, and steam OASIS, and a relaxation area.
I, who loves the big spaces and much light, liked the main (without saunas) aquapark very much. The action, in essence, takes place around two large pools under glass roofed domes. There is an abundance of the lights and the spaces here. By the way, pools can also be photographed, so if you want to memorize your visit, the conditions are great for it. Much lower lighting is at the bottom of the hills (pipes), but there also will be enough light for the taking photos.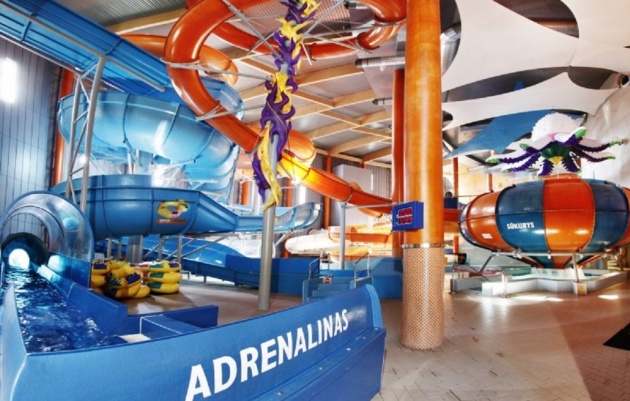 Water slides at Druskininkai Aquapark - Photo credit: gdyniadive.pl
The Jacuzzis are located in the pools very interesting. The three are located on the second floor, and they are directly above the pools. These Jacuzzis offer great views. Another Jacuzzi is in the middle of the star, in the swimming pool. The massaging water streams are tangled along one of the walls. By the way, this pool also goes out into the outside. It is especially fun in the winter. This outdoor swimming pool, Jacuzzis, and ice waterfalls will surprise everyone during the winter, and it will refresh in the summertime.
The pools at the water park hold enough water to fill 10,000 standard baths. That's about how much water everyone in Druskininkai and their guests use in a day.

Credit: akvapark.lt
The musical pool will immerse you in the world of incredible sensations and meditation. The falling down showers will improve your mood. The hot and cold water with contrasting currents and the ice room after sauna procedures will delight all sauna lovers.
Also, you can relax in the relaxation room on the warm bed while enjoying a special tea made from peppermint, birch buds, and nettles.
While reading my new blog about Introduction of Lithuania, don't forget to check QUERLO CHAT:
20 Bathhouses Space
The Soviet times left a deep imprint in our sauna culture. According to the bathers, there was no culture, because it was distorted by the perception that the sauna is related to alcohol and fun, and not to health. It is great that this perception changed 180 grades. Every day we use the shower, we often have a bath or swim in the pool. So, who and why can spend time in the sauna? The answer is simple: the sauna is a complete ritual, cleaning not only the body but also the soul.
The 20 sauna area of the Druskininkai Aquapark is an oasis of relaxation, where all the original design saunas are built according to the traditions of different countries of the world. Every day, you can try a new special sauna program in bathhouses with organic honey, black sea salt, the scents of oak, birch, mint, eucalyptus, citrus, and facial masks. In the private baths, you will pamper yourself with individual payable seaweeds and chocolate body masks. Unfortunately, there is not allowed to take photos.
In the sauna area, you can enjoy 9 saunas (dry), 10 steam baths, and Turkish bath Hamam. I have been only in a few, so will not describe all of them separately, just ones I have visited.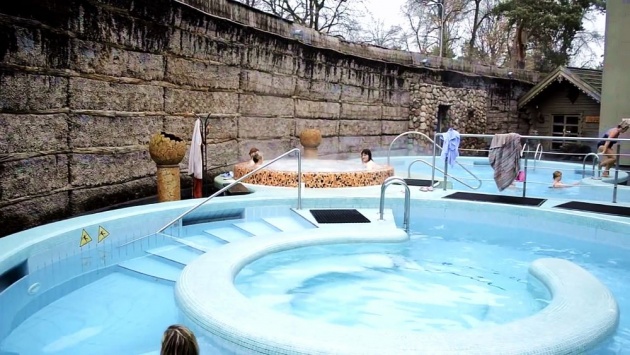 Outside Sauna Area - Photo credit: Amber255 via Bitlanders.com
The dry saunas we visited:
In the ELDORADO sauna is a lot of Moorish stylistic motifs and architectural details, so it is called Spanish bath. In the sauna, there is a special irrigation system - the water drops slowly on hot stones, spreading citrus fruits, eucalyptus scents. You can enjoy the 80 ° C temperature there, and humidity is 25%.
The TILIA sauna is hot and dry. The interior is made from the light boards. The temperature there reaches 90 ° C, and the humidity is 20%. To refresh yourself after the hot sauna, you can use the ice room equipped in the next room or after a cold shower from the pail.
The MODERN sauna will meet you will a stylized modern interior, with a sun-imitating lighting, but also it has a modern automated heating and temperature control technologies. The unusual accent of the sauna is the work of professional artists from the chamotte clay heating cat, which throws out steam flows into the sauna. The temperature in the sauna is 65 ° C, and the humidity is 50%.
The GRANDE sauna is the most spacious sauna in Druskininkai Aquapark. The bunks are made from African wood. They are very comfortable, and spacious. Sauna programs, using different aromas, are performed there, and the temperature is 60 ° C.
There are also other saunas, but we haven't been there.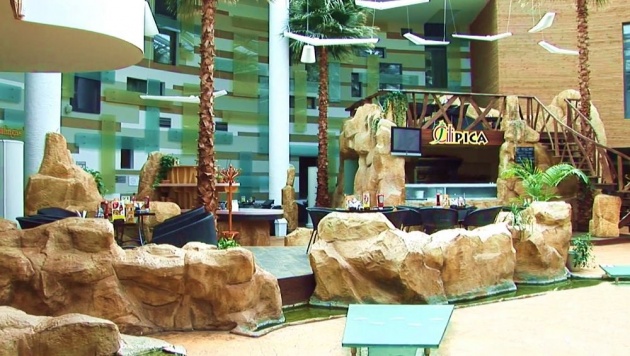 Druskininkai Aquapark - Photo credit: Amber255 via Bitlanders.com
Steam Bathhouses we visited:
In the Crystal bathhouse, you can smell different aromas. One aroma can improve your mood. Another aroma easy removes your fatigue or frustration. It is said that an aroma bath works great on all our internal organs and a nervous system. Also, it is good for the cardiovascular system. Steam bath perfectly cleans our skin. The temperature there is 50 ° C, and the humidity - 95%.
The ARTEMIDA bathhouse has a built-in screen, where you can see beautiful images of nature. The images are constantly changing, and there also sounds relaxing music, and you can smell pleasant aromas. Every day, the bathing programs are held there - face masks. The temperature of the sauna reaches 45 ° C, and the humidity is 50%.
Two wooden outdoor bathhouses are arranged in the closed courtyard. You can always find salt and to rub your body in the steam bathhouse URSUS. A stone wall is built next to the sauna, from which, there is a flow of cold water. There is also a Jacuzzi and an outdoor pool.
There also other steam bathhouses we still have to visit in the future. I cannot describe all the bathrooms, I just remind you that there are 20 bathrooms, so it will not be hard to choose your favorite bathhouses. It takes more than a couple of hours if you want to visit all of them and truly enjoy all the pleasures the bathhouses have to offer.
In the sauna complex, there is also a swimming pool in the center, and around the pool there are saunas. The most diverse and suitable for any taste - hot, wet, infrared, relaxation and so on. There you can take part in bath programs: whipping, steaming, massage, and the like. I think that if it was a hard work week, it is definitely worth to plan a trip to Druskininkai and 4 hours spend alone in the sauna complex. The body and soul will recover.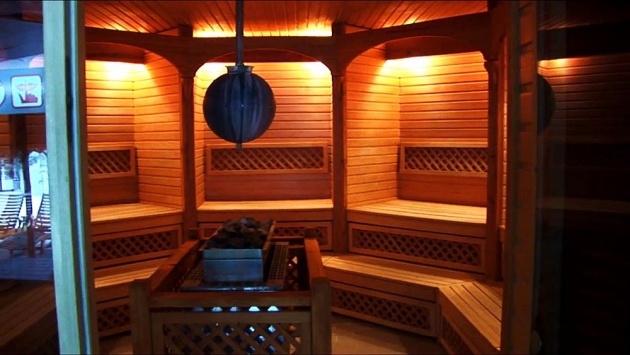 Bathhouse in Druskininkai Aquapark - Photo credit: Amber255 via Bitlanders.com
On The Final Note
Druskininkai resort is a special place of nature, magical and tranquil. Being there, I feel softness and warmth. I love Druskininkai, its pine forests, rivers, lakes, and people. It is good everywhere in this resort, but most of all I like to enjoy the Druskininkai Aquapark' sauna complex. Saunas for me are one of the most pleasant ways to spend time. The bath programs here are like performance with all pleasing procedures - massages, rubbings, etc.
The entire Druskininkai AQUA complex - Aquapark, the central city health resort, and hotels - has been joined by glass galleries. Visitors without leaving the building can use all the services provided: a waterpark, spa treatments, a sports club, a bowling alley, a nightclub, exceptional quality accommodation, and meals.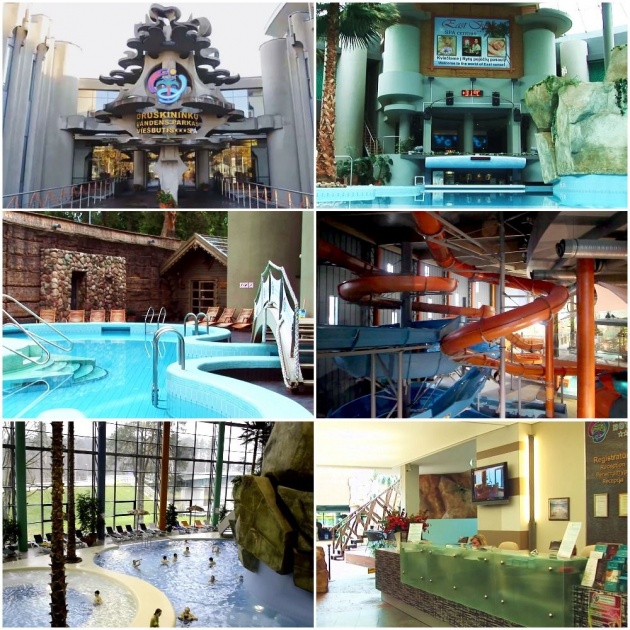 Druskininkai Aquapark - Photo credit: Amber255 via Bitlanders.com
If you love the water activities, try the long swimming pool, or a funny swinging in the sea wave pool, swim down the currents of mountain rivers, feel the power of the waterfalls, and fly down on the spectacular landing path.
Want to relax? There is a pleasantly relaxing Jacuzzis, a safe family slides hill, and the children's pool for the smallest children. The unique offer is a natural mineral water swimming pool where you can relax or try individual vertical bath procedures.
For the health of your body and soul - steam, outdoor, infrared, Finnish, Hammam baths, Ice room, and for the most active people there is a well-equipped gymnasium.
So if you have not yet been to Druskininkai Aquapark, plan ahead and be sure to take a trip. At least once.
Immerse yourself in the miraculous world of Druskininkai Aquapark!
Welcome to Lithuania - Visit Druskininkai Aquapark!
***************************************************************************************************
Thank you for stopping by and reading my blog.
2018, All Rights Reserved.
You are very welcome to join Bitlanders and share your valuable knowledge and opinion.
***************************************************************************************************
1. The Visit to Kretinga Manor Palace
2. The Visit to the SPA Center - Holiday Park
3. Introduction of Lithuania: Unesco World Heritage Site - Curonian Spit
Come back to find more...
**************************************************************************************************