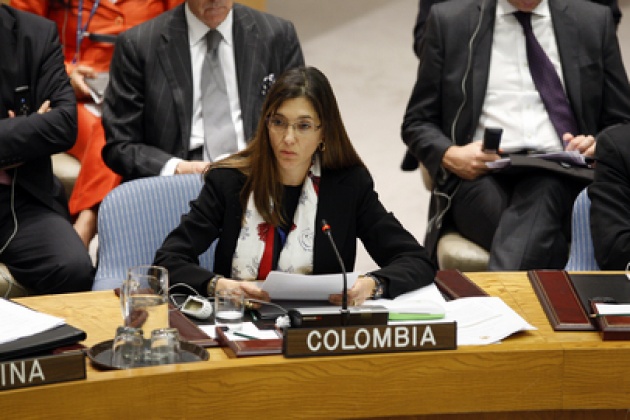 "Justice in Colombia has been delayed for so many, but it must not be denied," according to the Secretary-General's Special Representative on Sexual Violence in Conflict, Margot Wallström. Colombia must increase its efforts to fight impunity for crimes of sexual violence. "I understand that the country as a whole wants to look to the future, instead of dwelling on the past, but there can be no lasting peace without security and peace for women. More needs to be done to support these survivors, both in terms of access to justice, assistance and to help them reintegrate into society. Additional resources are required to strengthen the capacity of the judicial system in order to address the issue of sexual violence." See Video for Blog – "Is Sexual Violence Inevitable?"
During her visit, Ms. Wallström met with survivors of sexual violence, representatives of victims associations and Government officials, as well as with the ombudsman and the Inspectors-General of the army and the police. She was reviewing follow through efforts at peace after a pro-longed multi-headed civil conflict by reviewing efforts to reintegrate combatants as well as address needs/relief for victims of sexual violence. Film for Blog Report - "Women as Enemy"
Ambassador Muhamed Sacirbey - FOLLOW mo @MuhamedSacirbey


Facebook-Become a Fan at "Diplomatically Incorrect"








Twitter – Follow us @DiplomaticallyX







See more at our Popular Video Blogs & Current News Event Articles – www.diplomaticallyincorrect.org
UN Photo - Patti Londoño, Deputy Minister of Multilateral Affairs of Colombia, addresses the Security Council's meeting on strengthening international cooperation in the implementation of counter-terrorism obligations.