Is there any good reason why I won't Let God Take Control?
Consistently you are controlled by something. You might be controlled by your own inner self or by the desires of other individuals. You might be controlled by dread or blame or disdain or severity. You might be controlled by a substance or a propensity. In any case, you are controlled by something consistently.
Flexibility comes when you pick what will control you. When you pick Jesus Christ to be in control of your life, when you are aced by the Master, you can ace everything else. On the off chance that God is not number one in your life, something else is, and it will control you to a negative degree. At the point when Christ is in control of your life, he generally moves you in the correct bearing.
Romans 6:12-13 says, "Do not let sin control the way you live; do not give in to sinful desires …. Instead, give yourselves completely to God, for you were dead, but now you have new life. So use your whole body as an instrument to do what is right for the glory of God" (NLT, second edition).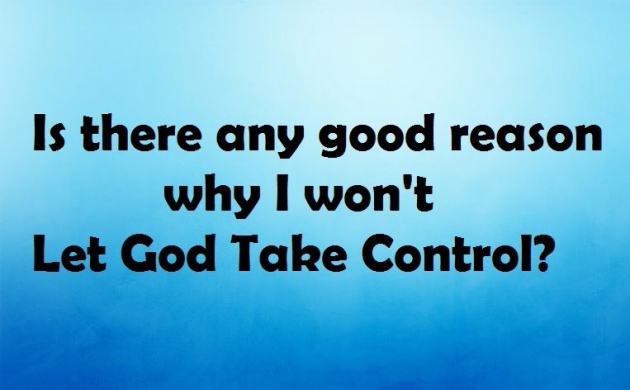 What are the means in this decision to give Christ a chance to have control?
Concede that you've been attempting to play God.
Concede that you can't change all alone.
Modestly request that God help you change.
Be straightforward with another person about the things that need to change in your life.
Give Jesus Christ add up to responsibility forever.
Would you truly like to change? Is it true that you will do these things? You say, "I'm so tired of attempting and falling flat." Stop attempting. Rather, begin trusting. God gives you the choice to either rely on upon him or rely on upon yourself. The outcome is either flexibility or dissatisfaction.
Why not give everything to Christ? What have you got the chance to lose?