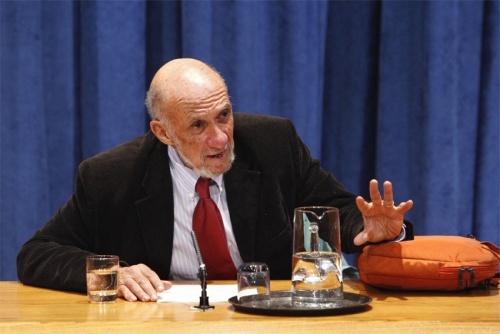 "Allegations of torture and other mistreatment should be promptly, independently and impartially investigated… I am informed that Mr. (Khader) Adnan's health has already suffered irreparable damage, he is in jeopardy of dying at any moment," said Richard Falk, the Special Rapporteur on the situation of human rights in the Palestinian territories, after wrapping up a 10-day fact-finding mission to the region. "I reiterate my call on the Government of Israel to uphold Mr. Adnan's rights, taking full account of the extreme urgency of the situation." "Administrative Detention" "The Government of Israel calls this 'administrative detention,' but it is more honestly termed detention without charges, or arbitrary detention." Torture and cruel and degrading treatment "is not only a grave violation of human rights and a war crime; it may also be subject to international criminal accountability, including through universal jurisdiction," said Mr. Falk, who added that Mr. Adnan's case is emblematic of the Israeli practice of detaining Palestinians without charges. (Having in past been subject myself to Administrative Detention," it is worse than being criminally charged. Authority claims since you're not criminal defendant then not entitled to such fundamental legal rights including to challenge basis for indefinite detention). Demanding Accountability: During recent visit to the region, UNSG Ban Ki-moon discussed the situation of Palestinian prisoners in Israeli custody when he met with the Palestinian Minister of Prisoners' Affairs. According to information received by Mr. Falk, Israel currently has some 300 Palestinians detained without charges, and an estimated 4,400 Palestinian detainees in its prisons. Several experts on prison conditions that Mr. Falk consulted with raised concerns regarding physical, verbal and psychological abuse; lack of access to proper medical treatment; medical neglect; widespread use of solitary confinement for extended periods; overcrowding and decrepit cells; and the lack of family visits. "It is dismaying to note that these concerns have been raised for many years without producing reforms or well evidenced responses to the charges, I will continue to investigate and report on the situation of Palestinian prisoners. And I would add that the violation of the rights of thousands of prisoners, Palestinian or otherwise, should be given the utmost priority by the international community." Mr. Falk Stressed. See Mr. Richard Falk Giive Previous Report/Press Conference on "Ethnic Cleansing" Allegation: -
diplomaticallyincorrect.org/films/movie/palestinian-territoriesethnic-cleansing/25852
UN Photo Above: By Ambassador Muhamed Sacirbey – Follow @MuhamedSacirbey Facebook = Become a Fan at "Diplomatically Incorrect" Twitter – Follow us at DiplomaticallyX WarCrimesJusticeChannel -
diplomaticallyincorrect.org/c/war-crimes-justice
STATEMENT of Mr. Richard Falk (Full Report Scheduled for June 2012) The United Nations Special Rapporteur on the situation of human rights in the Palestinian territories, Richard Falk, reiterated today his urgent appeal to the Government of Israel to release Palestinian prisoner Khader Adnan. Mr. Adnan is now on the 66th day of a hunger strike, protesting his humiliating detention and treatment by Israeli security forces, and his objection to Israel's use of detention without charges. "I am informed that Mr. Adnan's health has already suffered irreparable damage, he is in jeopardy of dying at any moment." Mr. Falk said at the end of a ten-day fact-finding mission* to the region. "I reiterate my call on the Government of Israel to uphold Mr. Adnan's rights, taking full account of the extreme urgency of the situation." "In addition to his release," the independent expert stressed that "allegations of torture and other mistreatment should be promptly, independently and impartially investigated." Mr. Falk added that torture and cruel and degrading treatment "is not only a grave violation of human rights and a war crime; it may also be subject to international criminal accountability, including through universal jurisdiction." For the Special Rapporteur, Mr. Adnan's case is emblematic of the Israeli practice of detaining Palestinians without charges. "The Government of Israel calls this 'administrative detention,' but it is more honestly termed detention without charges, or arbitrary detention," he said. "I was reliably informed that Israel currently has approximately 300 Palestinians detained without charges," Mr. Falk said. "I have requested information regarding each of these persons, and I intend to follow up on each case and address this matter in my forthcoming report to the Human Rights Council," due in June 2012. There are also an estimated 4,400 Palestinian detainees in Israeli prisons. Several experts on prison conditions consulted by the independent expert raised concerns regarding physical, verbal and psychological abuse; lack of access to proper medical treatment; medical neglect; widespread use of solitary confinement for extended periods; overcrowding and decrepit cells; and the lack of family visits. "It is dismaying to note that these concerns have been raised for many years without producing reforms or well evidenced responses to the charges," the Special Rapporteur stressed. "I will continue to investigate and report on the situation of Palestinian prisoners. And I would add that the violation of the rights of thousands of prisoners, Palestinian or otherwise, should be given the utmost priority by the international community." During this regional visit, which included Egypt and Jordan, Mr. Falk was unable to travel to the Gaza Strip, as he had planned, due to the current situation in the Northern Sinai. He was also unable to hear from Palestinian refugees elsewhere than Jordan, due to the prevailing situation in Syria and unwillingness of the Government of Lebanon to receive his mission. The Special Rapporteur added "It is unfortunate the Government of Israel refuses to cooperate with this mandate from the United Nations Human Rights Council." "One encouraging aspect of my mission was the prioritizing sense of purpose and of encouragement I witnessed at the League of Arab States," the independent expert said. "On the basis of discussion with the leadership of the Arab League there seemed to be a strong willingness and interest to work together with this mandate to help realize Palestinian rights under international law as a high priority." In 2008, the UN Human Rights Council designated Richard Falk (United States of America) as the fifth Special Rapporteur on the situation of human rights on Palestinian territories occupied since 1967. The mandate was originally established in 1993 by the UN Commission on Human Rights. (*) Check the Special Rapporteur's full end-of-mission statement:
www.ohchr.org/EN/NewsEvents/Pages/DisplayNews.aspx?NewsID=11846&LangID=E
Learn more about the mandate and work of the Special Rapporteur:
www2.ohchr.org/english/countries/ps/mandate/index.htm
OHCHR Country Page – Occupied Palestinian Territories:
www.ohchr.org/EN/countries/MENARegion/Pages/PSIndex.aspx
OHCHR Country Page – Israel:
www.ohchr.org/EN/Countries/MENARegion/Pages/ILIndex.aspx
For more information and media requests, please contact Kevin Turner (+41 (0)79 509 0557 / kturner@ohchr.org) or write to sropt@ohchr.org.